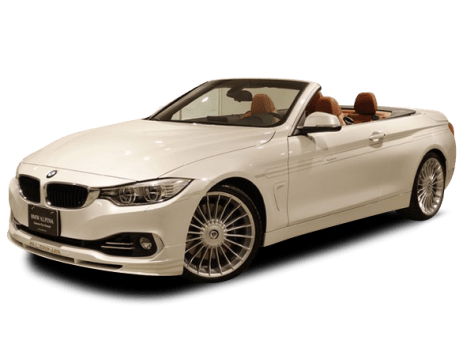 COMPARE
BMW Alpina B4
VS
Lotus Exige
BMW Alpina B4
Likes
Ride and handling
Brilliant engine
Distinctive
Dislikes
The price
No Apple CarPlay/Android Auto
Some dodgy styling features
---
Lotus Exige
Likes
Unassisted, unadulterated steering (at speed)
Beautiful balance and stiff chassis
Gearbox
Dislikes
Sheer impracticality
Heavy steering (at low speeds)
Getting in and out of it
Summary
BMW Alpina B4
If you're looking for a sleek, two-door coupe with a sparkling chassis, rear-wheel drive and a charismatic turbo straight-six, BMW has you covered with about eight choices. That should be that, then. But wait. There's more. 
Since 1965, Alpina - the name of a resurrected a typewriter company - has collaborated closely with BMW to produce distinct, high performance Alpina-badged cars. It actually started with a Weber dual-carburettor unofficial conversion for the BMW 1500 in 1962 and over the years built into a racing operation winning championships and races like the Spa 24 Hours.
Alpina returned to Australian shores in 2017 after a long hiatus with a new range including the BMW 4 Series based B4. Not long after, BMW updated the 4 in what it calls LCI (Lifecycle Impulse), so Alpina followed suit with a price drop, new gear and called it the B4 S.
| | |
| --- | --- |
| Safety rating | — |
| Engine Type | 3.0L turbo |
| Fuel Type | Premium Unleaded Petrol |
| Fuel Efficiency | 7.6L/100km |
| Seating | 4 seats |
---
Lotus Exige
Driving naked is ill-advised, and possibly illegal, but taking a spin in the Lotus Exige 350 Sport is as close as you'd ever want to get. It's not so much that you feel you've left your clothes at home, but that the car has shed its accoutrements, and indeed its very flesh, leaving you with a kind of skeletal vehicle; just bare bones and muscle.
What this punishingly hard and fiercely focused machine does to your bones and flesh is best described as extreme chiropractry - in particular the stress of ingress and egress - but fortunately it makes up for the moans, bangs and bruises by fizzing your adrenal glands in a big way.
The question is whether the fun is worth the suffering, and the  $138,782.85 price tag.
| | |
| --- | --- |
| Safety rating | — |
| Engine Type | 3.5L |
| Fuel Type | Premium Unleaded Petrol |
| Fuel Efficiency | 10.1L/100km |
| Seating | 2 seats |
Verdict
BMW Alpina B4
7.4/10
You could almost call the B4 S the anti-M4. It's still fast and practical but from a completely different perspective. It's much more a grand tourer than the M4 and even with the Akrapovic exhaust (usually a byword for joyous, anti-social racket), subtle.
For some, the price won't matter because the Alpina delivers what they want - M4-like straight line performance without the histrionics or the uncompromising chassis. And there's also a bit of that perverse exclusivity of the styling that you won't get anywhere else.
Is Peter right? Is it the anti-M4? Or just a tarted up 4 with a bit of extra grunt?
---
Lotus Exige
6.5/10
To say the Lotus Exige 350 Sport exists at the very pointy end of motoring is a sharp understatement. It is, in essence, a track car that you're somehow allowed to drive on the road, which means it's hugely compromised in various ways as a vehicle for day-to-day use, yet it's not really fair to criticise it for those failings, because commuting was never its intended purpose.
While it would obviously shine in its natural environment of a race circuit, the fact is you could also enjoy it enormously between track days if you pointed it at a suitably smooth and winding bit of country blacktop.
The performance, handling, steering and stopping are all fantastic, in the right conditions, and you can see how someone might justify it to themselves as a far cheaper version of a ($327,100) Porsche 911 GT3. The difference being that a Porsche doesn't make you fold yourself up like a pocket knife every time you get in.
The Lotus, then, is a car for the extreme enthusiast, only. And possibly for nudists, too.
Would you put up with the Lotus's hard edges for the thrill rides? Tell us what you think in the comments below.
Design
BMW Alpina B4
7/10
Alpina has always had a particular aesthetic that could uncharitably be termed as mid-'80s West German - all set square angles and body graphics. Think David Hasselhoff's Berlin Wall look. The company has never really deviated from adding squared-off body bits to the various BMWs it has rebadged under its long-running agreement.
For the B4S, Alpina adds the signature billion-spoke alloy wheels (only a slight exaggeration), a new front splitter complete with Alpina lettering, a weirdly proportioned boot lid lip spoiler and - not even joking - pinstripes. Like I said, mid-'80s West German. You can still recognise the sleek 4 Series Coupe but perhaps the worst of it is the super-sized, wonky-looking ALPINA B4S on the boot.
Inside is rather more restrained apart from the ill-fitting Alpina plaque under the climate control. Again, it's all 4 Series in here, with the lovely Merino leather liberally applied across the cabin. Less lovely is the wood on the door pulls and console but the door cards have an oddly appealing woven leather which looks and feels good.
Sadly the standard 4 Series steering wheel is along for the ride. There's nothing wrong with it - although the Alpina logo does look out of place - but if I were a product planner, I'd beg for the lovelier M wheel.
---
Lotus Exige
8/10
The Lotus philosophy is summed by this slightly absurd mission statement: "Simplify, then add lightness". In the words of the great Barnaby Joyce "you don't have to be Sigmund Freud" to work out that lightness is not something you can 'add', but you get the idea.
Everything about a Lotus is focused on the power-to-weight ratio, and this 350 Sport version takes the Exige to the ultimate degree, weighing in a full 51kg lighter than the S version, at just 1125kg, and with its hefty 3.5-litre supercharged V6 it is capable of lapping the company's Hethel, UK test circuit a full 2.5 seconds faster.
Lap times, rather than road manners, are what this car is all about, and as such there are no creature comforts of any kind.
The Exige is an eye-catching beast, though, looking a bit like Darth Vader's helmet strapped to a skateboard. Everything about it is a statement of intent, and while the interior is as bare as Barnaby's brain, the gear lever, with its exposed workings and shiny silver knob, is a thing of strange beauty.
Practicality
BMW Alpina B4
6/10
If you're in the front, you're in luck - it's a comfortable place to be, with plenty of leg and headroom. Down back isn't terrible despite the coupe roofline. The two seats are nicely shaped for maximum comfort and separated by an odd plastic tray. The fold-down armrest has two cupholders.
Front seat passengers score a pair of cupholders (bring the total to four for the car) and the long doors will hold a bottle each.
The boot swallows a reasonable 445 litres, which isn't at all bad.
---
Lotus Exige
3/10
Both the words 'practical' and 'space' have no place in a road test of this Lotus, so shall we just move on?
Oh, all right. There is no shoulder room to speak of and to change gears you have to fondle your passenger's leg. You're also in danger of breathing into each other's mouths accidentally, you're sitting that close.
Speaking of impractical, the door apertures are so small, and the whole car so low, that getting in or out is about as much fun as attempting to hide in a child's suitcase.
Cupholders? Forget it, nor is there anywhere to put your phone. There are two tiny oddment storage holes just near each well-hidden door handle, and a kind of slidey, slick shelf where a glove box might be, on which it's not safe to leave anything.
Put things on the floor and they will slide under the super low seats and never be seen again.
The Lotus people pointed out a parcel shelf behind the seats, but I think they imagined it, and there is a tiny boot at the rear, behind the engine, which is smaller than some actual boots.
Price and features
BMW Alpina B4
7/10
If you thought BMW don't mess about when pricing up its cars, you best strap yourself in. The 440i-based B4S starts at a solid $149,900. That's $48,000 more than the 440i and significantly more than an M4 Pure. But there's plenty of gear on offer and some genuine, bespoke Alpina additions.
Standard are 20-inch signature Alpina alloys, 16-speaker harmon kardon-branded stereo with DAB, super-soft Merino leather everywhere, dual-zone climate control, around-view cameras, reversing camera, sat nav, keyless entry and start, front and rear parking sensors, active cruise control, heated and electric front seats, head-up display, auto headlights and active LED headlights, LED taillights and electric sunroof.
The stereo and sat nav are run by BMW's iDrive. It's a cracker of a system and almost gets away without Apple CarPlay and Android Auto. The absence of such simple pleasures at this price point is a bit lame, but here we are.
---
Lotus Exige
6/10
The question of 'value' is a tricky one when you're looking at a $138,782.85 car that's about as useful in day-to-day life as a matchbox-sized handbag. But you have to consider what people buy a Lotus for, and the answer has absolutely nothing to do with practicality.
A car like this Exige 350 Sport is purely purchased as a toy, a track-day special that you can, in theory, drive to the circuit via public roads. Franky, if I was rich enough to have one I'd still transport it there on the back of a truck.
Relatively speaking, you could have a far more practical and infinitely more comfortable Porsche Cayman for $30K less, but the Lotus is $30K cheaper than the similarly track-focused and brutal ($169,990) KTM X-Bow.
In terms of features, you get four wheels, an engine, a steering wheel, some seats, and that's about it. You can buy a circa 1993 removable-face two-speaker stereo, which you can't really hear over the engine and road noise, for $1199. Oh, and they do throw in air conditioning, which is also noisy.
Our slick-looking metallic black paint was also $1999, the 'full carpets' another $1099 (expensive floor mats, basically), the Alcantara trim pack $4499, cruise control (really?) $299 and the hilarious optional 'Sound Insulation' $1499 (I think they actually forgot to fit it). All up, our press car's price climbed to $157,846, which, I have to say, is no one's idea of good value.
On the plus side, the local Lotus people - Simply Sports Cars - do offer features a buyer would love, like regular Lotus Only Track Days, a chance to take part in the Phillip Island 6 Hour and the Targa High Country event, and various other racy experiences.
Engine & trans
BMW Alpina B4
9/10
A lot of your extra money turns up under the bonnet. These days the 440i packs BMW's slick B58 turbo straight six and the B4S does likewise. The boys from Buchloe in Bavaria (there are certain to be women there, too, I just liked the alliteration) added a pair of Alpina-spec turbos to generate a whopping 324kW and, more importantly, 660Nm. Alpina says 600Nm (the max torque figure of the brilliant M4 CS) is available from 2000-5000rpm, while the full 660Nm is available from 3000 to 4500rpm.
The M4 Pure has 317kW and 550Nm from the S55 straight-six. Just so you know.
Like the 440i but unlike the M4, the B4S employs the dependably brilliant eight-speed ZF automatic found throughout the BMW range.
---
Lotus Exige
8/10
In the past, Lotus engineers were satisfied with the power they got from tiny four-cylinder Toyota engines, but this Exige 350 Sport is a Very Serious Car and thus has a relatively whopping 3.5-litre, supercharged V6 shoehorned into its backside, which makes 258kW and 400Nm, and that's enough to fire this tiny machine from 0-100km/h in just 3.9 seconds, although it feels, and sounds, a lot faster.
The six-speed gearbox feels like it's been stolen from an old racing car and is an absolute joy to snick shift at speed.
Fuel consumption
BMW Alpina B4
7/10
Alpina quotes 7.9L/100km on the combined cycle and we went through the premium unleaded at the rate of 11.7L/100km. I enjoyed myself, so that's not a terrible result.
---
Lotus Exige
7/10
Lotus claims a combined fuel economy figure of 10.1L/100km. We don't believe that would be easy to achieve, because the temptation to rev the hell out of it and hear it roar would be too great, and too constant.
Driving
BMW Alpina B4
9/10
One of the key differences between the B4 and M4 is the ride. While the M4 can crash over bumps and generally be a little hard to live with, the crew in Buchloe have gone after a much more plush ride. And in that they have succeeded because the B4 S is a mighty fine cruiser. Bumps are dismissed with a haughty disdain, even Sport + silliness doesn't completely write-off ride quality.
Very impressive too, is the steering. While still not at Lotus Elise levels of feel (few cars are), the Alpina tweaks connect the your palms to the road with more clarity than what you'll find in the 440i or M4. Where the M4 particularly adds too much weight, the 440i is a bit more circumspect in that regard.
And then we come to the engine. The B58 six is a belter, better even than the N55 that preceded it. It's still a 3.0-litre straight six but is part of BMW's modular engine family that starts with a 1.5-litre triple in the Mini and 1 Series. The Alpina-spec turbos are noisier, the Akrapovic exhaust lighter and also noisier. It doesn't have the all-out crackle and pop of an Audi or Merc (perish the thought), but when you're on it, the B4 means business. The 660Nm of torque, available over a wide rev range, delivers a steel fist wrapped in a velvet glove and bubble wrap - the speed builds rapidly but smoothly. 
The approach to the chassis tune seems to be based on the driving talents of mere mortals on normal roads, which is kind of like the 440i. It's terrific fun to drive hard but it's very forgiving and patient. The great thing about it is that you wouldn't think twice about jumping in it for the long haul, so comfortable and quiet is the cabin. The M4 will leave it for dead on a winding road, but that's perfectly fine.
One irritant is the replacement of the admittedly cheap BMW gearshift paddles with weirdly non-tactile buttons. They're not particularly easy to use and, probably worse for a sporty car, unsatisfying. It's an odd detail with which to go off the reservation. Cheeringly, the eight-speed ZF is its usual perfect self, so you don't have to worry too much about manual mode or go old school and use the shifter.
---
Lotus Exige
8/10
It's rare to find a car that is such an improbable mix of furious fun and infuriating annoyance. The Lotus is rattly, noisy, hugely firm to the point of punishing, with seats that offer encouragement but not support.
It is the opposite of comfortable and so hard to see out of that driving it around town, in any sort of traffic, feels borderline dangerous. There's also the distinct sensation that you're so low and so little that all those people in their SUVs won't see you.
Throw in the fact that it's so painfully, stupidly difficult to get in and out of and it's definitely not the sort of car you take if you're heading to the shops. I got so sick of its hard-edged annoyances at one stage that I became too grumpy to even take people for joy rides in it. I just couldn't be bothered with the hassle, but then an inner-city suburb with high kerbs and even higher speed humps is not the Exige's natural environment.
Making it even more of a challenge around town, at low speeds or in parking situations is the steering, which isn't so much heavy as wilfully obtuse. Doing a three-point turn is the equivalent of 20 minutes of bench pressing your own body weight. At least.
Out on a winding bit of country road, however, the steering becomes one of the best things about the car, because its pure, unassisted weighting feels so alive in your hands. There's a sense of actually wrestling, or finessing it around corners that makes you feel a bit Ayrton Senna.
Indeed, the whole car comes alive, and starts to make some kind of sense, once you're on a smooth, perfect piece of tarmac. It is fast, noisy, thrilling, utterly and overtly involving, stiff of chassis and firm of ride, with brakes capable of pulling you up with indecent haste. It's also, thanks to its low centre of gravity and mid-engined layout, beautifully balanced.
The gearbox is a thrill a minute, as is the engine, particularly once you explore the upper rev ranges, at which point the scenery really does become a scary blur out the ridiculously small windscreen.
Sure, you can't see anything behind you other than the engine, but what a lovely sight that is, and nothing is going to catch you anyway.
It does feel edgy, of course, and sharp, and it's not as easy or refined to drive as some cheaper sports cars; an MX-5 makes for a far more pleasant companion. But this is an extreme Exige, a machine built by and for genuine enthusiasts.
And, above all, for the sort of people who will take it to a race track, which is where it both looks and feels completely at home.
Unfortunately, on public roads, it would be annoying more often than it would be thrilling, but the truly hardcore Lotus aficionados would never admit such a thing.
Safety
---
Lotus Exige
5/10
Unsurprisingly, considering it will sell fewer than 100 cars in Australia, Lotus has not had the Exige ADR crash tested, so there's no star rating. You do get two airbags, passenger and driver, as well as ABS, 'Hydraulic Brake Assist', 'Lotus Dynamic Performance Management', driver-selectable ESP with three modes, cornering brake control and EBD.
Ownership
BMW Alpina B4
6/10
Alpina offers a two-year/unlimited-kilometre warranty which is a bit behind the times and not in keeping with the price point. Servicing is another matter altogether and you're subject to your dealer's standard charges for servicing.
---
Lotus Exige
7/10
Your Lotus comes with a three-year unlimited kilometre warranty and three years of roadside assist. A service costs $295, plus parts.