2018 Toyota C-HR
Pricing and Specs
Click here to see 2020 pricing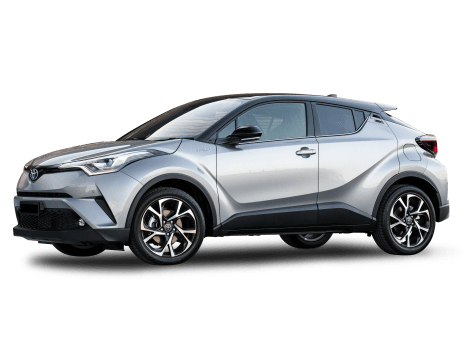 The Toyota C-HR 2018 prices range from $20,990 for the basic trim level SUV C-HR (2WD) to $34,999 for the top of the range SUV C-HR Koba (awd).
The Toyota C-HR 2018 is available in Premium Unleaded Petrol. Engine sizes and transmissions vary from the SUV 1.2L 6 SP Manual to the SUV 1.2L Continuous Variable.
Interested in a Toyota C-HR?
Book A Test Drive
Current Offers
Locate A Dealer

Insurance Quote

Get Secured Car Loan
Price Guide
$26,998
Based on 362 cars listed for sale in the last 6 months
Explore prices for the
2018 Toyota C-HR
SUV
Toyota C-HR Models
SPECS
PRICE
(2WD)

1.2L

PULP

Premium Unleaded Petrol

CVT AUTO

CVT auto

$19,000 – 26,400

(2WD)

1.2L

PULP

Premium Unleaded Petrol

6 SP MAN

6 speed manual

$17,600 – 24,530

(AWD)

1.2L

PULP

Premium Unleaded Petrol

CVT AUTO

CVT auto

$20,700 – 28,160

Koba (2WD)

1.2L

PULP

Premium Unleaded Petrol

CVT AUTO

CVT auto

$22,300 – 30,250

Koba (awd)

1.2L

PULP

Premium Unleaded Petrol

CVT AUTO

CVT auto

$23,700 – 32,120
* Manufacturer's Suggested Retail Price
Toyota C-HR 2018 FAQs
Check out real-world situations relating to the Toyota C-HR here, particularly what our experts have to say about them.
What is the best small car for under $30000?

You don't need to spend $30,000 to get a great small car to run around town in. A Suzuki Swift GL Navigator from $17,690 plus on-road costs ($1000 more for the auto) makes for an excellent choice, with a surprisingly roomy interior, a refined, frugal and lively engine, great handling and superb reliability. Great value for money, in other words.

Moving on from there, to the next size up and in our order of preference, are the Mazda 3, Ford Focus Active, Volkswagen Golf, Toyota Corolla Hatch, Honda Civic (turbo only) and Subaru Impreza. All are quality small cars that should fit the bill perfectly.

There's also merit in considering a small SUV, chiefly because their higher roofline and loftier seating positions make them easier to get in and out as well as see out of. Our value pick is the Kia Seltos S with Safety Pack. The Mazda CX-30 and Toyota C-HR are also high-quality and refined choices, though they're right at the cusp of your budget so you may have to search for a discounted demo model. Going small SUV does  mean extra outlay, but they do generally offer better resale value, as their popularity seems endless.

As you can see, there's lots of choice, so take your time, drive the ones you like the look of, and see which feels best. Out of scores of alternatives, these 10 are our top recommendations at under $30K.

Show more
What small all-wheel drive hatchback should I buy?

Small all-wheel drive hatchbacks are rare in Australia, as only a comparatively tiny number of people live in the sort of environments that require the added traction and surety that AWD provides.

Also, most Australian consumers seeking AWD tend to go for smaller SUVs, since they are easier to get in and out of, offer a higher seating position and generally enjoy better resale values. On the flipside, SUVs cost more to buy and run, are not as stable at increased speeds due to their higher centre of gravity and are larger to manoeuvre in tighter parking spots than a small hatchback.

The Subaru Impreza remains the least expensive small AWD hatchback you can buy new, as well as the sole mainstream-branded model starting at under $30,000.

However, while the latest-generation Impreza launched in 2016 it's a huge improvement over previous iterations (with service intervals finally extended  to 12 months/12,500km), there are a few more compelling alternatives in small crossovers – that is, the in-between segment between small cars and SUVs; they boast a few extra centimetres of ground clearance without the bulk. Note only a few crossovers offer AWD as an option.

A recent stint in the new Impreza-derived XV 2.0L Hybrid revealed it to be a powerful and economical crossover with excellent handling and road-holding capabilities. The same applies to the Mazda3-based CX-30 AWD, the Toyota C-HR 1.2L-turbo AWD and Volkswagen T-Roc 140TSI 4Motion - though none are as frugal as the Subaru.

If you're not sold on the idea of an crossover AWD and prefer a small AWD hatchback, then your only other option is to stretch to premium European hatchbacks like the Mercedes-Benz A250 4Matic, BMW M135i xDrive, Audi A3 quattro and Volkswagen Golf R. But all generally cost upwards of $60,000 drive-away - and that's before some of the more desirable options fitted.

Finally, unless you are travelling hundreds of kilometres ever week, there is probably no benefit choosing diesel over petrol, as the former fuel is dirtier for the environment and not as quiet and refined as the latter. Additionally, diesels are falling out of favour with buyers due to their harmful emissions, and most companies are switching to petrol/electric hybrids as a solution. Again, this means the Subaru XV Hybrid AWD.

A long response we know, Jan, but we hope this helps.

Show more
What car should I replace my 2011 Hyundai i20 with?

You've layed out some challenging requirements here. You'd like a small SUV with a bit of ride comfort and clearly a bit of performance too, given your question about the i30 N.
I think you'll find the ride harsh on the i30 N, especially since you found the ride on the Kona harsh already. Keep in mind the i30 N is a hot hatch and has the suspension to match.
I find the Subaru XV has very nice ride comfort for the small SUV segment, but I also feel that you will be disappointed with the performance from its 2.0-litre engine. You may also want to consider the new Hybrid Toyota C-HR. The Hybrid drive gives it a smidge of extra kick and it's a fuel consumption hero, too.
For a better blend of performance and ride, really only the Volkswagen T-Roc and Skoda Karoq are going to excel in the small SUV crowd. In terms of ownership both now have five year warranties, and you can (and should) pre-package five years of servicing on top at a discount.

Show more
See All Toyota C-HR FAQs
Disclaimer: You acknowledge and agree that all answers are provided as a general guide only and should not be relied upon as bespoke advice. Carsguide is not liable for the accuracy of any information provided in the answers.
Interested in a Toyota C-HR?
Book A Test Drive
Current Offers
Locate A Dealer

Insurance Quote

Get Secured Car Loan