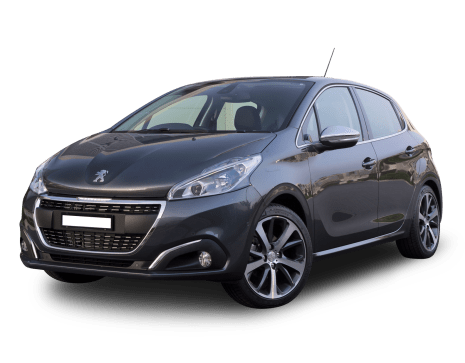 COMPARE
Peugeot 208
VS
Toyota Prius
Peugeot 208
Likes
Unique styling
Sporty drive
Spacious and comfortable
Dislikes
Pricey
Missing advanced safety
Barely any cabin storage
---
Summary
Peugeot 208
In a world of cheap, popular and well-specified Japanese and Korean small hatchbacks, it's easy to forget the humble French cars that once helped define the segment.
They're still around, though. You've probably seen a few Renault Clios, you might not have seen the tragically underrated new Citroen C3, and there's at least a chance you've seen one of these – the Peugeot 208.
This iteration of the 208 has been around in one form or another since 2012 and is due to be replaced by a second-generation model in the near future.
So, should you consider the aging 208 in a busy market segment? I spent a week behind the wheel of the second-from-the-top GT-Line to find out.
| | |
| --- | --- |
| Safety rating | |
| Engine Type | 1.2L turbo |
| Fuel Type | Premium Unleaded Petrol |
| Fuel Efficiency | 4.5L/100km |
| Seating | 5 seats |
---
Toyota Prius
Tree-huggers get a bad rap, especially when they're accused of driving Priuses, a particularly targeted form of abuse inspired by the Malibu movie set. Hollywood types who stepped out of gas-guzzling private jets to tool around humbly in Toyota's trailblazing hybrid used to include dapper chaps like Clooney, Damon and di Caprio.
They must have been pleased when Tesla arrived with bigger, faster, fully electric cars. Sometimes you really need to get to your private jet in a hurry.
And I say they were pleased because driving a Prius forced these folks to consider what life would have been like had they not played that dead body on CSI, before rising through the ranks to owning chunks of a coffee-pod company and marrying lawyers who make speeches at the UN.
The Prius was a run-of-the-mill car that appealed to them only via its new hybrid technology, whicht helped assuage their guilt at burning several tonnes of avgas instead of mixing it with the general public on commercial airlines.
In 2019, Toyota has four hybrids (including a RAV4) with which to attract your attention, and one of those is the 20-year-old Prius. Still odd-looking, still a hybrid, still pretty much the same proposition as that first, nose-diving sedan all those years ago. Its own bretheren are out to consign it to irrelevance. Or is it still worth another look?
| | |
| --- | --- |
| Safety rating | |
| Engine Type | 1.8L |
| Fuel Type | Hybrid with Regular Unleaded |
| Fuel Efficiency | 3.4L/100km |
| Seating | 5 seats |
Verdict
Peugeot 208
7.1/10
The 208 GT-Line is hardly a car purchased on its value offering; it's an emotional purchase. Fans of the brand know it, even Peugeot knows it.
Here's the thing, though, the GT-Line looks the part, is true-to-its-roots in how fun it is to drive, and will surprise most with its spacious dimensions and decent spec level. So, while it might be an emotional buy, it's not necessarily a bad one.
Have you owned a Peugeot in the past? Share your story in the comments below.
---
Toyota Prius
7.1/10
In 2019, the Prius is a head scratcher. Toyota has the hybrid Corolla on the same TNGA platform but it's a better overall proposition, cheaper and vastly better looking. If you can find one, you can have a hybrid Camry for a similar money. 
Committed EV buyers can now buy a fully electric Hyundai Ioniq for a few bucks more. It almost feels like the Prius is hanging on for the fans so it rather has the feeling of an Eagles concert... without the hits.
It's difficult to see why you wouldn't save a significant amount of money and go for a Corolla Hybrid. The ZR I drove last year was $13,000 cheaper than the Prius, and a far more satisfying drive.
With cheaper Korean options hoving into view - and Toyota's own Corolla - is the Prius' day done?
Design
Peugeot 208
7/10
It might not be for you, but I had come around to the 208's design by the time I handed the keys back. It's a bit more upright and frumpy than the slick, conservative design of the Volkswagen Polo, or the swish, cutting-edge lines of the Mazda2.
It's undeniably a European city car in its short and upright stance, but blazes its own path, even compared to French competitors. I grew quite fond of its weird, slopey bonnet, unconventional face and tough rear wheel arches. The way the rear light clusters clasp the rear to bring the design together is quite satisfying, as are the aluminium-brush alloys, recessed lights and the single chrome tailpipe.
It could be argued that this is a path well-travelled, with this 208 mirroring the design cues of the 207 that came before it, but I'd argue it holds its own, even in 2019. If you're after something radically different, the styling on its replacement, due next year, is one to look out for.
On the inside, things are… unique.
There are cushy, deep seats for front occupants, with a super vertical dash design, leading up from the deep-set shifter (an older look) to the top-mounted media screen, which is slick, with its chrome bezel and lack of buttons.
The steering wheel is awesome. It's tiny, strongly contoured and covered in nice leather trim. Its small, almost oval shape is super satisfying to wrangle, and enhances the way you interact with the front wheels.
What is extra strange about it is how far separated it is from the dash cluster. The dials are perched way atop the dash in a layout Peugeot refers to as the 'iCockpit'. This is all very cool and aesthetic and French if you're my height (182cm), but if you're particularly short or particularly tall, the wheel begins to obscure vital information.
Other strange things about the cabin mainly involve little bits of plastic of varying quality strewn about the place. While the overall look is very cool, there are some odd bits of chrome trim and hollow black plastics about that probably don't need to be there.
---
Toyota Prius
My goodness this is an awkward-looking car. The Prius set the template almost two decades ago and it seemed like any hybrid, no matter where it was from, looked like Toyota's pioneer for a while.
Part of the awkwardness is a result of wind-tunnel styling to maximise the benefit of the hybrid power unit - that high, boxed-off tail makes the Prius slippery, but weird looking. The adventurous shapes of the lights front and rear really don't work (for me, anyway). The tiddly wheels amplify the slabbiness of the sides.
I say tiddly because, as you know, they're just 17-inchers. The base model Prius has a laughable set of 15s bolted on.
You know, just by looking, that this is a Prius and, by extension, a hybrid.
The interior is a bit more contemporary, but littered with cheap Toyota staples like that dodgy LCD clock that used to be in my Mum's Echo. Speaking of the Echo, Toyota has recycled and expanded on the idea of a centrally placed dashboard, all of which is digital but without the inventiveness of a German, or even a Korean car. It works really well, to be fair, but there's not much in it to amuse or delight.
The central touchscreen is nice and close and shows additional information about the hybrid-drive system. The profusion of piano black is a bit passe, though, and picks up dust and fingerprints.
Practicality
Peugeot 208
7/10
The 208 hit me with some surprises here. Firstly, don't drink and drive this car. And, by that I mean, don't even begin to think you'll find a good spot for a decently sized coffee. There are two cupholders under the dash; they are about an inch deep, and narrow enough to accommodate maybe a piccolo latte. Place anything else in there and you're asking for a spillage.
There's also an odd little trench there that barely fits a phone, and a top-box arm-rest thing that's tiny and bound to the driver's seat. The glovebox is large and also air-conditioned.
The front seats offer heaps of room, though, for arms, head and especially legs, and there is no shortage of soft surfaces for elbows.
The back seat was also a surprise. I was expecting it to be an afterthought, as it is in many cars this size, but the 208 delivers, with excellent matching seat trim and generous legroom.
Sadly, that's where back-seat amenities end. There are tiny trenches in the door, but no air vents or cupholders. You'll have to make do with just the pockets on the backs of the front seats.
Don't be fooled by the 208's cropped rear, the boot is deep and grants a surprising 311 litres to the shelf, and maxes out a 1152L with the second row folded down. Also surprising  is the inclusion of a full-size steel spare, stashed under the floor.
---
Toyota Prius
Passenger space in the Prius is excellent for its footprint. Slightly roomier than the Corolla, front and rear passengers have generous head and legroom, although the narrowing hips pinch the shoulders a bit with five aboard. The roofline also abbreviates headroom for anyone over about six feet. The seats are comfortable, though.
Front and rear rows are each treated to two cupholders and bottle holders, for a total of four of each. The front centre console also has a Qi wireless charging pad, as well as a deep bin under the armrest.
Boot space starts at a modest 343 litres to the parcel shelf but if you drop the rear seats, you've got a very generous 1633 litres. The lower-spec Prius has a much smaller boot (297 litres) but does have a spare tyre.
Toyota hasn't certified the Prius with a towing figure.
Price and features
Peugeot 208
6/10
This Peugeot is never going to be as cheap as a Mazda2 or Suzuki Swift. The current range spans from $21,990 for the base Active to $26,990 for the GT-Line, and that's all before on-road costs.
Safe to say you're looking at a $30k hatch then. For the same money you could be hopping into a decently specified Hyundai i30, Toyota Corolla or Mazda3, but Peugeot bank on the fact that this car appeals to a special kind of customer; the emotional buyer.
Perhaps they had a Peugeot in the past. Perhaps the quirky styling calls out to them. But they aren't interested in value… per se.
So do you at least get a decent standard spec? The GT-Line comes with a 7.0-inch multimedia touchscreen with Apple CarPlay and Android Auto support, built-in sat-nav, 17-inch alloy wheels wrapped in some seriously low-profile Michelin Pilot Sport rubber, panoramic fixed glass roof, dual-zone climate control, self-parking function, front and rear parking sensors with a reversing camera, rain sensing wipers, sports bucket seats, auto folding mirrors and GT-Line specific chrome styling touches.
Not bad. The styling is certainly turned up a notch over the regular 208 range and the spec list makes it one of the better-equipped cars in the segment. However, there are some notable omissions which hurt on a car at this price. For example, there's no option for push-start or LED headlamps.
Safety is okay, but it could use update. More on that in the safety section.
---
Toyota Prius
The 2019 Prius update is available in two specs - entry level for $36,590 and this i-Tech for a stout $44,050. For that outlay you score 17-inch alloys, a 10-speaker JBL-branded stereo, keyless entry and start, Qi wireless charging pad, auto LED headlights, auto wipers, reversing camera, electric everything (except the tailgate), fake leather trim, climate control, head-up display, sat nav and a tyre-repair kit.
Toyota's worse-than-the-final-season-of-Game-of-Thrones multimedia system soliders on. It's hard to use, terrible to look at and, even with the Kluger-style shortcut buttons, leaves me screaming, alternately, for a hug and for Apple CarPlay/Android Auto.
There's just no excuse for a system this bad in the modern world. Toyota Australia's stubborness is admirable, in a way. The sound is really good, though, and it comes with DAB, which is fine if you can work out how to find the station you want in the confusing user interface.
Engine & trans
Peugeot 208
8/10
The regular (that's non-GTi) 208s are offered with just one engine now. A 1.2-litre turbo petrol three-cylinder, which produces 81kW/205Nm. While that doesn't sound like an awful lot, it turns out to be plenty for the little 1070kg hatch.
Unlike some notable French manufacturers, Peugeot has seen the light and dumped single-clutch automatics (aka automated manuals) in favour of a six-speed torque converter auto, which does its best to have you not notice it.
It also has a stop-start system, which might save fuel (I couldn't objectively prove that it did) but will definitely annoy you at the lights.
---
Toyota Prius
The 1.8-litre four-cylinder engine produces 72kW and 142Nm. Due to the vagaries of hybrid-power calculations, the combined power output is 90kW, but there is no combined torque figure. It's unlikely - given the 1400kg kerb weight - that it's only 142Nm.
Along with the Atkinson-cycle internal-combustion engine, the Prius has two electric motors - one acting as a generator and one to drive the front wheels via a continuously variable transmission.
Fuel consumption
Peugeot 208
7/10
The claimed/combined fuel number for the 208 GT-Line is a slightly unrealistic-sounding 4.5L/100km. Sure enough, after a week of city/highway combined driving, I produced a number of 7.4L/100km. So, a solid miss. Slightly less-enthusiastic driving should see that number drop, but I still don't see how you could get it down to 4.5L/100km.
The 208 requires a minimum of 95RON mid-range fuel, and has a 50-litre tank.
---
Toyota Prius
Official figures are always worth a chuckle, but the combined-cycle figure for a hybrid is always an interesting pointer. In the Prius, the ADR figure is 3.4L/100km. My week with the Prius in almost exclusively city driving - its natural habitat - yielded an impressive 4.3L/100km.
Driving
Peugeot 208
8/10
The 208 is good fun, and lives up to its heritage of making the most of its lightweight dimensions and small figure to make for an agile city-slicker. The engine outputs might look like just any other hatch in this class, but the turbo comes on nice and strong in an impressively linear fashion.
It makes for reliable and strong acceleration, with the peak 205Nm of torque available at 1500rpm.
A featherweight at 1070kg, you'll find no complaints from me about its performance. It's no GTi, but it will still be warm enough for most.
Despite its upright figure, handling is fantastic, too. The low-profile Michelins feel planted at the front and back, and, unlike the GTi, you never really feel at risk of understeer or wheelspin.
This is all enhanced by the intense helm, with the small steering wheel giving it a thoroughly engaging feel. You can chuck this car into corners and down alleyways with enthusiasm, and it feels like it loves it as much as you do.
The suspension is stiff, especially at the rear, and the low-profile rubber makes it noisy on coarse-chip surfaces, but you'll barely hear a peep out of the little engine. Other notable downsides include the slow-to-react stop-start system (which you can turn off) and the lack of active cruise, which would be nice at this price.
---
Toyota Prius
Despite rolling on Toyota's TNGA platform, it's not a particularly interesting car to drive. As with the old Prius, there's a fair bit of body roll and not a small amount of dive under heavier braking.
Neither of these are likely to trouble you, as the underpowered nature of the Prius enforces a relaxed pace, much like the hybrid Corolla I drove last year.
The uninspiring combination of modest power outputs and a CVT transmission is a Toyota staple and never fails to set my teeth on edge.
Having said that, the Prius is very quiet and an easy place to spend the commute. Again, the target buyer isn't looking for an excitement machine - fast hybrids are vastly more expensive - this car smashes its KPIs.
Toyota's early progress has been engulfed by its competitors, however. The Prius has all the clicks and whirrs but it's still essentially the same car it always has been - press the accelerator a bit, you get a few metres of near-silent progress, then the engine kicks into life and off you go.
The whacky joystick gear selector features D position and B. Other hybrids and BEVs have what I thought was a similar feature, a separate mode to increase the aggression of the energy harvesting from braking. Not the Prius - B means braking, which you can use on a long downhill run to reduce the strain on the tiny brakes. Switching to B mode induces engine braking by lowering the gear ratio in the CVT.
And, on that point, the Prius pretty much drives like a normal car. Some hybrids use the drag of the generator to assist with braking and therefore charge the battery, but the Toyota is almost entirely conventional-feeling.
Safety
Peugeot 208
7/10
On the topic of active cruise, this car is showing its age in the safety department. Available active safety is limited to a camera-based city-speed auto emergency braking system (AEB). The lack of a radar, even optionally, means no active cruise or freeway-speed AEB. There's also no option for blind-spot monitoring (BSM), lane-departure warning (LDW) or lane-keep assist (LKAS).
Sure, we're talking about a car which largely dates back to 2012, but you can get cars a full size up with all those features for close to the same money from Korea and Japan.
On the more impressive side, you get an above-average set of six airbags, seatbelt pre-tensioners and rear ISOFIX child-seat mounting points, as well as the expected set of electronic braking and stability aids. A reversing camera is also now standard.
The 208 previously held a maximum five-star ANCAP safety rating from 2012, but that rating is limited to four-cylinder variants, which have since been phased out. Three-cylinder cars remain un-rated.
---
Ownership
Peugeot 208
7/10
Peugeot offers a five-year/unlimited-kilometre warranty on its entire range of passenger cars, which is up-to-date and in-line with most segment competitors.
The 208 requires servicing at yearly or 15,000km intervals (whichever occurs first) and has a fixed price to the length of the warranty.
Servicing is not cheap, with yearly visits costing between $397 and $621, although there's nothing on the optional extras list, that price is all-inclusive.
Total cost over the five-year period is $2406 for an (expensive) average of $481.20 a year.
---
Toyota Prius
Toyota has joined its rivals in the long-warranty camp, now offering five years/unlimited kilometres on its whole range. Roadside assist is an extra cost, though. 
Your Prius' service costs are capped for the first three years/60,000km and you have to take it back to Toyota every six months/10,000km. Thankfully, the services only cost $140 a pop.