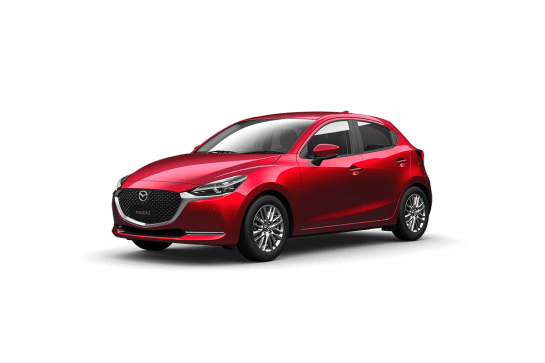 COMPARE
Mazda 2
VS
Mazda3
Mazda 2
Likes
Big boot
Good safety spec
Smarter looks
Dislikes
Not very comfy
Engine not terrific
Annoying mirrors
---
Summary
Mazda 2
The Mazda2 range has recently seen some big changes, with the facelifted model aiming to offer customers a different sort of car to what it was before.
It's more expensive - prices are up by as much as 25 per cent! - but there's a lot more standard equipment, some new trim levels, and all of them also get the G15 alphanumeric label… but it's a carryover engine for this facelift, the first major update since 2015.
It's an intriguing move from Mazda Australia to increase the entry price point by such a big amount because it's essentially still the same old Mazda2 sedan underneath it all. And it's not like this part of the market is flush with competitor offerings - there's no more Hyundai Accent, the Kia Rio sedan is dead, there's no Ford Fiesta sedan, Honda isn't going to sell the new City model, you can't get an MG 3 sedan, or a Kia Picanto sedan… in fact, there's no other light sedan on the market anymore.
But there are some slightly larger sedans that are close on size, and in some grades even undercut the updated Mazda2 sedan when it comes to price. 
So, does the most urban-friendly sedan on the Australian new car market still make sense?
| | |
| --- | --- |
| Safety rating | |
| Engine Type | 1.5L |
| Fuel Type | Regular Unleaded Petrol |
| Fuel Efficiency | 5.5L/100km |
| Seating | 5 seats |
---
Mazda3
We all know that X means buried treasure in the world of children's book pirates, but it's looking like it could hold similar relevance for what lies under the bonnet of future Mazdas.
We first officially heard about Mazda's industry-leading Skyactiv-X technology at the brand's Global Tech Forum in Germany two years ago, but now we've ventured back to Germany to drive it in production form ahead of its Australian arrival aboard a new flagship version of the Mazda3 early next year. 
No other manufacturer has managed to productionise compression ignition for a petrol engine, and with an underlying intention to make the combustion engine work better for everyday driving, in the face of the electric-focus of all other global brands, this could be the most exciting technological development of my career.
Why invest so much in combustion engines if every other major brand is beginning to treat them like yesterday's news? While the Japanese government predicts that 52 per cent of new cars sold in 2030 will use some form of electrification in their drivetrain, the same data suggests 90 per cent will still use an internal combustion engine as at least an element of their drivetrain. That's 90 per cent of the market, more than a decade from now.
| | |
| --- | --- |
| Safety rating | |
| Engine Type | 2.5L |
| Fuel Type | Regular Unleaded Petrol |
| Fuel Efficiency | 6.6L/100km |
| Seating | 5 seats |
Verdict
Mazda 2
7/10
If you need a brand-new city-sized light sedan, your only choice is the Mazda2. 
But if you can deal with a slightly larger car, you'll get a more comfortable, enjoyable and spacious experience by choosing a Kia Cerato or Hyundai Elantra, both of which you'll probably get for less money than this base model Mazda2 G15 Pure. 
---
Mazda3
8.4/10
Unlike most big technological advancements, this isn't about extra performance or reinventing the wheel, it's about Mazda's bigger picture approach to deliver the best mobility solutions for right now, while still planning for electric and fuel cell vehicles in the future.
That may sound like a line straight out of the Skyactiv-X press release, but Mazda's realistic approach to our continued dependence on combustion engines is commendable. 
My final judgement will have to wait until we know how much more it will cost over a regular Mazda3, but I can say the technology works really well and should really suit Australian conditions.
Note: CarsGuide attended this event as a guest of the manufacturer, with travel and meals provided.
Design
Mazda 2
The Mazda2 sedan has always been one of those cars that packs more in than you'd think - especially the boot. We'll get to that in the next section.
But let's cover off what has changed from the pre-facelift model to this one, because you may have noticed it looks a little different.
That's because it has revised front and rear bumpers, which are cleaner and simpler than before, and the grille now has a mesh finish rather than the plastic beam section of its predecessor. 
The rear does, too, with the new back bumper design and tail-light finish making it appear a little more contemporary. 
It carries off its size pretty well. The Mazda2 sedan is 4340mm long (on a 2570mm wheelbase), 1695mm wide and 1495mm tall.
The cabin of the Pure model has seen some cosmetic adjustments, but the overall design remains the same. Check out the interior pictures to see what we're talking about. 
---
Mazda3
Aside from the stunning good looks of the new Mazda3, the only visual distinctions the Skyactiv-X version scores over a regular high-sec model are bigger exhaust tips like those seen on the latest version of the Mazda6, and a Skyactiv-X badge in place of the regular models' Skyactiv-G. 
Practicality
Mazda 2
If you're choosing the Mazda2 sedan over the hatch, you're effectively stating that your prioritise boot space in your life. And good for you, because the Mazda2 sedan has 440 litres (VDA) of cargo capacity. The luggage capacity can be expanded by way of 60:40 split-fold rear seats, too.
It's easily large enough for the CarsGuide pram, and also managed to fit all three of our suitcases (124-litre, 95-litre and 36-litre) in though any more than that and the gooseneck hinges for the boot-lid could make for some issues actually closing the boot. The aperture is a very good size, and it's not hard to load things in because it's a nice low opening, too. 
The seat trim of the Pure model is brown cloth, which will either tickle your fancy… or not. The trim is fine, and so is the perceived quality of the fit and finish. There are simple ergonomic instruments like manual dials. 
There's a nice leather steering wheel, but there is no digital speedometer, no head-up display, and no centre console bin or armrest. There is a pair of cupholders, a small centre bin in front of the shifter, and a small cubby at the back of the console which could be used as a cup holder for rear seat passengers. 
The 7.0-inch media screen is looking small by today's standards, and while I applaud the addition of Apple CarPlay and Android Auto, I had issues with it every time I drove the car. It wouldn't connect first time, requiring me to: a) wait the 10-20 seconds for the screen to load; b) plug the USB in; c) wait for it to say "Apple CarPlay failed"; d) unplug and reinsert the USB. Then it was fine. But sheesh I'd get sick of that quick. 
The interface - using the rotary dial - is annoying. Touchscreens should be touch-capacitive when using smartphone mirroring. The reversing camera is also a bit low-res in its display.
The back seat isn't overly spacious. With the driver's seat set in my position (I'm 182cm tall), my knees were hard up against the seat in front, and my head was brushing the ceiling. That's despite good toe room and decent cabin width. 
Rear occupants don't get bottle holders, there's only one map pocket, and there's no centre armrest. Unlike up front, where the door arm-rest pads are soft, they're hard in the back. There's no rear seat air-vents, and the transmission tunnel eats into space more than it probably should in a car of this size.
---
Mazda3
It's a similar story for practicality, except it's completely identical to the regular Mazda3 this time. So expect the same decent interior packaging and convenience for four adults, with a 295L VDA boot and a space saver spare tyre under the boot floor. 
Price and features
Mazda 2
As referenced above, the Mazda2 entry price point is up considerably compared to the pre-update version, thanks to the ditching of the entry-level Neo model.
How much has the price gone up? $5500. That's a huge price hike for a vehicle in the most coin-conscious segment of the market. 
The result is a base model G15 Pure version of the Mazda2 - in both sedan and hatch body-styles - for $20,990 plus on-road costs (also known as RRP / MRSP). And that means it'd be about $24,000 drive-away. It's essentially the equivalent of the old mid-spec Maxx model, but more expensive.
Oh, and that's for the six-speed manual, which only a few per cent of people buy. The six-speed automatic - as tested here - is $22,990 plus on-road costs. Or about $26,000 drive-away. For the base model. Eep. However, if you're in the market, check Autotrader and you'll probably find decent deals.
If you want the top-spec G15 GT sedan, it's $25,990 plus on-roads (pushing $30k on-the-road).
There are some pretty impressive inclusions to justify the increases. There are new 15-inch alloy wheels, a system called G-Vectoring Plus (a torque vectoring system designed to improve cornering behaviour), plus there's LED headlights, hill start assist, a reversing camera and rear parking sensors.
The Pure model misses out on a few things compared to the GT sedan, which has traffic sign recognition, a surround view camera, front parking sensors and adaptive cruise control.
Instead, the Pure has regular cruise control, and a lot of the new additions are safety-focused: it has auto emergency braking (AEB) with pedestrian detection, lane departure warning and lane keep assist, blind spot monitoring and rear cross-traffic alert. 
It also debuts the aforementioned smartphone streaming tech of Apple CarPlay and Android Auto, which the Mazda2 hasn't had up until now. The media screen - which is touch capacitive at a standstill and has a rotary controller to use at speed - also has six speakers, Bluetooth phone and audio streaming, digital radio and optional sat nav.
Just to add a little bit of context to the value equation here, if you can deal with a slightly larger car, you could get into a Kia Cerato or Hyundai Elantra for similar or less money. And that's what I'd suggest you do.
---
Mazda3
This is probably the biggest question mark above the Mazda3 Skyactiv-X's head for now, with all we know being Mazda Australia's plan to launch it as a new top-spec version, so sit above the existing $36,990 G25 Astina flagship. 
How far above will be the clincher, and given it's not likely to quite match the performance of the G25, it will depend on what value you place on outright driveability and a marginal fuel saving over the base 2.0-litre engine. 
Like the rest of the Mazda3 line-up, we also expect to see the Skyactiv-X with a choice of hatch or sedan bodystyles with either manual or automatic transmissions.
Engine & trans
Mazda 2
Under the bonnet of the Mazda2 - no matter which model you choose - there's the brand's newly monikered G15 SkyActiv engine. It's a 1.5-litre gasoline (hence the G15) four-cylinder unit, with 82kW of power (at 6000rpm) and 144Nm of torque (at 4000rpm). Those outputs are up 1kW/3Nm over the pre-facelift car.
It is available with the choice of a six-speed manual or six-speed automatic. Our car had an auto transmission. 
There's no hybrid, plug-in hybrid, electric, turbo-petrol or LPG version of the Mazda2 sold in Australia… or anywhere else, for that matter. You can get it as a diesel in some markets, but not Australia.
---
Mazda3
What's compression ignition again? It's basically how a diesel engine works, by using extreme pressure instead of spark plugs to burn fuel. Skyactiv-X still uses spark plugs, but only to kick off the ignition process and act as a safety net for cold starts and other edge cases, while extreme compression makes for much more effective combustion, which means improved efficiency. 
This combustion efficiency means the engine can use a much leaner fuel-to-air mixture, and make more power and torque with less fuel and even less wasted fuel out the exhaust. Mazda describes it as delivering diesel-like torque and fuel consumption, with the power, responsiveness and refinement of a petrol. Or in other words, one step away from turning water into wine... 
Mazda is calling the process Spark Controlled Compression Ignition (SPCCI), and the extreme pressures required to make it all happen are created by higher static compression ratio (but less than a typical diesel), much higher fuel pressure and boosted air pressure entering the combustion chamber. 
Key to managing all these heightened parameters (and the very technological advancement that makes it all possible) is an ultra sensitive in-cylinder pressure sensor that has been developed specifically for this task. 
Delivering the boosted air pressure is a Roots-type supercharger - or what Mazda describes as a high-response air supply - which was chosen over other air pump designs like a turbocharger or the Miller-cycle supercharger previously used in Eunos models because of its instantaneous boost delivery and breadth of efficiency.
Speaking of breadth of efficiency, perhaps the biggest plus for average motorists is that the engine's efficiency zone has multiplied, meaning the difference between city and highway consumption, leadfoot drivers and my Dad, heavy and empty loads etc will be far less than a typical petrol engine.
This all represents a continuation of core principles we've seen from the start of Mazda's Skyactiv era. That is, to make an existing engine type work better under everyday driving conditions rather than targeting outright performance.
The Skyactiv-X era starts with a 2.0-litre based on the regular Skyactiv-G engine, with the same 1998cc capacity. Other capacities are planned, with the eventual reborn rotary looking increasingly Skyactiv-X along with a straight-six version for a new CX-9 in a couple of years. Smaller versions are unlikely due to the economies of scale involved with such technology in a smaller and therefore cheaper car. 
Mazda is making two versions of the Skyactiv-X 2.0-litre for now, one with 16.3:1 compression designed for Europe that favours Premium unleaded petrol, and one 15:1 version aimed at the US with their abundance of lower grade unleaded. 
Unlike conventional engines, it's the lower compression version that will deliver the biggest benefits, because Skyactiv-X relies on the usually "bad thing" pinging to do its best. 
We're set to get the Euro-spec one in Australia, which unfortunately means we won't quite be getting the very best Skyactiv tech again.
The Euro-spec engine puts out 132kW at 6000rpm and 224Nm from just 3000rpm, which on paper sounds about halfway between the existing Skyactiv-G 114kW/200Nm 2.0-litre and 139kW/252Nm 2.5-litre petrol engines.
The engine also incorporates a mild hybrid system, but don't be confused by the H-word, there's no electric drive element. It simply means its got a cleaver alternator that only engages when needed and on deceleration to reduce efficiency-sapping drivetrain friction,
Pop the bonnet and you're confronted by the biggest engine cover you've ever seen, but unlike most, this one is equipped with labeled latches that encourage you to have a look underneath. This encouragement continues with a clever little retention hook to hold the cover up against the bonnet while you're poking around.
Unless you're a Mazda engineer you're likely to be baffled by the array of hoses, ducts and wiring, but you might get a kick out of spotting the supercharger.
There's less to be said for the transmissions though, with versions of the existing six speed manual and torque converter automatics deemed up to the task, with the new engine's increased efficiency zone negating any increase to the ratio count. The ratios have been adjusted to suit the new output characteristics, and while the ratios are yet to be published, there's a narrower spread across the six with what feels to be taller first and sixth gears.
Fuel consumption
Mazda 2
The claimed fuel consumption for the Mazda2 G15 auto sedan we drove is 5.3 litres per 100 kilometres. 
On our test, which included a range of driving with plenty of traffic snarls, some arterial road cruising, and a short stint of 110km/h freeway motoring, we saw an indicated 7.0L/100km on the car's trip computer, while our at-the-pump calculation was higher than that, at 7.4L/100km. 
The fuel tank capacity for the Mazda 2 sedan is 44 litres.
---
Mazda3
All this hooha about fuel savings, and Mazda is yet to confirm an actual figure for Australia. We do know the hatch is rated at 4.5L/100km in manual and 5.3L/100km in auto according to the NEDC, which is historically close to the figures generated by the ADR 81/02 test we go by in Australia. 
If it comes close to matching the NEDC figure it will be a win, sitting comfortably under the 6.4L/100km (manual) and 6.2L/100km (auto) figures currently applied to the Skyactiv-G 2.0-litre Mazda3 hatch. 
While the Australian-spec Skyactiv-X engine is expected to align with Europe rather than the US, and therefore be tuned to deal with Premium 95 RON unleaded, it's still unclear if it will accept the cheaper Regular 91 RON unleaded.
Driving
Mazda 2
With compact dimensions, the Mazda2 sedan is one to consider if you really need a sedan. I don't know why you'd really need a sedan, and if you're an urban-dweller you're likely going to be more naturally drawn to hatchbacks because they're generally shorter and therefore easier to park.
But if you're a sedan fancier, then the Mazda2 is just about your only compact choice.
It needs to be said, though, that there are more comfortable cars than the Mazda 2, especially around town.
The suspension of this little car is seemingly designed to offer a sporty experience, which is at odds with the intent of the car. It's very firm, lacks composure over repetitive lumpy bumps and the suspension is very noisy in that situation too. 
It isn't crashy, but it can lack body control and composure, and at times I felt it was skittering over pockmarks, and it didn't instil much confidence.
It's better at higher speeds, and if the road is smooth. And if that's your user case - or if you simply don't care much about ride comfort - this could be just fine for you.
There's no doubt that stiff suspension does help the Mazda2 feel a bit more sporty than it actually is, because it handles direction changes quite well, and as we've come to expect of Mazdas today, the steering is direct and sporty feeling. It doesn't suffer mismatched weighting, either, meaning it feels like when it should and gains heft when you'd expect.
The engine is eager enough, but the throttle requires a bit more management than seems necessary - and that's actually more to do with the transmission's logic than anything else. At times when you think you're pressing hard enough, you might find the engine is labouring, so you press harder on the accelerator and it kicks down and pushes you away with vigour. It's just not as easy to make smooth progress in normal driving as I'd like.
There is a 'sport' mode for the transmission that ultimately solves that problem because it stops the auto gearbox from shifting up to a higher gear (to save fuel), but do you really wanna be in 'sport' mode all the time? I know I don't. 
One of my biggest urban driving gripes is Mazda's insistence to only fit the passenger-side mirror with a convex lens. The driver's side mirror isn't convex - and that means other road users can be hard to discern, and to be honest the car's blind-spot monitoring system saved us from side-swipes a couple of times this week.
---
Mazda3
What's probably most amazing about Skyactiv-X is that you can't really tell there's anything special going on under the bonnet. 
Push the start button and it gets going like any other petrol Mazda, although perhaps quieter. 
Move off from rest and there's no significant difference to the way it feels. 
When I drove the prototype version of this drivetrain, there was a slight pinging under light throttle as it transitioned from spark to compression ignition, but I'm pleased to confirm that the extra two years of calibration has tuned this down to the tiniest occasional diesel sound, and it all feels a bit like a smooth diesel that's more responsive than you expect.
The European-spec Skyactiv-X 2.0-litre's outputs suggest it should be closer to the existing 2.5-litre in terms of performance, but in reality it feels closer to the 2.0 litre.
My perception is likely to be clouded by the Skyactiv-X's specific transmission gearing, but it could also be because it's able to do the same job with less revs and therefore not sound like it's working so hard. 
First gear feels quite tall with either transmission, and we also found the auto and manual were only sitting on 3500rpm in sixth at 160km/h on the Autobahn. 
Mazda doesn't specify performance figures, so it would be handy to put all three alongside each other from a standing start. But then, that's not what Skyactiv-X is all about, it's more about performing better under light throttle and incidental bursts of acceleration. 
We can't wait to put it to the test over some hilly terrain and familiar territory when it hits Australia early next year.
Safety
Mazda 2
The Mazda2 has been around for quite a while. It scored the maximum five-star ANCAP crash test rating back in 2015, but the criteria has evolved somewhat since then.
However, it must be stated that Mazda has been proactive in updating its safety spec levels across its entire range, and the Mazda2 is no exception.
Standard safety equipment includes auto emergency braking (AEB) with pedestrian detection (but not cyclist detection), plus all models get a lane departure warning system, lane keeping assistance, blind spot monitoring, rear cross-traffic alert, rear parking sensors, a reversing camera, and even low-speed rear AEB.
The Mazda 2 - be it sedan or hatch - has six airbags (dual front, front side, full-length curtain), and it has dual ISOFIX child seat anchor points and but only two top tether points (outboard).
---
Mazda3
The existing Mazda3's maximum five-star ANCAP safety rating will almost certainly be carried over, and the high level of safety gear fitted to the existing G25 Astina is also likely to be matched. 
This means front and rear airbag coverage, front and rear AEB, front and rear cross-traffic alerts, lane keeping assistance and blind-spot monitoring. 
Ownership
Mazda 2
The Mazda range is backed by a five-year/unlimited kilometre warranty plan, which is on par with all the mainstream brands out there, but is behind the likes of Kia.
Mazda Australia has a five-year capped price servicing campaign for all of its models, too, but the service intervals are shorter than competitor brands, too - yes, the company's cars require servicing every 12 months, but the distance interval is 10,000km - meaning if you do a lot of distance, you might find yourself heading back to the dealer well before the 12-month period is up. 
Servicing costs are reasonable, with the average cost per visit working out at $312 over five years/50,000km, not including consumables.
Mazda backs its cars with five years' roadside assistance.
Worried about Mazda2 problems, reliability, faults, engine issues, transmission problems and other common complaints? Check out our Mazda2 problems page.
---
Mazda3
Service pricing is also yet to be confirmed, but Mazda engine development boss Eiji Nakai assures CarsGuide that the new engine will not need servicing more frequently or cost any more to service than existing Skyactiv-G engines.  
So expect the same 12month/10,000km intervals, with five year/50,000km capped servicing plan totalling just under $2000 over that period.  
Like all new Mazdas, the recently upgraded five-year, unlimited kilometre warranty will apply to the 3 Skyactiv-X.