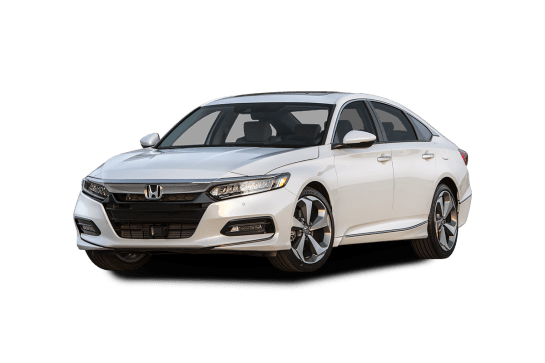 COMPARE
Honda Accord
VS
Toyota Camry
Honda Accord
Likes
Slick design
Brilliant packaging
Single well-specified variant
Dislikes
Ride hardly luxurious
Engines are so-so
Pricey
---
Summary
Honda Accord
It's honestly a wonder we're seeing Honda's new Accord at all, given it enters the least favourable market conditions for sedans that Australia has ever seen.
Honda even knows it, which is why the company is bringing this new 10th-generation Accord to our market in conservatively low numbers to begin with.
In fact, the only reason we're getting this Accord is because the Japanese brand acknowledges the sedan is part of Honda's DNA, and that there's a dedicated fanbase of Accord owners who won't buy anything else.
If you're one of those fans – pat yourself on the back – this car is just for you. So, what's it like? We went to its Australian launch to find out.
| | |
| --- | --- |
| Safety rating | |
| Engine Type | 2.0L |
| Fuel Type | Hybrid with Regular Unleaded |
| Fuel Efficiency | 4.3L/100km |
| Seating | 5 seats |
---
Toyota Camry
I've got a line of Camry jokes that stretches to Mars and back, and I'm not alone. Heck, even Akio Toyoda sledged his own company's products when he famously delcared it would produce "no more boring cars". To be fair, the company is still struggling with that promise.
The new version has, sadly, knocked some of the stuffing out of my established Camry repartee. Until today, I had not yet had a go in the new car,  and thus it was something of a shock to realise that it doesn't even look terrible any more.
My cruel colleagues, however, muttered darkly that this was still a Camry, just not as we've always known it. 
Hmmm. I'm getting too old to deal with change. This Camry Ascent Sport Hybrid had better be boring.
| | |
| --- | --- |
| Safety rating | |
| Engine Type | 2.5L |
| Fuel Type | Hybrid with Premium Unleaded |
| Fuel Efficiency | 4.2L/100km |
| Seating | 5 seats |
Verdict
Honda Accord
7.6/10
Honda's new Accord is a miracle in that it was brought here seemingly simply for fan service.
I think those fans will mostly be pleased. The 10th-generation car is high-tech, sensibly specified, safe, and certainly Honda-like behind the wheel. Just don't expect it to be as luxurious as Japanese flagship sedans of days past.
Note: CarsGuide attended this event as a guest of the manufacturer, with travel and meals provided.
---
Toyota Camry
7.4/10
It's a pity families don't buy sedans any more, because this is a terrific family car, particularly if you're not bothered by badge cache or speed, but do like an easy-to-drive, cheap-to-run car. Just a few years ago it would have been almost laughable to contemplate a car this big, for this money, being so cheap to own and run.
I'm also really annoyed that my hackneyed Camry jokes are no longer just not funny, they're not funny because they're not (as) true. No, it's not a super-fun excitement machine, but that's not the point. It is a very good car, with all the Toyota goodness of old, added warranty and the bonus of genuinely feeling good to drive. And you're a mild shade of enviro-green to go with it.
Is it true? Has the Camry shaken off most of its dowdy image?
Design
Honda Accord
8/10
The Accord looks swish! It carries so much of Honda's up-to-date design language through its entire body.
This majorly includes the chrome strip across the front, up-to-date LED headlights, and swoopy coupe roofline.
These are offset by a curvy line running down the rear half of the car's profile, accented by a chrome strip. As mentioned, those wheels look bigger than they are, and add to the Accords presence by sticking way out to the edges of the chassis.
It's referential to other vehicles in Honda's range, like the Civic and even S660 kei-sized sports car. Fans will be happy to know the overall package is more restrained than something like the zany Civic hatch.
The cabin is almost exactly what you'd expect from a luxury Japanese sedan. This means throne-style plush leather trimmed seats (that are genuinely nice to sit in) a wide symmetrical dash look and familiar Honda touchpoints throughout.
It's all well built and ergonomic, so there's no complains on that front, but there are some areas where the Accord is showing its age in the design department already.
There's a shift knob that sits too far out of the centre console (hardly a 'high-end' look), an odd retracting panel in the dash like its 2004, and the 'wood trim' that runs across the dash appears to be a plastic fill – it has no texture!
The rear seats are just as - if not more - comfortable than the fronts, and there are no complaints when it comes to packaging – the Accord's cabin is mostly a great place to be.
---
Toyota Camry
Some key changes to the design approach on the new Camry means it's not as knock-kneed and simpering as the last, um, six or so generations.
To be fair, the previous one wasn't terrible but there are actual hints of mild bravery, with an angry front-end look, some interesting surface detailing and, even what might be called a "Lexus-lite" look for the rest of it.
The new Camry is lower, has big wheel arches that the 17s struggle to fill but it has some genuine style, rather than looking like the clay modellers knocked off before lunch. The dual exhaust seemed incongruous to me, but is, in fact, a styling win.
Jokes aside, I don't mind it at all. It's no Supra, but it's no mid-90s Camry, either. Yeah, I bet you don't remember which one I'm talking about, either.
I really like the cabin. The dash design is quite something and shows some real flair. William Chergowsky told me last year that this interior was going to be more emotional and memorable. And it really is, along with Toyota's impressive build quality. Even the volume knob feels substantial, the materials are nice but the steering wheel is... well, more of that later.
Practicality
Honda Accord
8/10
Speaking of packaging – it's consistently a Honda strong point, and that's no different in the new Accord. As already mentioned, front and rear passengers get heaps of room for their arms and legs, and there's decent storage areas throughout.
That means two smallish cupholders and trenches in the doors, a large caddy in front of the shift-lever with that odd retracting door, and large cupholders in the centre console.
Like almost every Honda, the centre console box is colossal and hosts a single extra USB 2.0 port.
The back seat has leagues of legroom – almost limo-sized for rear passengers, although headroom is compromised a bit by the descending coupe-like roofline. The thick and low C-pillars also make getting in and out a little harder than it perhaps should be – but this is a common trait shared with other coupe-styled sedans in the class like the Peugeot 508.
Touchpoints everywhere are nice and plush, and there are only a few nasty plastics which are well hidden.
Rear seat occupants can make use of adjustable air vents, dual USB ports and a plush trimmed drop-down arm rest with two cupholders.
The arm-rest also reveals a ski port – an increasingly rare feature in today's cars – which leads us to the boot. It's massive at 570 litres (VDA) – that's significantly larger than both the Camry and Liberty and the best part – it doesn't matter whether you pick the petrol or hybrid, the boot space is the same.
Honda tells us that this is because it has managed to reduce the hybrid battery pack significantly in size – so that it can be placed under the passenger seats instead. Brilliant.
Every Accord has a space-saver spare under the boot floor.
---
Toyota Camry
The new, stretched wheelbase has meant a lot more interior space for passengers, particularly in the rear. The Camry hasn't really been small for a very long time, but this one's generous rear legroom is probably why it's a smash-hit with the Uber crowd. The seats are comfortable too, if trimmed in what appears to be neoprene.
Front and rear passengers each have a pair of cupholders for a total of four, plus there's a deep central console bin and a space under the stereo for a phone. There's even a coin slot. Each door also has a bottle holder.
The boot in the Ascent Sport is a voluminous 524 litres - the Ascent has a full-size spare that swallows up 30 litres of that space. The seats fold down 60/40, but the cargo volume when they are down is not readily available.
Price and features
Honda Accord
7/10
Honda has chosen to bring the Accord in surprisingly limited numbers – just 150 units a year to begin with – and so there is just one specification level.
It's the highest it goes though, a VTi-LX. Honda tells us there's no chance of lesser variants, even if consumers are asking for it, so don't hold out for an entry-spec car.
The single variant is split into two engine options. A familiar 1.5-litre petrol turbo, and a new-generation 2.0-litre naturally aspirated engine with hybrid drive.
Naturally, as a high-grade car, the price is quite high. Honda is asking $47,990 for the turbo and $50,490 for the hybrid.
This is more expensive than highly specified traditional opponents, like the segment-dominating Toyota Camry SL hybrid ($41,090) and Subaru Liberty 2.5i Premium ($37,940). You could also consider cross shopping it against something like Peugeot's new 508 GT ($53,990) – but if you're an Accord fan there's a good chance none of those alternatives matter.
Standard spec is great. The Accord sports the best of Honda's catalogue and then some. Standard are flashy 18-inch alloys that look big in the Accord's wheel arches, an 8.0-inch multimedia touchscreen with Apple CarPlay and Android Auto as well as marginally better software suite than the rest of Honda's range (typically a sore point for Honda). Unlike pretty much every other Honda though, the Accord scores a 6.0-inch head-up display and one of its dual dials in the dash is digital, and configurable to several layouts including navigation.
You'll also be getting a wireless phone charging bay, but no USB-C. At least it gets Apple CarPlay and Android auto from the get-go, unlike the current Camry which will need to have it retrofitted if you bought one prior to it being rolled out.
The Accord has an electronic parking brake, auto parking function and active cruise control to sweeten the deal, too. More on safety features later in this review.
---
Toyota Camry
The hybrid drivetrain is available on the Ascent, Ascent Sport and SL. I had the $31,990 Ascent Sport for the week.
It comes with 17-inch alloy wheels, a six-speaker stereo (with CD player!), dual-zone climate control, cloth trim, with space-saver spare wheel, electric driver's seat, auto LED headlights, keyless entry and start, sat nav, reversing camera, active cruise control, front and rear parking sensors, an impressive safety package, power mirrors and windows. Did I mention the CD player?
The six-speaker stereo is powered from the 8.0-inch touchscreen and the software is...um...not great. Which wouldn't matter if it had Android Auto and/or Apple CarPlay but Toyota Australia stubbornly refuses to include them. The damn Seppos get it in their Toyotas, so it's not like it's impossible. But our version does have a CD player. Hipsters rejoice!
Engine & trans
Honda Accord
7/10
The Accord will only get two engine options – the first is a 1.5-litre turbocharged four-cylinder engine which will be familiar from other Hondas where the same engine lives. Honda says it's put a new head on for the Accord and tightened up the engine's response. The result is the same 140kW power output, but an increase in torque to 260Nm. This engine is mated exclusively to a stepped-ratio continuously variable transmission (CVT).
The other option is a 2.0-litre naturally aspirated petrol four-cylinder with hybrid drive. Combined system output is 158kW/315Nm, so it is the more powerful of the two choices.
It also has a different transmission which Honda refers to as the e-CVT – but it proved to behave quite differently as explained in the driving section of this review.
All Accords are front-wheel drive.
---
Toyota Camry
While the standard Camry packs the same 2.5-litre four-cylinder, the Hybrid's ICE output is slightly lower, at 131kW. When paired with a hybrid motor, the total power figure is a pretty decent 160kW, but the torque figure appears to be unaffected, at 202Nm. Toyota doesn't quote combined torque figures, because it's tricky with the type of transmission it uses.
The front wheels are driven by Toyota's favoured e-CVT, with six artifical steps to make it feel like a proper auto, if you're feeling racy.
Fuel consumption
Honda Accord
8/10
The Accord has brave claimed/combined fuel usage figures of 6.5L/100km for the petrol-turbo and 4.3L/100km for the hybrid. If real-world tests can even come within a litre or two it will prove to be fantastic for the segment – but you'll have to wait until we get one for a week-long road test for a fair real-world figure.
Honda says its engines are tuned to run on 91RON unleaded petrol, and the Accord has a 56-litre fuel tank in the turbo or 48.5L in the hybrid.
---
Toyota Camry
The Hybrid's windscreen sticker makes the bold claim of 4.2L/100km on the combined cycle, which is amazing for a big sedan. Reality isn't quite so amazing. In our week with the car, 5.7L/100km was the best I could get, but it was mostly city driving, the weather was really humid and, it turns out, this isn't a bad thing to drive, which means you're tempted to hit the throttle regularly.
As it's a typical Toyota hybrid, there isn't a plug to charge it, so you'll not be running on batteries the way you can in, say, a Hyundai Ioniq PHEV.
Driving
Honda Accord
7/10
The Accord doesn't quite drive like you might expect. It betrays its luxurious look and plush interior with a firm ride.
Honda says this is because it has imbued the "spirit of Accord Euro" into the development process for this new Accord – suggesting that it can appeal as much to fans of the sporty Accords of days past as much as it does for its Japanese luxury car fans.
I think they've gone overboard, though. The chassis and dampers are stiff. Too stiff. This car feels abrupt and crashy over larger bumps, and unsettled over smaller ones.
The flip side of that, of course, is that it is a blast to throw into corners. With the wheels way out to the edges of the chassis (the Accord is wider than ever) it simply refused to understeer, giving it handling prowess that eludes most front-drive sedans this size.
In some ways its like driving a giant Civic, and for those who enjoy driving, that will be a very good thing.
Both engine options don't quite keep up with the abilities of the chassis. While the 1.5-litre petrol punches above its weight when it comes to power, it's just not an athletic performer, especially when you're demanding straight-line acceleration.
Its weak link is largely the transmission which tries to emulate a torque converter by stepping its way through 'ratios'. It has some typically negative characteristics of limiting the feedback, and changing the ratio at seemingly random times.
The hybrid is better, both on power and in terms of its transmission, which locks up when needed. It's still no true performer though.
Neither option seems to be capable of spinning the front wheels, either through lack of power or design, so if nothing else, it's predictable and feels safe.
Handling proved to be good, with Honda's direct and fast steering being on-point, and the signature chunky leather-bound wheel offering a satisfying way to interact with the car. The steering does have a slight artificial tinge to it, especially with the seemingly computer-weighted 'Sport' mode, but Honda has also reduced the turns lock-to-lock, making it fast to park in city scenarios.
I was surprised to find that road noise in both variants wasn't great. It's better than in the Civic, but Honda claims it has gone to lengths to deaden it, so I had hoped it would be quieter inside. The engine noise is better – relegated to a distant hum unless you're really wringing it.
Overall, it's a good – if a little firm – driving experience. It just doesn't quite live up to the luxury promise set out.
---
Toyota Camry
All the Camry markers are here. It's easy to get in and out of and easy to get comfortable. The dash isn't too high and, uh, the steering wheel is plastic, which is genuinely disappointing. A Mazda6 (no, not a hybrid, I know) doesn't have a plastic steering wheel. The Toyota one is pretty cheap-feeling.
Pressing the start-stop button, you hear the electrics switching on and, if you're backing out of the drive, you won't hear the engine until you're on the gas driving away. You may not hear anything, but your passengers might hear your tutting. The brakes are very grabby when you're in stealth, I mean, electric mode, whether you're going forward or backwards. No doubt it's something you will become accustomed to, but it's there. Toyota hybrids seem to be behind the game on this particular score.
In every other way, the Camry is exactly as it has always been. Except it isn't. Toyota kept all the good things - it's smooth, it's quiet and it rides well. Everyone is comfortable and everything works. I've already mentioned it was stinking hot the week we had it and the Camry's air-conditioning was super-fast cold.
The bit that's different, though, is that, just like the styling, things are better. Camrys past had over-light steering, marshmallows for suspension and as much grip on the road as Kanye West has on reality. This one has body control. The steering feels good. There is actual grip and you feel like you're driving the car rather than just steering it around.
Safety
Honda Accord
8/10
The Accord impresses with a fairly comprehensive standard safety suite, helped along by the fact that the brand only needs to bring one variant to market.
On the active safety front, it gets auto emergency braking (AEB – with pedestrian detection), lane departure warning with lane keep assist, adaptive cruise control, driver attention alert, and Honda's strange Lane Watch camera suite in place of blind-spot monitoring.
It also gets an expanded suite of cameras with a wide angle top-view to assist with parking.
On the expected front, the Accord gets the standard suite of stability, brake, and traction controls as well as front and side curtain airbags which have 'safety vents' to prevent airbag injury and 'roll-over sensors' which can keep the airbags deployed for longer in the case of a prolonged rollover scenario.
The Accord has not yet been rated by ANCAP.
---
Ownership
Honda Accord
8/10
Honda covers the new Accord with its five-year/unlimited kilometre warranty promise – which is competitive against both the Camry and the Liberty as well as other mainstream brands.
The Accord requires servicing once every 12 months or 10,000km whichever occurs first or when the engine computer tells you.
While you might be at the mercy of the computer, services are capped all the way out to 10 years/100,000km at just $312 a visit. That's mega cheap.
There are a few things not covered under the "base service price" but they shouldn't throw up too many red flags. The most expensive is the 'HCF – 2 fluid' every three years at a cost of $172, or the spark plugs every 100,000km at a cost of $289.
---