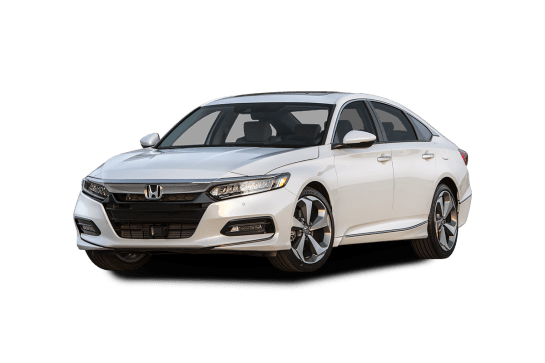 COMPARE
Honda Accord
VS
Toyota Camry
Honda Accord
Likes
Quiet and serene cabin
Frugal hybrid powertrain
Booming sound system
Dislikes
Expensive pricetag
Sedate handling
Chintzy chrome exterior accents
---
Toyota Camry
Likes
Solid as a rock
Improved driving experience
Cheap to own and run
Dislikes
Plastic steering wheel
Hopeless media system
Jerky brakes at low speed
Summary
Honda Accord
SUVs are all the rage these days, with buyers abandoning the once-thriving mid-size sedan landscape for something higher riding and, arguably, more practical.
But that doesn't mean there aren't any options left for those wanting a traditional three-box sedan.
Toyota still offers its Camry, Hyundai is about to launch its new Sonata, the Mazda6 is still alive and kicking, and the sexy Peugeot 508 has hit the market.
Over in Honda's corner though, the Accord – now in its 10th generation – continues to fly the flag for the Japanese brand, but does it do enough to justify continuing its low-volume sales in Australia?
| | |
| --- | --- |
| Safety rating | |
| Engine Type | 2.0L |
| Fuel Type | Hybrid with Regular Unleaded |
| Fuel Efficiency | 4.3L/100km |
| Seating | 5 seats |
---
Toyota Camry
I've got a line of Camry jokes that stretches to Mars and back, and I'm not alone. Heck, even Akio Toyoda sledged his own company's products when he famously delcared it would produce "no more boring cars". To be fair, the company is still struggling with that promise.
The new version has, sadly, knocked some of the stuffing out of my established Camry repartee. Until today, I had not yet had a go in the new car,  and thus it was something of a shock to realise that it doesn't even look terrible any more.
My cruel colleagues, however, muttered darkly that this was still a Camry, just not as we've always known it. 
Hmmm. I'm getting too old to deal with change. This Camry Ascent Sport Hybrid had better be boring.
| | |
| --- | --- |
| Safety rating | |
| Engine Type | 2.5L |
| Fuel Type | Hybrid with Premium Unleaded |
| Fuel Efficiency | 4.2L/100km |
| Seating | 5 seats |
Verdict
Honda Accord
7.9/10
The Accord VTi-LX Hybrid might seem like an odd choice for those after a mid-size sedan, but Honda has done more than enough to justify its existence in its current stable.
Sure, the price is a bit high, but it comes fully loaded and has a cutting-edge powertrain to keep running costs down.
In a segment that is dominated by the Toyota Camry, Honda had to do something to stand apart, and pushing a little more upmarket with spec and refinement is definitely the right way to go.
---
Toyota Camry
7.4/10
It's a pity families don't buy sedans any more, because this is a terrific family car, particularly if you're not bothered by badge cache or speed, but do like an easy-to-drive, cheap-to-run car. Just a few years ago it would have been almost laughable to contemplate a car this big, for this money, being so cheap to own and run.
I'm also really annoyed that my hackneyed Camry jokes are no longer just not funny, they're not funny because they're not (as) true. No, it's not a super-fun excitement machine, but that's not the point. It is a very good car, with all the Toyota goodness of old, added warranty and the bonus of genuinely feeling good to drive. And you're a mild shade of enviro-green to go with it.
Is it true? Has the Camry shaken off most of its dowdy image?
Design
Honda Accord
Sedans might be as daggy as all get out right now, but we think the Accord actually looks pretty handsome (don't @ me).
With its long bonnet and athletic profile, the Accord wears Honda's current design language well, and thanks to the chrome touches on the outside, dare we say it even looks a little premium?
The chrome isn't for everyone though, and we'd have liked to see darker accents like a 'Shadow Chrome' gunmetal grey colour that might age a little better than the ultra-reflective material.
In profile, the gently sloped roofline also adds to the aesthetic factor, while it's great to see Honda has opted for comfort in the 18-inch wheels rather than style, by going a few sizes bigger.
The rear end features unique wraparound tail-lights and a pinched derriere that slims things down a little, while the hidden exhaust outlet hints at the Accord's green-car credentials.
Overall, the Accord is inoffensive, and certainly scores points for being much less common than the Toyota Camry and Mazda6, and a little less divisive in styling than the Skoda Octavia.
Step inside the Accord and it's mostly a sea of soft-touch materials and plush leather.
The seats are especially notable because of their supportive design and wide base, ensuring driver fatigue doesn't set in until you're several hours into a journey.
The 7.0-inch driver display is a little small, but the large head-up display is excellent at putting all the data you need front and centre.
As for the multimedia system, an 8.0-inch screen seems large, but because it is flanked by physical buttons and knobs, it actually looks a bit smaller than the units found in some rivals.
I did appreciate the old-school buttons, though, and the touchscreen is quick and snappy, even if the graphics and user interface are a little clunky and cheap looking.
---
Toyota Camry
Some key changes to the design approach on the new Camry means it's not as knock-kneed and simpering as the last, um, six or so generations.
To be fair, the previous one wasn't terrible but there are actual hints of mild bravery, with an angry front-end look, some interesting surface detailing and, even what might be called a "Lexus-lite" look for the rest of it.
The new Camry is lower, has big wheel arches that the 17s struggle to fill but it has some genuine style, rather than looking like the clay modellers knocked off before lunch. The dual exhaust seemed incongruous to me, but is, in fact, a styling win.
Jokes aside, I don't mind it at all. It's no Supra, but it's no mid-90s Camry, either. Yeah, I bet you don't remember which one I'm talking about, either.
I really like the cabin. The dash design is quite something and shows some real flair. William Chergowsky told me last year that this interior was going to be more emotional and memorable. And it really is, along with Toyota's impressive build quality. Even the volume knob feels substantial, the materials are nice but the steering wheel is... well, more of that later.
Practicality
Honda Accord
Measuring 4904mm long, 2137mm wide, 1450mm tall and with a 2830mm wheelbase, the 2021 Accord is actually pretty close in size to the Holden VF Commodore.
And it flexes its bigger dimensions with a roomy and spacious cabin, regardless of where you are sitting.
Up front, the electronically adjustable seats offer plenty of variability to get into the perfect position, and the driver's seat also has a memory setting if you are sharing the Accord with different people.
The door bins are a little on the smaller size and struggle to fit a full-sized water bottle, but the centre console boasts a deep cavity, with two cupholders also featured next to the shifter.
The wireless smartphone charger position , which is between the shifter and climate controls, does eat up an entire storage hole because once you put your phone down, you don't want to put your keys or wallet on top of it and risk scratching your screen.
it would have made more sense for the wireless smartphone charger to be placed under the armrest, like it is in BMWs, to retain another storage option.
In the rear, space is excellent for occupants of all shapes and sizes, affording plenty of head, shoulder and leg room.
The middle seat can be a little squeezy, but the soft-touch leather and seat shape offer plenty of support and would be supremely comfortable over long journeys.
In the back, there are two air vents, two charging ports and a fold-down centre armrest with two cupholders.
Opening the boot reveals a cavity that will accommodate 570 litres of volume, but the back seats can be folded down to stow longer objects.
The rear seats are one piece, rather than split fold, meaning you'll have to choose between having rear passengers or taking that trip to Ikea.
There is a lockable ski tunnel through the middle, though, which means long and narrow items can be carried without folding down the rear seats.
Two bag hooks are found in the boot, which helps keep your groceries in the bag and not all over the boot floor.
---
Toyota Camry
The new, stretched wheelbase has meant a lot more interior space for passengers, particularly in the rear. The Camry hasn't really been small for a very long time, but this one's generous rear legroom is probably why it's a smash-hit with the Uber crowd. The seats are comfortable too, if trimmed in what appears to be neoprene.
Front and rear passengers each have a pair of cupholders for a total of four, plus there's a deep central console bin and a space under the stereo for a phone. There's even a coin slot. Each door also has a bottle holder.
The boot in the Ascent Sport is a voluminous 524 litres - the Ascent has a full-size spare that swallows up 30 litres of that space. The seats fold down 60/40, but the cargo volume when they are down is not readily available.
Price and features
Honda Accord
The Honda Accord VTi-LX Hybrid we've tested wears a pricetag of $55,800 before on-road costs, but those that can do without the electric assistance can score one for just $52,800.
A $50,000-plus asking price for a Honda sedan might seem steep, but the VTi-LX grade comes with all the fruit you'd expect out of a car in this price range.
As standard, the Accord comes with an 8.0-inch multimedia system with Apple CarPlay/Android Auto support, satellite navigation and digital radio, outputting to an excellent 10-speaker sound system.
Seriously, this isn't something we usually bring up in reviews but the Accord's sound system is truly great, offering clear and crisp audio whether listening to the radio or streaming music via Bluetooth.
Other key specification appointments include automatic LED headlights, dual-zone climate control, auto-folding side mirrors, woodgrain interior dashboard, electronic sunroof, black leather upholstery, electronically adjustable front seats, heated front seats, wireless smartphone charger, active noise cancellation, 7.0-inch driver display, 6.0-inch colour head-up display, keyless entry, push-button start, and remote engine start.
It's a long and exhaustive list of equipment, but what about the options?
Well, there aren't any.
The petrol model comes with a choice of four colours (two metallic and two pearlescent), while the Hybrid option adds 'Passion Red', but each hue comes at no extra cost.
Likewise, the standard 18-inch wheels are the only ones available across the Accord range, with no option to black them out or go an inch or two up in size.
Sure, those that want a frugal petrol-electric hybrid powertrain at a cheaper price can opt for the Camry Hybrid (priced from $33,490-$46,990), but the fit and finish of the Accord VTi-LX does feel a step above what Toyota has to offer.
It's worth pointing out that the top-spec Camry Hybrid features a powered tailgate and cooled front seats, which the Accord misses out on, while the former also boasts a larger 9.0-inch multimedia screen.
---
Toyota Camry
The hybrid drivetrain is available on the Ascent, Ascent Sport and SL. I had the $31,990 Ascent Sport for the week.
It comes with 17-inch alloy wheels, a six-speaker stereo (with CD player!), dual-zone climate control, cloth trim, with space-saver spare wheel, electric driver's seat, auto LED headlights, keyless entry and start, sat nav, reversing camera, active cruise control, front and rear parking sensors, an impressive safety package, power mirrors and windows. Did I mention the CD player?
The six-speaker stereo is powered from the 8.0-inch touchscreen and the software is...um...not great. Which wouldn't matter if it had Android Auto and/or Apple CarPlay but Toyota Australia stubbornly refuses to include them. The damn Seppos get it in their Toyotas, so it's not like it's impossible. But our version does have a CD player. Hipsters rejoice!
Engine & trans
Honda Accord
Powering the Accord VTi-LX Hybrid is a 2.0-litre petrol engine and dual-electric motor combo, for a total output of 158kW/315Nm.
Drive is sent to the front wheels via a continuously variable automatic transmission.
Compared with the Camry Hybrid, the Accord is down 2kW in power, but out in the real world it is very hard to tell the difference in outputs.
Being a petrol-electric hybrid powertrain, there is no need to plug in the Accord Hybrid as the petrol engine works to charge the battery.
---
Toyota Camry
While the standard Camry packs the same 2.5-litre four-cylinder, the Hybrid's ICE output is slightly lower, at 131kW. When paired with a hybrid motor, the total power figure is a pretty decent 160kW, but the torque figure appears to be unaffected, at 202Nm. Toyota doesn't quote combined torque figures, because it's tricky with the type of transmission it uses.
The front wheels are driven by Toyota's favoured e-CVT, with six artifical steps to make it feel like a proper auto, if you're feeling racy.
Fuel consumption
Honda Accord
One key to the Accord VTi-LX Hybrid's appeal is its ultra-frugal fuel consumption figure of just 4.3 litres per 100km, and low 98 grams of CO2 emitted per kilometre.
In our week with the car, we managed an average of 6.1L/100km in a mix of varying drive modes, including 'Sport'.
No doubt if we were hypermiling that figure would be much closer to the official numbers, but our time with the Accord consisted of various short inner-city trips (where the hybrid powertrain excels) and a blast down some country roads (where the hybrid powertrain does not excel).
Regardless, the fuel economy figure is still a respectable one for a hybrid, especially one of this size and with this much practicality.
The Accord VTi-LX Hybrid is both more fuel efficient and less pollutant than the top-spec Toyota Camry Hybrid SL, which returns 4.5L/100km and 103g/km respectively.
It's also worth nothing that it's 48-litre fuel tank will be enough to get around 1000km of driving range before requiring filling with 91Ron petrol.
---
Toyota Camry
The Hybrid's windscreen sticker makes the bold claim of 4.2L/100km on the combined cycle, which is amazing for a big sedan. Reality isn't quite so amazing. In our week with the car, 5.7L/100km was the best I could get, but it was mostly city driving, the weather was really humid and, it turns out, this isn't a bad thing to drive, which means you're tempted to hit the throttle regularly.
As it's a typical Toyota hybrid, there isn't a plug to charge it, so you'll not be running on batteries the way you can in, say, a Hyundai Ioniq PHEV.
Driving
Honda Accord
While the Accord was once a nameplate that delivered a dynamic and engaging driving experience (remember the Accord Euro with its wonderful K24 engine?), it seems Honda's mid-size sedan has matured somewhat in its older age.
Its petrol-electric hybrid powertrain is designed for frugality, not fun, so being aware of this before purchasing an Accord is vital, particularly if you're an enthusiastic driver.
In this regard, the Accord VTi-LX Hybrid is a safe and predictable car, never surprising with understeer or tyre squeal, but also delivering a comfortable and cosseting experience.
You kind of know what you are getting out of the box, which is certainly no bad thing for anyone after a quiet and calm driving life.
Tipping the Accord into a corner, the steering wheel feels light, progressive and unsurprising, but offers plenty of feedback for what the front-drive sedan is doing.
The suspension also feels much more geared towards comfort than sportiness, with bumps and road imperfections soaked up with ease.
The quietude of the cabin is what probably stands out the most when behind the wheel of the Accord VTi-LX Hybrid, thanks to the electrified powertrain and clever active noise cancellation.
When running in EV mode (available, depending on conditions, at the push of a button), the Accord is a serenely quiet and comfortable place to be, even rivalling premium marques like the Lexus IS200, let alone the mainstream Toyota Camry Hybrid.
Three driving modes are on offer – Eco, Normal and Sport – and with the electric motor assist, even in the Eco setting, the Accord still offers decent punch off the line.
Sport mode turns things up a little, but the CVT tends to feel a little elastic with the throttle pedal pinned.
Our recommendation is to drive the Accord in Eco mode and reap the benefits of a low fuel-economy, figure rather than trying to relive the glory days of Honda's high-revving, VTEC-laden sports sedans.
---
Toyota Camry
All the Camry markers are here. It's easy to get in and out of and easy to get comfortable. The dash isn't too high and, uh, the steering wheel is plastic, which is genuinely disappointing. A Mazda6 (no, not a hybrid, I know) doesn't have a plastic steering wheel. The Toyota one is pretty cheap-feeling.
Pressing the start-stop button, you hear the electrics switching on and, if you're backing out of the drive, you won't hear the engine until you're on the gas driving away. You may not hear anything, but your passengers might hear your tutting. The brakes are very grabby when you're in stealth, I mean, electric mode, whether you're going forward or backwards. No doubt it's something you will become accustomed to, but it's there. Toyota hybrids seem to be behind the game on this particular score.
In every other way, the Camry is exactly as it has always been. Except it isn't. Toyota kept all the good things - it's smooth, it's quiet and it rides well. Everyone is comfortable and everything works. I've already mentioned it was stinking hot the week we had it and the Camry's air-conditioning was super-fast cold.
The bit that's different, though, is that, just like the styling, things are better. Camrys past had over-light steering, marshmallows for suspension and as much grip on the road as Kanye West has on reality. This one has body control. The steering feels good. There is actual grip and you feel like you're driving the car rather than just steering it around.
Safety
Honda Accord
The 10th-generation Honda Accord has not been crash tested by ANCAP or Euro NCAP and, as such, does not have an official safety rating.
However, all Accords come with Honda's Sensing suite of advanced driver-assistance systems, which include forward collision warning, autonomous emergency braking (AEB), lane-departure warning, lane-keep assist, adaptive cruise control and automatic high beams.
The Accord also boasts automatic headlights and wipers, active cornering headlights, rear cross-traffic alert, a surround-view monitor, hill-start assist, tyre-pressure monitoring, and front and rear parking sensors.
The 10th-gen Accord wears a maximum five-star crash safety rating in North America (with full marks for frontal crash, side crash and rollover protection), where it was tested by the National Highway Traffic Safety Administration (NHTSA).
Despite sharing many safety features, the US and Australian Accords differ in production location, with ours coming from Thailand.
---
Ownership
Honda Accord
Like all new Hondas, the Accord comes with a five-year/unlimited-kilometre warranty plus six years of anti-corrosion assurance.
After the first free 1000km service, the scheduled maintenance intervals for the Accord VTi-LX Hybrid are every 10,000km/12 months, whichever occurs first.
According to Honda's tailored service price guide, the first five years/50,000km of ownership will total $1816 in maintenance costs, which averages out to be about $363 per year.
While the 10,000km service intervals are a little short compared with the Camry's 15,000km period, the Accord is actually quite cheap to get serviced.
Each of the Honda's services for the first 100,000km costs only $312, with costs going up depending on additional service items.
However, the Toyota Camry Hybrid still edges ahead with its longer intervals and $220 per service costs for the first five years, although the numbers increase dramatically after that.
The cheap service pricing combined with the excellent fuel economy of the hybrid engine mean the Honda Accord VTi-LX Hybrid keeps running costs down.
---