Kia Niro 2022 review: Plug-in hybrid long term | Part 2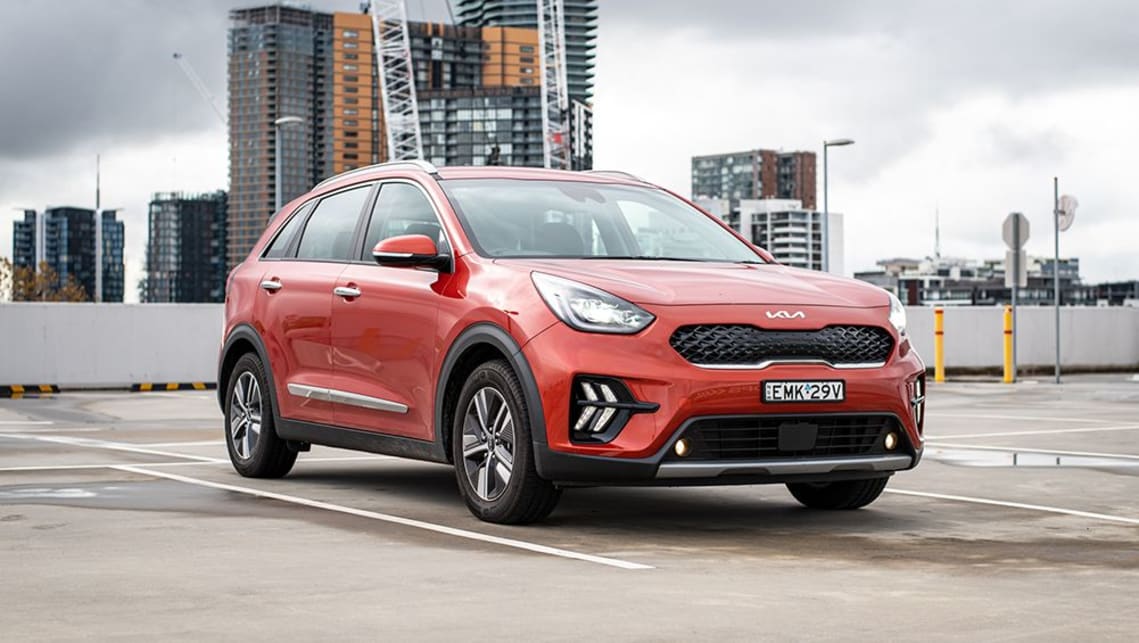 Part 2: April
This has been my second month with the Niro and I think I'm starting to get into the PHEV groove. The little SUV has been a stout companion, ferrying myself and my partner around the local area during the week (mostly under pure EV driving) then being used for longer trips on the weekend. 
Read the other long-term review instalments
How is the range, charging, and energy efficiency?

Every little bit counts when it comes to charging an electric car/PHEV. (image credit: Tom White)
It requires discipline to keep the battery charged up thanks to the slow AC inverter; I have to constantly charge it. It gets charged up on grocery shops, gym visits, coffee stops, doctor's appointments. Every little bit counts because this car is so much better when it has a bit of charge.
Of course, none of this would be an issue if I could simply charge it up at home, which I can't.
This discipline has led to this car producing its first 'wow' moment for me. It took the full two months, but just as April was coming to a close the fuel light came on. 

The Niro boasts an impressive fuel distance. (image credit: Tom White)
The electric features encourage you to push this car further before you refuel it than you might with a pure combustion car, but as I approached a single bar of fuel remaining on the digital dash, I decided it was time to fill it up.
At the time of filling, the Niro had travelled 1473km on a single tank of fuel. Impressive! Certainly, something a PHEV can do that a 'self-charging' hybrid cannot.

Fuel consumption was well under 3.0L/100km. (image credit: Tom White)
Total fuel consumption on the dash was showing a wild 2.1L/100km, just off the car's official claim. I consider that excellent, especially since this car spent many days in the last month with the charge depleted, despite my efforts to keep it charged.
This is because one longer weekend trip will knock the battery out with some ease. Run a few errands around Sydney and it's easy to rack up the km, and before long the battery is flat within a day's drive. It can be a little frustrating at times, but such is the reality of a limited battery.
What has it been like to drive?

Visibility is superb out of the Niro's big windows. (image credit: Tom White)
Our mixed use of the Niro PHEV is good for analysis because the longer trips on the weekend force it out of its EV comfort zone and forces you to use a bit more hybrid drive. I say 'comfort zone' because the Niro is easily twice as nice to drive when it has some charge in the battery. Its electric driving is relatively smooth, and you can play with the three levels of regen available to your taste, too. This is a feature the larger and more recent Sorento PHEV misses out on.
In the toils of every day milling about town, the Niro almost never needs to use the combustion motor if you keep some charge. It seems to have almost full range of operation in EV mode, with the combustion engine turning on only under the harshest acceleration, or seems to be more keen to operate when you exceed 80km/h.

In EV mode, the Niro is said top be able to travel up to 58km. (image credit: Tom White)
Run out of charge, however, and the experience behind the wheel is dulled. The 1.6-litre non-turbo engine feels a bit underdone and thrashy, and the worse characteristics of the dual-clutch automatic come to the fore. It still has the sleek take-off of the electric motor, carrying a base level of charge to operate as a hybrid, but the little engine takes the wind out of its sails when it comes to acceleration.
The steering is nice and light, however, and visibility is superb out of the Niro's big windows. It's easy to manoeuvre and park. My partner much prefers it to the MX-30 to drive, but agrees the little engine is a bit hopeless without the electric support.
The ride is comfortable with sensibly-sized tyres and wheels, and the handling, while far from 'sporty', is quite agreeable.
Summary

The Niro is easy to manoeuvre and park. (image credit: Tom White)
The Niro continues to be a great companion for us, and, in its orange shade, one that our family and friends are getting quite used to.
Next month we'll talk more about its interior design and ergonomics, update you on the range and charging situation. I'll also run a test to see how far I can travel on a full charge, and how it matches up to the official 58km electric-only range.
Check out our rolling stats below.
Acquired: February 2022
Distance travelled this month: 578km
Odometer: 3577km
Average fuel consumption for April: 2.1L/100 
Price Guide
$46,590
Based on new car retail price
Price Guide
$46,590
Based on new car retail price
Disclaimer: The pricing information shown in the editorial content (Review Prices) is to be used as a guide only and is based on information provided to Carsguide Autotrader Media Solutions Pty Ltd (Carsguide) both by third party sources and the car manufacturer at the time of publication. The Review Prices were correct at the time of publication.  Carsguide does not warrant or represent that the information is accurate, reliable, complete, current or suitable for any particular purpose. You should not use or rely upon this information without conducting an independent assessment and valuation of the vehicle.