HSV Clubsport auto 2013 review

Thankfully, HSV saw the error of its ways mid last year and re-introduced the 'entry level' ClubSport or Clubbie as it's affectionately known.
Cashed up bogans love this car which has almost legendary status in certain quarters. Sure, the R8 and GTS are "better" but the Clubbie is the 'everyman' hot Holden, as is the Maloo ute which also made a comeback last year. 
HSV had been inexorably edging upscale with its range edging towards the hundred grand mark. That's a far cry from the original HSVs 25 years ago which were essentially Commodores with more powerful engines, bigger wheels and stiffer suspension.
Value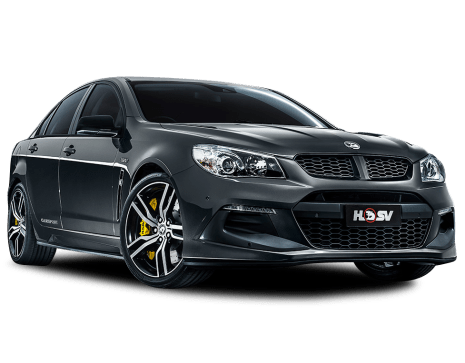 Explore the 2013 HSV Clubsport range
Starting from $64,990 the new ClubSport picks up HSV's 20-inch Pentagon alloy wheels to complement an already impressive list of standard features; sport/touring suspension, ESC with competition mode, four-piston brake package, sat nav, rear park assist and reversing camera. 
It also had other cool kit features like dual zone climate control, enhanced Bluetooth and a four way adjustable electric driver's seat.
Design
We like the look of it inside and out and the standard equipment is generous. Great seats, plenty of info feeding back to the driver and the EDI is excellent. Heck, it even has a decent boot and rear seat legroom. 
Technology
Standard features on the Clubbie (and Maloo) include HSV's 6.2 litre, pushrod overhead valve, LS3, Generation 4, V8 which delivers 317kW of power and 550 Nm of torque. A six-speed manual is standard with an optional six-speed auto an extra two grand. 
We would go for the auto every day because it delivers rapid fire changes up and down the range but misses out on paddle shift.
The ClubSport effectively includes all the major features of last years R8 with the exception of HSV's Enhanced Driver Interface (EDI), which will be available as a factory-fitted option.
The automatic car we drove was optioned up with a bimodal exhaust system and the EDI system to add an extra element of fun to driving this big, boofy V8 sedan. 
It consumes an alarming amount of fuel hovering in the mid to high teens per 100km and it's premium too. Still, most of these cars would be funded through companies so what's it matter.
Driving
At 1800kg, this is a big, weighty car but one that's still capable of putting away a 0-100kmh sprint in around 5.0 seconds. Engage the competition mode and you can really feel the Clubbie's power pushing you into your seat.
It rumbles, squats in the rear end, lifts its nose and bellows en route to stopping the clocks in a more than respectable time for such a big beast. But in this case, it's spoiled a tad by the oversoft suspension and steering that could offer a bit more feel. We reckon the optional six piston brakes should be standard though the four pots fitted do a pretty good job on the road. Track day the Clubbie and you'd find the end of the brakes before finishing the first lap.
Though the bimodal exhaust sounds good at idle, it's too quiet on the move unlike most of the European V8 sports sedans that get better the harder you drive them. You can punt the Clubbie fairly hard on a winding road limited by its weight and in this case, the softish suspension.
Verdict
This model is due to be replaced later this year when the 'F' range of HSV cars comes down the line possibly with a 400kW plus supercharged 6.2-litre V8. Now that would be something else again.
Pricing guides
$48,990
Based on 47 cars listed for sale in the last 6 months
Range and Specs
| Vehicle | Specs | Price* | |
| --- | --- | --- | --- |
| (base) | 6.2L, PULP, 6 SP AUTO | $38,990 – 56,990 | 2013 HSV Clubsport 2013 (base) Pricing and Specs |
| (Dual Fuel) | 6.2L, PULP, 6 SP AUTO | $27,500 – 33,110 | 2013 HSV Clubsport 2013 (Dual Fuel) Pricing and Specs |
| R8 | 6.2L, PULP, 6 SP MAN | $39,870 – 55,999 | 2013 HSV Clubsport 2013 R8 Pricing and Specs |
| R8 (Dual Fuel) | 6.2L, PULP, 6 SP MAN | $29,040 – 34,980 | 2013 HSV Clubsport 2013 R8 (Dual Fuel) Pricing and Specs |
Pricing Guide
$38,990
Lowest price, based on 3 car listings in the last 6 months
View cars for sale