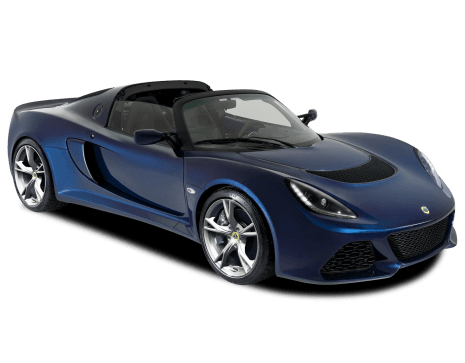 COMPARE
Lotus Exige
VS
BMW M4
Lotus Exige
Likes
Unassisted, unadulterated steering (at speed)
Beautiful balance and stiff chassis
Gearbox
Dislikes
Sheer impracticality
Heavy steering (at low speeds)
Getting in and out of it
---
BMW M4
Likes
Speed
Adaptive suspension
Ripping dual-clutch auto
Dislikes
No AEB
Awkward access to tight rear seats
So-so warranty
Summary
Lotus Exige
Driving naked is ill-advised, and possibly illegal, but taking a spin in the Lotus Exige 350 Sport is as close as you'd ever want to get. It's not so much that you feel you've left your clothes at home, but that the car has shed its accoutrements, and indeed its very flesh, leaving you with a kind of skeletal vehicle; just bare bones and muscle.
What this punishingly hard and fiercely focused machine does to your bones and flesh is best described as extreme chiropractry - in particular the stress of ingress and egress - but fortunately it makes up for the moans, bangs and bruises by fizzing your adrenal glands in a big way.
The question is whether the fun is worth the suffering, and the  $138,782.85 price tag.
| | |
| --- | --- |
| Safety rating | — |
| Engine Type | 3.5L |
| Fuel Type | Premium Unleaded Petrol |
| Fuel Efficiency | 10.1L/100km |
| Seating | 2 seats |
---
BMW M4
When it comes to cars, the letters B, M, and W carry huge credibility. But the extra letters and numbers that follow make all the difference.
A second M for example, means the hot rodders in the Munich maker's performance and racing skunkworks have played with everything from the drivetrain, aero and suspension, to the rims, rubber and interior design.
The number sitting next to it then determines whether you're looking at a compact firecracker (M2), fast-lane monster (M5), or bruising family truckster (X6 M). But every now and then some additional letters find their way onto even a BMW M car's bootlid.
In this case, a C and an S are significant additions to the already impressive M4 badge. They stand for Coupe Sport and were famously applied to BMW's achingly beautiful (E9) coupes of the late 1960s and early '70s.
So, with the howling echo of that all-time classic's in-line six ringing in its ears, the new M4 CS stands up as a proper high-performance coupe, pitched against the likes of Audi's recently reborn RS 5, the Lexus RC F, and Merc-AMG's soon-to-arrive C 63 S Coupe.
Does the CS legend live? Read on to find out.
| | |
| --- | --- |
| Safety rating | — |
| Engine Type | 3.0L turbo |
| Fuel Type | Premium Unleaded Petrol |
| Fuel Efficiency | 8.8L/100km |
| Seating | 4 seats |
Verdict
Lotus Exige
6.5/10
To say the Lotus Exige 350 Sport exists at the very pointy end of motoring is a sharp understatement. It is, in essence, a track car that you're somehow allowed to drive on the road, which means it's hugely compromised in various ways as a vehicle for day-to-day use, yet it's not really fair to criticise it for those failings, because commuting was never its intended purpose.
While it would obviously shine in its natural environment of a race circuit, the fact is you could also enjoy it enormously between track days if you pointed it at a suitably smooth and winding bit of country blacktop.
The performance, handling, steering and stopping are all fantastic, in the right conditions, and you can see how someone might justify it to themselves as a far cheaper version of a ($327,100) Porsche 911 GT3. The difference being that a Porsche doesn't make you fold yourself up like a pocket knife every time you get in.
The Lotus, then, is a car for the extreme enthusiast, only. And possibly for nudists, too.
Would you put up with the Lotus's hard edges for the thrill rides? Tell us what you think in the comments below.
---
BMW M4
7.8/10
The BMW M4 CS is every bit as fast and engaging as you'd expect it to be. But be prepared for the day-to-day compromises that go with its pared back interior layout. It's beautifully engineered and dynamically excellent, but will have its hands full when Merc-AMG's similarly sized and priced (updated) C 63 S Coupe arrives shortly to rattle its cage.
Is the BMW M4 CS your kind of four-seat sledgehammer? Tell us what you think in the comments section below.
BMW offers the 'Service Inclusive' program, a one-off advance payment to cover scheduled costs at the 'Basic' or 'Plus' level.
Design
Lotus Exige
8/10
The Lotus philosophy is summed by this slightly absurd mission statement: "Simplify, then add lightness". In the words of the great Barnaby Joyce "you don't have to be Sigmund Freud" to work out that lightness is not something you can 'add', but you get the idea.
Everything about a Lotus is focused on the power-to-weight ratio, and this 350 Sport version takes the Exige to the ultimate degree, weighing in a full 51kg lighter than the S version, at just 1125kg, and with its hefty 3.5-litre supercharged V6 it is capable of lapping the company's Hethel, UK test circuit a full 2.5 seconds faster.
Lap times, rather than road manners, are what this car is all about, and as such there are no creature comforts of any kind.
The Exige is an eye-catching beast, though, looking a bit like Darth Vader's helmet strapped to a skateboard. Everything about it is a statement of intent, and while the interior is as bare as Barnaby's brain, the gear lever, with its exposed workings and shiny silver knob, is a thing of strange beauty.
---
BMW M4
8/10
The M4 in either entry-level Pure, or next-step-up Competition spec already looks like John Cena in a 10-year-old's t-shirt, with muscular bumps, curves and cuts extending aggressively in all directions. From its bulbous 'power dome' bonnet, to the pumped-up guards and gaping vents, the M4 screams 'don't argue'.
But this CS version borrows heavily from the track-focused M4 GTS (phased out earlier this year) and dials the aggro up a few notches.
A Matterhorn-sized bulge in the centre of the lightweight CFRP (Carbon-Fibre Reinforced Plastic) bonnet descends towards a broad air extraction vent that could double as a stormwater drain in bad weather.
The front, exposed carbon splitter is a slightly less accentuated version of the GTS's race-ready set-up, and the signature kidney grille is finished in menacing gloss black.
That black finish, part of the standard BMW Individual 'Shadow Line' package, also extends to the side-window trim, window recess covers, and vents on the front wings.
CFRP (unpainted this time) reappears on the roof, and an exposed carbon Gurney flap-style spoiler adds a touch of flash and aero efficiency to the bootlid. A nice match for the carbon diffuser below.
Suitably wide black alloy rims (19-inch front, 20-inch rear) further enhance the intimidating look, with twin LED headlights and an 'Organic rear lighting system', the latter another lift from the GTS, delivering an impressively vivid display.
The interior is familiar BMW territory, but it does feel like you've had a nasty break-up and your significant other has filled the moving van with all the luxury bits.
The leather and Alcantara trimmed sports seats are classy and racy enough, but the door cards are made from a natural-fibre composite BMW calls 'Nawaro'. There are no storage pockets, and you get a webbing strap to help pull the door closed.
Super lo-fi, and bafflingly, the 'armrest' slopes downward at an angle that, despite an Alcantara-trimmed pad, makes it just about impossible to actually rest your arm on it. Perhaps it adds some wheel-twirling elbow room, but for the other 99 per cent of the time it's just annoying.
Although trimmed in contrast-stitched Alcantara, the centre console is also a rudimentary affair, with no storage box between the front seats or adjustable air vents for rear-seat passengers. It might be good for weight saving, but it's not so great in terms of day-to-day practicality (which we'll get to shortly).
There's more Alcantara on the M Sport steering wheel (a leather wheel is a no-cost option) and dash-panel insert, with the CS designation neatly called out in mosaic-style lettering near the centre stack.
Practicality
Lotus Exige
3/10
Both the words 'practical' and 'space' have no place in a road test of this Lotus, so shall we just move on?
Oh, all right. There is no shoulder room to speak of and to change gears you have to fondle your passenger's leg. You're also in danger of breathing into each other's mouths accidentally, you're sitting that close.
Speaking of impractical, the door apertures are so small, and the whole car so low, that getting in or out is about as much fun as attempting to hide in a child's suitcase.
Cupholders? Forget it, nor is there anywhere to put your phone. There are two tiny oddment storage holes just near each well-hidden door handle, and a kind of slidey, slick shelf where a glove box might be, on which it's not safe to leave anything.
Put things on the floor and they will slide under the super low seats and never be seen again.
The Lotus people pointed out a parcel shelf behind the seats, but I think they imagined it, and there is a tiny boot at the rear, behind the engine, which is smaller than some actual boots.
---
BMW M4
7/10
When it comes to cars, practicality is a subjective area. The M4 CS offers plenty of space for the driver and front-seat passenger, with room for two more in the back, as well as a decent boot. Practical, right?
But day-to-day details make all the difference and the drive to simplify the CS's cabin and reduce the car's overall weight has seen many common interior-storage options deleted.
The price CS owners pay for racy minimalism is a complete absence of door bins, no lidded box between the front seats, and no oddments tray in the middle of the centre console. Just a pair of cupholders ahead of the gearshift, and a shallow tray beyond that.
If you and a friend get into the car each carrying a standard load of personal junk like a phone, keys, wallet, and a beverage of some description, capacity is immediately exceeded.
Yes, you can shove all that 'stuff' into the (medium-sized) glove box, and that's probably the safer option anyway. But it's not as convenient as slipping things into strategically placed bins and boxes.
In terms of charging/connectivity there's a 12-volt outlet between the cupholders, and a single USB port oddly placed towards the rear of the centre console.
And while there are two seats in the back, getting to them requires the flexibility of a side-show contortionist, and the patience of a Tesla Model 3 reservation holder (the electric system that slides the front seat forward is glacially slow).
Even once you've managed to thread the needle through to the back, headroom is tight, so it's fine for kids and an occasional-only option for grown-ups. There are no cupholders or even a fold-down centre armrest back there, but there is a small, open oddments tray between the seats.
The boot offers a generous 445 litres of space and it's enough to easily swallow the CarsGuide pram or our three-piece hard suitcase set (35, 68 and 105 litres).
A cargo net is standard, there are four tie-down anchors, a small netted storage section behind the passenger side wheel tub, a cubby on the opposite side, shopping-bag hooks and conveniently placed handles, which release the 60/40 split-folding rear seat backs to liberate more room.
Don't bother looking for a spare wheel of any description. A repair/inflator kit is your only option.
Price and features
Lotus Exige
6/10
The question of 'value' is a tricky one when you're looking at a $138,782.85 car that's about as useful in day-to-day life as a matchbox-sized handbag. But you have to consider what people buy a Lotus for, and the answer has absolutely nothing to do with practicality.
A car like this Exige 350 Sport is purely purchased as a toy, a track-day special that you can, in theory, drive to the circuit via public roads. Franky, if I was rich enough to have one I'd still transport it there on the back of a truck.
Relatively speaking, you could have a far more practical and infinitely more comfortable Porsche Cayman for $30K less, but the Lotus is $30K cheaper than the similarly track-focused and brutal ($169,990) KTM X-Bow.
In terms of features, you get four wheels, an engine, a steering wheel, some seats, and that's about it. You can buy a circa 1993 removable-face two-speaker stereo, which you can't really hear over the engine and road noise, for $1199. Oh, and they do throw in air conditioning, which is also noisy.
Our slick-looking metallic black paint was also $1999, the 'full carpets' another $1099 (expensive floor mats, basically), the Alcantara trim pack $4499, cruise control (really?) $299 and the hilarious optional 'Sound Insulation' $1499 (I think they actually forgot to fit it). All up, our press car's price climbed to $157,846, which, I have to say, is no one's idea of good value.
On the plus side, the local Lotus people - Simply Sports Cars - do offer features a buyer would love, like regular Lotus Only Track Days, a chance to take part in the Phillip Island 6 Hour and the Targa High Country event, and various other racy experiences.
---
BMW M4
8/10
In a classic less-is-more (money) scenario, the $189,529 BMW M4 CS cops a decent serving of standard features, but misses out on some of the luxury trimmings included on the next-rung-down M4 Competition ($156,710).
Standard inclusions run to adaptive LED headlights (including 'BMW Selective Beam' anti-dazzle tech), adaptive M suspension, combination 'Merino' leather/Alcantara seat trim, Alcantara-wrapped 'M' sports steering wheel (with blue/red stitching), a configurable head-up display, a 'BMW Individual' Anthracite roofliner, 'Comfort Access' (keyless entry and start), plus the 'iDrive6' multimedia system (managed via controller, touch or voice) running through an 8.8-inch, high-definition screen.
There are also big 10-spoke forged alloy rims, front-seat heating, sat nav, automatic headlights, rain-sensing wipers, front and rear park distance control, 'Surround View' parking assist, and the 'BMW ConnectedDrive' suite ('BMW Connected+' smartphone app, real-time traffic info, concierge services, and more).
That's a heavyweight equipment list for a car that's all about lightness. Inside, besides the basic door and centre console arrangement, the other significant concessions to kilo stripping are a 'specially adapted' 12-speaker version of Harman/Kardon's 'Surround Sound' audio system with DAB+ digital radio (16-speaker in the Competition), and a simplified, single-zone climate control set-up (dual-zone in the Competition).
Kind of like the CEO wearing a Swatch watch; they're wealthy and powerful, but 'all about performance', so they wear a functional, conspicuously un-flashy timepiece. They still live in a $10m penthouse apartment, though.
Engine & trans
Lotus Exige
8/10
In the past, Lotus engineers were satisfied with the power they got from tiny four-cylinder Toyota engines, but this Exige 350 Sport is a Very Serious Car and thus has a relatively whopping 3.5-litre, supercharged V6 shoehorned into its backside, which makes 258kW and 400Nm, and that's enough to fire this tiny machine from 0-100km/h in just 3.9 seconds, although it feels, and sounds, a lot faster.
The six-speed gearbox feels like it's been stolen from an old racing car and is an absolute joy to snick shift at speed.
---
BMW M4
9/10
Like its E9 coupe forbear, the M4 CS is powered by an in-line six-cylinder engine, but things have moved on over the last 50 years, and the current (S55) engine offers a mechanical case study in the marriage of high-performance and efficiency.
The all-alloy unit features direct injection and twin turbos, the key drivers behind a stonking 600Nm of maximum torque (50kW up on the M4 Competition), available from 4000-5380rpm, and peak power of 338kW (+7kW), arriving at 6250 rpm.
It also features a 'charge air' (air-to-air) intercooler, 'Double Vanos' variable cam timing, and 'Valvetronic' variable valve lift (inlet and exhaust side).
The sleeveless cylinders use 'Electric Arc Wire Spray' technology to form a thin coating of iron on the cylinder walls, to save weight (no cast-iron liners) and reduce manufacturing complexity. And the engine's closed-deck design increases the block's torsional rigidity, enabling a substantial 10.2:1 compression ratio and use of a lightweight, forged crankshaft.
Transmission is a seven-speed 'M Double-Clutch' (M DCT) dual-clutch auto, complete with dedicated oil cooler, and drive is distributed across the rear axle via an electronically controlled, multi-plate 'Active M Differential'.
Fuel consumption
Lotus Exige
7/10
Lotus claims a combined fuel economy figure of 10.1L/100km. We don't believe that would be easy to achieve, because the temptation to rev the hell out of it and hear it roar would be too great, and too constant.
---
BMW M4
8/10
Claimed fuel economy for the combined (ADR 81/02 - urban, extra-urban) cycle is 8.3L/100km, the twin-turbo six emitting 194g/km of CO2 in the process. 
Over roughly 350km of city, suburban and freeway driving (much of it 'enthusiastic') we recorded 10.9L/100km (at the bowser) An impressive number for such a strongly performance-focused machine.
Minimum fuel requirement is 98 RON premium unleaded, and you'll need 60 litres of it to fill the tank.
Driving
Lotus Exige
8/10
It's rare to find a car that is such an improbable mix of furious fun and infuriating annoyance. The Lotus is rattly, noisy, hugely firm to the point of punishing, with seats that offer encouragement but not support.
It is the opposite of comfortable and so hard to see out of that driving it around town, in any sort of traffic, feels borderline dangerous. There's also the distinct sensation that you're so low and so little that all those people in their SUVs won't see you.
Throw in the fact that it's so painfully, stupidly difficult to get in and out of and it's definitely not the sort of car you take if you're heading to the shops. I got so sick of its hard-edged annoyances at one stage that I became too grumpy to even take people for joy rides in it. I just couldn't be bothered with the hassle, but then an inner-city suburb with high kerbs and even higher speed humps is not the Exige's natural environment.
Making it even more of a challenge around town, at low speeds or in parking situations is the steering, which isn't so much heavy as wilfully obtuse. Doing a three-point turn is the equivalent of 20 minutes of bench pressing your own body weight. At least.
Out on a winding bit of country road, however, the steering becomes one of the best things about the car, because its pure, unassisted weighting feels so alive in your hands. There's a sense of actually wrestling, or finessing it around corners that makes you feel a bit Ayrton Senna.
Indeed, the whole car comes alive, and starts to make some kind of sense, once you're on a smooth, perfect piece of tarmac. It is fast, noisy, thrilling, utterly and overtly involving, stiff of chassis and firm of ride, with brakes capable of pulling you up with indecent haste. It's also, thanks to its low centre of gravity and mid-engined layout, beautifully balanced.
The gearbox is a thrill a minute, as is the engine, particularly once you explore the upper rev ranges, at which point the scenery really does become a scary blur out the ridiculously small windscreen.
Sure, you can't see anything behind you other than the engine, but what a lovely sight that is, and nothing is going to catch you anyway.
It does feel edgy, of course, and sharp, and it's not as easy or refined to drive as some cheaper sports cars; an MX-5 makes for a far more pleasant companion. But this is an extreme Exige, a machine built by and for genuine enthusiasts.
And, above all, for the sort of people who will take it to a race track, which is where it both looks and feels completely at home.
Unfortunately, on public roads, it would be annoying more often than it would be thrilling, but the truly hardcore Lotus aficionados would never admit such a thing.
---
BMW M4
8/10
Let's get it out of the way. The M4 CS is fast. Anything running 0-100km/h in less than four seconds gains admission to a seriously rapid club, and BMW claims 3.9sec for this car (an exact match for the soon-to-arrive Merc-AMG C63 S Coupe).
We might have given the standard launch-control system a go, and may be able to confirm straight-line acceleration from step-off will compress your chest like an over-zealous lifesaver at CPR practice.
But just as impressive is the in-gear thrust, with 80km/h to licence loss (120km/h) covered in only 3.4sec. Which plays to the twin-turbo six's strength, with maximum torque arriving at a relatively high 4000rpm, and remaining on tap until 5380rpm.
Power doesn't reach its peak until 6250rpm, with the rev ceiling sitting at 7600rpm; impressively high for a twin-turbo engine.
Everything from the DSC, ABS, and active suspension to the active diff, electrically assisted steering and seven-speed, dual-clutch transmission has been tuned specifically for the M4 CS.
The 'M DCT' auto is agreeably civilised at parking speeds, yet shifts positively and rapidly, especially in manual mode, under pressure at higher pace.
An M Sport exhaust system features electronically controlled flaps sitting directly in front of the rear mufflers, and varies the intensity of the accompanying soundtrack according to drive mode and level of aggression. It sounds suitably angry, but those hoping for the soaring purity of say the (S54) naturally aspirated in-line six found under the bonnet of the E46 M3 will be left hankering for the good old days.
Front suspension is a modified MacPherson strut design, with a five-link set-up at the rear, and data from wheel-acceleration sensors on each corner is used to recalibrate each damper's setting every 2.5 milliseconds.
The drivetrain, suspension and steering can each be dialled into 'Comfort', 'Sport' or 'Sport+' modes, and the CS's ride changes markedly in the switch from Comfort to Sport; the former proving compliant and smooth rolling over rough city surfaces, and the latter keeping things reassuringly buttoned down on a B-road blast.
Although BMW says that, unlike the M4 GTS, it has deliberately steered the M4 CS away from a focus on the circuit (no roll cage, no adjustable splitters or spoilers) we'd suggest it's best to keep the Sport+ suspension setting for track days unless you're already planning on replacing some of your older fillings.
Speaking of track days, BMW says the M4 CS's dynamics were "honed on the Nurburgring Nordschleife" where it's recorded a best lap time of 7:38, which is as fast as a Ferrari 458 Italia and Lexus LFA. That's very, very impressive.
At 1580kg the M4 CS is 35kg lighter than the M4 Competition (1615kg), and just five kegs under the Pure (1585kg), so despite all the light-weighting hype it's worth remembering we're still looking at a car tipping the scales at just under 1.6 tonnes.
The electromechanical steering can also be tuned through the three performance modes, and Sport delivers the best combination of quick turn-in, agreeably linear assistance and decent road feel.
But putting the CS's power down out of even moderately quick, tight corners is less convincing. The big forged-alloy rims (19-inch front, 20-inch rear) are shod with ultra-high-performance Michelin Pilot Sport Cup 2 rubber (265/35 front – 285/30 rear).
Squeezing the power in smoothly but quickly, the semi-slick tyres feel like they need more heat in them. Without going anywhere near the DSC's more taily 'M Dynamic' modes, and despite the active diff, the rear of the car will squirm when fed full throttle acceleration on corner exit, unsettling overall balance. Less edgy Michelin Pilot Super Sport tyres are a no-cost option.
The standard M sport front seats look the part (the M4 logos in the backrest illuminate!) and grip firmly without any discomfort for this 183cm tester.
And when it comes to slowing everything down, the standard brakes run to big ventilated discs front and rear, clamped by four-piston calipers at the front, and two-piston at the rear.
Our test example was optioned with the $15,000 'M carbon ceramic' package featuring humungous carbon rotors, thumping six-piston calipers up front, and four-piston rear. For that money you'd expect Le Mans-style braking performance, and while we didn't exactly put them to a 24-hour high-speed test, firm application of the left-hand pedal will consistently stand the car on its nose.
Safety
Lotus Exige
5/10
Unsurprisingly, considering it will sell fewer than 100 cars in Australia, Lotus has not had the Exige ADR crash tested, so there's no star rating. You do get two airbags, passenger and driver, as well as ABS, 'Hydraulic Brake Assist', 'Lotus Dynamic Performance Management', driver-selectable ESP with three modes, cornering brake control and EBD.
---
BMW M4
7/10
The BMW 4 Series (and by extension the M4 CS) hasn't been assessed for crash safety by ANCAP or EuroNCAP, but boasts a solid array of active and passive safety tech, with several notable omissions.
To help you avoid a crash the M4 CS features ABS, brake assist, EBA, EBD, 'Cornering Brake Control' (CBC), Dynamic Stability Control (DSC), Dynamic Traction Control (DTC) and dry braking, 'Emergency stop signal', lane-departure warning and a tyre-pressure-monitoring system.
M4 owners also receive a complimentary BMW Intensive Driving Experience course (one person per vehicle purchase), which is arguably the best crash prevention measure of all.
But significantly, there's no AEB (Auto Emergency Braking) or other, more recent safety bits and pieces (found on other current BMW models) like blind-spot monitoring, forward-collision warning, fatigue detection, reverse collision avoidance, or speed-sign recognition and warning.
If all else fails and a collision is unavoidable passive safety tech runs to head and side airbags for the driver and front passenger, as well as curtain airbags covering front and rear. But again, things like an active bonnet and active front head restraints, fitted elsewhere in the BMW world, are MIA.
There are ISOFIX child-restraint anchors with top tether points in each of the rear seat positions.
Ownership
Lotus Exige
7/10
Your Lotus comes with a three-year unlimited kilometre warranty and three years of roadside assist. A service costs $295, plus parts.
---
BMW M4
7/10
Warranty cover is three years/unlimited km, with 24/7 roadside assistance included for three years, and additional support from BMW 'Servicemobiles' (07:00 – 23:00 every day) staffed by trained techs and stocked with key service parts.
Maintenance on all BMW 4 Series models is controlled by a 'Condition Based Servicing' system which piles real-time data (mileage, time since last service, fuel consumption, and how the car has been driven) into a specific algorithm to determine whether an annual vehicle inspection or (oil) service is due.