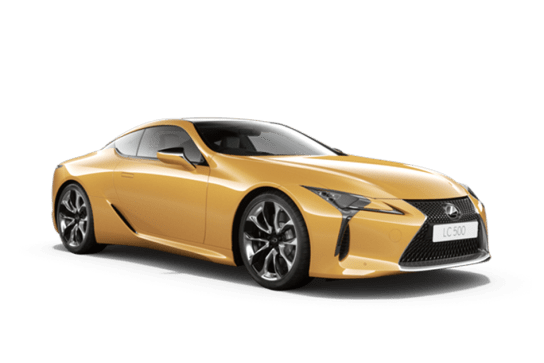 COMPARE
Lexus LC500
VS
Mercedes-Benz S-Class
Lexus LC500
Likes
Superb driving dynamics
Stunning concept-like styling
Good value
Dislikes
Cramped back seats
Poor storage space
Touch pad controller
---
Mercedes-Benz S-Class
Likes
Amazing technology on offer
Super smooth to drive
Luxury for days
Dislikes
Some terseness from run-flat tyres
Controls could be simpler
Non L models not that spacious in the back
Summary
Lexus LC500
It was in the car park of a well-known hardware chain (that also happens to be famous for sausage sizzles) that it happened. I was closing the boot lid of the Lexus LC500 when a grinning, middle-aged bloke - arms almost breaking under bags of cow manure - waddled past me and said: "I'd so have this over a Porsche 911. Any day."
I had to stop for a second and think about what he meant. The cow poo rather than a Porsche? Nup. He was talking about the Lexus. The Lexus over a Porsche. The. Lexus. Over. A. Porsche. 
That was the kind of reaction the LC500 provoked wherever I took it, and by the end of my week with it I had became convinced that this was one of the best sports cars I'd driven in my eight years of reviewing cars.
The End. 
Not quite... because while that sounds like the final verdict rather than an introduction to a review, there's more to it. See, while there's so much that I love about the LC500, there are other parts that would make me think twice about getting one.
| | |
| --- | --- |
| Safety rating | — |
| Engine Type | 5.0L |
| Fuel Type | Premium Unleaded Petrol |
| Fuel Efficiency | 11.6L/100km |
| Seating | 4 seats |
---
Mercedes-Benz S-Class
Imagine a car that can pretty much drive itself, if you let it. And it'll do that while you get a massage, pump some Beyonce, and enjoy the fragrance of a field full of flowers… And then, it can teach you to do stretches and exercises in the driver's seat.
It may sound like fictional fiction, but it's factual fact. And it's the Mercedes-Benz S-Class 2018 model, which has taken the so-called 'wellbeing' of the driver to a new level.
The facelifted model has seen plenty of styling changes and some tech upgrades, and while making the flagship car in a particular brand's line-up is often a task fraught with issues, the German company's big, expensive, luxurious, limousine is undoubtedly a more thoughtful car for 2018.
But just remember, its predecessor was considered - at least for a little while - as the best car in the world by some automotive journalists. 
Now Mercedes-Benz has updated it, and it reckons it's better than before, bringing a bunch of new technology, new engines, a reworked model range and, perhaps not essentially, but still pleasantly, lower pricing.
Read on to see how Beyonce factors into the equation.
| | |
| --- | --- |
| Safety rating | — |
| Engine Type | 4.7L turbo |
| Fuel Type | Premium Unleaded Petrol |
| Fuel Efficiency | 9.2L/100km |
| Seating | 5 seats |
Verdict
Lexus LC500
7.8/10
The LC500 is good value and superb to drive – from its comfortable ride to its great handling - offering an outstanding and engaging experience. There are a few reminders of its lower-brow connections, such as the media unit and that touch pad controller which is really frustrating to use.
The LC500 is also less practical than some of its rivals. Yes, it's a sports car, but it's a luxurious one and should offer better cabin storage as a modern grand tourer.
That said, the LC500 proves that you don't need to spend any more than $200K to have an exceptional driving experience.  
Is the LC500 the smartest luxury sports car buy on the market? Tell us what you think in the comments below.
---
Mercedes-Benz S-Class
8.5/10
The 2018 Mercedes-Benz S-Class remains a technological tour de force, a luxury sedan to be reckoned with - one that has safety, technology, comfort, finesse and performance all rolled into a stylish package. 
It's hard to see why you'd need anything more than the S 350 d, which is now much more attractively priced. It'd be my pick, but I'd have to get the Energizing Comfort Control package, and probably the AMG styling pack, too. And even then it would cost less than its predecessor.
Is the Mercedes-Benz S-Class your kind of luxury car? Let us know in the comments section below.
Design
Lexus LC500
9/10
Just look at it. Even in the extremely ordinary photos I took in a hurry before the sky fell in, you can see that the LC500 is absolutely drool-inducing. It's gothic-meets-the-21st-century-meets-1980s-Miami-Vice styling, and it all works superbly.
Even better, it still retains the almost impossible looks we saw when the LC500 Concept debuted at the Detroit motor show in 2016. And yes, there's more than a passing resemblance to the Lexus LFA supercar from 2011.
Low at just 1.3m tall, wide at 2m across, and long at 4.8m, the LC500 is all bonnet and hips and giant 21-inch rims that tuck into those enormous arches.
I was also taken by the tear-drop styling to the head- and taillights, and that now familiar spindle grille looks more at home on this Lexus than on any other. The door handles which sit flush against the body of the car and pop out when you poke them are also a nice touch.
The LC500 we tested was fitted with the $15,000 Enhancement Pack, which includes the carbon roof, active rear wing, carbon interior scuff plates, leather-and-Alcantara seats and a rear-wheel steering system. 
The cabin can't quite match the exterior for its stunning looks, but it's still special, from those elegant door handles and the stitched upholstery to the thickly bolstered seats that you drop down deeply into.
There is some Toyota/Lexus ordinariness in the cabin, though, such as the screen, which while wide and majestic, is more Microsoft than Apple if you get what I mean. And that also goes for the media unit, too, and that controller pad with its silly PC-style curser.
---
Mercedes-Benz S-Class
8/10
I swear it has been facelifted, and the changes are bigger than they might appear. There is no doubt that the S-Class shape is largely unchanged, but the German company has kept the modifications minimal in the scheme of things.
That doesn't mean those changes are unnecessary, though. The new headlights, for example, are standard on every model, and are constructed with 84 LEDs (including three for the daytime running lights), and of course they're adaptive with automated high-beam - meaning they'll shield other road users from the glare of the lights at night. And the lights themselves will throw a main beam up to 650 metres, according to the company. 
Other things are slightly more cosmetic, like the revised three-bar grille treatment, new front and rear bumper designs that feature broader sculpted sections to widen the stance of the car, and there are new LED tail-lights as well.
The smallest set of wheels used to consist of 18-inch rims, but now the base car rolls on 19s, while the rest of the expansive range sits on 20s. 
The inside has seen some changes, too, but the appearance of things in the cabin isn't the focal point - its the usability of the technology that's the big change. 
Oh, but I should tell you there are now 64 ambient lighting colours to choose from, which is up from seven, and now you can also set the lighting in three different zones - so theoretically you can have blue, orange and green areas of the cockpit, if you're gross.
Practicality
Lexus LC500
5/10
It's not. The boot is small at 197L, while cabin storage is almost non-existent with a tiny centre console bin, no cupholders, narrow door pockets and a small glovebox.
As for people space, the LC500 is a 2+2 seater and those back seats are impossible for me to sit in thanks to the low roof and the zero legroom behind my driving position. With a bit of wrestling I did manage to fit a booster sit in there for my four year old.
For charging you'll find a USB port and a 12V outlet up front.
Yes, it's a sportscar but the Lexus LC500 needs a re-think when it comes to storage and space. Other sports cars (a 911 for example) are more practical. As a parent, this impracticality would see it off my shopping list.
---
Mercedes-Benz S-Class
9/10
If you're buying a Mercedes-Benz S-Class there's a good chance you're more interested in the back seat than the front: you could be buying it for a business, or you could like to be driven around - and there are definitely worse places you could be.
We would suggest, though, that the best place you could be if that's your caper is in the back of a long-wheelbase S-Class model, which has extra legroom. 
And if you happen to be in a LWB model with the 'Business Class Package', you'll enjoy two individual rear seats rather than a three-seat bench, folding tables for your bento box or laptop, and an 'executive seat' on the passenger side that features a foot rest and allows you to slide the front seat forward to liberate more room. Deluxe. 
No matter if you are in one of the stretched models demarcated as such by the 'L' suffix or not, you will enjoy excellent seat comfort and good head- and shoulder-room. Legroom in the regular models isn't as plentiful as you might expect: much more affordable cars like the Hyundai Sonata give the S-Class a run for its money in that regard.
There are good storage options for odds and ends, with the back seat featuring a fold-down armrest with pop-out cupholders and a storage box, as well as map pockets - and the boot space varies depending on the model, but the S 350 d has a 510-litre cargo capacity (VDA). All four doors have bottle holsters, and a bit of extra room besides. Of course there are rear-seat air-vents, and if you're kids are lucky enough to ride around in a S-Class, the two ISOFIX/three top-tether points will be welcome.
Up front there are two cupholders between the seats, and a new wireless phone charger in the centre console (Qi compatible phones only). There are two USB ports as standard in most models, while models with the rear seat entertainment package fitted get rear USBs. 
The huge screen that runs across two-thirds of the dashboard has seen the noticeable join marker removed for this update, with the monitors being upgraded to a higher resolution and the graphics have been reworked, too. The codpiece-style controller of the Comand media interface remains, and while it still isn't as simple as other controllers, it is reasonably easy to get used to. 
So … what about Beyonce? 
She comes in as part of the Energizing Comfort Control system, which is standard in some models and a $1400 option in those that don't have it fitted. 
Essentially it allows you to choose between different set moods: 'Joy', 'Freshness', 'Vitality', 'Warmth', 'Comfort' and 'Training', the latter of which offers three different stretching/exercise programs that last for 10 minutes to stop fatigue. The instructions are given by voice over the sound system.
Each of the moods will adjust the temperature and ventilation (the Freshness setting offers 'gusts' of fresh air as if you're at the beach!), ambient lighting, air fragrance and intensity, and the massage function for the seats. And the music bit - there are predefined songs the system can cue up to suit the mood, or it can identify songs on a hard-drive or USB that suit the programs by analysing the tempo of the tune. Amazing, right?
The new steering wheel looks a lot sportier than the one in the pre-update car, and it has finally done away with the awkward cruise control stalk in favour of steering wheel buttons for the adaptive cruise control system.
Price and features
Lexus LC500
8/10
The LC500 lists for $190,000. That's peanuts considering you can pay a lot more than this for a sportscar from another brand that doesn't feel as good to drive.
The extensive standard features list includes a 13-speaker Mark Levinson stereo, a 10.3-inch display, head-up display, dual-zone climate control, proximity key, leather upholstery with heated front seats, stainless steel pedals, LED headlights.
Our test car was also fitted with the $15,000 Enhancement Pack - worth it I think, and you can read what it adds above in the section on design. 
The LC500 is a lot less expensive than the cars it takes aim at - we're talking the Porsche 911 (the most affordable is about $240K to get on the road), the Jaguar F-Type V8 R (which lists for about $250K) and the BMW 850i (with a list price of about $273K).
It's safe to say that buyers looking at a 911 are not going to be looking at a LC500. But somebody checking out a BMW 640i Gran Coupe, which lists for $185,900, should know they can get more firepower and luxury in the LC500 for just five grand extra. Same goes for anybody considering the F-Type V6 R-Dynamic or Mercedes-AMG E53.
Remember at the start how I said there were some aspects that would make me think twice about getting an LC500. Well the media unit's 'Remote Touchpad' and the joystick is up there as the most frustrating interface I've ever used. Not only is the infotainment menu confusing and non-intuitive, the uncoordinated controller makes the entire user experience dreadful. And I'm being nice.
---
Mercedes-Benz S-Class
8/10
If you can call a car that starts near two-hundred grand good value, then you have much more money than I do. But there is no escaping it: the new S-Class 2018 range is better value than before.
The starting point in the range is entry-grade S 350 d, which is $195,900 plus on-road costs. 
Standard kit for that model includes 19-inch alloy wheels, leather trim, heated and cooled front seats, nappa leather-wrapped steering wheel, those great new headlights and the new ambient lighting system, a panoramic sunroof, head-up display, dark brown 'Eucalyptus' trim, auto-dimming rear-view and side mirrors, a wireless phone charging system, keyless entry and push-button start. The entire S-Class range now gets auto-closing doors and an electric boot lid, too.
The media system in the S 350 d includes sat nav with traffic monitoring, a 13-speaker Burmester sound system, digital TV, DAB+ digital radio, Apple CarPlay and Android Auto, and the 'Comand Online' system with internet capability.
Next up the model range is the S 400d L (at $222,500), and the S 450 L ($227,500) - both of which are specified identically. Over the base model car they feature the extended wheelbase, as well as electronically adjustable rear seats with memory function, side window blinds, a rear blind, rear climate control, and 20-inch wheels. 
The S 560 sees the price head north to $270,000 (for the short-wheelbase model, which loses the abovementioned stuff in the L models), or $295,000 for the S 560 L. It adds the following nice features: nappa leather, brown burr walnut trim, a wood/leather steering wheel, 'Energizing Comfort Control', different (five-spoke design) 20-inch wheels, laminated glass and an anti-theft protection package. The S 560 L has luxury rear head restraints - they're more like pillows, honestly - an individual rear-seat entertainment system and two wireless headsets.
The top of the regular S-Class model range is the Mercedes-AMG S 63 L, which is a princely $375,000. It builds on the kit offered in the models below, and pushes the sports luxury aspect further, with a full AMG body kit, 20-inch AMG wheels, AMG specific drive programs, AMG brakes, an uprated exhaust, sports steering and retuned suspension. Inside there are model-specific elements, special wood trim, front seats with active bolstering, and heated and ventilated rear seats.  
If you're shopping at this end of the market, then you'll likely also be tossing up between a BMW 7 Series, or maybe a Bentley Flying Spur. An all-new Lexus LS will arrive in April 2018, and the all-new Audi A8 isn't far away, either.
Engine & trans
Lexus LC500
9/10
Fear not, the LC500 has the firepower to match those battle-cruiser looks. Under that enormous bonnet is a 5.0-litre petrol V8 and it makes 351kW and 540Nm. No turbos here, and that is absolutely fine by me. Actually, I prefer it; I'm not a fan of the lag or 'boosty' acceleration associated with turbocharging.
This naturally aspirated V8 has linear, controlled acceleration as the 10-speed automatic transmission shifts seamlessly though the gears, with the dash from 0-100km/h over in just 4.7 seconds. That's not supercar fast, but this isn't a supercar. The LC500 is a grand tourer.
On start-up, the LC500's V8 is breathy and high-pitched. When I pressed the ignition button for the first time its banshee-like scream echoed through our underground car park and I'm fairly sure my CarsGuide colleague Tom White (who was standing next to it at the time) soiled his trousers.
---
Mercedes-Benz S-Class
9/10
The big news for the majority of S-Class buyers is the new engine in the S 350d, which is a 2.9-litre in-line six-cylinder turbo-diesel with 210kW of power and 600Nm of torque. It has a nine-speed automatic and is rear-wheel drive (RWD).
That same diesel engine is wicked up in the S 400d L, with that model churning out 250kW and 700Nm, and remains rear-drive with a nine-speed auto.
The petrol model range is opened by the S 450 L with a 3.0-litre six-cylinder twin-turbo mill producing 270kW/520Nm. Again, nine-speed auto, RWD.
The S 560 and S 560L run the same 4.0-litre twin-turbo V8 petrol with 345kW of power and 700Nm of torque. Nine-speed auto, rear-drive - naturally!
The AMG-fettled S 63 has a thumping twin-turbo 4.0-litre V8 petrol engine with 450kW and 900Nm, with a nine-speed MCT multi-clutch auto and - you guessed it - RWD.
Fuel consumption
Lexus LC500
7/10
After 279km of testing on a combination of motor ways, country roads and city peak hour traffic I measured a mileage of 16.4L/100km at the pump. The official combined fuel consumption is 11.6L/100km.
While it's thirsty, that fuel usage would not make me think twice about getting an LC500 – it's a petrol V8 powered monster and you need to feed it to have fun. If fuel is an issue for you either financially or ethically then there's always the LC500h hybrid version.
---
Mercedes-Benz S-Class
9/10
The diesel models are - unsurprisingly - the most frugal in the range, with the entry-level S 350 d using a claimed 5.4 litres per 100km across a range of disciplines.
The S 400 d L - which uses a higher-output version of the same diesel drivetrain as the model above - uses only a minuscule amount more: its claim is 5.5L/100km. 
The most frugal of the petrols is the S 450 L, with its six-pot petrol twin-turbo using a claimed 8.4L/100km.
Every model has stop-start - including the AMG - and the V8 petrols also feature cylinder deactivation when in 'Eco' mode.
That cylinder deactivation system helps the S 560 achieve an incredibly low claimed consumption of 8.5L/100km. So does the longer, slightly heavier S 560 L.
The higher-out Mercedes-AMG S 63 L uses 9.0L/100km, according to its claim. Amazing for the outputs of the engine.
Driving
Lexus LC500
9/10
Outstanding. Brilliant. Superb. But I didn't expect it to be. Many of the breeds of Lexus I've driven look edgy and dynamic, but then feel like paper weights to drive. The LC500 is different. It's comfortable. Easy to pilot. Dynamic. And so much fun.
The big grunt and the measured way it's ladled out suits the character of the LC500 perfectly. This isn't a track weapon like the Lexus RC F, this is a monster that eats motorway miles - and that's what I did with it.
Don't ask why, but I needed to travel from Sydney to Newcastle for a 20-minute appointment and then come straight back again. I'm not a fan of that corner-less M1 Motorway, but the LC500 cruised up effortlessly without breaking a sweat - and with instant acceleration under my right foot whenever I needed to overtake. In the LC500, 110km/h felt too slow, like it wanted to keep running all the way up to its 270km/h top speed.
I took the old Pacific Highway back. The road surface is shoddy, but the sweeping corners and twists made the long way home so much more enjoyable. The LC500 performed beautifully, with superb handling while staying comfortable and composed. The big nose felt light, the steering perfectly weighted, and the throttle just needed a gentle prod to push it wherever I wanted.
Our LC500 wore Michelin Pilot Super Sport tyres, and despite them being runflats and 35 profile at the front and 40 at the rear on 21-inch rims, the ride - even over Sydney's shocking roads - was comfortable thanks to the air suspension.
That made daily commutes into the city fairly painless, too. And piloting the LC in traffic and car parks was also made easy thanks to good all-round visibility.
---
Mercedes-Benz S-Class
9/10
Smooth. It wasn't even because I'd chosen the Energizing Comfort Control mood to elicit that vibe. It's smooth - and so it should be.
Whether it's the near-silent new six-cylinder diesel, which hauls the near two-tonne sedan along with less fuss than a medical centre receptionist dealing with a room full of coughing patients. There is no fuss. You just hand over control to the engine, and trust it will get you where you need to be.
The V8 petrol in the S 560 also has a bit of a silent killer vibe to it. There's perhaps not as much noise as a V8 fan might want, but the mumbo is there, and in both cars the gearshifts are sublimely timed and super smooth.
Admittedly, the stiff-sided run-flat tyres on both the 19- and 20-inch wheels can exhibit a slight terseness over sharp edges, but when it comes to rolling over pockmarked surfaces or rougher country backroads, the ride offered up by the air suspension with variable dampers is superb. Put it in Sport mode and it stiffens up to the degree you'd expect, but Comfort is no doubt the best place to be.
The steering is super light but accurate, meaning it's easier than you'd think to pilot this behemoth of a sedan through corners. The grip on offer is excellent, too, even if traction can be an issue - I had a full couple of seconds of strobe light action from the traction control light when I buried the throttle in the S 560. 
I didn't get a chance to drive the six-cylinder petrol S 450 L, or the S 400 d L. And, I'm really sad to report, there was no opportunity to drive the AMG S 63 L, either. 
But the overall feeling of the updated range is that it remains a deluxe and delightful limousine - whether you have the good fortune of being in the driver's seat or not.
Safety
Lexus LC500
8/10
The LC500 has not been given an ANCAP score but there's nothing to suggest it's not incredibly safe.
Along with eight airbags it comes standard with a stack of advanced safety technology such as AEB, lane keeping assistance, blind spot warning and rear cross traffic alert. There's also adaptive cruise control and automatic high beam lights.
Run flat tyres means no spare wheel.
For child seats you'll find two ISOFIX points and two top tether anchor mounts across the back seats.
---
Mercedes-Benz S-Class
9/10
Easily one of the safest cars, if not the safest car, on the road today if technology is anything to go by. Well, we can't go by a crash test score, because the S-Class hasn't been crashed by EuroNCAP or ANCAP. So I can't really give it a 10/10 for safety…
But when the standard safety kit list is as lengthy as the S-Class's, it seems a safe bet. Items fitted include a 360-degree camera system, parking sensors front and rear, auto emergency braking, active blind-spot monitoring, active lane-keeping assist, adaptive cruise control with active steering assist, drowsiness detection, crosswind assist, and pedestrian detection with evasive steering assist (which allows you to turn the wheel harder to avoid impact with a pedestrian).
Plus there are other items like the company's Pre-Safe crash detection system which can flash the car's hazard lights at other road users, and tighten the occupant's seatbelt in anticipation of being hit. And if that happens, there are eight airbags (dual front, front side, rear side, curtain).
Ownership
Lexus LC500
7/10
The LC500 is covered by Lexus' four-year/unlimited-kilometre warranty. Servicing is recommended every 12 months or 15,000km.
There is no capped price servicing, but the first service is complimentary, and Lexus says you can expect to pay $866.95 for the second visit (30,000km), $870.14 for the third (45,000km) and $866.95 for the fourth (60,000km).
---
Mercedes-Benz S-Class
7/10
Mercedes-Benz offers a standard three-year/unlimited kilometre warranty.
Servicing is due every 12 months or 25,000km on all engines except AMG drivetrains, which require servicing every year or 20,000km. 
Mercedes-Benz has a (pricey!) capped-price servicing plan. The standard diesel and petrol models in the S-Class range cost $596 for the first service, and $1192 for the second and third visits. The costs for the sole AMG model is $736 for the first service, then the second and third visits are $1472 per.