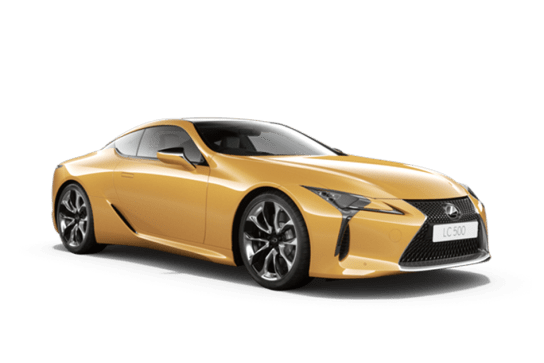 COMPARE
Lexus LC500
VS
McLaren 540C
Lexus LC500
Likes
Superb driving dynamics
Stunning concept-like styling
Good value
Dislikes
Cramped back seats
Poor storage space
Touch pad controller
---
McLaren 540C
Likes
Brilliant dynamics
Impressive performance
(Relatively) approachable price
Dislikes
Tricky entry/egress
Drinks a bit when pushed (don't we all)
Practicality not a strong suit
Summary
Lexus LC500
It was in the car park of a well-known hardware chain (that also happens to be famous for sausage sizzles) that it happened. I was closing the boot lid of the Lexus LC500 when a grinning, middle-aged bloke - arms almost breaking under bags of cow manure - waddled past me and said: "I'd so have this over a Porsche 911. Any day."
I had to stop for a second and think about what he meant. The cow poo rather than a Porsche? Nup. He was talking about the Lexus. The Lexus over a Porsche. The. Lexus. Over. A. Porsche. 
That was the kind of reaction the LC500 provoked wherever I took it, and by the end of my week with it I had became convinced that this was one of the best sports cars I'd driven in my eight years of reviewing cars.
The End. 
Not quite... because while that sounds like the final verdict rather than an introduction to a review, there's more to it. See, while there's so much that I love about the LC500, there are other parts that would make me think twice about getting one.
| | |
| --- | --- |
| Safety rating | — |
| Engine Type | 5.0L |
| Fuel Type | Premium Unleaded Petrol |
| Fuel Efficiency | 11.6L/100km |
| Seating | 4 seats |
---
McLaren 540C
Believe it or not, the McLaren 540C is an entry-level model. But you won't find anything remotely resembling rubber floor mats, steel wheels, or cloth seats here. This is a 'base' car like few others.
Revealed in 2015, it's actually the cornerstone of McLaren's three-tier supercar pyramid, being the most affordable member of the Sport Series, with the properly exotic Super Series (650S, 675LT and now 720S), and pretty much insane Ultimate Series (where the P1 hypercar briefly lived) rising above it.
Only a few years ago, McLaren meant nothing to anyone outside the octane-infused world of motorsport. But in 2017, it's right up there with aspirational sports car big guns like Ferrari and Porsche, both of which have been producing road cars for close to 70 years.
So, how has this British upstart managed to build a world-beating supercar brand so quickly?
Everything you need to know to answer that question resides inside the stunning McLaren 540C.
| | |
| --- | --- |
| Safety rating | — |
| Engine Type | 3.8L |
| Fuel Type | Premium Unleaded Petrol |
| Fuel Efficiency | 25.5L/100km |
| Seating | 2 seats |
Verdict
Lexus LC500
7.8/10
The LC500 is good value and superb to drive – from its comfortable ride to its great handling - offering an outstanding and engaging experience. There are a few reminders of its lower-brow connections, such as the media unit and that touch pad controller which is really frustrating to use.
The LC500 is also less practical than some of its rivals. Yes, it's a sports car, but it's a luxurious one and should offer better cabin storage as a modern grand tourer.
That said, the LC500 proves that you don't need to spend any more than $200K to have an exceptional driving experience.  
Is the LC500 the smartest luxury sports car buy on the market? Tell us what you think in the comments below.
---
McLaren 540C
8.3/10
The 540C is desirable on so many levels. Its dynamic ability, blistering performance, and stunning design make the cost of entry a value-for-money ticket. And the refreshing thing is, choosing a McLaren, with its focus on function and pure engineering, sidesteps the wankery that so often goes with ownership of an 'established' exotic brand. We absolutely love it.
Do you think McLaren is a genuine competitor for the usual supercar suspects? Tell us what you think in the comments below.
Design
Lexus LC500
9/10
Just look at it. Even in the extremely ordinary photos I took in a hurry before the sky fell in, you can see that the LC500 is absolutely drool-inducing. It's gothic-meets-the-21st-century-meets-1980s-Miami-Vice styling, and it all works superbly.
Even better, it still retains the almost impossible looks we saw when the LC500 Concept debuted at the Detroit motor show in 2016. And yes, there's more than a passing resemblance to the Lexus LFA supercar from 2011.
Low at just 1.3m tall, wide at 2m across, and long at 4.8m, the LC500 is all bonnet and hips and giant 21-inch rims that tuck into those enormous arches.
I was also taken by the tear-drop styling to the head- and taillights, and that now familiar spindle grille looks more at home on this Lexus than on any other. The door handles which sit flush against the body of the car and pop out when you poke them are also a nice touch.
The LC500 we tested was fitted with the $15,000 Enhancement Pack, which includes the carbon roof, active rear wing, carbon interior scuff plates, leather-and-Alcantara seats and a rear-wheel steering system. 
The cabin can't quite match the exterior for its stunning looks, but it's still special, from those elegant door handles and the stitched upholstery to the thickly bolstered seats that you drop down deeply into.
There is some Toyota/Lexus ordinariness in the cabin, though, such as the screen, which while wide and majestic, is more Microsoft than Apple if you get what I mean. And that also goes for the media unit, too, and that controller pad with its silly PC-style curser.
---
McLaren 540C
9/10
In 2010 the recent rise (and rise) of McLaren Automotive really began, when its design director, the hugely respected Frank Stephenson, started to send things in a compelling direction.
He says McLarens are 'designed by air' and that intricately sculpted, wind-tunnel-driven approach to supercar beauty is clear in the 540C's shape.
It's aimed at so-called everyday supercars like the Audi R8, and Porsche 911 Turbo, yet it incorporates all the subtle aero tricks that define the brand's dynamic personality.
A serious front spoiler and a mix of large intakes low in the nose create a delicate balance between downforce and corridors for cooling air.
Broad strakes down the side, standing proud of the main bodywork, are reminiscent of a formula one car's turbulence reducing barge boards, and giant intake ducts channel air through to the radiators in the cleanest, most efficient way possible.
And the look is suitably spectacular. You could hang the dramatically carved doors in a contemporary art museum.
Barely noticeable flying buttresses extending from the rear of the main roofline make a big contribution to downforce, cooling and stability with a minimal drag penalty.
There's a delicate lip spoiler on the trailing edge of the main deck, and a giant multi-channel diffuser proves air flow under the car is just as carefully managed as that going over it.
But the 540C doesn't lack traditional supercar drama. The dihedral design doors swinging up to their fully open position is a camera phone attracting, jaw dropping, traffic-stopper.
The interior is simple, striking and single-mindedly driver-focused. The chunky wheel is completely unadorned, the digital instruments are crystal clear, and the seats are the perfect combination of support and comfort.
The vertical 7.0-inch 'IRIS' touchscreen is cool to the point of minimalism, managing everything from audio and nav, to media streaming and air-con, with low-key efficiency.
Practicality
Lexus LC500
5/10
It's not. The boot is small at 197L, while cabin storage is almost non-existent with a tiny centre console bin, no cupholders, narrow door pockets and a small glovebox.
As for people space, the LC500 is a 2+2 seater and those back seats are impossible for me to sit in thanks to the low roof and the zero legroom behind my driving position. With a bit of wrestling I did manage to fit a booster sit in there for my four year old.
For charging you'll find a USB port and a 12V outlet up front.
Yes, it's a sportscar but the Lexus LC500 needs a re-think when it comes to storage and space. Other sports cars (a 911 for example) are more practical. As a parent, this impracticality would see it off my shopping list.
---
McLaren 540C
6/10
There are some cursory concessions to practicality… like a glovebox, a single cupholder under the dash at the leading edge of the centre console, a small bin between the seats, housing multiple USB outlets, and other storage options here and there.
The latter includes a shelf at the top of the bulkhead behind the seats, marked with a specific label saying (words to the effect of) 'don't put stuff here', but that's more about objects flying forward in a high-G deceleration, which in this car is more likely to be the result of hitting the brakes, rather than a crash.
But the 'big' surprise is the 144-litre boot in the nose, complete with light and 12 volt power outlet. It easily swallowed the CarsGuide medium sized, 68-litre hard shell suitcase.
In terms of getting in and out, make sure you've done you warm-ups because frankly it's an athletic challenge to maintain composure and get the job done either way. Despite best efforts, I hit my head a couple of times, and aside from the pain it's worth pointing out that being a follicularly-challenged person I'm forced to display abrasions in full public view.
Price and features
Lexus LC500
8/10
The LC500 lists for $190,000. That's peanuts considering you can pay a lot more than this for a sportscar from another brand that doesn't feel as good to drive.
The extensive standard features list includes a 13-speaker Mark Levinson stereo, a 10.3-inch display, head-up display, dual-zone climate control, proximity key, leather upholstery with heated front seats, stainless steel pedals, LED headlights.
Our test car was also fitted with the $15,000 Enhancement Pack - worth it I think, and you can read what it adds above in the section on design. 
The LC500 is a lot less expensive than the cars it takes aim at - we're talking the Porsche 911 (the most affordable is about $240K to get on the road), the Jaguar F-Type V8 R (which lists for about $250K) and the BMW 850i (with a list price of about $273K).
It's safe to say that buyers looking at a 911 are not going to be looking at a LC500. But somebody checking out a BMW 640i Gran Coupe, which lists for $185,900, should know they can get more firepower and luxury in the LC500 for just five grand extra. Same goes for anybody considering the F-Type V6 R-Dynamic or Mercedes-AMG E53.
Remember at the start how I said there were some aspects that would make me think twice about getting an LC500. Well the media unit's 'Remote Touchpad' and the joystick is up there as the most frustrating interface I've ever used. Not only is the infotainment menu confusing and non-intuitive, the uncoordinated controller makes the entire user experience dreadful. And I'm being nice.
---
McLaren 540C
9/10
At $331,500, we reckon the McLaren 540C is a supercar bargain. For just on $140k less than a Ferrari 488 GTB it delivers equivalent visual drama, and isn't far behind on speed and dynamic ability.
Standard kit runs to climate control air con, an alarm system, cruise control, remote central locking, LED headlights, tail-lights and DRLs, keyless entry and drive, a limited-slip differential, leather steering wheel, power folding mirrors, four-speaker audio, and a multi-function trip computer.
'Our' car featured close to $30,000 worth of options; headline items being the 'Elite - McLaren Orange' paint finish ($3620), a 'Sport Exhaust' system ($8500), and the 'Security Pack' ($10,520) which includes front and rear parking sensors, a reversing camera, alarm upgrade and a vehicle lifter that raises the front of the car an extra 40mm at the push of a column stalk. Very handy.
And the signature orange shade follows through with orange brake calipers peeking out through the standard 'Club Cast' alloy rims, and similarly coloured seatbelts inside.
Engine & trans
Lexus LC500
9/10
Fear not, the LC500 has the firepower to match those battle-cruiser looks. Under that enormous bonnet is a 5.0-litre petrol V8 and it makes 351kW and 540Nm. No turbos here, and that is absolutely fine by me. Actually, I prefer it; I'm not a fan of the lag or 'boosty' acceleration associated with turbocharging.
This naturally aspirated V8 has linear, controlled acceleration as the 10-speed automatic transmission shifts seamlessly though the gears, with the dash from 0-100km/h over in just 4.7 seconds. That's not supercar fast, but this isn't a supercar. The LC500 is a grand tourer.
On start-up, the LC500's V8 is breathy and high-pitched. When I pressed the ignition button for the first time its banshee-like scream echoed through our underground car park and I'm fairly sure my CarsGuide colleague Tom White (who was standing next to it at the time) soiled his trousers.
---
McLaren 540C
9/10
Aside from you and a passenger, the most important thing sitting between the 540C's axles is the 3.8-litre (M838TE) twin-turbo V8.
Developed in collaboration with British high-tech engineering specialist, Ricardo, McLaren's used it in various states of tune across different models, including the P1, and even in this 'entry-level' spec it produces enough power to light up a small town.
In 540C trim, the all-alloy unit delivers 397kW (540 metric horsepower, hence the model designation) at 7500rpm, and 540Nm from 3500-6500rpm. It uses race-derived dry sump lubrication, and a compact flat plane crank design, favoured by Ferrari and others in high-performance engines.
While vibration damping can be an issue with this configuration, it allows a much higher rev ceiling relative to the more common cross plane arrangement, and this engine screams up to 8500rpm, a stratospheric number for a road-going turbo.
The seven-speed 'Seamless-Shift' dual-clutch transmission sends drive exclusively to the rear wheels and comes from Italian gearbox gurus Oerlikon Graziano. It's been progressively refined and upgraded since its first appearance in the MP4-12C in 2011.
Fuel consumption
Lexus LC500
7/10
After 279km of testing on a combination of motor ways, country roads and city peak hour traffic I measured a mileage of 16.4L/100km at the pump. The official combined fuel consumption is 11.6L/100km.
While it's thirsty, that fuel usage would not make me think twice about getting an LC500 – it's a petrol V8 powered monster and you need to feed it to have fun. If fuel is an issue for you either financially or ethically then there's always the LC500h hybrid version.
---
McLaren 540C
8/10
McLaren claims 10.7L/100km for the combined (urban/extra urban) fuel economy cycle, emitting 249g/km of CO2 at the same time.
For the record, that's six per cent better than the Ferrari 488 GTB (11.4L/100km – 260g/km), and if you take it easy on a constant freeway cruise, you can lower it even further.
But most of the time, we, ahem, didn't do better than that, averaging 14.5L/100km via the trip computer in just over 300km of city, suburban and freeway running.
Driving
Lexus LC500
9/10
Outstanding. Brilliant. Superb. But I didn't expect it to be. Many of the breeds of Lexus I've driven look edgy and dynamic, but then feel like paper weights to drive. The LC500 is different. It's comfortable. Easy to pilot. Dynamic. And so much fun.
The big grunt and the measured way it's ladled out suits the character of the LC500 perfectly. This isn't a track weapon like the Lexus RC F, this is a monster that eats motorway miles - and that's what I did with it.
Don't ask why, but I needed to travel from Sydney to Newcastle for a 20-minute appointment and then come straight back again. I'm not a fan of that corner-less M1 Motorway, but the LC500 cruised up effortlessly without breaking a sweat - and with instant acceleration under my right foot whenever I needed to overtake. In the LC500, 110km/h felt too slow, like it wanted to keep running all the way up to its 270km/h top speed.
I took the old Pacific Highway back. The road surface is shoddy, but the sweeping corners and twists made the long way home so much more enjoyable. The LC500 performed beautifully, with superb handling while staying comfortable and composed. The big nose felt light, the steering perfectly weighted, and the throttle just needed a gentle prod to push it wherever I wanted.
Our LC500 wore Michelin Pilot Super Sport tyres, and despite them being runflats and 35 profile at the front and 40 at the rear on 21-inch rims, the ride - even over Sydney's shocking roads - was comfortable thanks to the air suspension.
That made daily commutes into the city fairly painless, too. And piloting the LC in traffic and car parks was also made easy thanks to good all-round visibility.
---
McLaren 540C
9/10
The best word to describe driving this McLaren is orchestration. The 540C's dynamic elements flow seamlessly together to transform its operator into a conductor guiding a well-honed mechanical orchestra through an energetic concerto.
And slipping (carefully) over the carpeted bulkhead into the driver's seat is like dropping into an ergonomic masterclass. It feels like you're putting the car on, rather than getting into it.
Like all other current McLarens, the 540C is constructed around a one-piece, carbon-fibre tub, which it calls MonoCell II. It's super stiff, and just as importantly, light.
McLaren quotes a dry weight (no fuel, lubricants, or coolant) for the 540C of 1311kg, with the kerb weight a stated 1525kg (including a 75kg passenger). Not featherweight, but with this kind of power sitting a few centimetres behind your head, it's not a lot.
A sophisticated launch control system means zero to licence loss is achieved in a flash (0-100km/h – 3.5sec), with jail time lurking if you ever decide to explore the 540C's 320km/h maximum velocity. And in case you're wondering, it'll blast from 0-200km/h, in just 10.5sec.
The engine sounds brilliantly guttural, with lots of exhaust roar managing to find a way past the turbos. Maximum torque is available across a flat plateau from 3500-6500rpm, and mid-range punch is strong. However, the 540C is anything but a one-trick pony, or is that 540 ponies?
The double wishbone suspension, complete with the adaptive 'Active Dynamics Control' system lets you channel all that forward thrust into huge cornering speed.
The switch from Normal, through Sport to Track progressively buttons everything down harder, and an ideal weight distribution (42f/58r) delivers fantastic agility.
Feel from the electro-hydraulic steering is amazing, the fat Pirelli P Zero rubber (225/35 x 19 front / 285/35 x 20 rear), developed specifically for this car, grips like a Mr T handshake, and the standard 'Brake Steer' torque vectoring system, which applies braking force to optimise drive and minimise understeer, is undetectable in the best possible way.
A console switchable 'Powertrain Control System' also offers three settings, and in the upper modes, shifts from the seven speed dual clutch 'box are eye-blink rapid.
The steering wheel paddles come in the form of a genuine rocker, so you're able to change up and down ratios on either side of the wheel, or one-handed.
Hammer towards a quick corner and the reassuringly progressive steel rotor brakes bleed off speed with complete authority. Flick down a couple of gears, then turn in and the front end sweeps towards the apex without a hint of drama. Squeeze in the power and the fat rear rubber keeps the car planted, and perfectly neutral mid-corner. Then pin the throttle and the 540C rockets towards the next bend… which can't come quickly enough. Repeat, and enjoy.
But slotting everything into 'Normal' mode transforms this dramatic wedge into a compliant daily driver. Smooth throttle response, surprisingly good vision and excellent ride comfort make the McLaren a pleasure to steer around town.
You'll love catching a glimpse of the heat haze shimmering up off the engine in the rear-view mirror at the lights, and the (optional) nose-lift system makes traversing awkward driveways and speed bumps manageable.
Safety
Lexus LC500
8/10
The LC500 has not been given an ANCAP score but there's nothing to suggest it's not incredibly safe.
Along with eight airbags it comes standard with a stack of advanced safety technology such as AEB, lane keeping assistance, blind spot warning and rear cross traffic alert. There's also adaptive cruise control and automatic high beam lights.
Run flat tyres means no spare wheel.
For child seats you'll find two ISOFIX points and two top tether anchor mounts across the back seats.
---
McLaren 540C
8/10
In terms of active safety, the car's dynamic ability is one giant safeguard against a collision, and that's backed up by tech features including ABS and brake assist (no AEB, though), as well as stability and traction controls.
But if a crunching-type incident is unavoidable, the carbon-composite chassis offers exceptional crash protection with dual front airbags in support (no side or curtain airbags).
Not a huge surprise that ANCAP (or Euro NCAP, for that matter) hasn't assessed this particular vehicle.
Ownership
Lexus LC500
7/10
The LC500 is covered by Lexus' four-year/unlimited-kilometre warranty. Servicing is recommended every 12 months or 15,000km.
There is no capped price servicing, but the first service is complimentary, and Lexus says you can expect to pay $866.95 for the second visit (30,000km), $870.14 for the third (45,000km) and $866.95 for the fourth (60,000km).
---