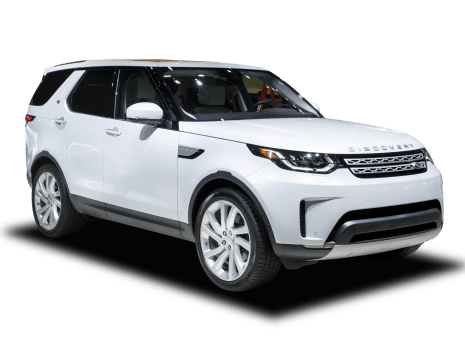 COMPARE
Land Rover Discovery
VS
Mazda CX-8
Land Rover Discovery
Likes
Super spacious interior
Premium cabin materials
New 4-cyl diesel surprisingly capable
Dislikes
Expensive for a well-optioned model
Crawling into third row a slow process
Sharp direction changes unsettle the cabin
---
Mazda CX-8
Likes
Easier to park than a CX-9, with almost as much space inside
Much more useful boot than CX-5
Very comfortable to drive
Dislikes
Big price jump between Sport and Asaki
No CarPlay until late 2018
No petrol option
Summary
Land Rover Discovery
I know what you're thinking; this new Land Rover Discovery has gone a bit soft.
It's built on the road-focused Range Rover Sport platform now. It's lighter. And safer. Better equipped. Less, well, square. Hell, it's even offered with a choice of two tiny four-cylinder engines, along with the traditional V6 unit.
And all of that surely means it's just a little less rugged than the cars that have gone before it, right?
But Land Rover assures us that is actually not the case, declaring this all-new, fifth-generation car the most capable Disco ever.
So have they gone stark Rovering mad?
| | |
| --- | --- |
| Safety rating | — |
| Engine Type | 3.0L turbo |
| Fuel Type | Diesel |
| Fuel Efficiency | 8.8L/100km |
| Seating | 5 seats |
---
Mazda CX-8
Remember Mr McGreg from The Simpsons who copped the brunt of Dr Nick Riviera? "With a leg for an arm and an arm for a leg."
You might perceive the new Mazda CX-8 as a similar jumble of existing Mazda SUV building blocks, but you're wrong. Very wrong.
It may have the long wheelbase and seven-seat layout of a CX-9 but the narrower width of a CX-5, and the headlights from the latter and tail-lights from the former, but it's all for good reasons, and plonks the new model right between the two in Mazda's very appealing SUV line-up.
This is indeed a foot in both the mid-size and large SUV camps, but also gives Mazda an answer to the emerging range of seven-seat mid-sizers like the CR-V, Kodiaq, 5008, X-Trail, Outlander, and upcoming Tiguan Allspace.
Its journey to Australia has not been an easy one, being classified as a Japan-only model when it was revealed late last year and arriving with a relatively limited model line-up and no petrol drivetrain option.
With the coat-tails of CX-5's five-year run as Australia's favourite SUV to ride on, combined with the CX-9's credentials forming the other half of its gene pool, there's a very good chance a lot of Australians will be glad it made the trip.
We were among the first to drive the CX-8 at its Australian launch this week.
| | |
| --- | --- |
| Safety rating | |
| Engine Type | 2.2L turbo |
| Fuel Type | Diesel |
| Fuel Efficiency | 6L/100km |
| Seating | 7 seats |
Verdict
Land Rover Discovery
7.6/10
It's a hell of a job, keeping the purists happy. But on first impressions, this new Disco should just about pull it off. Comfortable on the road, and capable of tackling anything its owners are likely to throw at it off it. Be prepared to spend up if you want a well-optioned one, though.
For us, though, the equipment of the HSE trim level blended with the power of the V6 engine is the pick of the bunch.
Are you keen to dance in this Disco? Tell us what you think in the comments below
---
Mazda CX-8
8.1/10
Mazda has taken a little of Column A and a little of Column B to bridge the gap between CX-5 and CX-9 quite nicely. It could only be better with the CX-9s petrol engine and perhaps a few more trim levels, but it's a good thing. Having said that, the sweet spot is definitely the two-wheel drive Sport, because it comes with what I consider to be all the important features, and represents the best value.
Will the CX-8 tempt you up from a CX-5 or down from a CX-9? Tell us what you think in the comments below.
Design
Land Rover Discovery
8/10
Land Rover has attempted a sleeker, more urban design this time around, only without losing all of its boxy heritage, and the results are, well, a little confusing.
Viewed front on, this new Disco looks smooth and powerful, with a narrow bonnet that drops into the flared arches of the front wheels adding instant road presence. And from the rear it looks good, too.
Some will argue that the offset numberplate is an over-indulgence, or that it looks a little fridge-like with its narrow and tall dimensions, but we like it.
But it's the three-quarter view that's a little hard to stomach, with the smooth lines of the front end meeting the squared-off rear with all the subtlety of a wave meeting the shoreline.
Inside, though, it's a picture of premium, with soft-touch cabin materials and a stylish, unfussy dash setup oozing a sense of considered quality.
---
Mazda CX-8
8/10
Rather than a smaller CX-9, it's fairest to describe the CX-8 as a long-wheelbase CX-5 given it shares all panelwork from the B-pillar forward with the latter. Everything rearward is unique aside from its tail-lights, however.
CX-8 development boss Hideki Matsuoka explains his team started with the CX-9 though, with the seven seat layout a core element of the project. Rear legroom was another key criteria, which is why it uses the CX-9's 2930mm wheelbase to match the large SUV.
The rear doors have been extended accordingly to optimise rear seat access, following a formula only used by the Kodiaq, 5008 and Tiguan Allspace to date.
Retaining the CX-5's 1840mm width was also important for easier manoeuvrability, but it's worth noting that the CX-8's 11.6m turning circle is closer to the CX-9's 11.8 than the CX-5's 11.0.
The 129mm narrower body, shorter front and rear overhangs and 175mm shorter overall length than the CX-9 are certain to be beneficial when parking though.
The net result can look like an elongated CX-5 from the front three-quarter view – surprise, surprise – but in isolation it's yet another fine Kodo-era SUV design.
The interior is a similar package, with the dash and door trims from the CX-5 blending with the split-lidded centre console from the CX-9. Everything rearward is also unique, and the top-spec Asaki's presentation nudges premium brands with actual wood trim on the dash and nappa leather on the seats, particularly in the optional and CX-8-specific 'Dark Russet' colour.
Practicality
Land Rover Discovery
9/10
Perhaps unsurprisingly, given it's the size of small apartment block, the Disco's people-and-cargo-carrying abilities are first rate. The official dimensions are 4970mm are long, 1846mm high and 2220mm wide, but that translates most simply as bloody massive.
Up front, there's plenty of space for front-seat riders, though the super-wide central unit that runs from the dash to the centre console and houses everything from the touchscreen unit to the 4WD controls does eat into knee room a little. Front seat riders will share two central cupholders, and there's room in the all doors for bottles.
Climb into the massive second row (it's three-adults-across-the-middle big) and you'll find your surroundings hinge on what trim level you're in, with top-spec models adding climate control functions, dual USB points and two cupholders housed in a pulldown divider.
Opt for a seven-seat model (and you probably should) and you'll find access to the third row a little tricky, but once there the space is genuinely impressive. At 176cm, I'm far from the tallest tester, but I do consider myself adult-sized, and I had clear air between my knees and the seat in front, and between my head and the ceiling.
Flatten the second and third seat (which you can do remotely via an app, should you so wish) and you'll be able to squeeze 2,500 litres of cargo on board, helped by its two-metre load length and 1.4-metre load width. But drop only the third row and you'll still get 1,231 litres. And you can add to that up to 21 separate storage areas that can add another 45 litres of space.
There's also two or four ISOFIX attachment points, with two in the second row in all models joining another two in the third row for seven-seat cars.
---
Mazda CX-8
9/10
Mazda defines the life stage of a typical CX-8 owner as having two kids under their belt and considering a third, with the need to often bring their friends along for the ride.
This sits above the CX-3's 'young people or young couple' profile and the CX-5's 'couple thinking about kids or have a kid', but beneath the CX-9 as the go-to for large families.
The key element of the CX-8's remit is clearly the third row of seats, which has been designed to suit heights up to 170cm, which essentially means taller kids. This 172cm tester found it quite cosy, but possible, so you wouldn't want to push it much further. Legroom is officially within 5mm of the CX-9, but the limiting factor is headroom.
Access to the third row is as easy as you could hope for thanks to those long doors opening 80 degrees, with the second row sliding forward from either side with a single action. The third row also folds flat with a simple single action for either pew.
The second row is really just a narrower version of the CX-9's with the same legroom and ample headroom for this tester. It won't swallow three adults or child seats as comfortably as a CX-9, and you'd need to choose your child seat carefully if attempting the latter.
The sliding second row seat is likely to make for much more comfortable front seating with a rearward facing child seat fitted, too.
On that note, the CX-8 has the same child seat anchorage layout as the CX-9, with ISOFIX mounts for the outward second row seats, and top tether points for all five rear seats.
Despite having a shorter rear overhang than the CX-9, the CX-8 still manages to have a useful 209 litres (VDA) of space in the boot (loaded to the roof) with the third row upright, which expands to 742 litres VDA (loaded to the roof), or a much bigger space than the CX-5 with the third row folded.
Both rear rows fold flat to reveal  1727 litres (VDA) in total, and there's a further 33 litres of underfloor storage.
The CX-8 retains all the other important practicality elements, including bottle holders and cupholders for all three rows, 12-volt and USB points, and there's tri-zone climate control that gives second row passengers an extra zone, but like the CX-9 there's no individual ventilation for the third row.
If you're looking to tow with the CX-8, it carries the same 2000kg braked tow rating as the CX-9, which is 200kg ahead of the figure applied to all CX-5s.
Price and features
Land Rover Discovery
7/10
It's a complicated lineup, with three engines available in any of the four trim grades, which in turn are offered with five or seven seats, plus there's a launch special called the First Edition to further muddy the waters.
And that means you can technically climb into a pared-back Discovery S for a low $65,960 for a five-seater, or stretch to $131,870 for a full-fruit launch edition, with the vast area between those two numbers populated by everything else. 
The entry-level S ($65,960 - $84,671) is a fairly simple offering, with 19-inch alloys, cloth seats, a leather-wrapped wheel with paddle-shifters and two-zone manual climate control the pick of a sparse standard inclusions list. Cruise control is also standard fit, as is a raised inner-boot guard that stops your luggage falling out when you open the boot.
Step up to the SE ($77,050 - $94,701) and you'll add standard air suspension, with fixed height settings for off-road, normal and access (which lowers the car if you need to pass under a low roof, for example), along with rain-sensing wipers and powered and heated wing mirrors.
LED headlights (with an undeniably cool Nike Swoosh-style design) and leather seats also join the party at the SE level, as does ambient interior lighting and front parking sensors, while your eight-inch touchscreen is now nav-equipped, and pairs with a better, 10-speaker stereo.
Next is the HSE trim ($87,150 - $103,661), which adds some cool design elements, like LED taillights, 20-inch alloys outside, along with winged headrests, quality woodgrain highlights and even more ambient lighting inside. Your climate is now three-zone, too, and some bonus hiding holes appear (like a clever storage compartment under the front cupholders that only appears when you slide the unit forward). Your stereo is upgraded to a 10-speaker Meridian unit, too, and is controlled through a bigger, 10-inch touchscreen.
At the top of the regular Disco family tree, is the HSE Luxury ($100,950 - $117,461), which is a not-insignificant amount of money no matter which way you shake it. For that spend, though, you'll add a powered sunroof, unique 20-inch alloys and finer leather on your seats, which are now also heated and cooled in the front. You'll also add a surround-view camera and get the pick of the sound-systems; a 14-speaker Meridian unit. 
On the 4WD front, everything but the entry-point S models get a low-range-equipped 4WD system (the S is high-range only), and Range Rover's Terrain Response (which allows you to select traction settings based on the whether you're driving one mud, rocks, sand etc) is standard across the range. The newer Terrain Response 2, which automatically senses the surface and adjusts accordingly, is a cost option.
---
Mazda CX-8
7/10
Unlike the broad variant spectrum available with other Mazdas, the CX-8 is limited to just two trim levels; Sport and Asaki.
The Sport is available in two- and all-wheel drive configurations, which carry list prices of $42,490 and $46,490 respectively and sit a significant margin beneath the $61,490 Asaki.
The CX-8 Sport slightly undercuts the petrol-only CX-9 Sport by $1400 in either two- or all-wheel drive (AWD) forms.
The nearest diesel CX-5 would be the GT diesel at $46,590, but remember that every diesel CX-5 comes with AWD.
The CX-8 Asaki is only available with AWD, and priced $12,300 more than the top-spec CX-5 Akera, but $3300 less than the top-spec CX-9 Azami. In a nutshell, it's a bit cheaper than the CX-9 at either end of the range.
The Sport's standard feature list includes all the important safety gear, which you can read about in detail below, plus cloth seat trim but leather steering wheel, three-zone climate control, 7.0-inch multimedia screen with sat nav and digital radio, but no Apple CarPlay or Android Auto until it becomes optional later this year. 
Sports also come with a head-up display, active cruise control, LED auto headlights, auto wipers, heated and power folding door mirrors, plus auto-dimming rear-view mirror, and can be best identified on the outside by their 17-inch alloys.
Over the Sport, the Asaki adds things like nappa leather seat trim with power adjustable front seats,  seat heaters for the first two rows, a heated steering wheel, Bose stereo, real wood trim, rear window blinds, a power tailgate, proximity keys, a 360 degree camera system, front parking sensors, adaptive headlights, plus LED daytime running lights and fog lights.
Does that sound like an extra $15,000 worth? I'm not sure, particularly given the best way to pick the Asaki on the outside is by its bigger 19-inch alloys.
Mazda expects the two-wheel drive (2WD) Sport to represent 60 per cent of CX-8 sales, with the AWD version just 10 per cent, and the top Asaki making up the remaining 30 per cent.
Engine & trans
Land Rover Discovery
8/10
There's three diesel power plants on offer, and each pairs with an eight-speed automatic gearbox that channels power to all four wheels. 
The entry level (and destined to be unpopular) option is the lesser of the two four-cylinder engines, 2.0-litre "Ingenium" unit that will deliver 132kW and 430Nm.
We're yet to test the low-output option, to be honest, but we'd be shocked if buyers found it ample to shift the Disco's bulk, even if this new model is a staggering 480kg lighter than its predecessor. Land Rover says that engine will help produce a 10.5-second sprint to 100km/h.
Better, then, to step up to the more powerful version of that engine, which produces 177kW and 500Nm thanks to some tuning tweaks. As a result, a far more palatable sprint time of 8.3 seconds can be achieved. 
But for ours, the best-suited option remains the powerful 3.0-litre diesel V6, which will fire 190kW and 600Nm to the tyres on demand. And the result of all this extra grunt? A slightly improved sprint claim of 8.1 seconds. But those numbers don't tell the full story of an engine that feels more urgent and eager when you prod the accelerator.
---
Mazda CX-8
8/10
Yes, the CX-8 is diesel only, in a similar way to the CX-9's petrol-only status. The CX-8 was designed exclusively for diesel-loving Japan, which doesn't get the bigger CX-9 which was largely developed to suit petrol-loving US tastes.
Australia's proven love for Mazdas – currently the number two brand in our market - got the local business case across the line, which also included New Zealand. Fun fact: This leaves the Antipodean markets as the only two in the world to retail both CX-8 and CX-9.
The CX-5's relative breadth of drivetrain options comes down to the mid-size SUV's global appeal.
The 2.2-litre twin-turbo-diesel is the same revised 140kW/450Nm unit fitted recently to the CX-5 and Mazda6. Maximum torque is available from just 2000rpm, which helps mask the six-speed torque converter auto's relatively low ratio count.
AWD versions come with the clever 'i-ACTIV' drive system, which embraces numerous sensors to predict surface changes before the tyre encounters them and react accordingly.
Fuel consumption
Land Rover Discovery
8/10
The lowest-output diesel will drink 6.3-litres per hundred kilometres on the claimed/combined cycle, with that number climbing to an only slightly worse 6.5 litres for the more powerful four-cylinder unit. 
Opt for the V6, though, and your fuel use climbs to 7.2 litres per hundred kilometres (claimed/combined). 
---
Mazda CX-8
9/10
The 2WD CX-8 Sport carries an impressive 5.7L/100km official combined fuel consumption figure, and the two AWD variants are only 0.3L behind at 6.0L/100km.
The 2WD CX-8 figure matches diesel CX-5s, which are AWD, and compares with the 8.4 and 8.8 figures applied to 2WD and AWD versions of the CX-9 respectively.
With the 72 litre fuel tank from the 2WD CX-9, this suggests a very impressive theoretical range of 1263km for the 2WD CX-8, or 1200km from the AWDs.
Driving
Land Rover Discovery
7/10
Land Rover is faced with the most impossible of challenges with this new Disco. For one, it's filling in for the legendary Defender as the brand's most capable offering, and that means it needs to be able to go places and do things a Range Rover simply can't. Anything less will have the purists frothing.
But equally, Land Rover knows that the overwhelming majority of its customers are unlikely to tackle anything more challenging than a suburban speed bump, and so they needed to soften its image and improve its road manners, without sacrificing capability.
So Land Rover pointed the Disco's nose towards Australia's red centre, putting its fleet through their paces on the sealed roads and red dirt tracks that encircle Uluru. And on a custom-built track consisting of moguls, water crossings and angled climbs sharp enough to put some articulation pressure on the wheels, the Disco conquered all before it with ease. 
It must be said, though, that there was nothing on offer that would genuinely challenge it, but equally, the Disco always felt like it had plenty in reserve, too. And with a maximum 283mm ground clearance, 500mm of wheel articulation and a wading depth of 900mm (which is 200mm more than outgoing model), along with air suspension on all but the entry-level S, it does point to some genuine off-road potential.
On our brief tarmac drive we were surprised by the smooth and steady power delivery of the bigger four-cylinder diesel, which propels the two-tonne-plus Land Rover along with surprising ease. It's not fast, but it never feels underwhelming.
But the pick for us was the six-cylinder option, which unlocks its 600Nm low in the rev range and feels a far more natural fit for the big Disco. It's louder and little more gruff than its four-cylinder sibling, but it feels faster, too. And for us, that's a fair trade off.
The Disco happily switched from tarmac to rutted tracks with ease, and while the super-smooth tarmac of the Northern Territory wasn't much of a challenge, it sorted out the worst of the off-road stuff with little bother.
Australia's outback famously offers up very little in the way of cornering, but the few we did encounter had us a little concerned with the top-heavy nature of the Discovery, with sharp direction changes sending passengers into a noticeable wobble. 
Still, our limited wheel time means we'll be reserving final judgement until we can spend more time with each variant, but our taste-test sample reveals a car that does appear to straddle that line between capable and comfortable.
---
Mazda CX-8
8/10
My first impression behind the wheel is very diesel CX-5, which is of course a good thing.
If you've been following Mazda's recent efforts with refinement in the updated 6 and CX-5, you'll be pleased to know the same formula has been applied to the CX-8. These cars are achieving their goal of troubling the established premium brands for comfort.
You can certainly feel the extra length over the CX-5, and for the most part this means better ride comfort over bumps as there's less pitching forward and backwards.
It also feels longer when chucking a U-turn or parking – don't forget that extra 60cm of turning circle.
As always, the 2.2-litre turbo-diesel makes for relaxed cruising, but you can feel the effect of the extra 200 kilos of weight over the CX-5. It's not quite as spritely, but still more than enough for highway overtaking, and it's still more nimble around corners than a proper large SUV.
The CX-8 would probably be a better package with the CX-9's turbo-petrol, but the diesel's economy will probably win over a lot of buyers, particularly with that huge theoretical range between fills.
Safety
---
Mazda CX-8
9/10
The CX-8 is yet to be tested by ANCAP to see if it's worthy of the maximum five star ratings applied to the CX-5 and CX-9, but an announcement is expected in the near future.
Mazda expects it will get top marks, so our safety score is a tentative on that basis. Do check before signing on the dotted line.
Like the rest of Mazda's hatch, sedan and SUV line-up, all CX-8's come with all the most important safety gear as standard.
Both trim levels come with airbags covering all three rows, front and rear AEB, reversing camera, rear parking sensors with cross traffic alerts, traffic sign recognition, auto high beams, blind-spot monitoring, lane guidance and lane departure warning.
The Asaki adds rear parking sensors, proximity keys and active headlights.
One feature Japanese CX-8s miss out on, which Australian versions don't, is 'Intelligent Speed Assistance'.
This coordinates the active cruise control with the traffic sign recognition to automatically adjust your speed as you pass through different speed zones. This is likely to be particularly popular with Victorian CX-8 owners...
Ownership
Land Rover Discovery
7/10
The Discovery range is covered by a three-year, 100,000km warranty, but you can extend that to five years at an extra cost. You can also pre-pay your service costs for the first five years of ownership.
The four-cylinder engines get genuinely impressive service intervals of 24 months/34,000km, while the V6 requires a trip to the dealership every 12 months or 26,000km.
---
Mazda CX-8
7/10
The CX-8 is covered by Mazda's regular three year/unlimited kilometre warranty, which is starting to look a bit brief among the many five year and beyond periods on offer from other manufacturers.
The 'Mazda Service Select' capped price servicing plan applies, if 12 month/10,000km intervals are adhered to. Base scheduled maintenance for the first three services will set you back $318, $458 and $318 respectively.