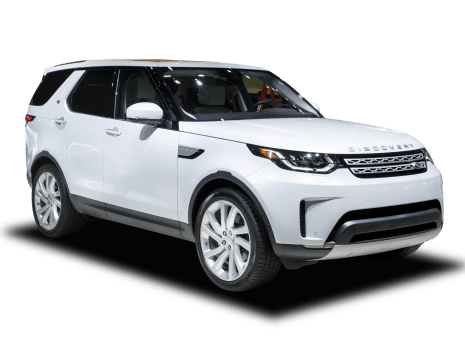 COMPARE
Land Rover Discovery
VS
Alfa Romeo Stelvio
Land Rover Discovery
Likes
Super spacious interior
Premium cabin materials
New 4-cyl diesel surprisingly capable
Dislikes
Expensive for a well-optioned model
Crawling into third row a slow process
Sharp direction changes unsettle the cabin
---
Alfa Romeo Stelvio
Likes
Sexy design
Sporty handling
Great chassis
Dislikes
Reliability fears of it being Italian
Some cheap feeling touches
Doesn't sound like an Alfa
Summary
Land Rover Discovery
I know what you're thinking; this new Land Rover Discovery has gone a bit soft.
It's built on the road-focused Range Rover Sport platform now. It's lighter. And safer. Better equipped. Less, well, square. Hell, it's even offered with a choice of two tiny four-cylinder engines, along with the traditional V6 unit.
And all of that surely means it's just a little less rugged than the cars that have gone before it, right?
But Land Rover assures us that is actually not the case, declaring this all-new, fifth-generation car the most capable Disco ever.
So have they gone stark Rovering mad?
| | |
| --- | --- |
| Safety rating | — |
| Engine Type | 3.0L turbo |
| Fuel Type | Diesel |
| Fuel Efficiency | 8.8L/100km |
| Seating | 5 seats |
---
Alfa Romeo Stelvio
Just how important are looks, really? Sure, if you're a model, or you're asking Rihanna or Brad Pitt for a date, or you're a sports car, or a super yacht, being attractive is helpful. But if you're an SUV, like Alfa Romeo's new, brand-reshaping Stelvio, does it really matter?
There are some people who believe all SUVs are ugly because they are simply too big to look good, in the same way that all 12-foot tall people, no matter how good-looking, would be undeniably off-putting.
Yet there are undeniably a lot of people who find SUVs, particularly expensive European ones, very much attractive, as well as practical, because how else could you explain the fact that cars like this Stelvio - mid-sized SUVs - are now the biggest-selling premium segment in Australia?
We're set to snap up more than 30,000 of them this year, and Alfa wants to take as much of that tasty sales pie chart as it can. 
If success could be put down to looks alone, you'd have to back the Stelvio to succeed fabulously, because it truly is that rarest of things, an SUV that's actually attractive, even sexy. But does it have what it takes in other areas to tempt buyers into choosing an Italian option over the trusted Germans?
| | |
| --- | --- |
| Safety rating | |
| Engine Type | 2.0L turbo |
| Fuel Type | Premium Unleaded Petrol |
| Fuel Efficiency | 7L/100km |
| Seating | 5 seats |
Verdict
Land Rover Discovery
7.6/10
It's a hell of a job, keeping the purists happy. But on first impressions, this new Disco should just about pull it off. Comfortable on the road, and capable of tackling anything its owners are likely to throw at it off it. Be prepared to spend up if you want a well-optioned one, though.
For us, though, the equipment of the HSE trim level blended with the power of the V6 engine is the pick of the bunch.
Are you keen to dance in this Disco? Tell us what you think in the comments below
---
Alfa Romeo Stelvio
8/10
Properly beautiful in a way only Italian cars can ever be, the new Alfa Romeo Stelvio really is what the marketeers promise - a more emotional, more fun and better-looking option to the German offerings we've been served up for so long. Yes, it's an Italian car, so it might not turn out to be quite as well built as an Audi, Benz or BMW, but it will definitely make you smile more often. Particularly when you look at it.
Are the Alfa's looks enough to tempt you away from the Germans? Tell us in the comments below.
Design
Land Rover Discovery
8/10
Land Rover has attempted a sleeker, more urban design this time around, only without losing all of its boxy heritage, and the results are, well, a little confusing.
Viewed front on, this new Disco looks smooth and powerful, with a narrow bonnet that drops into the flared arches of the front wheels adding instant road presence. And from the rear it looks good, too.
Some will argue that the offset numberplate is an over-indulgence, or that it looks a little fridge-like with its narrow and tall dimensions, but we like it.
But it's the three-quarter view that's a little hard to stomach, with the smooth lines of the front end meeting the squared-off rear with all the subtlety of a wave meeting the shoreline.
Inside, though, it's a picture of premium, with soft-touch cabin materials and a stylish, unfussy dash setup oozing a sense of considered quality.
---
Alfa Romeo Stelvio
9/10
It might be unfair to suggest Italians are more interested in design than anything else, but it would only be honest to suggest that it often feels that way. And when that obsession with making things look good results in a car as curvaceous, sensuous and sporty as this, who could argue that it's a bad thing?
I once asked a senior Ferrari designer why Italian cars, and super cars in particular, look so much better than German ones, and his answer was simple: "when you grow up surrounded by so much beauty, it's natural to make beautiful things".
For Alfa to produce a car, like the Giulia, that reflects its brand's design aesthetic and proud sporting heritage - it is the brand that gave birth to Ferrari, as its spin doctors like to remind us - is almost expected, or predictable.
But to perform the same feat on this scale, on a big, bulky SUV with all of its proportional challenges, is a real achievement. I'd have to say there's not a single angle from which I don't like the look of it.
The interior is almost as good, but does fall down in a few areas. If you buy the 'First Edition Pack', a $6000 cost and one that's only available to the first 300 people to rush in, or the 'Veloce Pack' they'll also offer ($5000), you get really nice sporty seats and shiny pedals, and the panoramic roof, which manages to let light in without cutting your headroom off.
Buy an actual base model, however, for a notional $65,900, and you'll get a lot less class. The steering wheel won't feel as sporty, either, but no matter which variant you buy you're stuck with a slightly cheap and plastic-feeling gear shifter (which is also a bit counterintuitive to use), which is a shame, because it's a touch point you'll use every day. The 8.8-inch screen is also not quite of German standard, and the sat nav can be temperamental.
The cool-steel gear-shift paddles, on the other hand, are absolutely gorgeous, and would feel at home on a Ferrari.
Practicality
Land Rover Discovery
9/10
Perhaps unsurprisingly, given it's the size of small apartment block, the Disco's people-and-cargo-carrying abilities are first rate. The official dimensions are 4970mm are long, 1846mm high and 2220mm wide, but that translates most simply as bloody massive.
Up front, there's plenty of space for front-seat riders, though the super-wide central unit that runs from the dash to the centre console and houses everything from the touchscreen unit to the 4WD controls does eat into knee room a little. Front seat riders will share two central cupholders, and there's room in the all doors for bottles.
Climb into the massive second row (it's three-adults-across-the-middle big) and you'll find your surroundings hinge on what trim level you're in, with top-spec models adding climate control functions, dual USB points and two cupholders housed in a pulldown divider.
Opt for a seven-seat model (and you probably should) and you'll find access to the third row a little tricky, but once there the space is genuinely impressive. At 176cm, I'm far from the tallest tester, but I do consider myself adult-sized, and I had clear air between my knees and the seat in front, and between my head and the ceiling.
Flatten the second and third seat (which you can do remotely via an app, should you so wish) and you'll be able to squeeze 2,500 litres of cargo on board, helped by its two-metre load length and 1.4-metre load width. But drop only the third row and you'll still get 1,231 litres. And you can add to that up to 21 separate storage areas that can add another 45 litres of space.
There's also two or four ISOFIX attachment points, with two in the second row in all models joining another two in the third row for seven-seat cars.
---
Alfa Romeo Stelvio
8/10
We were lucky enough to drive this car early, on a recent family holiday in Italy, and can tell you that the boot (525 litres) can swallow an astonishing amount of poorly packed crap, or a metric tonne of Italian wine and food, if it happens to be shopping day.
The load space is practical and easy to use, and the rear seats are also capacious We may or may not have tried to pack three adults and two kids in there at one stage (not on a public road, obviously, just for fun) and it was still comfortable, while I can easily sit behind my own 178cm driving position without my knees coming close to brushing the seat back. Hip and shoulder room are also good.
There are map pockets in the seatbacks, plenty of bottle storage in the door bins and two American-sized cupholders, and a big storage bin, between the front seats.
Price and features
Land Rover Discovery
7/10
It's a complicated lineup, with three engines available in any of the four trim grades, which in turn are offered with five or seven seats, plus there's a launch special called the First Edition to further muddy the waters.
And that means you can technically climb into a pared-back Discovery S for a low $65,960 for a five-seater, or stretch to $131,870 for a full-fruit launch edition, with the vast area between those two numbers populated by everything else. 
The entry-level S ($65,960 - $84,671) is a fairly simple offering, with 19-inch alloys, cloth seats, a leather-wrapped wheel with paddle-shifters and two-zone manual climate control the pick of a sparse standard inclusions list. Cruise control is also standard fit, as is a raised inner-boot guard that stops your luggage falling out when you open the boot.
Step up to the SE ($77,050 - $94,701) and you'll add standard air suspension, with fixed height settings for off-road, normal and access (which lowers the car if you need to pass under a low roof, for example), along with rain-sensing wipers and powered and heated wing mirrors.
LED headlights (with an undeniably cool Nike Swoosh-style design) and leather seats also join the party at the SE level, as does ambient interior lighting and front parking sensors, while your eight-inch touchscreen is now nav-equipped, and pairs with a better, 10-speaker stereo.
Next is the HSE trim ($87,150 - $103,661), which adds some cool design elements, like LED taillights, 20-inch alloys outside, along with winged headrests, quality woodgrain highlights and even more ambient lighting inside. Your climate is now three-zone, too, and some bonus hiding holes appear (like a clever storage compartment under the front cupholders that only appears when you slide the unit forward). Your stereo is upgraded to a 10-speaker Meridian unit, too, and is controlled through a bigger, 10-inch touchscreen.
At the top of the regular Disco family tree, is the HSE Luxury ($100,950 - $117,461), which is a not-insignificant amount of money no matter which way you shake it. For that spend, though, you'll add a powered sunroof, unique 20-inch alloys and finer leather on your seats, which are now also heated and cooled in the front. You'll also add a surround-view camera and get the pick of the sound-systems; a 14-speaker Meridian unit. 
On the 4WD front, everything but the entry-point S models get a low-range-equipped 4WD system (the S is high-range only), and Range Rover's Terrain Response (which allows you to select traction settings based on the whether you're driving one mud, rocks, sand etc) is standard across the range. The newer Terrain Response 2, which automatically senses the surface and adjusts accordingly, is a cost option.
---
Alfa Romeo Stelvio
8/10
If you're buying the absolute base model Stelvio at $65,990, which we'd suggest you shouldn't because it is a far, far better car with the adaptive dampers fitted, you get all those good looks thrown in for free, plus 19-inch, 10-spoke alloys, a 7.0-inch driver instrument cluster and the 8.8-inch colour multimedia display with 3D satnav, Apple CarPlay and Android Auto, an eight-speaker stereo, the 'Alfa DNA Drive Mode System' (which mainly seems to light up some graphics but supposedly allows you to choose between Dynamic, Normal and an eco-friendly option you'll never use.
But wait, there's more, including cruise control, dual-zone climate control, an electric tailgate, front and rear parking sensors, rear camera, hill-descent control, electrically adjusted front seats, leather seats (not the sporty ones, though) and a tyre-pressure-monitoring system. 
It's quite a lot of gear for the cash, but as we say, most people will want to step up to the extras you get - and most tellingly the adaptive dampers - with either the First Edition ($6000) or Veloce ($5000) packs.
Alfa Romeo is keen to point out how keen its pricing is, particularly against German offerings like Porsche's Macan, and it does seem like good value, even at just north of $70k.
Engine & trans
Land Rover Discovery
8/10
There's three diesel power plants on offer, and each pairs with an eight-speed automatic gearbox that channels power to all four wheels. 
The entry level (and destined to be unpopular) option is the lesser of the two four-cylinder engines, 2.0-litre "Ingenium" unit that will deliver 132kW and 430Nm.
We're yet to test the low-output option, to be honest, but we'd be shocked if buyers found it ample to shift the Disco's bulk, even if this new model is a staggering 480kg lighter than its predecessor. Land Rover says that engine will help produce a 10.5-second sprint to 100km/h.
Better, then, to step up to the more powerful version of that engine, which produces 177kW and 500Nm thanks to some tuning tweaks. As a result, a far more palatable sprint time of 8.3 seconds can be achieved. 
But for ours, the best-suited option remains the powerful 3.0-litre diesel V6, which will fire 190kW and 600Nm to the tyres on demand. And the result of all this extra grunt? A slightly improved sprint claim of 8.1 seconds. But those numbers don't tell the full story of an engine that feels more urgent and eager when you prod the accelerator.
---
Alfa Romeo Stelvio
7/10
Because I am older than the internet, I'm still mildly baffled every time I see that a car company is attempting to fit a four-cylinder engine into a largish SUV like the Alfa Romeo Stelvio, so I'm always politely surprised the first time such a small-engined big car manages go up a hill without exploding.
While bigger, faster Stelvios will arrive later in the year, with the all-conquering QV set to land in the fourth quarter, the versions you can buy now must make do with a 2.0-litre four-cylinder petrol engine making 148kW/330Nm, or the 2.2T diesel with 154kW/470Nm (a 2.0 Ti will also arrive later, with a more fabulous 206kW/400Nm).
It should come as no surprise from those numbers that the diesel is actually the better option to drive, with not only more usable, down-low torque (the max arrives at 1750rpm) but more kilowatts as well. The 2.2T thus gets from 0-100km/h in 6.6 seconds, quicker than the petrol (at 7.2 seconds) and also quicker than competitors like the Audi Q5 (8.4 in diesel or 6.9 petrol), BMW X3 (8.0 and 8.2) and Mercedes GLC (8.3 as a diesel or 7.3 in petrol).
Even more surprisingly, the diesel sounds slightly better, more growly, when you attempt to drive it hard, than the slightly wheezy petrol. On the down side, the 2.2T does sound tractor like at idle in multistorey car parks, and neither engine sounds even vaguely like you would want an Alfa Romeo to.
The diesel is the pick at this level - doing an impressive job despite being asked to do the equivalent of piggybacking Clive Palmer up a hill - but the 2.0 Ti (which will hit 100km/h in a more impressive 5.7 seconds) would be worth waiting for.
Fuel consumption
Land Rover Discovery
8/10
The lowest-output diesel will drink 6.3-litres per hundred kilometres on the claimed/combined cycle, with that number climbing to an only slightly worse 6.5 litres for the more powerful four-cylinder unit. 
Opt for the V6, though, and your fuel use climbs to 7.2 litres per hundred kilometres (claimed/combined). 
---
Alfa Romeo Stelvio
8/10
Alfa is also keen to point out that its new Stelvio is class leading when it comes to fuel economy, with claimed figures of 4.8 litres per 100km for the diesel (no one else gets under 5.0L/100km, they say) and 7.0L/100km for the petrol.
In the real world, driven enthusiastically, we saw 10.5L/100km for the petrol and closer to 7.0 for the diesel. The simple fact is you will need, and want, to drive them harder than those claimed figures suggest will be possible.
Driving
Land Rover Discovery
7/10
Land Rover is faced with the most impossible of challenges with this new Disco. For one, it's filling in for the legendary Defender as the brand's most capable offering, and that means it needs to be able to go places and do things a Range Rover simply can't. Anything less will have the purists frothing.
But equally, Land Rover knows that the overwhelming majority of its customers are unlikely to tackle anything more challenging than a suburban speed bump, and so they needed to soften its image and improve its road manners, without sacrificing capability.
So Land Rover pointed the Disco's nose towards Australia's red centre, putting its fleet through their paces on the sealed roads and red dirt tracks that encircle Uluru. And on a custom-built track consisting of moguls, water crossings and angled climbs sharp enough to put some articulation pressure on the wheels, the Disco conquered all before it with ease. 
It must be said, though, that there was nothing on offer that would genuinely challenge it, but equally, the Disco always felt like it had plenty in reserve, too. And with a maximum 283mm ground clearance, 500mm of wheel articulation and a wading depth of 900mm (which is 200mm more than outgoing model), along with air suspension on all but the entry-level S, it does point to some genuine off-road potential.
On our brief tarmac drive we were surprised by the smooth and steady power delivery of the bigger four-cylinder diesel, which propels the two-tonne-plus Land Rover along with surprising ease. It's not fast, but it never feels underwhelming.
But the pick for us was the six-cylinder option, which unlocks its 600Nm low in the rev range and feels a far more natural fit for the big Disco. It's louder and little more gruff than its four-cylinder sibling, but it feels faster, too. And for us, that's a fair trade off.
The Disco happily switched from tarmac to rutted tracks with ease, and while the super-smooth tarmac of the Northern Territory wasn't much of a challenge, it sorted out the worst of the off-road stuff with little bother.
Australia's outback famously offers up very little in the way of cornering, but the few we did encounter had us a little concerned with the top-heavy nature of the Discovery, with sharp direction changes sending passengers into a noticeable wobble. 
Still, our limited wheel time means we'll be reserving final judgement until we can spend more time with each variant, but our taste-test sample reveals a car that does appear to straddle that line between capable and comfortable.
---
Alfa Romeo Stelvio
8/10
Much like sitting down to watch the Socceroos lose again, I've learned not to expect too much from the driving experience offered by SUVs, because  the way they drive clearly has little relevance to the way they sell.
The Alfa Romeo Stelvio comes as a genuine surprise then, because it drives, not just like a sports car on slightly rubbery stilts, but like an impressive but high-riding sedan.
Reports about how good the QV version is have been flooding in for some time now, and I've been taking them with large spoonfuls of salt, but it's clear to see how that car can be so sharp and exciting to drive, because the chassis of this car, as well as the suspension set-up (at least with the adaptive dampers) and the steering, are built to cope with far more power and vigour than is on offer in this base model.
That's not to say this version feels horribly underpowered - there are a few times when we were overtaking up a hill that more power would have been welcome, but it was never slow enough to be worrying - just that it's clearly built for more.
In almost all situations, the diesel, in particular, provides enough grunt to make this mid-size SUV genuinely fun. I actually smiled while driving it, several times, which is unusual.
Most of that is down to the way it corners, rather than the way it goes, because this thing really is a light, nimble and enjoyable car on a twisty bit of road.
It feels genuinely involving through the steering wheel and genuinely capable in the way it holds on to the road. The brakes are genuinely good, too, with plenty of feel and force (apparently Ferrari had some involvement here, and it shows).
Having driven a far more basic model, without the adaptive dampers, and being less than impressed overall, I was surprised at how good the First Edition Pack cars we drove on some properly challenging roads were.
This really is a premium mid-size SUV I could almost, just about live with. And, if it's the right sized car for your lifestyle, I'd absolutely understand you wanting to buy one.
Safety
---
Alfa Romeo Stelvio
8/10
There's much talk from Alfa about how its offering wins on emotion and passion and design, and not being bland and off-white/silver German, but they're also keen on saying that it's a rational, practical and safe alternative, as well.
Alfa claims, yet again, a class-leading safety score for the Stelvio, with a 97 per cent adult occupancy score in Euro NCAP testing (aka a maximum five stars).
Standard equipment includes six airbags, AEB with pedestrian detection, blind-spot monitoring with rear cross path detection and lane-departure warning.
Ownership
Land Rover Discovery
7/10
The Discovery range is covered by a three-year, 100,000km warranty, but you can extend that to five years at an extra cost. You can also pre-pay your service costs for the first five years of ownership.
The four-cylinder engines get genuinely impressive service intervals of 24 months/34,000km, while the V6 requires a trip to the dealership every 12 months or 26,000km.
---
Alfa Romeo Stelvio
8/10
Yes, buying an Alfa Romeo means buying an Italian car, and we've all heard the jokes about reliability, and heard companies from that country claiming those problems are behind them. 
The Stelvio comes with a three-year/150,000km warranty, to make you feel safe, but that's still not quite as good as the Giulia, which is being offered with a five-year one. We'd be pounding the desk and demanding they match that offer.
Servicing costs are another point of difference, the company claims, being cheaper than the Germans at $485 a year, or $1455 over three years, with those services coming every 12 months or 15,000km.