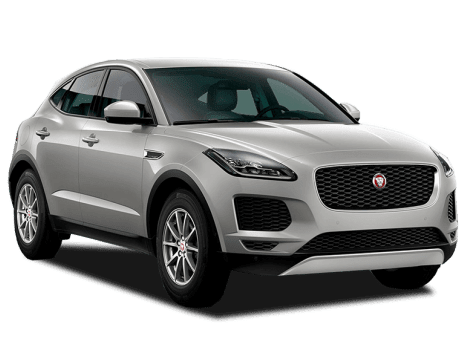 COMPARE
Jaguar E-Pace
VS
BMW X5
Jaguar E-Pace
Likes
Exterior design
Steering feel
Affordability (for a Jag)
Dislikes
Cheap interior touches
Jiggly ride
No CarPlay
---
BMW X5
Likes
Great new interior
No price rise on 30d
Loaded with tech
Dislikes
Pricey seven seat option
Warranty starting to look short
No spare tyre
Summary
Jaguar E-Pace
The E-Pace is a new Jaguar, or is it? Jaguars used to be something your boss drove, cars with a whiff of snob about them, as well as subtle scents of cigar, whisky, mahogany and Old Spice.
They were also loud, powerful and proud machines, and as British as referring to Australians as "colonials".
The E-Pace, on the other hand, is a small SUV that smells, sounds and seems like a lot of other cars in what Jaguar refers to as, "the hottest segment in the car world; premium soft-roaders". If that sentence alone, coming out of a Jaguar spokeshead's mouth, doesn't sum up the way the company has changed, I don't know what does. 
Making your brand more affordable while still making it look desirable is a hell of a profitable trick, if you can get away with it.
Jaguar claims the E-Pace is "the coolest SUV" reasonable money can buy, and with prices starting under $48,000, this really is a Jag for the workers, rather than the bosses.
What does set it apart, however, aside from that tempting price point, is its looks. Jaguar's genius designer, Ian Callum, has done it again, creating a simply sexy vehicle that's so instantly desirable that Australians have piled in with pre-orders, so many of them that the company is already certain the E-Pace will be its biggest-selling model.
Those customers who've slapped down deposits without even sitting in one, let alone driving it, might be in for a few surprises. 
The E-Pace might not be the full Jaguar, but is it a cute enough cub to cut it? We drove as many variants as we could at the Australian launch to find out.
| | |
| --- | --- |
| Safety rating | |
| Engine Type | 2.0L turbo |
| Fuel Type | Diesel |
| Fuel Efficiency | 5.6L/100km |
| Seating | 5 seats |
---
BMW X5
It took decades to catch on, but Range Rover eventually inspired German carmakers to look outside big sedans to satisfy luxury car buyers. When BMW introduced its first SAV - Sports Activity Vehicle - the X5, the outrage was palpable. Nearly two decades later, the X5 is as indispensable to the BMW oeuvre as the 3 series.
The X5's sales statistics have been impressive, with 55,000 sold in Australia since 2001, and each generation outselling the previous one.
The fourth-generation X5 has arrived in Australia, with two diesels now and a petrol arriving early in 2019 before four-cylinder, plug-in hybrid and the head-butting X5 M arrive over the next year or two.
The G05 X5 is bigger, better-looking and loaded with new technology.
| | |
| --- | --- |
| Safety rating | |
| Engine Type | 3.0L turbo |
| Fuel Type | Diesel |
| Fuel Efficiency | 7.2L/100km |
| Seating | 5 seats |
Verdict
Jaguar E-Pace
7.9/10
There is absolutely no question the Jaguar E-Pace will be a huge success for the company, and will increase the number of Jags you see on the road exponentially. Much as the German brands have done, since way back when Mercedes launched its A-Class, the British brand has now made itself attainable to the masses.
There's plenty to love about the way the E-Pace looks, particularly from the outside, and about how it drives. There are, however, some niggles that suggest you might want to test drive one before slapping down your hard earned, and the cheap-feeling plastics in the interior, even in up-spec models, will disappoint some people. Overall, though, Jaguar has built an absolute banker.
Check out Peter Anderson's E-Pace video from its international launch earlier this year.
Could the E-Pace be your first Jaguar? Tell us what you think in the comments below.
---
BMW X5
7.6/10
The M50d is the more dynamic drive, but the 30d is an excellent all-round package, especially if you have the M Sport option pack onboard. The G05 X5 might be bigger but it hasn't lost its sense of driving fun. In fact, I'd say it's more fun than the F15 - it feels lighter on its feet.
What the G05 also has over the F15 is better value - BMW reckons there's an easy $11,000 of extra stuff in the 30d for no extra money and about $15,000 in the M50d for a price rise of about $5000. It feels a lot more luxurious, looks better inside and out and feels super techie.
It's not cheap and out of the two, I'd probably go for the 30d - it's not that much slower and you can spend a few bucks on the extensive options list.
Does the new X5 shape up against the fancy Porsche or the attractive Mercedes?
Design
Jaguar E-Pace
8/10
Frankly, design might just be the E-Pace's most important feature. It manages to make a small SUV look genuinely desirable by being sexily shapely and perfectly proportioned. This is a seriously difficult trick to pull off, but it's one that Jaguar has done before, with the hugely successful  F-Pace, so this is a case of giving people slightly less of the same.
There really isn't an angle from which the E-Pace doesn't look good, but the more money you throw at your car, the better it looks, as the wheels grow from the standard 17-inch ones to very tough looking optional 21-inch units.
At the bottom end of the spec chart, on that sub-$50,000 version that almost no one will actually buy, you don't even get exhaust tips, and indeed at first glance it looks like the car doesn't have pipes at all (a weedy little pipe is tucked away underneath), and this does look a bit ordinary.
More chrome and shiny bits are thrown at the car as you move up the price points, and the R-Dynamic spec is obviously the sexiest version of all.
What's interesting is how different the design feels once you get inside. Imagine being given the famous blue box from jewellers Tiffany and finding a plastic cereal-box ring inside and you're somewhere near the E-Pace experience.
There is some really quite nasty cheap plastic around the gear lever, in the doors, and right around the window switches in an area you'll touch every day. The shabby grey plastic surround of the shifter is made of the kind of nasty stuff Hyundai no longer uses.
Not only can you see that it will mark up and wear quite badly, but if you tap on it it makes the kind of noise you'd expect from a kids' lunch box.
Fortunately, the steering wheel still feels premium, the touchscreen is large and top quality and there's plenty about the E-Pace that reflects Jaguar design, but it's hard to get past the feeling that the corners that have been cut to save money are showing so clearly you could cut yourself on them.
---
BMW X5
7/10
The new X5, while bigger in most dimensions, hides its extra bulk well. The extra wheelbase length has improved its proportions slightly and BMW's new design language inside and out has delivered a fine-looking machine. The huge (sometimes chrome) grille is at first a bit hard to take but with time the car grows around it.
The new exterior design features a strong front end, classic X5 profile with a stronger, wavier character line along the flanks. The rear features a new-look set of LED tail-lights and satin finish rather than chrome exhaust tips.
You can tell the 30d from the M50d by the wheel arch extensions (among other things). The M50d's M Sport body kit features a different rear diffuser, side skirts and deeper front spoiler.
Inside is a new cabin that's high on quality with a choice of leather, wood and aluminium trim, including a very nice leather dashboard option. The base leather trim is known as Valcona and you can specify Merino, which is arguably better than the Nappa leather of some rivals. The cars I drove had a very premium feel, the materials a serious cut above the older F15 X5.
One interesting addition is the "Crafted Clarity" glass that comes in the Indulgence package. Obviously going for a very exclusive feel, the start stop button, shifter, volume control and rotary controller have a funky glass application. It could have looked awful but somehow it looks lifted from a Rolls-Royce and works really well.
Practicality
Jaguar E-Pace
8/10
While the interior might feel cheap in places, it's certainly spacious, with excellent headroom front and rear, and a sense of light and airiness that's much helped by optioning the panoramic glass roof (for a hefty $2160).
Jaguar claims its rear seats are so large customers will shop the E-Pace against bigger vehicles, like BMW's X3, rather than just direct competitors like the X2. This might be a stretch, but I certainly found it comfortable enough to sit behind my own seating position (I'm 175cm/5'9") without my knees touching the seat back. Shoulder room is also good and four adults could certainly ride in this car in comfort.
Sadly, the seats aren't quite as comfortable as you might hope, being slightly flat and unsupportive, particularly in the cheaper models.
There's a cheap-feeling oddments tray that covers two differently sized cupholders between the seats, which can be lifted off and stowed in a good-sized storage big under your left elbow. Another oddment storage tray, made of a quite ugly plastic, sits underneath the head unit and there are large storage pockets in the doors, front and rear, as well as storage for large bottles. Boot space is also reasonably capacious at 484 litres.
---
BMW X5
9/10
The X5 is a big car and delivers plenty of interior space. Interior images show an expansive cabin, with room for five in comfort. Front and rear passengers score two cupholders in each row, with plenty of storage bins and pockets throughout, including bottle holders and pockets in the doors. The rear armrest's clever folding cupholders liberate space for a phone-stowing tray.
Front passengers have plenty of room in all directions. Rear legroom is improved with the car's longer wheelbase - rear passengers are very well looked after.
The interior dimensions mean larger loads fit easily and if you have the air suspension you can drop the car to the weeds to make loading easier. An electrically retractable cargo cover will reduce the boot space dimensions but hide all your goodies and a set of rubber rails rise 3mm when the car is in motion to secure the load.
Luggage capacity is unchanged with the seats up at 650 litres, almost tripling to 1870L with the seats down.
How many seats? Well it depends. If you're happy with five, that's how the X5 comes. If you want seven, well, it gets a little complicated.
The third row seat option must be combined with the air suspension, meaning you'll be paying around $7000 for the privilege of occasionally carrying people safely in the boot.
Gross vehicle weight ranges from 3010kg for the 40i to 3160kg for M50d. Turning circle is 12.6 metres and wading depth is 500mm.
Price and features
Jaguar E-Pace
8/10
There's no doubting the perceived value of offering a vehicle with a Jaguar badge that starts under $50,000, an idea that would have seemed unimaginable not so long ago.
And if we all bought cars by the kilogram, the E-Pace would certainly be a bargain, because it's a heavy beast of a thing, far outweighing any of its competitors at not far off two tonnes.
And there's certainly an astonishing amount of choice in the range, with no less than 38 variants, thanks to what Jaguar calls its 'Ultimate Customer Choice', which allows you to build any kind of E-Pace you fancy.
Spec levels range through S, SE, HSE and R-Dynamic, and you can have each of those with your choice of five different engines, three diesels and two petrols - the D150, D180 D240, P250 and P300.
All E-Paces sold in Australia are fitted with all-wheel drive, despite European models offering a front-drive only option.
In Australia, the company says it will be competing aggressively in the $50,000-$70,000 price range and pin points its $62,430, D180 SE model as where its volume, and its conquest sales, will come from.
Early adopters, though, might be tempted by the First Edition, which will only be available for the first model year and comes with all sorts of temping goodies at a price of $80,952 for the D180 or $84,370 for the P250 version.
The First Edition gets spiffy 'Caldera Red' paint, 20-inch 'Satin Grey Diamond Turned' finish alloy wheels, a 'Black Pack' exterior and the fixed panoramic roof, which really does improved the interior ambiance.
Inside you get special mats, branded tread plates, 'Ebony Windsor' leather and a head-up display (which really should be standard across the range, for safety's sake, but is largely optional).
Other gimmicks include configurable ambient interior lighting, extra power sockets, the sexy 'Jaguar Activity Key' and the gesture tailgate. Overall, this does look like strikingly good value, if you're willing to spend that much on a small SUV (it's more than 300mm shorter than an F-Pace, at 4411mm long).
In terms of standard features across all models, the list is reasonable, with classy-looking 17-inch wheels, LED lights, space saver steel spare wheel, air vents for the back seats (an absolute must for those with kids), eight-way adjustable seats, which are cloth at the bottom end, 'All Surface Progress Control' - which sounds Land Rover-like but doesn't mean you can climb boulders - push-button start, a 10-inch 'Touch Pro' screen, which is lovely but does not offer Apple CarPlay, even as an option, and plenty of safety kit, including lane-keep assist, 'Driver Condition Monitor', Front and Rear Parking Aid and Emergency Brake Assist.
The base E-Pace, with no bling spec at all, starts at $47,750 for the showroom-bait D150 diesel, and rises to $50,150 for the D180 (you get an extra 22kW, up to just 132kW) or the same price for the P250 petrol (with 174kW).
Step up to S spec - which includes 18-inch wheels, approach lights on your door mirrors, leather seats, and 'Navigation Pro' and 'Park Assist', plus a Wi-Fi hot spot - and prices range from $55,200 for the D150 through $57,600 for the D180, $64,020 for the D240 (yet another version of the diesel) and then $57,600 for the P250 and finally the same $64,020 pricing sweet spot will get you an S spec P300, the full-fat petrol model with 221kW.
The SE - stepping up to 19-inch wheels, a powered tailgate, 14-way adjustable seats rather than just 10-way and a Meridian sound system and Adaptive Cruise Control - ranges from $60,020 to $70,265 across the same models, while the (almost) top-line HSE (with lashings of leather and colourful stitching, plus 20-inch wheels and a 12.3-inch Driver Display) starts at $65,590 for the D150 (and honestly, who's going to go for the top spec with the least-wondrous engine, honestly?) up to $77,493 for the P300.
The final choice, for extra icing on your icing, comes with the R-Dynamic pack, which you can add to your base model, or your S, SE or HSE, for around $4500 a throw, offering a range of $52,550 to $83,733.
In proper European gouge style, there are plenty of options as well, including heated and cooled seats that can cost up to $1870, and leather packages that can cost north of $8000, red brake callipers for $660 and a whopping $430 for a DAB radio, or the panoramic roof for $2160. Even keyless entry can set you back $950.
Not offering CarPlay is a mysterious and annoying omission in a brand-new model, but overall there is value to be found in the range, or you can spend yourself silly if you still want to pay $100K plus for your Jaag, but you want a small SUV.
---
BMW X5
7/10
The price list is in RRP and reflects either no change (30d) or a small percentage increase (M50d). A BMW dealer might offer you a drive away price, but how much that will cost you will depend on your taste for options. Our range guide takes in the first three variants of the G05 X5 - the 30d, 40i and M50d. Unlike its British rivals, there is no launch edition.
The 30d ($112,900 plus on-road costs) and 40i ($115,900 plus on-roads) models comparison reveals they're basically the same apart from the motor. If gadgets are your thing, the X5 certainly delivers, even in its unadorned entry-level spec.
Standard features include 20-inch alloys, two-piece power tailgate, panoramic sunroof, keyless entry via BMW's digital "smart key" (part of the standard comfort access system), push button start (or keyless go), LED headlights, daytime running lights, floor mats (I know!), a basic first aid kit, active cruise control, "2.5-zone" climate control air conditioning, GPS navigation system, front view camera, side view camera, limited self parking, basic tool kit, roof rails, and a front and rear parking sensor setup.
Moving up to the M50d at $149,900 plus on-road costs ($5000 more than before) adds an active M differential, laser headlights, dynamic handling package including adaptive suspension with active anti-roll system, rear-wheel steering, M Sport exhaust and brakes (blue rather than red brake calipers), 22-inch alloy wheels, aero package, M steering wheel, four-zone climate control, heated front seats, soft close doors, and heated and cooled front cupholders.
The new park assist function is particularly clever - if you have driven forward into a tight parking space or difficult garage, the system can remember the last 50 metres and back you out automatically, twiddling the electric power steering while you run the brake and accelerator.
BMW's Operating System 7.0 (the name iDrive appears to be fading) looks after the multimedia and sat nav system. The big 12.3-inch touch screen is mightily impressive. You can control it from the rotary dial controller, use air gestures or by swiping or tapping the screen. The sound system has anything from 10 to 20 speakers with an intermediate 16 speaker setup. There's a subwoofer - actually, there are two - lurking in the back. The system includes Bluetooth and DAB radio with USB connectivity. iPhone owners will be pleased to learn CarPlay is standard, while the rest of the smartphone world will be frustrated - Android Auto isn't available at all.
Colours include Alpine White, Carbon Black Metallic, Black, Mineral White, Phytonic Blue, Arctic Grey and Sunstone Metallic (gold). Curiously absent are silver, red and green and even the brown of past models seems unavailable.
On top of the basic specs, there are additional trim levels - M Sport, Indulgence, xOffroad and Performance Package.
The $4000 M Sport edition for the 30d and 40i includes M Sport brakes, adaptive M suspension, aero package and interior trim changes including an M Sport steering wheel.
The $9500 Indulgence Package adds ventilated front seats, crystal glass on some of the switchgear, heated seats front and rear, front seat massage function, merino leather and on the 30d soft-close doors and heated and cooled cup holder for each front passenger.
The $5000 Performance Package (30d and 40i only) puts you on 22-inch rims, adds an M Sport exhaust and includes metallic paint.
Finally, the $7500 xOffroad package - the first of its kind on an X5 - adds additional off road capability (sand, rocks, gravel etc.), rear diff with diff lock, extra gauges in the infotainment screen, adjustable ride height air suspension and the clever display key. That front and rear air suspension negates the need for a lift kit. Aluminium side steps are optional.
BMW also offers a range of 20 inch alloy wheels, as well as 19 inch and 22 inch rims. The 22s, it must be noted, are not run-flats so you cop a space-saver spare. The xOffroad pack does not come with off road tyres but you can purchase the right ones through BMW. Only 22-inch equipped X5's feature a spare tyre as the tyres are run flats on all other sizes.
The accessories and options list is extensive: Apple CarPlay for iPhone integration, a heated steering wheel, a roof rack setup, darker tinted windows, laser headlights and various other technological and comfort enhancements are available.
Missing from these lists are a seat belt extender, light bar, car phone, xenon, HID or projector lights (you get LED lighting as standard, range-wide!), an auxiliary heater, nudge bar, snorkel, bull bar, winch, self driving, autopilot, CD player, homelink, quad exhaust, television, digital TV tuner, DVD player, cargo barrier, boot liner, carbon fiber trim, MP3 player, a rear seat entertainment system or wifi hotspot.
Where is the BMW X5 built? Spartanburg, North Carolina.
Engine & trans
Jaguar E-Pace
8/10
Truly, it is amazing what feats the modern 2.0-litre four-cylinder engine is capable of, and the more expensive choices out of the E-Pace's five offerings really do perform wonders, particularly considering the weight they have to haul.
There's slightly less excitement at the bottom end, though, as you'd expect, with the 2.0-litre Ingenium D150 diesel making 110kW at 3500rpm and 380Nm at 1750rpm, and taking a leisurely 10-seconds plus to accelerate from 0-100km/h.
The D180 gets 132kW at 4000rpm, and 420Nm at 1750rpm, and runs 0-100km/h in a still sluggish 9.3  seconds.
The D240 makes 177kW at 4000 rpm and 500Nm at 1500rpm, and is far more fun, with a 0-100km/h time of 7.4 seconds, and plenty of grunt down low.
The two 2.0-litre Ingenium petrol turbo units offer 183kW at 5500rpm and 365Nm for the basic P250, or 221kW at 5500rpm and 400Nm, available between 1500 and 4500rpm, for the top-spec P300, the fastest thing in the range at just 6.4 seconds 0-100km/h.
All E-Paces are fitted with a slick-shifting nine-speed automatic, which makes changing gears manually annoying. Only the R-Dynamic offers shift paddles.
---
BMW X5
8/10
At launch, you can have any engine size you like as long as you like 3.0-litre straight-sixes. Of course, each has its own specifications to arrive at very different horsepower and torque figures.
The 30d's engine specs are a 3.0-litre turbo diesel developing 194kW of power and 620Nm of torque.
Moving on to the 40i, this is a 3.0-litre twin turbo petrol knocking out 250kW of power and 450Nm of torque. Petrol vs diesel, the latter wins on torque, hands down.
Want even more? The M50d's 3.0-litre diesel has four turbos strapped to it - that's two times two - for a huge 294kW of power and 760Nm of torque.
They're all 4x4 at this stage, fitted with ZF's always-brilliant eight-speed automatic transmission. It is pretty much the best gearbox on the planet and super-reliable. At this stage, all wheel drive is all you get. A rear wheel drive sDrive X5 is likely later down the track in combination with a smaller four-cylinder engine - 4x2 buyers don't tend to want the extra power of the bigger engines.
The oil burners are fitted with a diesel particulate filter to help reduce emissions and the 30d's twin-scroll turbocharger helps improve low-down response. Advanced technology from injector to exhaust ensure diesel engine problems such as black smoke have long since been banished from modern BMW diesels.
The 0-100km acceleration times are impressive - 6.2 seconds for the 30d, 5.5sec for the 40i and 5.2sec for the M50d. The rolling acceleration performance figures of the M50d are epic.
There is no EV or LPG version, supercharger or front wheel drive, nor is there a manual transmission on offer. As to whether the engines use a timing belt or chain, all use the latter.
Towing capacity is uniform across the range - you can drag 750kg of unbraked trailer and 2700kg of braked load. Maximum down load on the tow bar is 140kg.
Fuel consumption
Jaguar E-Pace
8/10
Obviously, running such small engines is a move aimed at fuel economy, so you'd expect the figures to be good, but imagine if the E-Pace was some 400kg lighter, like an Audi Q3 is, how much better the figures could have been.
Still, a claimed 5.6 litres per 100km for the two base diesels, and 7.7 for the perkier and petrol powered P250 is pretty good going. The top diesel D240 can give you 6.2L/100km and you'd still be pretty happy with an 8.0L/100km return from the P300, if you ever managed such a figure, which we seriously doubt.
We averaged closer to double figures in all the variants we drove (albeit enthusiastically).
The CO2 outputs range from 147g/km for the bottom two diesels, stepping up to 162g/km for the D240 and 174 and 181g/km respectively for the two petrols.
---
BMW X5
7/10
The X5's fuel mileage figures are based on the new WLTP standards which better reflect real-world use.
The 30d's diesel fuel economy is the best of the three initially on offer at 7.2L/100km. If you want your fuel consumption km/L, that's around 14km per 1000mL.
The petrol consumption figure on the 40i is the highest figure of the three at 9.2L/100km (or 10.9km/L).
Moving on to the M50d, for all that extra power and torque, the increase over the 30d is just 0.3L/100km to 7.5L/100km (13.3 km/L).
Fuel tank capacity differs slightly between the models - the diesels carry 80 litres while the petrol 40i can carry 83 litres.
Driving
Jaguar E-Pace
8/10
The good news is there's plenty of genuine Jaguar in the way the car feels to drive, up to a point.
Through long sweeping bends of the medium to high-speed variety, it is great, fluid fun, with minimal body roll, and properly involving, muscular steering.
You can actually feel you're in a car that's related to the hugely enjoyable and tough-feeling F-Type. Turn-in is crisp and involving and the front-end set-up feels as sporty as Jaguar people enthusiastically suggest it will be.
And then you arrive, quite quickly, at a 35km/h-marked corner, throw it in and remember that you're not sitting with your bum anywhere near the ground, and you are piloting a top-heavy machine that weighs nearly two tonnes.
At this point you will get a mild scare, but even then the Jaguar doesn't really misbehave, it simply puts you back in your box and reminds you that a sports car, this is not.
The E-Pace really is a surprisingly heavy vehicle, though, and while that weight can feel like solidity and premium quality while you're cruising along, it does dull the driving experience on a twisty road.
With diesel-engined cars weighing "from" 1936kg and petrol-engined versions just slightly less, the E-Pace not only weighs in significantly heavier than competitors like Audi's Q3 or BMW's X2, it's actually heavier than its big brother, the F-Pace, despite being a lot smaller (4731 mm vs 4411mm overall length).
The reason is that, while the F-Pace is made of expensive aluminium, the smaller Jag is built on a more steel-heavy platform, a revised version of the architecture Range Rover's Evoque sits on.
Jaguar says the E-Pace platform is all-new from the firewall forward, so it can have more Jag-like handling, but the decision to share an older design rather than giving it new, lightweight underpinnings of its own is yet another case of saving on cost to get the price tag down.
As sporty as the performance of the up-spec engines is, it's interesting to wonder just how much better this car might be if it was shaved of 200kg or even 400kg, of weight.
The fact is the E-Pace is not really about being sporty, it's about stretching the Jag brand as far as possible. If it feels and looks like a Jaguar, and a lot more people can afford one, then genuine sportiness really won't matter.
For all that, Jag has genuinely managed to engineer in enough Jaguar DNA, particularly in the steering department, to please customers.
On the downside, the ride is unfortunately jiggly and jarring on our rough and broken Aussie roads, particularly if you spec the larger and more attractive 19-, 20- or 21-inch wheels rather than the more sensible standard 17s. And there is quite a bit of tyre roar on coarse-chip surfaces.
The top-spec diesel is meaty and pleasant to use and manages to sound enthusiastic under strain, only becoming slightly clattery at low throttle openings in traffic.
The only time you really notice it's an oil-burner, however, is when the start-stop system kicks the engine back into life with a cough and a splutter.
Slip down the diesel engine range, however, and the weight-versus-performance equation becomes more noticeable. The base diesel is a bit of a slug, with a 0-100km/h time on the wrong side of 10 seconds, and seems to pause and take a deep breath each time you apply the throttle, or at the base of a hill. Those using the E-Pace for the school run probably won't mind.
The top-spec petrol engine is, not surprisingly, the pick of the bunch; willing to rev and genuinely quite remarkable when you consider that it is merely a four-cylinder 2.0-litre unit that's being asked to haul around more than two tonnes of machine and human.
It's fair to say that, being the hardest working four-cylinders in show business, they sound like they're straining at high revs rather than having a good time.
It should also be noted that there is absolutely none of the traditional Jaguar growling or howling to be found in the E-Pace.
---
BMW X5
8/10
On the launch we had the 30d and M50d available, the former with various option packs.
I started with the M50d. Big fast SUVs are pretty common these days but little prepares you for the quad-turbo thrust from the 3.0-litre straight six. The 294kW/760Nm combination means you cover ground very quickly indeed, especially in the gears. Overtaking the famously large log trucks on the roads of northern Tasmania was easy, the torque slinging me down the road with little effort or fuss.
While the road noise from the tyres is noticeable, you can shut it out with the stereo and wind noise is only apparent above the legal limit. Which I never breached, obviously.
The adaptive drive system, which you can switch for economy, comfort or sport depending on your mood, genuinely affects the M50d's demeanour. With sharper everything, the M diff and rear wheel steering, you can have a lot of fun in the corners. We didn't have variable or active steering on the car and it was just fine without it. The active roll stabilisation is very impressive.
The 30d is a very good unit too. It's really not much slower than the M50d in a straight line but is far more relaxed, of course.
The one with the air suspension was supremely comfortable and quiet, raising and lowering itself depending on speed and conditions. The 30d was very accomplished on the loose gravel surface BMW bravely sent us over once I'd pressed the adaptive switch. The standard underbody protection is clearly very good - barely a ping from the gravel.
On both cars, the steering was a standout - the X4 M40i I came home to had a less than deft setup, with the weight in sport plus set too high. Neither 30d or M50d felt too heavy.
As an xOffroad package wasn't available, we haven't done an off road review. I can, however, guarantee you won't have to get out and operate hub switches.
Safety
Jaguar E-Pace
8/10
It seems fair to give extra points to a car that cares about pedestrians, particularly after the autonomous Uber accident, so hats off to the E-Pace for its class-leading pedestrian airbag system, which pops out of the trailing edge of the bonnet to protect slow-moving humans.
Jaguar also combines its blind-spot monitor and its lane-keep assist to come up with something called 'Blind Spot Assist', which will help to prevent you from sideswiping motorcyclists, using flashing lights and corrective steering. Handy. Sadly it's not standard, but it can be had as part of a $1020 'Drive Pack'.
The E-Pace is yet to be crash tested by local authorities, but offers an "optimised body structure" to help it "exceed all safety standards worldwide".
Six airbags are standard, and there are two ISOFIX points.
In active-safety terms, the E-Pace has Emergency Braking tech, with pedestrian detection, which will first prime the brakes after identifying danger, and then activate them if you don't.
---
BMW X5
9/10
The new X5's significant safety features an airbag count of seven, AEB (auto emergency braking), lane departure warning, lane change warning, blind spot assist, electronic brake force distribution, reverse camera, DSC (sometimes called ESP), reverse cross traffic alert, speed limit assist and information, hill descent control, and a warning triangle (it is a BMW).
If you need to fit a baby car seat, there are two ISOFIX points and three child seat anchor points in the second row.
The X5 range scored the maximum five-star ANCAP safety rating when tested in late 2018.
Ownership
Jaguar E-Pace
7/10
Jaguar's new E-Pace comes with a three-year/100,000km warranty, which is okay, but not quite the full Kia seven-year deal. It does however, include paint and a six-year anti-corrosion warranty.
A servicing plan is available at a cost of $1500 for five years. Service intervals are 12 months/26,000km for diesel engines or 24 months/34,000km for petrol models.
---
BMW X5
6/10
BMW's warranty remains - resolutely - at three years/100,000km. BMW is adamant that most customers aren't that bothered. Roadside assist is part of the bargain, from a flat battery to a crash. Rust and paint coverage is also included, although I can't say I've heard any complaints or common faults when it comes to recent X5 bodywork.
Like all BMWs, servicing is condition-based, but you can pre-pay your service cost for five years on the basic package for $1995. Service intervals are then set at 12 month/24,000km maximums. You can also increase your maintenance cost coverage with further levels of cover.
BMW now offers a Genius service at its dealerships, showing you through the features if you have any problems or issues working them out. Even the central locking is a bit complex for some - you can configure different settings in the iDrive system.
Reliability issues are seemingly rare on the X5, but you can purchase an extended warranty if any defects or complaints arise after the initial warranty period expires. As the car is brand new, things like automatic transmission problems, transmission failure or other dramas are yet to rear their ugly heads.
The owners manual will no doubt explain things like oil type and capacity. Resale value for the X5 appears strong over the years although the extra value in these new ones might mean some second hand bargains.