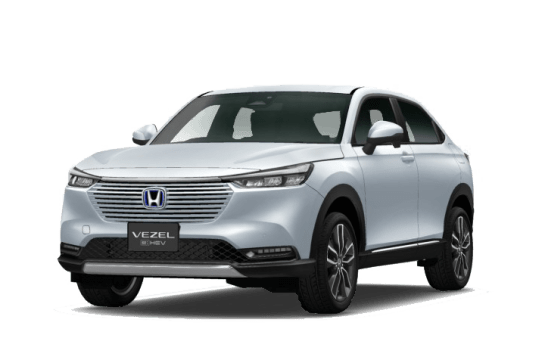 COMPARE
Honda HR-V
VS
Fiat 500X
Honda HR-V
Likes
Confident styling
Ultra-frugal powertrain
Interior fit and feel
Dislikes
Pricier than rivals
Very limited boot space
Only a four-seater
---
Fiat 500X
Likes
Fun looks
Good interior
Great safety package
Dislikes
Iffy transmission
Oddball ride
Slow
Summary
Honda HR-V
Honda Australia has gone through a bit of a transformation in recent years, shedding its top-10 sales ambitions for a new approach that focuses on slimming down the range with high-spec grades.
The first new-gen model to launch with that approach was last year's Civic, but it's the latest launch, the HR-V, which might make or break Honda's new strategy.
And that's because the HR-V is a small SUV – playing a space dominated by Toyota, Mazda and Kia – that also offers up a so-hot-right-now hybrid powertrain for the first time in Australia.
No doubt, the HR-V will prove more popular than the Civic in sales as the market shifts preferences, but is it any good?
This is all you need to know about the 2022 Honda HR-V.
| | |
| --- | --- |
| Safety rating | |
| Engine Type | 1.5L |
| Fuel Type | Regular Unleaded Petrol |
| Fuel Efficiency | 4.3L/100km |
| Seating | 4 seats |
---
Fiat 500X
Fiat's indomitable 500 is one of the great survivors - not even VW's recently deceased New Beetle could keep riding the nostalgia wave, partly because it made itself just that little bit out-of-touch by not being a car anyone can buy. The 500 avoided that, particularly in its home market, and is still going strong.
Fiat added the 500X compact SUV a few years ago and at first I thought it was a daft idea. It's a polarising car, partly because some people complain it's capitalising on the 500's history. Well, duh. It's worked out well for Mini, so why not?
I've driven one every year for the last couple so I was keen to see what's up and whether it's still one of the weirdest cars on the road.
| | |
| --- | --- |
| Safety rating | |
| Engine Type | 1.4L turbo |
| Fuel Type | Premium Unleaded Petrol |
| Fuel Efficiency | 5.7L/100km |
| Seating | 5 seats |
Verdict
Honda HR-V
8.1/10
You could look at the 2022 HR-V and think that Honda has taken a step back.
After all, there's less space in the boot, there's one less seat and the prices have – at first glance – gone up.
In reality though, the HR-V, especially in this e:HEV L form, offers up a genuine rival to Toyotas, Mazdas and Kias that dominate the small SUV space.
The 2022 HR-V is a properly handsome car, the hybrid powertrain is miserly on fuel, and the handling characteristics are honestly pretty fantastic.
---
Fiat 500X
6.8/10
The 500X is a fun-looking alternative to the various options available from everyone else and is - overall - better to drive than its Renegade twin. 
It packs a very good safety package which you can't ignore but does lose points on the warranty and servicing regime. But it's also built to take four adults in comfort, which not every car in the segment can boast.
Would you choose the Fiat 500X over one its better-known competitors? Tell us in the comments section below.
Design
Honda HR-V
9/10
If you close your eyes for a second and think of the best-looking Hondas of all time, I bet the likes of the first-generation NSX, S2000 and two-door Integra come to mind.
And while this new HR-V design doesn't quite match the heights of Honda in the 90s, it's certainly a significant step in the right direction compared to the car it replaces.
Gone is the slightly derivative styling and pudgy proportions, replaced with a much more taut, muscular and confident body.
The new grille design is of particular note, as it melds the intakes with the bumper and, when combined with the sleek headlights, makes the HR-V look like it could be from the future.
From the side, the new HR-V retains the hidden door handles of its predecessor, which pays homage to the three-door SUV shape available in the first-generation car.
The long bonnet, short overhangs and sloping window line also give this Honda a particularly athletic appearance, while the 18-inch wheels are also just about big enough to fill the arches, and feature an interesting enough design.
The rear end is dominated by the latest automotive design trend of connected tail-lights, but the relatively flat bootlid and clean aesthetic give the HR-V a really modern look.
The bootlid spoiler is also a nice touch, while this car's contrasting kick plate adds to the illusion of its off-road credentials.
Inside, the HR-V also adopts a cleaner aesthetic – much like its Civic sibling – centred on a large 9.0-inch central touchscreen multimedia system, which thankfully features a physical volume control knob.
There are some cool design touches here too, like air vent switches with settings for open, close and diffusion, and touch-operated roof lights.
The best part of the interior, however, is fit, finish and feel. All the touch points are soft and there's just a solid weight to everything. It's probably no coincidence that all new Australian HR-Vs are now sourced from Japan.
To us, the new HR-V is a stunner. The styling is more mature and confident than before, and between this and the new-gen Civic, Honda's design department seems to have rediscovered its mojo.
---
Fiat 500X
7/10
Look, I like the 500X, but I know why people don't. It's clearly a 500X in the way a Mini Countryman is a Mini. It looks like a 500, but get closer and you see the difference. It's chubby like a $10 weekend market Bhudda statue and has great big googly eyes like Mr Magoo. I find this endearing, my wife does not. The looks aren't the only thing she doesn't like.
The cabin is a bit more restrained and I quite like the band of colour stretching across the dash. The 500X is meant to be a bit more grown up than the 500, so there's a proper dash, more sensible design choices but it still has the big buttons, perfect for the meaty fingers of people who won't be buying this car.
Practicality
Honda HR-V
6/10
From the outside, aside from the styling, the 2022 Honda HR-V doesn't seem like its changed all that much – it's still a practical five-door small SUV, right?
And from the front seat, the new HR-V paints a very familiar picture.
There is plenty of room for the driver and front passenger, the seats have plenty of adjustability, and there's storage for your water bottle, wallet and phone.
There's even an underarm storage cubby that's deep enough for you to lose some spare change or throw a charging cable or two into.
However, from the second row, the story really starts to change – especially compared with the outgoing model.
Whereas the old HR-V was classed as a five-seater, the 2022 version has seating for only four.
This is due to the middle 'seat' fouling Australia's unique design rules for what can be classified as a seat, and does not have a seat belt.
How much would you'd actually use the middle seat if there was a seat belt there? That's for you to decide, but it's certainly a deal-breaker for some families.
Regardless, the two outboard seats offer heaps of leg- and shoulder-room, and our head can just about squeeze in comfortably without hitting the roof.
It's certainly comfortable enough, and there's a bottle holder in the door and air vents here to keep you comfortable, while the lack of centre seat means second-row passengers can have a full-time armrest with extra cupholders.
There's also USB ports and backseat map pockets with a handy phone sling, so you don't have to go reaching all the way down to get your mobile.
One saving grace for the rear seats, however, is the inclusion of Honda's versatile 'Magic Seats', which allows you to fold the base of the rear seats up to accommodate taller objects like house plants.
The rear seats can also fold flat, creating a 1274 litre boot space, which measures just 304L with the rear seats upright.
This makes the 2022 HR-V's boot smaller than the outgoing model, which could accommodate about 100-130 litres more, and even smaller than rivals like the Toyota C-HR and Mazda CX-30.
In fact, so small is the new HR-V's boot, it's even smaller than the Jazz light hatchback that was discontinued in 2020 – so don't expect to see this small HR-V hauling timber from Bunnings or flat-packed furniture from Ikea.
---
Fiat 500X
7/10
At just 4.25 metres, the 500X isn't big, but makes the most of what it's got. The boot impresses at 350 litres and with the seats down, I think you could reasonably expect to triple that figure, though Fiat doesn't have an official number that I can find. For added Italian feel, you can tip the passenger seat forward to get really long things in, like a Billy bookshelf flat pack from Ikea.
Rear seat passengers sit high and upright meaning leg and kneeroom are maximised and with that tall roof, you won't scrape your head. 
The doors each have a small bottle holder for a total of four and Fiat has got serious about cupholders - the 500X now has four.
Price and features
Honda HR-V
8/10
You might be shocked to see the new-generation HR-V kicks off with the Vi X grade for $36,700 driveaway, while this top-spec e:HEV L is positioned at $45,000.
With the previous-generation car kicking off from $31,300 and topping out at $41,000, it would seem like the new HR-V has jumped up quite substantially in price, right?
Well, Honda Australia's new strategy is to slim down the range, and offer a few, highly-specified grades that it knows are more popular than others, hence the number of options for the HR-V going from five to just two.
Also keep in mind that these are driveaway, no-more-to-pay prices, whereas its rivals, like the Toyota C-HR, Mazda CX-30 and Kia Niro that all start at around $30,000, are quoted before on-road costs.
Once you do the math, you'll find the cost of all these small SUVs to be surprisingly close.
Honda Australia has tried to offset the increased pricing with a boat load of equipment though, with standard features that include automatic headlights, 18-inch alloy wheels, fabric interior, LED daytime running lights, rear privacy glass, push-button start and a 7.0-inch drive display.
Handling multimedia duties is a 9.0-inch touchscreen that allows for wireless Apple CarPlay. Unfortunately, for Android users, you'll need a cable to make use of Android Auto.
The multimedia set-up in the base car also features satellite navigation, but there are only four speakers throughout the cabin.
Stepping up to the more expensive e:HEV L nets buyers a powered tailgate, heated steering wheel, leather-accented cabin, automatic wipers, heated front seats, dual-zone climate control, active cornering lights and an extra two speakers to better pump the tunes.
Of course, it's the hybrid powertrain that makes the top-spec HR-V jump up so much in price, but we'll go into more detail about this in the powertrain section of this review.
While the equipment list is long and extensive for the Vi X, there are some notable omissions on the top-spec e:HEV L that make its $45,000 pricetag a bit harder to swallow.
Namely, where are the cooled seats, wireless smartphone charger, head-up display, sunroof and electronic seat adjustment?
Browsing the optional extras, at least one of these things can be added in, but the wireless phone-charger kit will add another $640 to the pricetag. Come on, Honda!
---
Fiat 500X
7/10
I drove the Pop Star, which is the second of the now-two model "regular" range, the other being the, er, Pop. I drove a Special Edition in 2018 and it's not clear if it is Special as there's also an Amalfi Special edition. Anyway.
The $30,990 (plus on-road costs) Pop Star has 17-inch alloys, six-speaker Beats-branded stereo, dual-zone climate control, reversing camera, keyless entry and start, active cruise control, sat nav, auto headlights and wipers, leather shifter and steering wheel and a space-saver spare.
The Beats-branded stereo speakers are supplied with noise from FCA's UConnect on a 7.0-inch touchscreen. The same system is in a Maserati, don't you know. Offering Apple CarPlay and Android Auto, UConnect loses points by shrinking the Apple interface into a lurid red frame. Android Auto properly fills the screen, for some reason which is ironic given Apple owns the Beats brand.
Engine & trans
Honda HR-V
7/10
Under the bonnet of the HR-V e:HEV L you'll find a 1.5-litre four-cylinder petrol engine, but Honda has also thrown in two electric motors to make this car a hybrid.
In total, there is 96kW of power and 253Nm of torque available, making it competitive against its rivals for potency, but the bigger benefit of this hybrid set-up is in its lower fuel consumption figure.
Meanwhile, the Vi X forgoes the electric motors and is powered exclusively by a 1.5-litre four-cylinder petrol engine.
The entry-level HR-V manages to muster up 89kW of power and 145Nm of torque – and if that sounds a little underpowered, it's because it is.
Compared to rivals like the Toyota C-HR and Mazda CX-30, the cheapest HR-V is well down on power and torque as all its competitors make use of larger engines or a turbocharger for a bit more grunt.
Whichever HR-V engine you end up with, both are paired to a continuously variable transmission that sends drive to the front wheels.
---
Fiat 500X
7/10
Fiat's rather excellent 1.4-litre turbo MultiAir does duty under the stubby bonnet, making 103kW and 230Nm. Rather less excellent is the six-speed dual-clutch automatic transmission, which sends power through the front wheels only.
It's rated to tow a 1200kg braked trailer and 600kg unbraked.
Fuel consumption
Honda HR-V
10/10
Officially this HR-V e:HEV L will return a fuel consumption figure of just 4.3 litres per 100km, helped by its petrol-electric hybrid powertrain.
This figure not only beats out the petrol-only Mazda CX-30 line-up, but also matches the Toyota C-HR Hybrid for frugality.
In our time with the HR-V e:HEV L, we actually managed to match the 4.3L/100km claim with a healthy mix of inner-city and freeway driving.
Very rarely do fuel consumption claims translate to a real-world setting, so it's heartening to see that the Honda HR-V living up to what's promised on the box.
The petrol-only Vi X meanwhile, wears an official fuel consumption figure of 5.8L/100km, but having not yet driven that car, we cannot comment on the accuracy of that claim.
---
Fiat 500X
6/10
Fiat rather optimistically suggest you'll get a combined cycle figure of 5.7L/100km but try as I might, I couldn't do better than 11.2L/100km. What's worse, it demands 98RON fuel, so it's not the cheapest car to run. This figure us consistent with past weeks in the 500X and no, I wasn't thrashing it.
Driving
Honda HR-V
9/10
How do you think a small SUV should drive on the road? To us, I want something that is easy to use with great visibility and a minimal number of rattles and squeaks.
And this Honda HR-V absolutely delivers.
Let's start with the powertrain. On paper this HR-V e:HEV L's outputs are nothing to write home about, but out in the real world, there is plenty of gusto to come off the line briskly.
Don't get us wrong, it's not going to blow away hot hatches or even most turbocharged cars, but accelerating up to 60km/h isn't an exercise in testing your patience.
The powertrain is also a smart one, able to switch EV, hybrid and engine mode depending on what is required in any given situation.
The switchover from EV to petrol power is also smooth and seamless, there's no jerkiness or clunkiness here, it all just works exactly how, and when, you want it to.
In fact, if you had your music pumping at head-bobbing levels, we'd wager you wouldn't even know whether the petrol engine or electric motors were at work, save for the 'EV' indicator light on the instrumentation.
The CVT in this HR-V also does a fairly decent job, and for the most part fades into background of the driving experience – which is a good thing.
When flat-footing it, the HR-V does get a bit revvy and harsh, but for the most part, and especially during inner-city journeys, this car is a delight.
The steering is also very nicely weighted, and there's a connection between the wheel and what's happening underneath that's rare to see in this class of car.
It means the HR-V is genuinely fun to pilot, whether ducking into an on-street park or navigating a series of S bends on a country road. What a pleasant surprise!
---
Fiat 500X
6/10
Again, I shouldn't like the 500X but I really don't mind it. It's flawed, which might be why.
The dual-clutch transmission is dumber than a box of loose cogs, lurching from start and looking the other way when you expect it to shift. We know the engine is a good one and I think part of the reason it's so thirsty is the confused way the transmission goes about its business. I'd love to drive a manual to see what it's like.
The 500X initially feels worse than its Jeep Renegade sibling-under-the-skin, which is quite an achievement. Part of that is to do with the ride, which is very choppy below 60km/h. The first 500X I drove wallowed about but this one is a bit tauter, which would be good if you weren't punished with this bounciness.
The seats themselves comfortable and the interior is a good place to hang out. It's reasonably quiet, too, which is at odds with the old-school silliness of its conduct. It feels like Labrador let out of after day kept inside.
And that's where the car I shouldn't like is a car I do like - I really like that it feels like you're on Roman cobblestones, the type that make your knees hurt when you walk on them for a day. The steering wheel is too fat and is at a weird angle, but you kind of square up to it and drive the car like your life depends on it. You have to take it by the scruff, correct the shifts with the paddles and show it who's boss.
Obviously, that's not for everyone. If you drive it really gently, it's a very different experience, but that means going slowly everywhere, which is no fun at all and not at all Italian.
Safety
Honda HR-V
7/10
Each third-generation HR-V comes fitted as standard with Honda's Sensing suite of driver-assist technologies.
This means advanced driver assist technologies like autonomous emergency braking, forward collision warning, adaptive cruise control, a reversing camera, traffic sign recognition and lane departure warning are included.
However, buyers will need to step up to the e:HEV L grade for rear cross-traffic alert and blind-spot monitoring – two features that should really be included across the range, especially because some rivals, like the Mazda CX-30 and Toyota CH-R include them as standard.
At the time of filming, Honda's new HR-V is yet to be tested by ANCAP, but Euro NCAP has handed it a four-star crash-test rating.
While scoring a respectable 82 per cent in the adult occupant protection test, the HR-V scored less in the child occupant, vulnerable road user and safety assist categories.
While a four-star rating certainly doesn't make the new HR-V unsafe for you and your family, it lags behind the five-star safety of rivals, such as the Mazda CX-30 and Toyota C-HR.
---
Fiat 500X
8/10
Out of the box, you get seven airbags, ABS, stability and traction controls, forward collision warning, high and low speed AEB, active cruise control, rollover stability, lane departure warning, lane keep assist, blind spot sensor and rear cross traffic alert. That's not bad for a $30,000 car full stop, let alone a Fiat.
There are two ISOFIX points and three top-tether anchors for baby seats. 
The 500X scored a five-star ANCAP rating in December 2016.
Ownership
Honda HR-V
9/10
Like all new Hondas sold in Australia in 2022, the HR-V comes with a five-year/unlimited kilometre warranty.
Scheduled service intervals are every 12 months or 10,000km, whichever occurs first, which is a bit less mileage than the industry standard of 12 months/15,000km.
However, all of Honda's vehicles now fall under its '5 Low Price Services' scheme, which means each service for the first five years will only cost $125.
This means that the first five years of ownership should only set buyers back $625 – and this price applies to the hybrid and non-hybrid engine of the HR-V.
What's even better, however, is that this makes the 2022 HR-V cheaper to maintain than the CX-30, C-HR and Niro.
---