Holden Cruze
Pricing and Specs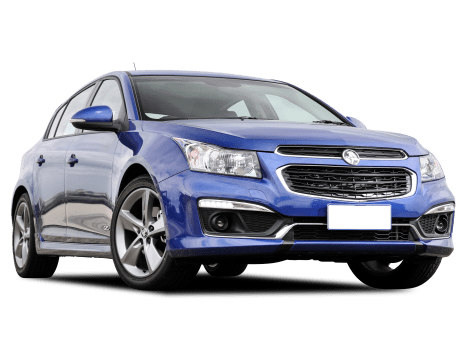 2018
From $13,500
Based on Manufacturer's Suggested Retail Price (MSRP)
2002 to 2017
$2,000 - 24,970
There was once a time when, if you wanted an Australian-made small car, your options were a little limited. In fact, there was just the one: Holden's diminutive Cruze, built here from 2009 until its manufacturing plant was shuttered in 2016. Offered in a range of trim levels - varying from the $13,500 base-spec Cruze Equipe and capping at the $28,930 Cruze SRi Z-Series - a range of hatchback, sedan or sportwagon (station wagon) body styles, and with a choice or petrol engines paired with automatic or manual transmissions, Cruze competed with the best from Japan and Europe in the small-car segment. But what the future holds for the Cruze nameplate is in the hands of America's General Motors, with the Chevrolet Cruze an obvious replacement.
This vehicle is also known as Daewoo Lacetti Premiere.
| Year | Price From | Price To |
| --- | --- | --- |
| 2018 | $13,500 | $28,930 |
| 2017 | $11,600 | $24,970 |
| 2016 | $7,000 | $16,060 |
| 2015 | $5,800 | $17,380 |
| 2014 | $5,000 | $15,290 |
| 2013 | $4,100 | $13,970 |
| 2012 | $3,900 | $10,010 |
| 2011 | $3,500 | $8,470 |
| 2010 | $3,100 | $7,700 |
| 2009 | $2,500 | $5,830 |
| 2006 | $2,600 | $4,840 |
| 2005 | $2,300 | $4,400 |
| 2004 | $2,000 | $5,060 |
| 2003 | $2,400 | $4,400 |
| 2002 | $2,200 | $4,070 |
* Manufacturer's Suggested Retail Price
Holden Cruze FAQs
Check out real-world situations relating to the Holden Cruze here, particularly what our experts have to say about them.
Holden Cruze 2010: Failed transmission

As the vast majority of Holden Cruzes sold were automatics, finding out information on the manual version is not so easy. But I have heard of a few cases of this model suffering transmission faults where the gearbox becomes jammed in gear (and won't come out) or jammed in neutral (and won't select a gear).

If that's the case, then it could be a case of a broken or faulty gear-selector cable or mechanism and may not mean the entire gearbox is toast. Either way, I'd expect more than 120,000km of service in a modern car before the gearbox died. But you haven't told me the symptoms, so it's hard to know what's going on. Is the clutch okay? Is it a case of the driveshaft (rather than the gearbox itself) having failed?

As for replacing the gearbox with a brand-new one, I think that finding a good used unit from a wrecking yard would be a much more wallet-friendly exercise. The exception would be if the problem affected all manual Cruzes, at which point, a second-hand replacement would only be postponing the inevitable for a second time. But since the value of the car wouldn't be more than the cost of a brand-new transmission, the equation comes down to whether you like the car enough to keep it. Is the rest of the car in good condition? If not, you might be better cutting your losses and finding something newer and with plenty of life left in it.

Show more

Holden Cruze 2011: Radio in a constant boot-loop

I believe that General Motors in the US did, in fact, issue a technical service bulletin (like a recall, but not a safety related issue) for a batch of Cruzes with dud negative battery terminals. Apparently, the cables were poorly made and could, over time, stop conducting electrons to the point where major systems, including the radio, could go to lunch. But it sounds like you've already replaced that component. The thing is, if the cable was replaced with one from the same batch, it could conceivably also give problems. The fact that your radio worked for some months before going on the fritz again, makes me wonder if that's not the case here.

If the unit itself is at fault, you're either stuck with finding a specialist who can repair it or replacing it. The good news is that you don't have to buy a genuine Holden replacement. There are oodles of aftermarket replacement units out there that cost a fraction of the $2000 you've been quoted and can upgrade the Cruze to include Bluetooth connectivity, Android and Apple CarPlay and even add a reversing camera for extra safety. That's the way I'd be going. Especially since Holden is very unlikely to cover the cost of a replacement unit in a car almost a decade old.

Show more

Holden Cruze 2011: Fast flashing red light

Car alarms have a really bad habit of draining batteries. Aftermarket ones are the worst, but even the factory alarm can cause a run of flat batteries if it's not working properly. The faster flashing red light on your dashboard is the clue that something has altered in the alarm or its settings.

An auto electrician can be your best friend in these cases. By the way, not all scanners are created equal and some of the cheaper, online versions don't cover all the functions of a modern car. A Holden workshop will have the proper scanning tools to make a coherent diagnosis.
 

Show more
See All Holden Cruze FAQs
Disclaimer: You acknowledge and agree that all answers are provided as a general guide only and should not be relied upon as bespoke advice. Carsguide is not liable for the accuracy of any information provided in the answers.