Holden Caprice vs Hyundai Genesis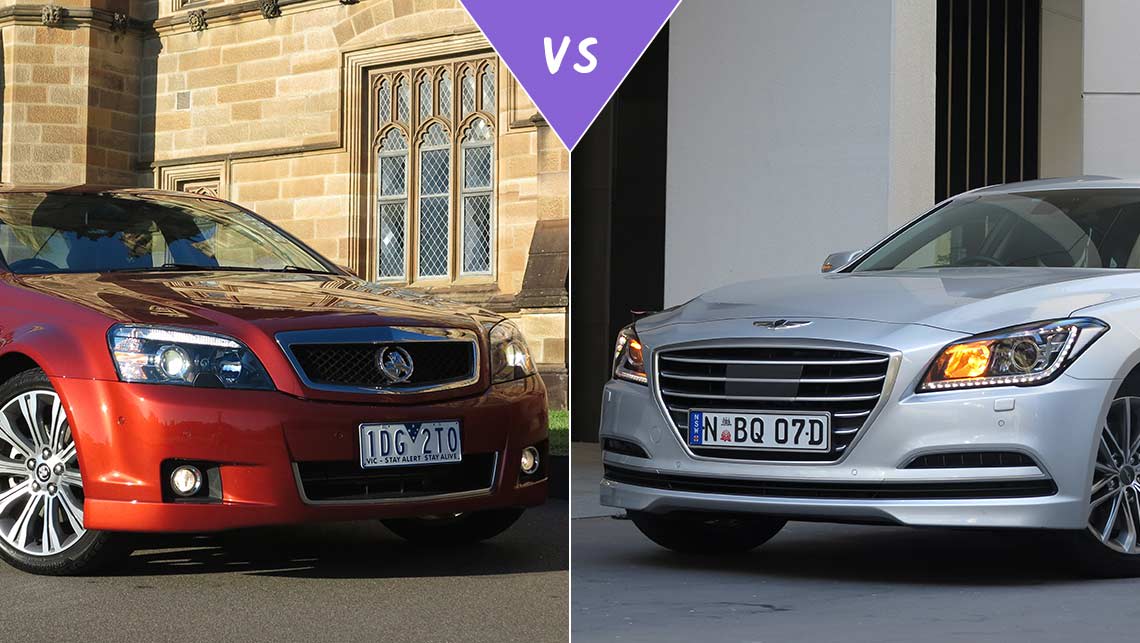 Korea's Genesis, a new face in the airport limo car park, takes on Holden's flagship. Joshua Dowling adjudicates.
The RRP is $60,500 plus on-roads but no one pays full price. Even hire car drivers know someone who can get a fleet price on a new one or a near-new "demo", which means if you pay full retail, you'll regret it, especially at resale time. Pay $740 for the first four services ($185 each at 15,000km or nine months), the cheapest in the class — except for Hyundai Genesis servicing, which is free for five years or 75,000km.
The Genesis starts at a neat $60,000 plus on-roads, topping out at $82,000 for one with the works. We've heard of $20,000 discounts to hire car drivers buying the top model. We're not sure how much room is left in the $60,000 version which, frankly, at the RRP is the better option — it's loaded anyway.
The 6.0-litre V8 is a powerhouse (260kW/517Nm) and, normally, it is fairly refined. Our car showed an engine warning light throughout the one-week test, coughing intermittently on start-up and skipping an occasional beat. Matched to a six-speed auto, it's smooth for a V8, when working properly. It's thirsty: 11.7L/100km.
Performance from the 3.8-litre V6 is good (232kW/397Nm) but it sounds like the V6 from a Holden Commodore, not like a silky V6 from a Lexus. The eight-speed automatic works seamlessly, as you might expect, but unfortunately does little to allay its thirst. The average of 11.2L/100km makes the Genesis less economical than the turbo V8 limousines from Bentley and Mercedes-Benz. Still, it's better than a Caprice.
Apart from the wheels, there is no external difference between the current Caprice and the one launched eight years ago. Inside, it has the same swoopy dashboard and slick materials from the VF Commodore. It has the roomiest rear seat and biggest boot (531L to Hyundai's 493L) in the class.
Take the Hyundai badge off the boot (as many hire car drivers have done) and the Genesis badge off the nose and most people would think it's a European car, until they get inside. The dashboard looks as if it's from the 1990s and Hyundai needs to replace this at the earliest opportunity. Rear seat room is generous although not as roomy as the cavernous Caprice.
Standard fare includes head-up display, forward collision alert (although not auto braking), blind spot warning and rear-view camera. Six airbags endow a five-star safety rating. Full-size spare whereas the Genesis comes only with a space-saver.
An astonishing nine airbags (rear passengers get side airbags as well as curtain protection, and the driver gets a knee airbag) make the Genesis one of the safest cars in this price range. Technology includes automatic emergency braking and radar cruise control, lane departure warning and auto-dipping high beam (none of which are available on the Caprice, and further evidence of why Australian car manufacturing was engaged in a losing battle).
Comfortable over bumps but, surprisingly, not as nice to drive as the Genesis. Holden execs scrunch their nose when we say the steering in the latest Commodore and Caprice is too light and vague because they rarely drive anything else.
You know the world truly has changed when a Hyundai drives better than Holden's flagship. Both cars are comfortable but the Genesis feels better to drive and ride in. It is superior at soaking up bumps without feeling too floaty. The steering is precise; not too heavy and not too light. The Hyundai's tighter turning circle also means hire car drivers can make illegal U-turns more quickly.
The Caprice feels good to drive — in isolation — but the world has moved on. The Genesis aces it on every measure: it has significantly more safety equipment, is demonstrably better to drive and, to top it all, is cheaper to buy and maintain.