Audi A3 3.2 quattro 2005 review

Re, these two A3s: German engineering and quality – check; understatedly classy interior – check; reassuring thunk of closing doors – check; badge desirability – check; bewildering array of acronyms – check; weepingly expensive – checkmate.
The cliches apply in equal measure to the A3 3.2 V6 quattro DSG and its A3 Sportback 2.0 TFSI Ambition DSG. Try saying that in one breath.
Audi's still-newish three-door A3 range has been joined by the five-door "Sportback" range. Translating as "hatchback", it is one of the euphemisms that so endear Audi to one.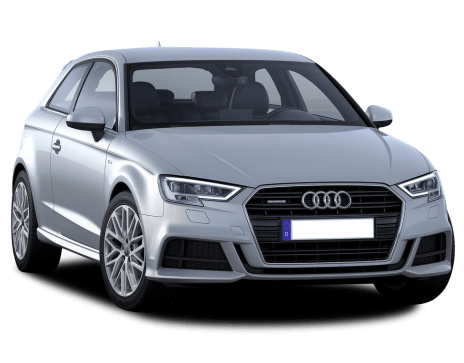 Explore the 2005 Audi A3 range
There's also "quattro" (all-wheel-drive), "open sky" (a big sunroof) and "Audi Symphony" (with, er, cassette deck). An Audi-made spade would be a "manually deployed excavation implement".
Equally amusing is the emphatic nature of Audi's demographic statements:
"The A3 Sportback will appeal predominantly to performance-oriented, active people aged between 25 and 39."
Being four months off 40 and my wife being ever so slightly north of that (whoops – sorry, honey), this car is plainly not meant for us.
It is, however, of no small interest given the salivating with which one of us (ie, me) awaits the arrival of Volkswagen's Golf GTI next month.
VW, of course, owns Audi and its equivalent models are on average $10,000 cheaper. Despite this, or more likely because of it, both marques decry any attempt at comparison.
So decry me, already.
Both GTI and the A3 are built on the same VeeWee platform. The GTI and A3 TFSI share the delicious 2.0-litre turbo-charged direct injection engine, drive through the front wheels, and have identical DSG transmissions.
The TFSI is good for 147kW and 280Nm from 1800 to 5000rpm. With its six-speed DSG, it gets to 100km/h from standing in 6.9 seconds – fractionally faster than a three-pedal manual. The GTI will also offer a conventional six-speed self-shifter. Audi Australia doesn't.
There will, no doubt, be differences in ride and roll. Judging by the word of colleagues and images supplied, the Audi is the plusher and less lairy within.
The A3 has by far the sweeter silhouette. It's also sweet to drive, and only those of carnival sideshow proportions could not find the ideal driving position.
The blown version of the FSI provides genuine hot hatch (sorry, Sportback) performance. The A3 is by no means a WRX-like racer; it's far too civilised and well-rounded for that.
Excellent road-holding from the 17-inch 225/45 tyres enables you to go where you're pointed – it's just that you won't have much sensation of doing so. The electrically assisted steering is too smooth – uncommunicatively so.
Going backwards is the biggest problem, hopeless rear-visibility making optional parking sensors essential.
One need hardly enter the realms of speculation to wonder what the A3's $49,950 gets you over GTI DSG's $42,290 – especially as this VW has more iconic status than its "prestige" cousin – beyond a nicer shape and four "O's" on the badge instead of two consonants, that is.
An A3 that doesn't (yet) have a pesky VW to undercut it is the 3.2 V6 quattro.
Its instant engine response extends to the DSG, which is just as well, because you can't get a conventional manual in this A3, either.
Despite the DSG's practice, when in manual mode, of changing up automatically when redline is reached, it is happily married to the 184kW V6.
Removing the joy of "proper" manual gear-changing seems to defeat the purpose of an ultra-hot hatch, though changing via steering wheel-mounted paddles or the gear lever is seamless. Sticking the stick into rorty Sports mode is almost redundant with this engine.
Also coming as standard is quattro permanent all-wheel-drive. Fanging through the twisties there is turn-in understeer, but loads of muscle and poise to power out.
The exhaust note is the result of Audi boffins tuning with the sort of precision employed by Pavarotti's throat surgeon. The importance of the potential purchaser's ears cannot be overstated, because the aural quality is one of the few points of difference between this halo model and cheaper A3s.
The V6-equipped A3 gets you from standing to 100km/h in 6.6 seconds – that's 0.3 seconds quicker than the 2-litre TFSI. These are Audi's figures.
Despite its discreet but discernible hyper hatch trimmings, the six-potter is, if anything, a compact tourer or cruiser.
So, $25,000 more than the TSFI for all-wheel-drive, two fewer doors and a negligible speed edge? At $75K, you'd want to really, really like Audis and have an all-consuming desire to own what will be the rarest of niche models.
Or you could think of it as a cheaper, better sorted and infinitely less impractical TT Coupe. At least the newer Audi isn't built on the old Golf platform.
Pricing guides
$9,110
Based on third party pricing data
Range and Specs
| Vehicle | Specs | Price* | |
| --- | --- | --- | --- |
| 1.6 Attraction | 1.6L, PULP, 6 SP | $3,900 – 6,380 | 2005 Audi A3 2005 1.6 Attraction Pricing and Specs |
| 2.0 FSI Ambition | 2.0L, PULP, 6 SP | $4,600 – 7,480 | 2005 Audi A3 2005 2.0 FSI Ambition Pricing and Specs |
| 2.0 FSI Attraction | 2.0L, PULP, 6 SP | $4,400 – 7,150 | 2005 Audi A3 2005 2.0 FSI Attraction Pricing and Specs |
| 2.0 TDI Ambition | 2.0L, Diesel, 6 SP | $5,300 – 8,140 | 2005 Audi A3 2005 2.0 TDI Ambition Pricing and Specs |
Pricing Guide
$4,300
Lowest price, based on 7 car listings in the last 6 months
View cars for sale
Similar Cars
Audi Q2

Volkswagen Golf

Audi Q3

Mercedes-Benz A-Class