Holden Calais VZ 2004 review

It's a model that genuinely can be considered as an alternative to some European cars for the luxury buyer who wants sporty handling, safety, luxury equipment, comfort and impressive road performance.
And you'd be going to find a Euro with 190kW of engine power, a true five-seat cabin and a 465-litre boot at a price tag south of the Calais V6's $52,660.
Holden added the Calais badge to its Commodore line-up 20 years ago in the days of the VK.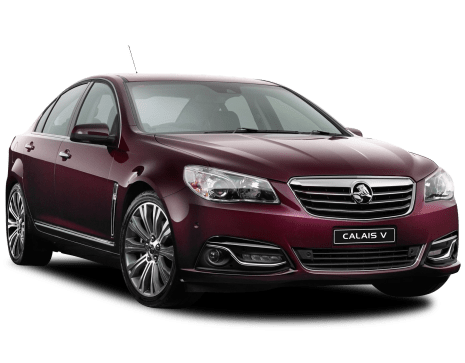 Explore the 2004 Holden Calais range
The Calais is the answer for Commodore buyers who want more luxury and technology items than the Berlina. It's the most luxurious version of the Commodore range before stepping into the long-wheelbase, and more costly, Statesman and Caprice.
Although there is a city called Calais in General Motors' home in the US, it's a sure bet Holden in Australia was hoping the name carried the image of Calais in France – something European-exotic built into the trusty Aussie Commodore.
This latest VZ Calais more than ever can claim to live up to that image, thanks to the sophistication and equipment levels now incorporated.
A 5.7-litre V8 Calais is offered as an option at $57,360. Sure, you get 235kW of lusty power but it comes only with the old four-speed automatic transmission.
Almost $5000 less is the Calais with the new Alloytec all-aluminium V6 engine from the family of GM Global V6 engines. Out with the aged 3.8-litre pushrod V6, the new Alloytec has double overhead camshafts controlling the four valves per cylinder. Torque on the Alloytec 190 is meaty, too – 340Nm at 3200rpm and Holden says 90 per cent of that torque is on hand over a wide rev range from just 1570rpm through to 5870rpm.
VZ Commodores feature an auto-start function: there's no need to hold the key while the engine cranks to life: just turn it to the start position and instantly let it go.
And – this is the good bit – on the Calais, the Alloytec 190 is matched to a new five-speed automatic transmission, which has steering wheel paddle shifts called Active Select. It's the first such transmission on an Australian-made car.
The driver can opt for normal automatic mode or use the fingertip shift to command the transmission to go up and down the gears. The new five-speed automatic allows for a greater spread of ratios, with fourth being a direct drive. Fifth is an overdrive on a fairly long-legged final drive diff ratio. It means a fuel-frugal 1900rpm when cruising at 110km/h.
The automatic transmission uses Performance Algorithm Liftfoot to respond to driver requests on driving style and holding gears during some deceleration and cornering. It also minimises "hunting" between gears.
Calais, in its previous VY Series II, was turned into a sports-luxury car by having a slightly lowered, sporty suspension setup. This concept is continued in the VZ, which has firmer spring rates than the standard Commodore and Acclaim – and which, like them, benefits from front-end suspension redesigns to make steering sharper. But now Calais has other driver aids that are normally seen only in more expensive imported luxury cars.
It has electronic stability program (ESP), again offered for the first time on an Australian-made sedan (although there are similar aids on Ford Territory and Holden's Adventra AWD wagons). ESP uses sensors and electronics to correct the car's path through brake application to individual wheels and by engine torque intervention.
It's designed to help save the car from sliding off the road or into the path of an oncoming vehicle on corners.
Allied to this is corner brake control to help keep the car stable during heavy braking on curves and corners.
ABS is there, of course, but helped by electronic brake assist to shorten braking distances. And all the VZ Commodore range has improved brakes.
Traction control is built into these devices, too. Get one driving wheel on dirt or an otherwise loose surface and it won't spin ridiculously.
Traction control and other driver aids are now possible on the Holden thanks to electronic throttle systems on the new Alloytec engine.
Outside, Calais is distinct with its chrome flash over the top of a grille which is now deeper and more aggressive, to remind of the car's sporty role.
It has optic-fibre parking lamps, projector headlamps and chrome-ringed front fog lamps. Wide-faced spoke alloy wheels are 17in diameter and carry 225/50 tyres.
Inside, Calais now has leather trim as standard. It has gloss piano black instrument panel and console and a new centre panel.
Calais certainly makes it as a luxury car, too: it has rear parking sensors, cruise control, power windows, six-stack dash CD, Blaupunkt stereo with 10 speakers and 260 watts, dual-zone climate control, eight-way power adjustable front seats (with three lots of memory settings for the driver's side), height-adjustable rear head restraints and courtesy lamps on all four doors. It has twin front and front-side airbags.
The 4876mm-long, 1642kg Calais V6 has pretty smart performance when the taps to the 190 engine are opened.
And the handling is that sweet combination of poise, grip, little body roll yet without too much crashing from the tyres and suspension. It can tow up to 2100kg and runs on normal unleaded petrol. For sports-luxury car buyers who want their money to stay mainly in Australia, who seek value and want practicality of a five-seat sedan yet with the latest driver-aid technology, the Holden Calais beckons.
Pricing Guides
$5,999
Based on 19 cars listed for sale in the last 6 months
Pricing Guide
$4,999
Lowest price, based on 4 car listings in the last 6 months
View cars for sale
Similar Cars
Holden Commodore

BMW 3 Series

Peugeot 308