Hyundai Getz 2006 review: snapshot
Sure you do. The marketing department at Hyundai has been all over the show with its latest prize and you'd have to be blind or deaf not to know that the Hyundai Getz has just won Australian Small Car of the Year.
Impressive, yes, and it seems the message has spread 'cos they are everywhere. It's a cute-looking car in a smart shape, and packs more inside than you expect for its small size – and price. I was impressed that it came standard with air conditioning, dual airbags and volume controls on the steering column – at this end of the market, you can't expect those luxuries, but here they are and it makes all the difference.
Inside, there's ample leg room in the front, and the cloth-covered seats sit high, which gives you the impression that the car is bigger than it really is.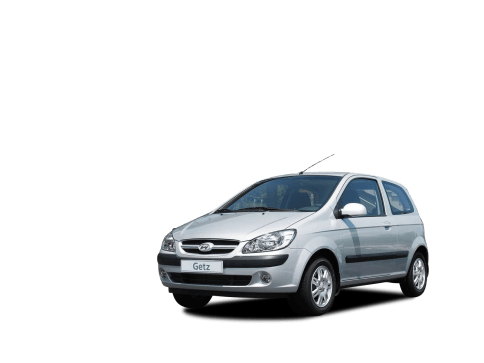 Explore the 2006 Hyundai Getz range
But even sitting up high, I couldn't see the bonnet and my judgment for distances became a bit dodgy as a result.
Unfortunately, I can't tell you how much room there is in the back seat – this is the three-door model and I couldn't be bothered folding forward the high-back seats and climbing in awkwardly.
The boot is compact and it's not likely to fit more than one medium-size suitcase at a time. Enough for a grocery shop, though, or a weekend getaway.
The Getz has a 1.6-litre engine, which surely should be enough for its size, but I found I still had to rev it quite hard to get it moving. It's quite noisy too, compared with other cars I've tested, and this would bother me in the long run. And I was disappointed that the power steering wasn't as good as it should be for a small car. Having said that, though, driving around the city was still easy work. However, the side mirrors are shocking – they give off a distorted image and made my vision go wobbly.
I hope the makers take a look at this and fix it.
On the upside, for a small car there are lots of storage pockets to put keys, phones and bits and pieces – even one of the two cup holders has a removable ashtray for those with the habit.
Unfortunately, at this end of the car market there is no real "wow" factor. But the Getz is a convenient, practical and cute car – just perfect for the first-car owner wanting an easy city drive.
Love it or leave it
Hyundai Getz
Love it
PARKING in the "small car" spots.
Easy clean interior.
Great storage compartments.
It's as cute as a button.
Leave it
SLIPPERY steering wheel – needs to get a better grip.
The stereo is nothing to write home about – it kept knocking itself off the signal and has tiny buttons. And there's no cassette.
Seat belts are positioned too far back and are hard to reach.
Pricing guides
$4,990
Based on 105 cars listed for sale in the last 6 months
Range and Specs
| Vehicle | Specs | Price* | |
| --- | --- | --- | --- |
| 1.4 | 1.4L, ULP, 5 SP MAN | $2,400 – 4,070 | 2006 Hyundai Getz 2006 1.4 Pricing and Specs |
| 1.6 | 1.6L, ULP, 4 SP AUTO | $2,400 – 4,070 | 2006 Hyundai Getz 2006 1.6 Pricing and Specs |
| 1.6 SXi | 1.6L, ULP, 5 SP MAN | $2,400 – 4,070 | 2006 Hyundai Getz 2006 1.6 SXi Pricing and Specs |
Pricing Guide
$1,854
Lowest price, based on 103 car listings in the last 6 months
View cars for sale