Holden Insignia VXR 2015 review
Ewan Kennedy reviews the Holden Insignia VXR at its launch in New Zealand.
Holden VXR is one of the most important models for the company in its inexorable move away from building cars in Australia to being a full time importer. GM Holden, as it prefers to be known these days also wants to be seen in a more upmarket light.
Very much a sports sedan, Holden says Insignia VXR will compete directly with the likes of Subaru Liberty and Volkswagen Passat CC. We were surprised that Audi's quattro models weren't mentioned, given the aforementioned desired upmarket move and we do feel that Audi does deserve to be placed on the list.
The Insignia is designed and built by Opel in Germany, but with a lot of Australian engineering input. And, believe it or not, its engine is built in Holden's Melbourne plant. As the VXR is the high-performance version of the range, it is powered by a 2.8-litre turbocharged V6 producing 239kW and 435Nm.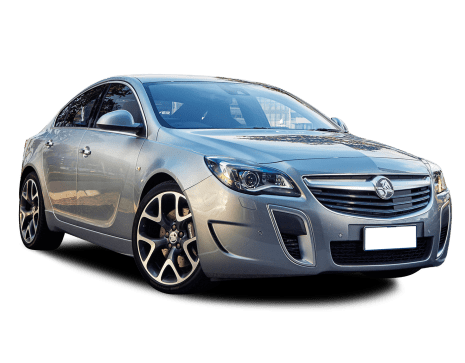 Explore the 2015 Holden Insignia range
That sort of torque could overwhelm the front wheels of the VXR unless it was backed off at times. So a sophisticated all-wheel-drive system has been developed.
Snow and ice certainly didn't faze the VXR
So confident is Holden in the AWD that it chose to fly Australian journalists to the snowfields of southern New Zealand to let us sample the hot Insignia on snow and ice. The Southern Hemisphere Proving Grounds (colloquially known as the Snow Farm) is recognised as being one of the world's best and is used by many global car makers, including the big name Europeans.
Snow and ice certainly didn't faze the VXR, though you do need to treat the conditions with care as cornering limits are significantly lower and breaking distances frighteningly longer at times. Note that the cars were on winter tyres during these sessions of our testing, these were changed to summer tyres when we drove on roads below the current snow line.
Heated Recaro sports seats were very much appreciated in our below zero testing. They provide good side support without being overly aggressive, similarly entry to and exit from the seats won't trouble many.
Power runs through a six-speed automatic transmission to 20-inch wheels that fill out the guards nicely and certainly play their part in the bold overall look.
An important design feature is the GM FlexRide suspension that can be set to day-to-day driving in Touring mode; Sport for when you want to get serious on the road but retain an element of electronic backup; and VXR mode which is probably best left for track work because the car lets you make most of your own decisions.
FlexRide is comprehensive; it modifies not only the damper settings, but also AWD control, steering, throttle and automatic transmission. The results are most impressive.
On normal roads away from the Snow Farm we selected the Touring setup and found the Insignia still had plenty of road grip, a smoother ride than expected for a full-on sports sedan and, generally, minimal tyre noise. The bugbear of tyre roar on coarse-chip surfaces was present, though we have heard worse on other sporty European sedans.
Australian suspension engineers are brilliant at minimising tyre noise on these surfaces, particularly in Commodores. They explained to us that the compromise is some loss in ride comfort. It will be interesting to see how these compromises works out when Holden is no longer building cars just for Australians in 2017.
Insignia recently had a significant facelift; while it still has basically the same body we tested on Opel-badged imports that were sold in Australia for a short time, the shape has been nicely modernised and in VXR format has a bold and purposeful look.
Inside, the dash area is now largely electronic, with two eight-inch screens, one for most, but not all, the major instruments, the other for the satnav and multimedia systems. The latter uses the latest generation of GM's latest MyLink system.
It certainly provides a lot of car for a modest outlay in this class
The long list of standard features includes leather trim, dual-zone air conditioning, radar cruise control, automatic lights and wipers, lane-departure warning and one-touch starting.
Holden tells us Insignia VXR is only one of 24 different models scheduled for launch downunder in the next five years. However, it refused to comment on whether other models in the Insignia range will be coming here. Insignia was launched in 2009, and immediately took out the European Car of the Year award, but despite several upgrades is getting on in years. So may we speculate Holden will hold off on selling the full Insignia range until an all-new model is released late, probably late in 2016?
Verdict
In the meantime those who love HSVs and other hot Holdens should certainly put the Insignia VXR high on their shopping list. With a recommended price of $51,990 it certainly provides a lot of car for a modest outlay in this class.
Pricing guides
$19,990
Based on 13 cars listed for sale in the last 6 months
Pricing Guide
$16,888
Lowest price, based on 13 car listings in the last 6 months
View cars for sale