Great Wall ute damaged turbo
Asked by Courtney Puzicha, Oberon, NSW
Approx a week ago, I took my V Series Great Wall diesel ute to my dealer because of a high pitch noise in the engine. They told me it was due to the turbo being damaged by a broken piece of a plastic pipe that covers the filter area of the vehicle. It was told that it was over-tightened and a piece had come off and gone into the turbo, damaging it. The repair bill has been estimated at over $2500 and was not covered under warranty. Firstly, the hose referred to is rubber, and it could only have deteriorated due to leaking oil or fuel and not from over tightening a connection. I took it back to the mechanic who performed the last service and was told the dealer's comment was ridiculous. The Great Wall dealer reiterated it would not be covered under warranty. I had my local mechanic order the parts for the new turbo, new gaskets and a new hose, and am currently awaiting their arrival. The Great Wall dealer advised me that I was still able to drive the vehicle, but that it would just not be performing at its best. It then broke down on the side of the road and needed towing to a repairer. Roadside Assistance gave me two options, have it towed to the nearest dealer, the one I believe incorrectly advised me about the problem initially, or one that was outside the 100 km towing limit and I would incur the cost of towing the extra distance, which I felt was unfair. My protestations fell on deaf ears. So I now have a pending bill for repairs for a turbo and hose that should be covered under warranty, a car that is now broken down completely, and a towing bill for taking it to the nearest dealer that can repair it. I am very frustrated and would like some assistance.
Answered by CarsGuide
28 Dec 2012
You were poorly advised to drive a car that has a damaged turbocharger, that it broke down is not a surprise. I would take it back to the dealer who gave you the advice and sort it with them. It is possible that a rubber hose could have split by being over- tightened and caused the problem you talk of. If you want to pursue it further contact the head office of Great Wall and put your concerns directly to them.
Search from Over 8,000 questions Over 8,000 questions answered by CarsGuide
Complete Guide to Great Wall
V200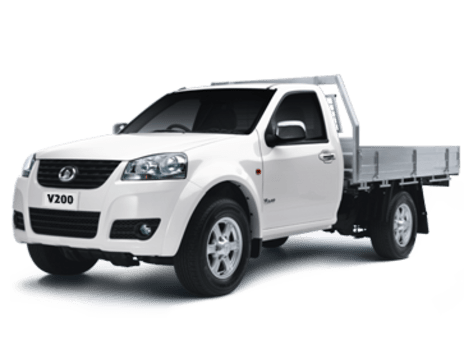 Reviews, price, specs and more