Great Wall V200 Problems
No car is perfect, but we've gathered everything relating to the Great Wall V200 reliability here to help you decide if it's a smart buy.
My 2013 Great Wall V200 stopped and won't restart
Answered by CarsGuide
11 Jun 2021
A fault with the fuel supply can certainly strand a vehicle in its tracks, but there are a thousand other things that could be causing your problem. It would be worth checking the operation of the fuel system, though, as this is a common problem with modern turbo-diesels. Has the vehicle been run out of fuel recently? That can cause all sorts of knock-on problems when you try to restart the engine. Contaminated fuel (often containing water which modern diesels hate) can also cause this sort of problem. A properly equipped workshop should be able to carry out an electronic scan of the vehicle's systems and diagnose quickly and efficiently what the problem is.
Great Wall V200 2013: Wiring
Answered by CarsGuide
3 May 2019
Has any work been done that might have involved disconnecting the electrics? I would suspect that there could be a problem with the wiring connections. Best take it to an auto elec.
Great Wall V200 2012: Why is it losing power?
Answered by CarsGuide
12 Oct 2018
It's telling you there is a problem with the engine, and the loss of power is most likely because it's going into limp home mode. You need to get it to a mechanic and have a diagnostic check carried out.
2010 Great Wall V200 heating issue
Answered by CarsGuide
15 May 2017
There's no doubt in my mind that you are up for the service charge; you asked them to service it and they did. You are correct that your car isn't worth a lot of money, but it's worth almost nothing with a cracked head. You could perhaps talk to the dealer about getting a second hand engine from a wrecker and having that fitted. It might be a cheaper option to get the car going.
Ongoing problems with Great Wall?
Answered by CarsGuide
30 Jan 2015
There's no reason to give you continuing warranty, the company has seemingly repaired your car when it has given trouble and on that basis is likely to continue to do so. If a part regularly gives trouble, as you say the inlet air temperature sensor does, you have good justification for Great Wall to make repairs as and when needed, at their cost. Remember also that you have recourse through the consumer affairs laws that protect you rights under our laws.
Great Wall ute damaged turbo
Answered by CarsGuide
28 Dec 2012
You were poorly advised to drive a car that has a damaged turbocharger, that it broke down is not a surprise. I would take it back to the dealer who gave you the advice and sort it with them. It is possible that a rubber hose could have split by being over- tightened and caused the problem you talk of. If you want to pursue it further contact the head office of Great Wall and put your concerns directly to them.
Search from Over 8,000 questions
Over 8,000 questions answered by CarsGuide
Complete Guide to Great Wall
V200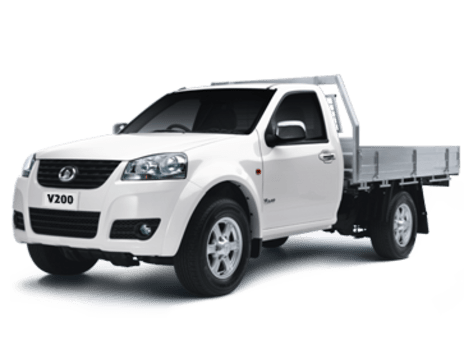 Reviews, price, specs and more