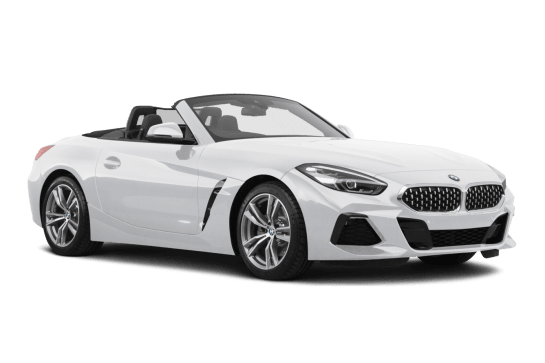 COMPARE
BMW Z4
VS
Audi R8
BMW Z4
Likes
Bold exterior styling
Ultra-refined
Surprisingly spacious
Dislikes
A bit too serious to be fun
SUV-like interior
Ownership could be better
---
Audi R8
Likes
Howling V10
Amazing traction
Looks more aggro now
Dislikes
No high-tech safety
Interior short on flexibility
Didn't get to drive it on 'real' roads
Summary
BMW Z4
I remember the first Bond film I ever watched.
I was about eight or nine years old, and it was GoldenEye on VHS. In that film, Pierce Brosnan drove a BMW Z3 convertible, which obviously oozed cool.
I didn't know at the time that it was just a little bit weird that he wasn't driving an Aston Martin for the entire duration of the movie, but it didn't matter, that drop-top Beamer with its radar and missiles imprinted itself on my mind.
As such, I've always had a soft spot for BMW's 'zed' range, so I was quite keen to helm this new one as it came through the CarsGuide office, especially since it shares its underpinnings with the new Toyota Supra.
So, is the new Z4 a case of never meet your heroes? Or did it make me feel a little bit like a secret agent? Read on to find out.
| | |
| --- | --- |
| Safety rating | — |
| Engine Type | 2.0L turbo |
| Fuel Type | Premium Unleaded Petrol |
| Fuel Efficiency | 6.5L/100km |
| Seating | 2 seats |
---
Audi R8
There is typically no need for introductions when it comes to the Audi R8. But the 2019 Audi R8 isn't the one you've come to know - its been sharpened up in terms of both its appearance, and its performance.
This heavily facelifted version of the second-generation Audi R8 keeps its high-revving V10 engine, and turbochargers have been kept at bay, too. It can't hold off the march of progress for much longer, though - it's almost certain this will be the last V10-engined R8… thankfully it has only just launched, so it should be on sale for a few years yet. 
I got a chance to drive the new Audi R8 V10 Performance model in Spain at the model's international launch drive this week - but only on Circuito Ascari race track. 
| | |
| --- | --- |
| Safety rating | — |
| Engine Type | 5.2L |
| Fuel Type | Premium Unleaded Petrol |
| Fuel Efficiency | 12.3L/100km |
| Seating | 2 seats |
Verdict
BMW Z4
7.5/10
The Z4 didn't make me feel like Peirce Brosnan's 007. It's way too serious – a proper gritty reboot. Maybe it's meant for Daniel Craig. Either way, its brave design makes it one of the best-looking BMWs of recent memory, and it's a tech- and comfort-fest that the Bavarian automaker should be proud of. I just wish it was a smidge more fun behind the wheel.
What do you make of the Z4's looks - Is it an icon or too far from BMW's roots? Share your thoughts in the comments below.
---
Audi R8
7.6/10
This iteration could well be the final Audi R8 with a V10 engine, and what a note to go out on. Emissions laws and the ever-present push towards electrification are almost certain to see the next-generation R8 take a very different tack to this model. Lucky, then, that this is the best R8 yet. 
I know the final score doesn't necessarily reflect that - but that's because it falls short on 'regular' car things. Even so, it's an epic machine.
Would you have an Audi R8 over one of its rivals? Tell us what you think in the comments section below.
Design
BMW Z4
8/10
The Z4 is a sight to behold. It's brave, especially for a BMW, it even betrays the brand's strongest styling pillars, making its own way with its more horizontal grille design, flat body and curved out rear.
It's more than that, though. In black, this car looks sinister, brooding. The more you look at it, the more you notice tiny details - the scooped-out sides, or the way the entire rear seems to flick up into the integrated spoiler. I couldn't get enough of staring at it – it manages to look even better with the roof down.
That's probably when it hit me. To my eyes, at least, this is the most stunning BMW in years. Sure, the X7 is a sight to behold due to its sheer dimensions and borderline offensive grille, but the Z4 is the opposite. It's subtle, it hides its details away in its silhouette.
It's designer, Calvin Luk (an Australian no less), was inspired at least in part by the Z8 – another Brosnan bond car – and you can see the Fisker design reflected in the Z4's low, flat grille and almost bulbous rear.
Inside, sadly, the Z4's strong design doesn't quite play out. There's no wily Fisker touches here, just a standard set of BMW switchgear. While it all works well, it just dumbs down the Z4's character.
The big, chunky steering wheel in particular is a let-down. It's the same wheel that sits in the brand's X5 SUV, and it feels right there, but not here in a convertible where you're so close to the ground. A smaller wheel would not only suit this car better, it would make it feel just a smidge more alive. I miss the three-spoke M sport wheel from previous-generation BMW cars.
I do like the dash, which is seemly carved from rhomboid shapes - a theme that rolls into the doors, screens, and vents elegantly. I'm normally not a fan of gloss plastics and chrome touches, but in the Z4 they're all tastefully applied.
The seats, too, are lovely. I'm not sure about the contrast bright-red leather our car came with, but they're nice and close to the ground and have excellent trim that you seem to sink into just enough to be comfortable and sporty all at once.
It's a slick place to be, I just wish it felt less like you were at the helm of an SUV and more like you were driving something that looks this damn good.
---
Audi R8
9/10
Wow, it was possible to make the Audi R8 even more attractive - the brand's designers have gone and done it with this facelift, which sees a number of changes to the exterior styling that combine for a more aggressive, sharper look.
The 'Singleframe' grille now looks even more menacing, having been widened and flattened, and any trace of chrome has been removed. As the chief designer told us, a supercar is no place from chrome. There are three small slats above the grille, which hark back to the iconic Audi Sport quattro model of the 1980s.
Further, the front splitter is wider, the rear diffuser has been made even more prominent, and there are new oval exhaust pipe outlets - previously reserved for Audi RS models only. 
My only 'errr' moment with the design is the mesh cooling section at the rear bumper, which appears a touch unfinished in combination with some colours, and it's also very rectangular, meaning the new exhaust tips are at odds with it. But it all has a purpose, and applies to the regular R8 and the LMS racer.
There are three new exterior packages available, which change elements such as the front splitter, door sill trims (side skirts) and diffuser. On the base car, there's a high-gloss black look; on the V10 Performance there's a matte titanium look to these bits. Optionally, there's a high-gloss carbon package.
Further, customers can get the badges and Audi rings painted in gloss black, while body paint colours now include 'Kemora grey' and 'Ascari blue'. There'll be 19-inch and 20-inch wheels offered, depending on the model.
Inside, there's been a bit less of a noticeable change. Check out the interior photos to see for yourself.
Practicality
BMW Z4
8/10
The Z4 is a convertible, so it's naturally compromised on space. As far as convertibles go though, you'll be hard pressed to find one you can fit more stuff into.
The Z4 is wide - the same width, in fact, as a 5 Series - and this carries into the cabin. There are only two seats, but those seats are wide, and occupants will find themselves with luxurious amounts of airspace for their arms, as well as excellent leather-trimmed and padded surfaces for landing elbows on.
Legroom is also great, as the seats have a surprising amount of rail-travel on them, so that even taller folk won't struggle to fit their limbs in.
A genuinely impressive characteristic of the Z4 is much head room there it is. Despite its low-slung looks from the outside, the roof towers over my 182cm tall head when I'm inside, so this isn't one of those convertibles that feels like braking too hard might simply decapitate those above six-foot tall.
In terms of storage areas you get some long but shallow trenches in the doors, a bay with connection ports and a Qi wireless charging pad under the air-conditioning controls, a glovebox (hey, not all convertibles have them) and a trick centre console that houses two deep cupholders inside.
There's also a netted shelf behind the seats that could fit small bags, and given the length of the cabin, you could even fit laptops and the like behind the seats provided you haven't used the full extent of the seat's rearward movement.
The boot is deep, wide and long for a drop-top, and offers a total of 281-litres which is more than some popular hatchbacks. It even offers tie-down points and netting either side. To top it off, the fabric roof folds away into its own compartment, so the boot space is unaffected if you choose to drop the lid.
For a convertible – the Z4 is a practicality wizard.
---
Audi R8
7/10
Okay, so Audi claims "the driver sits in the new R8 like in a race car". 
Having been a passenger in the Audi R8 GT3 car the brand had on show, I can tell you that's not entirely true - because while you do sit about 12 centimetres higher than that ground-hugging beast, the regulation R8 model is superbly comfortable.
What the brand is getting at, though, is that the focus of all the interior design is to serve the driver. As such, there's no central media screen - instead, there's a 12.3-inch digital instrument cluster (Audi 'virtual cockpit') which is where the driver takes charge using steering wheel controls.
The system is crisp to look at, but it can be a little hard to get used to the controls, especially for sat nav inputs and so on. And that's even with the central MMI rotary dial with touch pad. 
But the other controls are great - I love the air-conditioning knobs, the gear selector and the switchgear, which all has a technical and beautiful finish to it. The steering wheel is a delight to hold, and the push-button starter is a real eye-catcher in red.
The seats in the cars we tested were superbly supportive and very comfortable, but the lack of adjustment of the fixed buckets means you might find yourself a bit too upright (if you get to spend more time in the car than we did).  
And even though it's a supercar, the R8 offers a level of practicality. Sure, the door pockets are virtually useless and there are no properly usable cupholders, but that gives you an idea to the intent of the car. There are, however, storage spots behind both of the seats, and there's a centre storage area in front of the shifter and in the armrest.
And while the R8 has a mid-mounted engine, there's still a boot: the R8 coupe's rear cargo bay offers enough room for a suitcase or two soft smaller bags for a weekend away, with 226 litres of cargo capacity - according to Audi, that's enough for a golf bag. There's a secondary storage area under the bonnet, which adds an extra 112L of space. Don't buy the Spyder if practicality is important to you, as it has even less storage space.
Price and features
BMW Z4
7/10
The Z4 isn't cheap, but it plays in a field of expensive Deutsche drop-tops. Our car was the mid-spec 30i which comes in at an MSRP of $104,900 (before on-road costs).
For that you'll get a more highly tuned version of the base 20i's four-cylinder turbocharged engine, producing 190kW/400Nm, 19-inch alloy wheels, M Sport brakes, Adaptive M suspension, and adaptive LED headlights.
That's on top of the already impressively-specified 20i's kit which includes dual 10.25-inch screens – one for the multimedia functions, the other as a digital dashboard, a head-up display, full Vernasca leather interior trim, auto-dimming rearview mirror, power adjustable and heated front seats with memory function, dual-zone climate control, 10-speaker 205W stereo, a Qi wireless charging pad, and adaptive cruise control as part of a marginally upgraded safety package (more on that in the safety section).
It's a pretty plush set of equipment, although a challenging value proposition as the almost-as-well-equipped 20i starts from $84,900, a full $20k cheaper.
Rivals for this 30i model? You've got the soon-to-be-discontinued Mercedes-Benz SLC300 ($102,500), all-wheel drive Audi TT S quattro ($105,661), and, at a stretch, the entry-level Porsche Boxster ($122,960).
Of course, being a premium European car, there is an extensive options list. Our car was fitted with the excellent and probably-worth-the-money M Sport differential ($2400), as well as the rudely priced M seat belts (literally just the M pattern embroidered in - $560!) and interior ambient lighting package (lovely, perhaps not worth $550).
The Z4 is only offered in five colours, three of which – including our car's Black Sapphire – come at a cost of $2000. The red interior, surprisingly, is a no-cost option.
If you're keeping track that brings the car you're looking at here to $110,410. Not cheap, and it doesn't have six-cylinders - but given its other attributes explored later in this review, the fact that it still manages to undercut an entry-level Boxster is actually reasonable.
---
Audi R8
7/10
It's expected Audi Australia will again offer the R8 in two different specs when it launches in Australia around the fourth quarter of 2019. 
That means a base model (if you can call it that) V10 variant, and a higher-grade V10 Performance grade with more power and torque. The latter is expected to be the bulk seller - the current V10 Plus model accounts for some 90 per cent of R8 sales. Maybe they'll drop the base car - time will tell.
It's too early to have a stab at pricing and specifications, because nothing has been confirmed as yet and we'd be on Audi keeping prices relatively stable or maybe bumping them up - hey, you're getting more power for your money, after all! 
But you can bank on goodies like LED headlights, auto high-beam lights, leather seat trim, DAB+ digital radio, sat nav, Apple CarPlay and Android Auto, a 13-speaker sound system, auto headlights and wipers, push-button start and keyless entry and a fair bit more.
The V10 Performance model we drove had 20x8.5-inch front wheels and 20x11-inch rear wheels, with super grippy Michelin Pilot Sport Cup 2 tyres. 
For a guide, the current start price for the V10 is $366,340 plus on-road costs, while the V10 Plus (which will be renamed V10 Performance) currently lists at $402,430 before on-roads. Those prices are for the coupe - the Spyder convertible adds roughly $20,000 on both grades.
Considering some of the competitors, it is a little pricey - although it's the cheapest way into V10 supercar ownership. 
So, what are its rivals? Lamborghini has the Huracan (essentially an R8 twin - priced from $378,900 in RWD, or $428,000 for the AWD model), or you could take a look at a McLaren 570S ($395,000), Mercedes-AMG has the GT (from $261,130) and there are about 20 versions of the Porsche 911 you might consider (from $220,500). If the Spyder is more your go, I'd take a look at the Ferrari Portofino ($398,888), too.
Engine & trans
BMW Z4
8/10
Welcome to the age of ridiculously powered four-cylinder turbo engines. Despite a capacity of just 2.0-litres, the engine in the Z4 30i produces a whopping 190kW/400Nm.
That's probably enough for a car this size. I'm keen to drive the six-cylinder, but surprisingly it seems to offer diminishing returns for extra cylinders offering a 60kW/100Nm power boost for an extra $20,000. Perhaps a six-cylinder is the way to go in a BMW, and given this car's other seriously sporty attributes, it might be the only way to make it a bit more… fun. More on that in the driving section.
All Z4s are rear-wheel drive, using an eight-speed torque converter automatic. Sorry, no option for a manual this time around.
---
Audi R8
9/10
The new R8 retains the same 5.2-litre V10 (FSI) naturally-aspirated engine, but Audi's engineers have wrung its neck to squeeze more power and torque out of it.
There are two tunes available - the regular version, which has 419kW of power (up from 397kW), and 560Nm of torque (up from 540Nm). It only comes with a seven-speed 'S tronic' dual-clutch automatic transmission, and comes with quattro all-wheel drive. 
The claimed 0-100km/h time is just 3.4 seconds for the coupe and 3.5sec for the Spyder convertible. It tops out at 324km/h, or 322/km/h in the convertible.
The higher-grade version is by far the most potent R8 yet, with 456kW of power (up from 449kW) and 580Nm of torque (was 560Nm). Again, S tronic and quattro, and this time around with a 0-100km/h acceleration claim of 3.1sec for the coupe (3.2sec convertible). Top speed is 331km/h or 329km/h, depending on body type.
Fuel consumption
BMW Z4
7/10
It's claimed that the Z4 will drink just 6.5 litres per 100 kilometres on the official combined cycle test, but I found that sticking my foot in occasionally resulted in a slightly more realistic sounding figure of 8.4L/100km.
That's still a great fuel consumption number for a car like this, and perhaps one of the strongest benefits of having just four cylinders.
A discerning vehicle, the Z4 will drink nothing less than the best-quality 98RON unleaded to fill its 52-litre tank.
---
Audi R8
7/10
Don't expect to see the official claimed fuel consumption figure on a regular basis. The number is 12.3 litres per 100 kilometres for the most potent coupe version, while the lower-power version uses a claimed 11.4L/100km. 
The engine has cylinder deactivation for less intense situations, and there's engine stop-start, too. 
It uses 98RON premium unleaded fuel, and has an 83 litre fuel tank capacity. 
Driving
BMW Z4
8/10
A car that looks this good better live up to the promise behind the wheel, right?
For the most part, the 30i does, but it's a victim of its own performance credentials and luxuriousness.
See, a drop-top should be fun-packed, you should feel close to the road, connected. Sadly, a combination Z4's excellent suspension and not-so-excellent SUV-like interior separates you too much from the surface below.
An advantage, of course, is the refinement on offer. The Z4 is easily one of the quietest, most refined convertibles I've ever driven, but it's a little too insulated.
I can't help but feel like it's all business and no pleasure. It feels a little more like I should be cruising to work on the autobahn and a little less like I should be flinging it around corners on a tight B-road.
It feels almost wrong to drive it in a T-shirt. It's serious and doesn't want you to mess around, it wants you to wear a suit and tie.
This grand-tourer style feel is one that will keep a lot of buyers in the premium space happy, but I'm of the opinion that BMW will have that segment well and truly covered by the new 8 Series. If the budget allows.
Regardless, the 30i's four-cyl engine feels like any six-cylinder would have a few years ago. It's got a surge to it in the straights that's quite satisfying, and it responds via the exhaust with an angry tone that makes it feel a little more alive, especially with the roof down.
This feeling was all helped along by our car's M active differential which simply won't let the fat tyres at the rear slide unless you've got high-speeds and loads of tarmac to play with – for better or worse.
The Z4 also has 'variable sport steering' which reacts to the car's speed and position of the wheels to adjust the input ratio. It's good when you're at speed, but the weight and response of the steering can make the Z4 feel bigger than it actually is at lower speeds. 
The suspension is firm, and can be a little bouncy over rough surfaces, but seems well suited to the Z4's chassis.
Other than those notable characteristics you'll find that the Z4 is wonderfully tuned in terms of its inputs, everything is slick and smooth, suited perfectly for long meandering drives.
---
Audi R8
9/10
I can't say what it's like on public roads, but my stint on a shortened track at Circuito Ascari near Ronda in Spain left me grinning ear to ear.
And so it should, with the immense performance of the V10 engine - tested on track in the higher output R8 Performance spec with the full 456kW and 580Nm complement of grunt numbers. 
Driving the R8 reminded me of that one time in under 11s rugby league when a much smaller defender managed to lift me up and dump be on the ground - an impressive effort, because I was heavy enough to be running around in under 15s. At that time, it took a second for me to realise what had happened, and was enough to leave me a bit short of breath. 
The same sensation came to mind as I loaded up the throttle and threw myself at the horizon from the pit exit. Under a heavy right foot, the world around me started to blur and the first corner of the track suddenly approached after the crest. I had to try and remember what the lead car had shown me in the sighting laps prior, where to turn, how hard to get on the gas. 
But I was distracted by the mind-bending physics I was experiencing, not to mention the theatre of the R8. The sound really is hard to beat - the howl of a high-revving V10, unmuffled by turbochargers, is something to behold when it's enveloping you, and the fact the noise emanates from behind your ears almost makes you want to push it even harder. 
1 – 6 – 5 – 10 – 2 – 7 – 3 – 8 – 4 – 9. That's the firing sequence of the V10. Just thought you might like to know.
The gearshifts cut through the noise with prodigious sharpness, and when I chose the 'Performance' drive mode (which firmed everything up, enabled even more manic acceleration and disabled traction control) the shifts were brutal, often resulting in a shockwave through the car. It was some seriously good feedback for me as the driver, though it may not bode well for longevity…
There was tremendous traction from the quattro all-wheel drive system from a standstill, and across a long, banked corner on the track I felt super confident, pushing harder than I know I would have dared in a rear-drive car. 
I managed to get a steer in both an R8 with the regular steering system and a model with the brand's 'dynamic' steering set-up. Both have been retuned to be "more direct and precise throughout the entire speed range".
I preferred the dynamic steering set-up which can vary the steering ratio based on the speed, and is "very direct" according to Audi - and even more so when Performance mode is engaged.
I found it to be super predictable at lower cornering speeds, and therefore more manageable to an amateur like me. One of Audi's test drivers told me that he prefers the normal steering set-up, because at 'really big speed' it's easier to predict. 
The highest speed I saw was just a tickle over 200km/h, and I understood his take on it. Maybe normal steering for high-speed tracks, then? Or I just need to learn to drive faster…? Hey, no-one wants to be the guy who bins the $400k supercar on the very first rotation of about thirty over a two-week run of international journalists visiting to sample the newest, bestest and most expensivest Audi has to offer. 
The models we drove were all fitted with the optional carbon ceramic braking package, which allowed the stoppers to resist fade for a lot longer - ideal for extended track time sessions, and they certainly stood up to my reliance on them on my few short stints on the track. They came in especially handy during a (very cool) night session where we were expected to remember the track layout about seven hours after our first outing.
It would have been great to drive it on real roads, because apparently that's where the dynamic steering is most impressive. 
Safety
BMW Z4
8/10
Convertibles and safety don't often fall in the same sentence, unless its one where a concerned relative is trying to convince you not to buy one.
In any case, the Z4 benefits from four airbags (dual front and dual side), as well as the expected electronic stability controls. That optional M Sport differential will have the added bonus of preventing any unexpected slip and slide at the rear.
On the active side the Z4 gets 'Driving Assistant' which includes forward collision warning (FCW), lane departure warning (LDW), rear cross traffic alert (RCTA), and rear collision warning. The 30i grade also gets 'active cruise control with stop & go' which allows for full auto emergency braking (AEB) with pedestrian and cyclist detection. Not on the spec sheet, but apparently present in the car I drove was some form of traffic sign recognition (TSR) and lane keep assist (LKAS).
A nice high-res reversing camera displayed on the massive touchscreen is a welcome standard addition.
Considering the meagre safety specification of most convertible cars, the Z4 30i shines with a half-way decent active safety suite. But you can forget ISOFIX child-seat anchor points. There aren't any. 
---
Audi R8
7/10
The Audi R8 hasn't been crash-tested by ANCAP or Euro NCAP, but Audi claims the car's spaceframe chassis offers "high crash safety". 
You get a reversing camera and parking sensors (optional in Europe, expected to be standard in Australia) plus the R8 comes with six airbags, including dual front, front side and curtain coverage. Spyder models miss out on curtain airbags.
But there is no advanced safety equipment - no auto emergency braking (AEB), no lane-keeping assist, no blind-spot monitoring, rear cross-traffic alert or adaptive cruise control. 
Top spec models are expected to get the excellent laser headlights (auto high-beam light up to 600 metres throw distance), and all models come with LED headlights.
Ownership
BMW Z4
6/10
If recent quotes are anything to go by BMW is set to stick by its lacklustre three-year unlimited kilometre warranty, as it says its customers simply aren't interested in five years (or longer) when it comes to warranty coverage.
It's a shame, as even Volkswagen has upped its warranty to five years, and Mercedes has considered a 10-year coverage plan in the past.
In terms of servicing, there are two fixed-price plans available – the suspiciously cheap 'Basic' plan which comes at a cost of $1373 for five years (or $274.60 per year) and the more realistic-sounding 'Plus' which costs $3934 over five years (or $786.80 per year).
Like every other BMW, the Z4's computer tells you when its service time: how often it needs maintenance will depend on how often – and how hard – you drive it.
---
Audi R8
6/10
The warranty plan for the Audi R8 is the same as all other Audi models - three years/unlimited kilometres. Not as good as you'll get from Ferrari, which can be optioned with up to 15 years' warranty.
There is no capped price service plan for the R8, and no pre-purchase plan like you can get on the rest of the 'regular' Audi range.