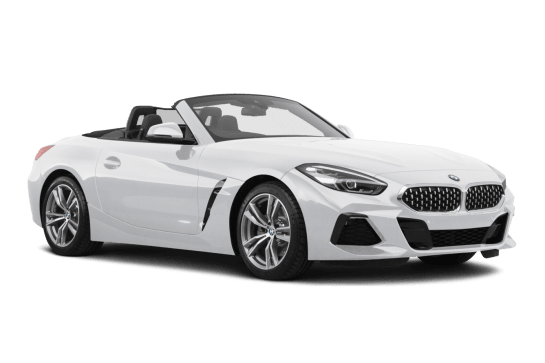 COMPARE
BMW Z4
VS
Lamborghini Huracan
BMW Z4
Likes
Bold exterior styling
Ultra-refined
Surprisingly spacious
Dislikes
A bit too serious to be fun
SUV-like interior
Ownership could be better
---
Lamborghini Huracan
Likes
Soaring V10
Seven-speed gearbox
Even more fun than all-wheel-drive Huracan
Dislikes
Lack of second screen makes dash a bit crowded
Not much storage
Can't see the engine
Summary
BMW Z4
I remember the first Bond film I ever watched.
I was about eight or nine years old, and it was GoldenEye on VHS. In that film, Pierce Brosnan drove a BMW Z3 convertible, which obviously oozed cool.
I didn't know at the time that it was just a little bit weird that he wasn't driving an Aston Martin for the entire duration of the movie, but it didn't matter, that drop-top Beamer with its radar and missiles imprinted itself on my mind.
As such, I've always had a soft spot for BMW's 'zed' range, so I was quite keen to helm this new one as it came through the CarsGuide office, especially since it shares its underpinnings with the new Toyota Supra.
So, is the new Z4 a case of never meet your heroes? Or did it make me feel a little bit like a secret agent? Read on to find out.
| | |
| --- | --- |
| Safety rating | — |
| Engine Type | 2.0L turbo |
| Fuel Type | Premium Unleaded Petrol |
| Fuel Efficiency | 6.5L/100km |
| Seating | 2 seats |
---
Lamborghini Huracan
Lamborghini's Huracan is the howling and fiery follow-up to Sant' Agata's best-selling model ever, the vicious, V10-powered Gallardo.
The first clean-sheet design since Audi's takeover of Lambo in the late 1990s, the new car has picked up where the Gallardo left off, selling like crazy. Since its launch a couple of years back, the new variants have come thick and fast, with the rear-wheel-drive 580-2 joining the LP610-4 as well as Spyder variants of both. Last month Lambo dropped the madcap and much waffled over Performante (or "totally bonkers" version).
Lamborghini's local arm made a canny decision to ensure we could kill two birds with one stone, letting us loose in a Huracan Spyder 580-2. Less power, less roof, fewer driven wheels, more weight. Does it mean less fun, though?
| | |
| --- | --- |
| Safety rating | — |
| Engine Type | 5.2L |
| Fuel Type | Premium Unleaded Petrol |
| Fuel Efficiency | 11.9L/100km |
| Seating | 2 seats |
Verdict
BMW Z4
7.5/10
The Z4 didn't make me feel like Peirce Brosnan's 007. It's way too serious – a proper gritty reboot. Maybe it's meant for Daniel Craig. Either way, its brave design makes it one of the best-looking BMWs of recent memory, and it's a tech- and comfort-fest that the Bavarian automaker should be proud of. I just wish it was a smidge more fun behind the wheel.
What do you make of the Z4's looks - Is it an icon or too far from BMW's roots? Share your thoughts in the comments below.
---
Lamborghini Huracan
7.4/10
The rear-wheel-drive Spyder couldn't be more fun if it put on a silly wig or sprouted a jet engine and wings.
Yes, it's heavier and slower than the Coupe but the Huracan loses almost none of its feel with the roof whipped off, plus you get all the fun and fresh air of a Spyder. The extra weight doesn't mean much on the road and the added bonus of the rear-wheel drive's more responsive steering and even sharper turn-in evens things out.
The V10 is the last of its type, with Ferrari and McLaren both employing forced induction V8s for their smaller sports cars - in McLaren's case, all of them. The Huracan Spyder is everything that's good about Lamborghini - nutty looks, crackpot engine, head-turning theatrics - with all of the bad stuff booted out by parent company Audi. The 580-2 loses none of the fun of the circus and with the roof off it's even louder music to your ears.
Are you roofless in intent or do your sports cars need a lid?
Design
BMW Z4
8/10
The Z4 is a sight to behold. It's brave, especially for a BMW, it even betrays the brand's strongest styling pillars, making its own way with its more horizontal grille design, flat body and curved out rear.
It's more than that, though. In black, this car looks sinister, brooding. The more you look at it, the more you notice tiny details - the scooped-out sides, or the way the entire rear seems to flick up into the integrated spoiler. I couldn't get enough of staring at it – it manages to look even better with the roof down.
That's probably when it hit me. To my eyes, at least, this is the most stunning BMW in years. Sure, the X7 is a sight to behold due to its sheer dimensions and borderline offensive grille, but the Z4 is the opposite. It's subtle, it hides its details away in its silhouette.
It's designer, Calvin Luk (an Australian no less), was inspired at least in part by the Z8 – another Brosnan bond car – and you can see the Fisker design reflected in the Z4's low, flat grille and almost bulbous rear.
Inside, sadly, the Z4's strong design doesn't quite play out. There's no wily Fisker touches here, just a standard set of BMW switchgear. While it all works well, it just dumbs down the Z4's character.
The big, chunky steering wheel in particular is a let-down. It's the same wheel that sits in the brand's X5 SUV, and it feels right there, but not here in a convertible where you're so close to the ground. A smaller wheel would not only suit this car better, it would make it feel just a smidge more alive. I miss the three-spoke M sport wheel from previous-generation BMW cars.
I do like the dash, which is seemly carved from rhomboid shapes - a theme that rolls into the doors, screens, and vents elegantly. I'm normally not a fan of gloss plastics and chrome touches, but in the Z4 they're all tastefully applied.
The seats, too, are lovely. I'm not sure about the contrast bright-red leather our car came with, but they're nice and close to the ground and have excellent trim that you seem to sink into just enough to be comfortable and sporty all at once.
It's a slick place to be, I just wish it felt less like you were at the helm of an SUV and more like you were driving something that looks this damn good.
---
Lamborghini Huracan
8/10
While it is an acquired taste, I'm a big fan of the Huracan's over-the-top-and-keep-going design, and the Spyder is an impressive conversion of the coupe.
The roof is a fabric job and folds away in a tidy 15 seconds, more than quick enough to save you from a drenching in all but the most sudden of rain showers. It looks pretty good when up, doing a decent impression of the coupe's roofline, but roof down with the cool speedster-style humps, the Huracan looks epic.
It's not a shy and retiring car (no Lambo is), not by a long shot and if you enjoy the attention of the local constabulary, the bright yellow (Giallo Tenerife) is the colour for you. One particularly nice touch is the Huracan Spyder script engraved on the windscreen header rail.
Frustratingly, there's only a small cover to gain access to the oil filler - unlike the coupe you can't see the engine through the cover. The rear section of the Spyder is quite different, with a huge composite clamshell that lifts out of the way to allow the roof to stow itself. It's a necessary compromise but a shame as well.
The cabin is standard Huracan, with switchgear handed down from Audi and that brilliant red starter button cover that looks like it should have 'Bombs Away' written on it. There are a lot of fighter-jet influences, and it's a more convincing space than the more expensive Aventador.
Practicality
BMW Z4
8/10
The Z4 is a convertible, so it's naturally compromised on space. As far as convertibles go though, you'll be hard pressed to find one you can fit more stuff into.
The Z4 is wide - the same width, in fact, as a 5 Series - and this carries into the cabin. There are only two seats, but those seats are wide, and occupants will find themselves with luxurious amounts of airspace for their arms, as well as excellent leather-trimmed and padded surfaces for landing elbows on.
Legroom is also great, as the seats have a surprising amount of rail-travel on them, so that even taller folk won't struggle to fit their limbs in.
A genuinely impressive characteristic of the Z4 is much head room there it is. Despite its low-slung looks from the outside, the roof towers over my 182cm tall head when I'm inside, so this isn't one of those convertibles that feels like braking too hard might simply decapitate those above six-foot tall.
In terms of storage areas you get some long but shallow trenches in the doors, a bay with connection ports and a Qi wireless charging pad under the air-conditioning controls, a glovebox (hey, not all convertibles have them) and a trick centre console that houses two deep cupholders inside.
There's also a netted shelf behind the seats that could fit small bags, and given the length of the cabin, you could even fit laptops and the like behind the seats provided you haven't used the full extent of the seat's rearward movement.
The boot is deep, wide and long for a drop-top, and offers a total of 281-litres which is more than some popular hatchbacks. It even offers tie-down points and netting either side. To top it off, the fabric roof folds away into its own compartment, so the boot space is unaffected if you choose to drop the lid.
For a convertible – the Z4 is a practicality wizard.
---
Lamborghini Huracan
6/10
Yes, well, the usual mumbling explanation about how you have to take into account what this car is for and that there isn't the room for everyday luxuries will have to suffice. You do get a cupholder that pops out of the passenger-side dash garnish and the front boot will hold 70 litres. There's not a lot else you can squeeze in, although you can probably slip slim items behind the front seat backs. You'll be golfing on your own.
It's a more comfortable interior than the Aventador, with more head and shoulder room and a better overall position for driver and passenger.
Price and features
BMW Z4
7/10
The Z4 isn't cheap, but it plays in a field of expensive Deutsche drop-tops. Our car was the mid-spec 30i which comes in at an MSRP of $104,900 (before on-road costs).
For that you'll get a more highly tuned version of the base 20i's four-cylinder turbocharged engine, producing 190kW/400Nm, 19-inch alloy wheels, M Sport brakes, Adaptive M suspension, and adaptive LED headlights.
That's on top of the already impressively-specified 20i's kit which includes dual 10.25-inch screens – one for the multimedia functions, the other as a digital dashboard, a head-up display, full Vernasca leather interior trim, auto-dimming rearview mirror, power adjustable and heated front seats with memory function, dual-zone climate control, 10-speaker 205W stereo, a Qi wireless charging pad, and adaptive cruise control as part of a marginally upgraded safety package (more on that in the safety section).
It's a pretty plush set of equipment, although a challenging value proposition as the almost-as-well-equipped 20i starts from $84,900, a full $20k cheaper.
Rivals for this 30i model? You've got the soon-to-be-discontinued Mercedes-Benz SLC300 ($102,500), all-wheel drive Audi TT S quattro ($105,661), and, at a stretch, the entry-level Porsche Boxster ($122,960).
Of course, being a premium European car, there is an extensive options list. Our car was fitted with the excellent and probably-worth-the-money M Sport differential ($2400), as well as the rudely priced M seat belts (literally just the M pattern embroidered in - $560!) and interior ambient lighting package (lovely, perhaps not worth $550).
The Z4 is only offered in five colours, three of which – including our car's Black Sapphire – come at a cost of $2000. The red interior, surprisingly, is a no-cost option.
If you're keeping track that brings the car you're looking at here to $110,410. Not cheap, and it doesn't have six-cylinders - but given its other attributes explored later in this review, the fact that it still manages to undercut an entry-level Boxster is actually reasonable.
---
Lamborghini Huracan
7/10
As always, value for money isn't one of your top priorities if you're looking for a high-end sports car dripping with standard features. The stereo has just four speakers but really, who's going to be listening to Kyle when you ears can reap the Huracan?
You also score dual-zone climate control, remote central locking (the flush fitted handles pop out endearingly as you draw closer), LED headlights, running lights and taillights, (very cool) digital dashboard, electric seats, sat nav, leather trim and a hydraulic lifter to help keep the front splitter pristine over kerbs.
The stereo is clearly Audi's MMI, which is a good thing, except that it's all crammed into the dash, going without a separate screen.
Naturally the option list is long. Our car was specced by a restrained hand, with 20-inch black Giamo alloys ($9110), front and rear parking sensors with reversing camera ($5700 - ahem), black painted brake calipers ($1800) and $2400 worth of Lamborghini logos and stitching. Very nice stitching, obviously.
You can go completely mad if you want to, spending up to $20,000 on matte paint colours, $10,000 on bucket seats, carbon fibre bits can mount up and then of course you can commission stuff to suit your personal taste for even more cash. If you're prepared to drop well north of $400,000 on a car, what's a few more thousand, I guess.
As far as value goes, the Spyder is about right for its segment, coming in around the same price as an admittedly less focused Ferrari California and a bit more than the less-powerful R8 Spyder range.
Engine & trans
BMW Z4
8/10
Welcome to the age of ridiculously powered four-cylinder turbo engines. Despite a capacity of just 2.0-litres, the engine in the Z4 30i produces a whopping 190kW/400Nm.
That's probably enough for a car this size. I'm keen to drive the six-cylinder, but surprisingly it seems to offer diminishing returns for extra cylinders offering a 60kW/100Nm power boost for an extra $20,000. Perhaps a six-cylinder is the way to go in a BMW, and given this car's other seriously sporty attributes, it might be the only way to make it a bit more… fun. More on that in the driving section.
All Z4s are rear-wheel drive, using an eight-speed torque converter automatic. Sorry, no option for a manual this time around.
---
Lamborghini Huracan
9/10
As the name suggests, the 580-2 is 30 metric horsepower down on the 610-4. In our language, that means Automobili Lamborghini's 5.2-litre naturally-aspirated V10 (yes, like many parts, shared with the Audi R8) developing 426kW/540Nm. Those figures are down 23kW and 20Nm on the AWD car.
The official 0-100km/h figure is 3.6 seconds, although it's unlikely it's that slow(!), Lambo's figures are regularly bettered by other publications with little effort.
Power is delivered to the rear wheels by a very upgraded twin-clutch transmission from parent company Audi.
Fuel consumption
BMW Z4
7/10
It's claimed that the Z4 will drink just 6.5 litres per 100 kilometres on the official combined cycle test, but I found that sticking my foot in occasionally resulted in a slightly more realistic sounding figure of 8.4L/100km.
That's still a great fuel consumption number for a car like this, and perhaps one of the strongest benefits of having just four cylinders.
A discerning vehicle, the Z4 will drink nothing less than the best-quality 98RON unleaded to fill its 52-litre tank.
---
Lamborghini Huracan
7/10
The amazing thing about this car is that despite being handed a regular thrashing, its fuel consumption is little worse than a large Toyota SUV's. When cruising along it will sip fuel, with cylinder deactivation helping further ease its thirst. The claimed combined cycle figure is a reasonable (and almost achievable) 11.9L/100km. I got a calculated 15.2L/100km and did not spare the rod, Nosirreebob. And nothing like the terrifying, guzzling consumption of the Aventador's V12.
Driving
BMW Z4
8/10
A car that looks this good better live up to the promise behind the wheel, right?
For the most part, the 30i does, but it's a victim of its own performance credentials and luxuriousness.
See, a drop-top should be fun-packed, you should feel close to the road, connected. Sadly, a combination Z4's excellent suspension and not-so-excellent SUV-like interior separates you too much from the surface below.
An advantage, of course, is the refinement on offer. The Z4 is easily one of the quietest, most refined convertibles I've ever driven, but it's a little too insulated.
I can't help but feel like it's all business and no pleasure. It feels a little more like I should be cruising to work on the autobahn and a little less like I should be flinging it around corners on a tight B-road.
It feels almost wrong to drive it in a T-shirt. It's serious and doesn't want you to mess around, it wants you to wear a suit and tie.
This grand-tourer style feel is one that will keep a lot of buyers in the premium space happy, but I'm of the opinion that BMW will have that segment well and truly covered by the new 8 Series. If the budget allows.
Regardless, the 30i's four-cyl engine feels like any six-cylinder would have a few years ago. It's got a surge to it in the straights that's quite satisfying, and it responds via the exhaust with an angry tone that makes it feel a little more alive, especially with the roof down.
This feeling was all helped along by our car's M active differential which simply won't let the fat tyres at the rear slide unless you've got high-speeds and loads of tarmac to play with – for better or worse.
The Z4 also has 'variable sport steering' which reacts to the car's speed and position of the wheels to adjust the input ratio. It's good when you're at speed, but the weight and response of the steering can make the Z4 feel bigger than it actually is at lower speeds. 
The suspension is firm, and can be a little bouncy over rough surfaces, but seems well suited to the Z4's chassis.
Other than those notable characteristics you'll find that the Z4 is wonderfully tuned in terms of its inputs, everything is slick and smooth, suited perfectly for long meandering drives.
---
Lamborghini Huracan
9/10
The Huracan's V10 is a glorious thing. It revs to the redline like a demon and does it all day every day. It feels utterly unburstable and delivers its power with such joy and abandon it gets under your skin.
With the roof off and Sport mode engaged on the Anime switch, the mix of induction and exhaust noise is utterly addictive. It's a theatrical machine, popping and banging and the metallic scream under power all combine to blow away the cobwebs in double quick time. Its sound is symphonic and pulling the gearshift instantly changes the note. It's breathtaking.
A big part of this particular car's charm is the switch to rear-wheel drive. The engineers didn't just forget to bolt in the propshafts and front-wheel-drive gear, but the steering had a going-over to compensate for the changes and to improve feel and responsiveness. It worked.
Where the all-wheel drive is prone to mild understeer, the front end of the dash-two is a little more planted. The Spyder might be heavier than the Coupe, but the rear-wheel-drive car feels that tiny bit more agile, with a lightning change of direction and a livelier rear-end. It's more delicate than -4 and doesn't feel appreciably slower.
One side note about the -4's understeer: it simply isn't a big deal. The internet will tell you it "understeers like a pig". The internet is completely wrong, but you already knew that; the internet loves cat videos. Nobody accuses the Ferrari California of the same vice, and yet it, too, understeers mildly in standard spec (as opposed to HS) - it's deliberate, safer and user-friendly. It is not, however, a pig.
Anyway. On with the show.
In an effort to lower the cost of the 580-2, it also comes with steel brakes - the expensive carbon ceramics are an option. On the road, you're not really going to notice too much difference apart from slightly different pedal feel. It probably renders the Huracan a less effective track car, but the reality is, not that many owners are going to care, particularly Spyder buyers.
I spent most of my time in Sport mode - it's where the most fun is to be found, with the electronics taking a more relaxed approach to the car's attitude. The drive-by-wire throttle is lovely and sharp, the steering a bit weightier and the seven-speed twin-clutch (or, as I prefer to say at every opportunity, doppio frizione). Corsa is certainly fast but it's far more interested in getting the car straight and slinging it out of the exit of a corner. Don't bother with Strada mode - it's far too soft, and deeply unappealing.
Safety
BMW Z4
8/10
Convertibles and safety don't often fall in the same sentence, unless its one where a concerned relative is trying to convince you not to buy one.
In any case, the Z4 benefits from four airbags (dual front and dual side), as well as the expected electronic stability controls. That optional M Sport differential will have the added bonus of preventing any unexpected slip and slide at the rear.
On the active side the Z4 gets 'Driving Assistant' which includes forward collision warning (FCW), lane departure warning (LDW), rear cross traffic alert (RCTA), and rear collision warning. The 30i grade also gets 'active cruise control with stop & go' which allows for full auto emergency braking (AEB) with pedestrian and cyclist detection. Not on the spec sheet, but apparently present in the car I drove was some form of traffic sign recognition (TSR) and lane keep assist (LKAS).
A nice high-res reversing camera displayed on the massive touchscreen is a welcome standard addition.
Considering the meagre safety specification of most convertible cars, the Z4 30i shines with a half-way decent active safety suite. But you can forget ISOFIX child-seat anchor points. There aren't any. 
---
Lamborghini Huracan
6/10
The Huracan has four airbags, ABS, stability and traction controls and brake force distribution. A super strong carbon fibre and aluminium spaceframe does the heavy lifting in a crash.
As you might expect, there isn't an ANCAP safety rating and nor is there one for its blood relative, the R8.
Ownership
BMW Z4
6/10
If recent quotes are anything to go by BMW is set to stick by its lacklustre three-year unlimited kilometre warranty, as it says its customers simply aren't interested in five years (or longer) when it comes to warranty coverage.
It's a shame, as even Volkswagen has upped its warranty to five years, and Mercedes has considered a 10-year coverage plan in the past.
In terms of servicing, there are two fixed-price plans available – the suspiciously cheap 'Basic' plan which comes at a cost of $1373 for five years (or $274.60 per year) and the more realistic-sounding 'Plus' which costs $3934 over five years (or $786.80 per year).
Like every other BMW, the Z4's computer tells you when its service time: how often it needs maintenance will depend on how often – and how hard – you drive it.
---
Lamborghini Huracan
7/10
The Huracan is supplied with a three-year, unlimited-kilometre warranty. Given the usual mileage of a car like this, that's ample. There's three-year roadside assist into the bargain and the option to extend the warranty - $6900 for one year and $13,400 for two, which seems okay given what can go wrong in such a sophisticated car.
Servicing intervals are an absurdly reasonable 15,000km although you're expected to visit the dealer once a year (mainly so you can order your next Lambo).