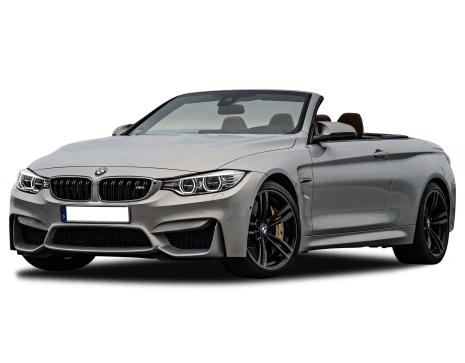 COMPARE
BMW M4
VS
Chevrolet Camaro
BMW M4
Likes
Speed
Adaptive suspension
Ripping dual-clutch auto
Dislikes
No AEB
Awkward access to tight rear seats
So-so warranty
---
Chevrolet Camaro
Likes
Looks like a real-life Hot Wheels
Sounds sensational
Fun to drive
Dislikes
Boot opening is small
Expensive compared to Mustang
No AEB
Summary
BMW M4
When it comes to cars, the letters B, M, and W carry huge credibility. But the extra letters and numbers that follow make all the difference.
A second M for example, means the hot rodders in the Munich maker's performance and racing skunkworks have played with everything from the drivetrain, aero and suspension, to the rims, rubber and interior design.
The number sitting next to it then determines whether you're looking at a compact firecracker (M2), fast-lane monster (M5), or bruising family truckster (X6 M). But every now and then some additional letters find their way onto even a BMW M car's bootlid.
In this case, a C and an S are significant additions to the already impressive M4 badge. They stand for Coupe Sport and were famously applied to BMW's achingly beautiful (E9) coupes of the late 1960s and early '70s.
So, with the howling echo of that all-time classic's in-line six ringing in its ears, the new M4 CS stands up as a proper high-performance coupe, pitched against the likes of Audi's recently reborn RS 5, the Lexus RC F, and Merc-AMG's soon-to-arrive C 63 S Coupe.
Does the CS legend live? Read on to find out.
| | |
| --- | --- |
| Safety rating | — |
| Engine Type | 3.0L turbo |
| Fuel Type | Premium Unleaded Petrol |
| Fuel Efficiency | 8.8L/100km |
| Seating | 4 seats |
---
Chevrolet Camaro
Nobody really needs to drink beer and absolutely nobody needs to go skydiving. You don't need tattoos nor to eat ice cream, nor put art on their walls, and absolutely nobody needs to play Stairway to Heaven, badly, on guitar. Likewise, nobody needs to buy a Chevrolet Camaro.
And there's your answer if anybody has a go at you for arriving home in this big American muscle car, because if we only did things we needed to do, I'm pretty sure we wouldn't be having as much fun.
The Chevrolet Camaro has been the Ford Mustang's recurring nightmare since 1966, and this latest, sixth generation of the Chevy icon is available to continue the fight here in Australia, thanks to some re-engineering from HSV.
The SS badge is also legendary and was emblazoned on our test car, although it's really a 2SS, and we'll get to what that means below.
As you're about to see, there are many good reasons to buy the Camaro SS and a few that might make you reconsider, but think about this – within the next two decades it's entirely possible a car like the Camaro, with its 6.2-litre V8, may be banned because of emission regulations. Outlawed. You also never know how much longer HSV will continue to sell it in Australia. Maybe that's reason enough to get one? Before it's too late.
| | |
| --- | --- |
| Safety rating | — |
| Engine Type | 6.2L |
| Fuel Type | Premium Unleaded Petrol |
| Fuel Efficiency | —L/100km |
| Seating | 4 seats |
Verdict
BMW M4
7.8/10
The BMW M4 CS is every bit as fast and engaging as you'd expect it to be. But be prepared for the day-to-day compromises that go with its pared back interior layout. It's beautifully engineered and dynamically excellent, but will have its hands full when Merc-AMG's similarly sized and priced (updated) C 63 S Coupe arrives shortly to rattle its cage.
Is the BMW M4 CS your kind of four-seat sledgehammer? Tell us what you think in the comments section below.
BMW offers the 'Service Inclusive' program, a one-off advance payment to cover scheduled costs at the 'Basic' or 'Plus' level.
---
Chevrolet Camaro
7.4/10
The Camaro 2SS is a real-life Hot Wheels car. This beast looks amazing, sounds incredible and is not overpowered, making it usable as a daily driver.
Now about that score. The Camaro 2SS lost big marks for not having AEB, lost more marks for the short warranty and no capped-price servicing and also some for its price, because compared to the Mustang it's expensive. It's also impractical (space and storage could be better) and uncomfortable to drive at times, but this is a muscle car, and a great one at that. It's not for everybody, but  truly perfect for some.
Ford Mustang or Chevrolet Camaro? Which would you pick? Tell us what you think in the comments below.
Design
BMW M4
8/10
The M4 in either entry-level Pure, or next-step-up Competition spec already looks like John Cena in a 10-year-old's t-shirt, with muscular bumps, curves and cuts extending aggressively in all directions. From its bulbous 'power dome' bonnet, to the pumped-up guards and gaping vents, the M4 screams 'don't argue'.
But this CS version borrows heavily from the track-focused M4 GTS (phased out earlier this year) and dials the aggro up a few notches.
A Matterhorn-sized bulge in the centre of the lightweight CFRP (Carbon-Fibre Reinforced Plastic) bonnet descends towards a broad air extraction vent that could double as a stormwater drain in bad weather.
The front, exposed carbon splitter is a slightly less accentuated version of the GTS's race-ready set-up, and the signature kidney grille is finished in menacing gloss black.
That black finish, part of the standard BMW Individual 'Shadow Line' package, also extends to the side-window trim, window recess covers, and vents on the front wings.
CFRP (unpainted this time) reappears on the roof, and an exposed carbon Gurney flap-style spoiler adds a touch of flash and aero efficiency to the bootlid. A nice match for the carbon diffuser below.
Suitably wide black alloy rims (19-inch front, 20-inch rear) further enhance the intimidating look, with twin LED headlights and an 'Organic rear lighting system', the latter another lift from the GTS, delivering an impressively vivid display.
The interior is familiar BMW territory, but it does feel like you've had a nasty break-up and your significant other has filled the moving van with all the luxury bits.
The leather and Alcantara trimmed sports seats are classy and racy enough, but the door cards are made from a natural-fibre composite BMW calls 'Nawaro'. There are no storage pockets, and you get a webbing strap to help pull the door closed.
Super lo-fi, and bafflingly, the 'armrest' slopes downward at an angle that, despite an Alcantara-trimmed pad, makes it just about impossible to actually rest your arm on it. Perhaps it adds some wheel-twirling elbow room, but for the other 99 per cent of the time it's just annoying.
Although trimmed in contrast-stitched Alcantara, the centre console is also a rudimentary affair, with no storage box between the front seats or adjustable air vents for rear-seat passengers. It might be good for weight saving, but it's not so great in terms of day-to-day practicality (which we'll get to shortly).
There's more Alcantara on the M Sport steering wheel (a leather wheel is a no-cost option) and dash-panel insert, with the CS designation neatly called out in mosaic-style lettering near the centre stack.
---
Chevrolet Camaro
9/10
As was the case with Ford's Mustang, something seemed to go bizarrely weird in the styling of the Camaro in the early 2000s, but by 2005 the arrival of the fifth generation saw a design that re-imagined the original (and I reckon the best) 1967 Camaro. Now this sixth-generation car is a sharper resolution of that, yet not without causing a bit of controversy.
Along with styling changes, such as redesigned LED headlights and taillights, the front fascia was also given a tweak, which involved repositioning the Chevy 'bow-tie' badge from the upper grille to the black-painted cross bar that separates the top and bottom sections. The reaction from fans was enough for Chevrolet to quickly redesign the front and move the badge back.
Our test car was the version with the 'unpopular' face, but I reckon it gets away with the look, thanks to the body colour being black, which means your eye isn't drawn to that cross bar.
Here's some pub ammo for you – Chevy calls the 'bow tie' on this Camaro a 'Flow Tie' because its hollow construction means air can pass through it to the radiator.
Big on the outside but small inside, the Camaro's dimensions show it to be 4784mm long, 1897mm wide (not including mirrors) and 1349mm tall.
Ford's Mustang is elegant, but Chevy's Camaro is more macho. Big haunches, long bonnet, flared guards, nostrils. This is one mean-looking monster. Those high sides and 'chopped' roof design may also make you assume the cabin is more cockpit than lounge room.
That assumption would be right and in the practicality section further down I'll tell you just how cozy the interior is, but for now we're just talking about looks.
I'm not sure what David Hasselhoff's apartment looks like, but at a guess I reckon it would have a hell of a lot in common with the interior design of the Camaro 2SS's cabin.
Soft, black leather seats with SS badging, giant metal air vents, door handles that look like chrome exhaust tips and a display screen that is oddly tilted towards the floor.
There's also an ambient LED lighting system that lets you choose from 1980s-neon colour palettes, the likes of which we haven't seen since Ken Done's outstanding depiction of a Koala family sitting down to a barbecue lunch.
I'm not knocking it, I love it, and even though the guys in the office thought it would be hilarious to set the lighting to hot pink, I kept it that way because it looks awesome.
Practicality
BMW M4
7/10
When it comes to cars, practicality is a subjective area. The M4 CS offers plenty of space for the driver and front-seat passenger, with room for two more in the back, as well as a decent boot. Practical, right?
But day-to-day details make all the difference and the drive to simplify the CS's cabin and reduce the car's overall weight has seen many common interior-storage options deleted.
The price CS owners pay for racy minimalism is a complete absence of door bins, no lidded box between the front seats, and no oddments tray in the middle of the centre console. Just a pair of cupholders ahead of the gearshift, and a shallow tray beyond that.
If you and a friend get into the car each carrying a standard load of personal junk like a phone, keys, wallet, and a beverage of some description, capacity is immediately exceeded.
Yes, you can shove all that 'stuff' into the (medium-sized) glove box, and that's probably the safer option anyway. But it's not as convenient as slipping things into strategically placed bins and boxes.
In terms of charging/connectivity there's a 12-volt outlet between the cupholders, and a single USB port oddly placed towards the rear of the centre console.
And while there are two seats in the back, getting to them requires the flexibility of a side-show contortionist, and the patience of a Tesla Model 3 reservation holder (the electric system that slides the front seat forward is glacially slow).
Even once you've managed to thread the needle through to the back, headroom is tight, so it's fine for kids and an occasional-only option for grown-ups. There are no cupholders or even a fold-down centre armrest back there, but there is a small, open oddments tray between the seats.
The boot offers a generous 445 litres of space and it's enough to easily swallow the CarsGuide pram or our three-piece hard suitcase set (35, 68 and 105 litres).
A cargo net is standard, there are four tie-down anchors, a small netted storage section behind the passenger side wheel tub, a cubby on the opposite side, shopping-bag hooks and conveniently placed handles, which release the 60/40 split-folding rear seat backs to liberate more room.
Don't bother looking for a spare wheel of any description. A repair/inflator kit is your only option.
---
Chevrolet Camaro
7/10
The Camaro 2SS's cabin is cozy for me at 191cm tall, but even with a similarly proportioned photographer riding shotgun it wasn't too cramped. Believe it or not, we were able to carry all his equipment and lights, plus batteries for our night shoot (have you seen the video above – it's very good). I'll get to the boot size in a moment.
The Camaro 2SS is a four-seater, but those rear seats are only going to suit small children. I was able to fit my four year old's car seat into place with a bit of gentle persuasion, and while he could sit behind my wife, there was zero space behind me when I was driving. As for visibility, we'll get to that in the driving section below, but I can tell you he couldn't see much from his tiny porthole.
Cargo capacity of the boot is small, as you'd expect, at 257 litres, but the space is deep and long. The problem is not the volume, however, it's the size of the opening, which means you'll have to cleverly angle larger items to get them in, like pushing a couch through your front door. You know, houses are big, but their openings aren't. I know, profound.
Cabin storage is also limited, the door pockets were so thin my wallet couldn't even slide into it (no, it's not the wads of cash), but there was just enough room in the centre console storage bin for it. There are two cupholders, which are more like elbow holders, (because this part wasn't swapped over in the conversion and that's where your arm lands while driving) and a glove box. Rear-seat passengers have a large tray to fight over in the back.
The 2SS doesn't have a wireless-charging pad like the ZL1, but it does have one USB port and a 12V outlet.
Price and features
BMW M4
8/10
In a classic less-is-more (money) scenario, the $189,529 BMW M4 CS cops a decent serving of standard features, but misses out on some of the luxury trimmings included on the next-rung-down M4 Competition ($156,710).
Standard inclusions run to adaptive LED headlights (including 'BMW Selective Beam' anti-dazzle tech), adaptive M suspension, combination 'Merino' leather/Alcantara seat trim, Alcantara-wrapped 'M' sports steering wheel (with blue/red stitching), a configurable head-up display, a 'BMW Individual' Anthracite roofliner, 'Comfort Access' (keyless entry and start), plus the 'iDrive6' multimedia system (managed via controller, touch or voice) running through an 8.8-inch, high-definition screen.
There are also big 10-spoke forged alloy rims, front-seat heating, sat nav, automatic headlights, rain-sensing wipers, front and rear park distance control, 'Surround View' parking assist, and the 'BMW ConnectedDrive' suite ('BMW Connected+' smartphone app, real-time traffic info, concierge services, and more).
That's a heavyweight equipment list for a car that's all about lightness. Inside, besides the basic door and centre console arrangement, the other significant concessions to kilo stripping are a 'specially adapted' 12-speaker version of Harman/Kardon's 'Surround Sound' audio system with DAB+ digital radio (16-speaker in the Competition), and a simplified, single-zone climate control set-up (dual-zone in the Competition).
Kind of like the CEO wearing a Swatch watch; they're wealthy and powerful, but 'all about performance', so they wear a functional, conspicuously un-flashy timepiece. They still live in a $10m penthouse apartment, though.
---
Chevrolet Camaro
7/10
You know how people talk about cars not always being a rational purchase? This is the type of vehicle they're talking about. The Camaro 2SS lists at $86,990 and the total tested price of our car was $89,190, because it was fitted with the optional 10-speed auto for $2200.
In comparison, the V8 Ford Mustang GT with the 10-speed auto is about $66K. Why the big price difference? Well, unlike the Mustang, which is built as a right-hand-drive car in the factory for places such as Australia and the UK, the Camaro is only built as a left-hand drive. HSV puts about 100 hours into converting the Camaro from left to right-hand drive. That's a big job and involves gutting the interior, taking out the engine, swapping the steering rack and putting it all back together again.
If you still think $89K is a lot to spend on a Camaro, then think again because the top-of-the-range hardcore race-car-for-the-road ZL1 Camaro lists for about $160K.
Those are only the two grades of Camaro in Australia – the ZL1 and 2SS. The 2SS is a higher-specified version of the 1SS sold in the US.
Standard features in the 2SS include an eight-inch screen, which uses Chevrolet's Infotainment 3 system, a nine-speaker Bose stereo, Apple CarPlay and Android Auto, head-up display, rear-view camera and rear camera mirror, dual-zone climate control, leather seats (heated and ventilated, plus power adjustable in the front), remote start, proximity key and 20-inch alloys.
That's a decent amount of kit and I'm particularly impressed by the head-up display, which you don't get in the Mustang, and also with the rear-vision-mirror camera, which turns the entire mirror into an image of what's behind the car.
Engine & trans
BMW M4
9/10
Like its E9 coupe forbear, the M4 CS is powered by an in-line six-cylinder engine, but things have moved on over the last 50 years, and the current (S55) engine offers a mechanical case study in the marriage of high-performance and efficiency.
The all-alloy unit features direct injection and twin turbos, the key drivers behind a stonking 600Nm of maximum torque (50kW up on the M4 Competition), available from 4000-5380rpm, and peak power of 338kW (+7kW), arriving at 6250 rpm.
It also features a 'charge air' (air-to-air) intercooler, 'Double Vanos' variable cam timing, and 'Valvetronic' variable valve lift (inlet and exhaust side).
The sleeveless cylinders use 'Electric Arc Wire Spray' technology to form a thin coating of iron on the cylinder walls, to save weight (no cast-iron liners) and reduce manufacturing complexity. And the engine's closed-deck design increases the block's torsional rigidity, enabling a substantial 10.2:1 compression ratio and use of a lightweight, forged crankshaft.
Transmission is a seven-speed 'M Double-Clutch' (M DCT) dual-clutch auto, complete with dedicated oil cooler, and drive is distributed across the rear axle via an electronically controlled, multi-plate 'Active M Differential'.
---
Chevrolet Camaro
8/10
Sure, the 2SS doesn't produce the mammoth 477kW of the ZL1, but I'm not complaining about the 339kW and 617Nm it does make from its 6.2-litre V8. Besides, 455 horsepower from the 2SS's naturally aspirated LT1 small block is plenty of fun and the sound on start-up through the bi-modal exhaust is apocalyptic - and that's good.
Our car was fitted with the optional 10-speed auto ($2200), with paddle shifters. The automatic transmission was developed as a joint venture between General Motors and Ford and a version of this 10-speed is also found in the Mustang.
This traditional torque-converter automatic isn't the quickest shifting thing, but it suits the big, powerful and slightly lethargic personality of the Camaro 2SS.
Fuel consumption
BMW M4
8/10
Claimed fuel economy for the combined (ADR 81/02 - urban, extra-urban) cycle is 8.3L/100km, the twin-turbo six emitting 194g/km of CO2 in the process. 
Over roughly 350km of city, suburban and freeway driving (much of it 'enthusiastic') we recorded 10.9L/100km (at the bowser) An impressive number for such a strongly performance-focused machine.
Minimum fuel requirement is 98 RON premium unleaded, and you'll need 60 litres of it to fill the tank.
---
Chevrolet Camaro
7/10
Okay, brace yourself. During my fuel test I traveled 358.5km and used 60.44L of premium unleaded, which comes out to be 16.9L/100km. That sounds awfully high, but actually it's not as bad as it looks, considering the Camaro 2SS has a 6.2-litre V8 and I wasn't driving it in a way that would conserve fuel, if you get my drift. Half of those kilometres were on motorways at 110km/h, the other half would have been in bumper-to-bumper city traffic, which would have driven up the fuel usage, too. 
The official fuel consumption after a combination of open and urban roads is 13L/100km.
Driving
BMW M4
8/10
Let's get it out of the way. The M4 CS is fast. Anything running 0-100km/h in less than four seconds gains admission to a seriously rapid club, and BMW claims 3.9sec for this car (an exact match for the soon-to-arrive Merc-AMG C63 S Coupe).
We might have given the standard launch-control system a go, and may be able to confirm straight-line acceleration from step-off will compress your chest like an over-zealous lifesaver at CPR practice.
But just as impressive is the in-gear thrust, with 80km/h to licence loss (120km/h) covered in only 3.4sec. Which plays to the twin-turbo six's strength, with maximum torque arriving at a relatively high 4000rpm, and remaining on tap until 5380rpm.
Power doesn't reach its peak until 6250rpm, with the rev ceiling sitting at 7600rpm; impressively high for a twin-turbo engine.
Everything from the DSC, ABS, and active suspension to the active diff, electrically assisted steering and seven-speed, dual-clutch transmission has been tuned specifically for the M4 CS.
The 'M DCT' auto is agreeably civilised at parking speeds, yet shifts positively and rapidly, especially in manual mode, under pressure at higher pace.
An M Sport exhaust system features electronically controlled flaps sitting directly in front of the rear mufflers, and varies the intensity of the accompanying soundtrack according to drive mode and level of aggression. It sounds suitably angry, but those hoping for the soaring purity of say the (S54) naturally aspirated in-line six found under the bonnet of the E46 M3 will be left hankering for the good old days.
Front suspension is a modified MacPherson strut design, with a five-link set-up at the rear, and data from wheel-acceleration sensors on each corner is used to recalibrate each damper's setting every 2.5 milliseconds.
The drivetrain, suspension and steering can each be dialled into 'Comfort', 'Sport' or 'Sport+' modes, and the CS's ride changes markedly in the switch from Comfort to Sport; the former proving compliant and smooth rolling over rough city surfaces, and the latter keeping things reassuringly buttoned down on a B-road blast.
Although BMW says that, unlike the M4 GTS, it has deliberately steered the M4 CS away from a focus on the circuit (no roll cage, no adjustable splitters or spoilers) we'd suggest it's best to keep the Sport+ suspension setting for track days unless you're already planning on replacing some of your older fillings.
Speaking of track days, BMW says the M4 CS's dynamics were "honed on the Nurburgring Nordschleife" where it's recorded a best lap time of 7:38, which is as fast as a Ferrari 458 Italia and Lexus LFA. That's very, very impressive.
At 1580kg the M4 CS is 35kg lighter than the M4 Competition (1615kg), and just five kegs under the Pure (1585kg), so despite all the light-weighting hype it's worth remembering we're still looking at a car tipping the scales at just under 1.6 tonnes.
The electromechanical steering can also be tuned through the three performance modes, and Sport delivers the best combination of quick turn-in, agreeably linear assistance and decent road feel.
But putting the CS's power down out of even moderately quick, tight corners is less convincing. The big forged-alloy rims (19-inch front, 20-inch rear) are shod with ultra-high-performance Michelin Pilot Sport Cup 2 rubber (265/35 front – 285/30 rear).
Squeezing the power in smoothly but quickly, the semi-slick tyres feel like they need more heat in them. Without going anywhere near the DSC's more taily 'M Dynamic' modes, and despite the active diff, the rear of the car will squirm when fed full throttle acceleration on corner exit, unsettling overall balance. Less edgy Michelin Pilot Super Sport tyres are a no-cost option.
The standard M sport front seats look the part (the M4 logos in the backrest illuminate!) and grip firmly without any discomfort for this 183cm tester.
And when it comes to slowing everything down, the standard brakes run to big ventilated discs front and rear, clamped by four-piston calipers at the front, and two-piston at the rear.
Our test example was optioned with the $15,000 'M carbon ceramic' package featuring humungous carbon rotors, thumping six-piston calipers up front, and four-piston rear. For that money you'd expect Le Mans-style braking performance, and while we didn't exactly put them to a 24-hour high-speed test, firm application of the left-hand pedal will consistently stand the car on its nose.
---
Chevrolet Camaro
8/10
Exactly how an American muscle car should be – loud, a bit uncomfortable, not all that easy, but a hell of a lot of fun. Those first three attributes may sound like negatives, but take it from somebody who owns and loves hot rods - it's part of the appeal. If an SUV is not easy to drive or comfortable there's a problem, but in a muscle car it can enhance the engagement and connection factors.
That said, there will be many who think the ride is too firm, the steering heavy and that it feels like you're staring out a letterbox slot through the windscreen. It's all true, and there are other performance cars out there which make as much horsepower, handle better and are so easy to drive they can almost (and some do) pilot themselves, but they all lack the feeling of connection the Camaro offers.
Wide and low-profile Goodyear Eagles (245/40 ZR20 at the front and 275/35 ZR20 at the rear) provide good grip, but also feel every blemish in the road, while four-piston Brembo brakes all round pull the Camaro 2SS up well.
Acceleration from 0-100km/h isn't disclosed by HSV or Chevrolet, but the official line is that it'll nail it in under five seconds. Ford reckons its Mustang GT can do the same in 4.3 seconds.
If you were wondering if you could live with the Camaro daily, the answer is yes but, much like wearing leather pants, you'll have to suffer a bit to look this rock and roll. I put 650km on the clock of our 2SS during my week with it, using it daily in peak-hour traffic into the city, in supermarket car parks, and for daycare drop offs, with country road and motorway drives on the weekend.
The seats can get uncomfortable over long distances and those low-profile 'run-flat' tyres and firm dampers don't make life any comfier. You'll also find that wherever you go people will want to race you. But don't get sucked in; you're slower than you look - another muscle-car trait.
Sure, it's not the quickest performance car I've steered and on winding roads its handling capability is not up there with many sports cars, but that V8 is responsive and angry in Sport mode and smooth in its delivery of grunt. The exhaust note is sensational and the steering, while heavy, offers great feel and feedback. The sound isn't electronically enhanced but it uses bi-modal valves, which open and close at different engine and exhaust loads to produce its addictive bark.
Safety
BMW M4
7/10
The BMW 4 Series (and by extension the M4 CS) hasn't been assessed for crash safety by ANCAP or EuroNCAP, but boasts a solid array of active and passive safety tech, with several notable omissions.
To help you avoid a crash the M4 CS features ABS, brake assist, EBA, EBD, 'Cornering Brake Control' (CBC), Dynamic Stability Control (DSC), Dynamic Traction Control (DTC) and dry braking, 'Emergency stop signal', lane-departure warning and a tyre-pressure-monitoring system.
M4 owners also receive a complimentary BMW Intensive Driving Experience course (one person per vehicle purchase), which is arguably the best crash prevention measure of all.
But significantly, there's no AEB (Auto Emergency Braking) or other, more recent safety bits and pieces (found on other current BMW models) like blind-spot monitoring, forward-collision warning, fatigue detection, reverse collision avoidance, or speed-sign recognition and warning.
If all else fails and a collision is unavoidable passive safety tech runs to head and side airbags for the driver and front passenger, as well as curtain airbags covering front and rear. But again, things like an active bonnet and active front head restraints, fitted elsewhere in the BMW world, are MIA.
There are ISOFIX child-restraint anchors with top tether points in each of the rear seat positions.
---
Chevrolet Camaro
7/10
The Chevrolet Camaro 2SS doesn't have an ANCAP rating, but it's certain that it wouldn't achieve the maximum five stars because it doesn't have AEB. There is forward-collision alert which warns you of an impending impact, there's also blind-spot warning, rear cross traffic alert and eight airbags.
For child seats (and I did put my own four-year-old in the back) there are two top-tether points and two ISOFIX mounts in the second row.
There's no spare wheel here, so you'll have to hope you're within 80km of home or a repair shop, because that's how far the Goodyear 'run-flat' tyres will get you.
The low (ish) score is for the lack of AEB. If the Mustang can be fitted with autonomous emergency braking, then the Camaro should be, too.
Ownership
BMW M4
7/10
Warranty cover is three years/unlimited km, with 24/7 roadside assistance included for three years, and additional support from BMW 'Servicemobiles' (07:00 – 23:00 every day) staffed by trained techs and stocked with key service parts.
Maintenance on all BMW 4 Series models is controlled by a 'Condition Based Servicing' system which piles real-time data (mileage, time since last service, fuel consumption, and how the car has been driven) into a specific algorithm to determine whether an annual vehicle inspection or (oil) service is due.
---
Chevrolet Camaro
6/10
The Camaro 2SS is covered by HSV's three-year/100,000km warranty. Servicing is recommended at nine-month/12,000km intervals, with a complimentary inspection at the end of the first month. There is no capped-price-servicing program.