Top 8 Off-Road Campers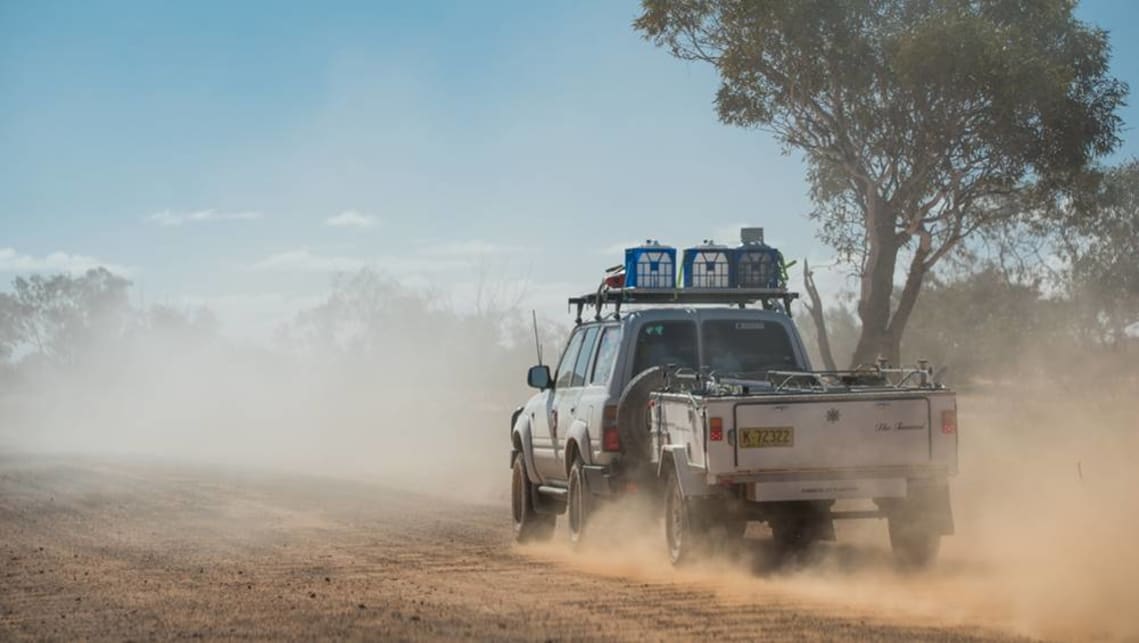 As it's become easier and easier to get information about, or be romanced by images of, Australia's outback and other incredibly remote destinations, the desire to travel to those places has grown.
More people want to escape into the unknown, but we want to take as much comfort with us as possible. Enter the camper trailer, a simple contraption that can make camping palatable to just about anyone, but small enough to be towed just about anywhere by a 4x4. But while many marketers, salesmen (and even off-road camper trailer reviews) might have you believe that all (or at least their) trailers are ready to rumble, there's a big difference between a sticker on the side of a camper and its ability to survive all terrains and still provide comfort at the end of a hard day's drive into the extreme outback.
So, let's start at the beginning – what's the difference between an on-road camper, a camper that says it's off-road but probably isn't and an actual off-road camper trailer? 
Mostly, it comes down to the amount of money you're prepared to spend on it. The most basic camper trailers, those just for plying the highways up and down the coast to Mum and Dad's favourite caravan park, don't need to be overly resilient or have high ground clearance. They mostly need to be able to cart kids' bikes and boards, have somewhere comfy for Mum and Dad to sleep (and the kids if they're lucky), plus a serviceable kitchen. It means manufacturers can use simple (and almost archaic) suspension systems, use lighter materials in the chassis and draw bar and use more common trailer parts. Some are little more sophisticated than garden trailers with a tent on top, others (like the Jayco-esque pop-up campers) are mini caravans on lighter frames. Good for bitumen; likely to have bits fall off if used more seriously. 

Not all camper trailers that are called off-roaders can really handle off-road conditions. Image by Brendan Batty.
Camper trailers that are claimed to be off-road ready but probably aren't, usually have all the cosmetic signs they can go anywhere, but little substance – usually the bigger the 'off-road' sticker, the worse the camper will be. They might have good ground clearance, a cheap all-terrain tyre package and shiny suspension, but if they're 50 per cent cheaper than anything else, there's definitely a reason why. 
The best off-road camper trailers, unfortunately, are expensive to build – whether that's in Australia or overseas. An off-road camper trailer can be two of the following three things: cheap, strong and light. If you want it strong and light, it won't be cheap. If you want it strong and cheap, it won't be light. And because cheap isn't something that helps you go further off-road, whereas strong and light are, they're the qualities to choose. 
The process is labour intensive, manufacturers mostly work on small production numbers and often use high-quality, third-party components to ensure they do what they're needed. And most, as you'll see below, are completely, or at least mostly, Australian made. That's not a criticism of imported campers by any means, just an observation of the state of play, at the moment. I expect within a few years, that will have changed. 

It just so happens that the best off-road camper trailers are usually built in Australia.
At a minimum, you should expect a modern off-road camper trailer to have a coil-spring independent suspension system, a chassis specifically designed for off-road use with a draw-bar that's one piece with the main chassis, or at least runs back to the front of the suspension arms. Expect it to be hot-dip galvanised or powder-coated – pre-fab rust-proofing like Duragal is not up to scratch. It should also have some sort of off-road hitch, as standard – if it's an option, there's a good chance the camper's not really an off-roader – and underneath, nothing important like plumbing or wiring should be unduly exposed to potential damage. 
Off-road camper trailers come innumerable different forms, and it's at this end of the market where much of the innovation happens. Independent suspension was first developed for camper trailers by Vehicle Components (now Cruisemaster) and solar power and self-sufficiency products matured on small trailers before the caravanners really took notice. 

Camper trailers like the Patriot X1 are constantly being upgraded and improved. Image by Brendan Batty.
Traditionally, off-road campers have been divided into two camps: soft-floor, which is one with a tent that has a plastic or vinyl floor like a normal tent, and hard-floor, which is one which flips open, so the trailers roof becomes the tent's floor. Although after years of custom designs and constant evolution camper trailers now come in a variety of forms:
Forward- or side-folding – the trailer roof flips forward and becomes the bed base.
Hybrid – something like a caravan, but usually smaller and narrower with an external kitchen and often limited interior space for things like ensuites or dinette tables
Tear-drop – just like the classic teardrops of old, but far more sophisticated.
Pop-up – the concept popularised by Jayco, but which has been around far longer
Double fold – the trailer's lid is hinged at both ends with a join in the middle. When it unfolds, it reveals a bed at each end, leaving the living space in the middle.
Loft – A concept that's growing in popularity it is, in essence, a trailer with a roof-top tent on it.
Any and all can be great for solo, couple or family travel, but they do often fall into certain camps, so if you're looking at some for sale or hire, it has to suit your needs. Tear-drop, hybrid, loft and any of the folding campers often make great options for solo or couple travellers, while the soft-floor, pop-up and double-fold campers are usually the best suited to families because of the generous internal space provided. 
If you're looking for a good off-road camper trailer, these ones below are the pick of the bunch, in my opinion.
08. Complete Campsite Fraser XTE
Cost: $67,500
Overview: As the heritage names in off-road hard floor campers stumble or fall away, the Fraser XTE is hanging on as one of the few premium rear-folds left on the market. It has a remote-controlled, automatic set-up, excellent kitchen and even cabin heating. But it costs more than the average caravan… It's for you if you want every luxury and still want to go everywhere off-road. 
https://completecampsite.com.au/our-range/hard-floor/fraser-xte/
07. Ultimate Xterran
Overview: Still one of the most iconic shapes in camper trailers, Ultimate was bailed out of administration late in 2018. The concept of internal lounge and flip-over bed has been copied by every forward-fold camper trailer, though, which is something. Best for people who want caravan comfort but don't want a caravan. 
https://ultimatecampers.com.au/range/
06. Lifestyle Reconn R2
Cost: From $54,950
Overview: Lifestyle was once a leading tent-trailer builder but gave it all in when it couldn't compete on price with Chinese imports, so it started building hybrid off-road campers. They've evolved into this, the Reconn R2, which has an incredible outdoor kitchen and bed right up in the roof. Great for outback chefs and caravanners who want to downsize.
https://offgridoutfitters.com.au/pages/lifestyle-campers-reconn-r2
05. Cub Brumby
Cost: $29,490
Overview: Cub is the longest-standing camper-trailer builder in Australia and the Brumby one of its most iconic models. Simple, strong and light-weight, it's enduringly easy to set up and pack up with just enough comfort for two. It's the best-value, Aussie-made rear-fold on the market. 
Link to Buy: https://cubcampers.com.au/range/2-2m-series/brumby/
Read More:
04. Brüder EXP-6
Cost: Average spend on a Brüder is a whopping $155,000 – buyers are mostly overseas adventurers. 
Overview: The Brüder EXP-6 broke the internet when it launched three years ago – at least the camper-trailer-loving sections of it. A highly customisable off-roader with an official snow-load rating for the roof, it's highly automated and exceptionally luxurious. Perfect for those waiting out a zombie apocalypse in comfort. 
03. Track Tvan Canning
Cost: From $67,490
Overview: Still one of the most desirable camper trailers on the market, the Tvan's space-age teardrop design, incredibly clever tent system and military-proven suspension system is the pride of many outback travellers. There are four models in the range, but the third-tier Canning seems the best value to me, with just the right amount of comfort, without going overboard. Suits the serious, long-term outback traveller. 
https://www.tracktrailer.com.au/tvan/tvan-models/
02. Trackabout Explorer
Cost: From $30,500
Overview: Trackabout has always made an honest, hard-working camper trailer, but its most recent models have been really innovative. The Explorer is the smallest walk-up camper on the market (a walk-up camper is one with a walkway inside the trailer body at the end of the bed, so there's no ladder to climb into bed) thanks to its folding bed design. It's also super quick to set up and has a patented awing arm system. In touring form it's great for travellers who move often or those who want a lightweight off-road camper trailer. In base-camp form it's ideal for small families. 
https://trackabout.com.au/explorer
01. Patriot X1
Cost: $45,990
Overview: Patriot has the set the bar high for camper quality, functionality and ruggedness. Its latest trailer, based in the top-of-the-line X1, features a hard-topped, roof-top tent style tent which sets up in an instant. I'm a bigger fan of the normal soft-floor tent version, which goes up in about two minutes. Patriots are an expedition style trailer with great storage options, an excellent kitchen and innovative features. Perfect for anyone, because their tent options are extensive. 
https://www.patriotcampers.com.au