Top 6 Hard Floor Campers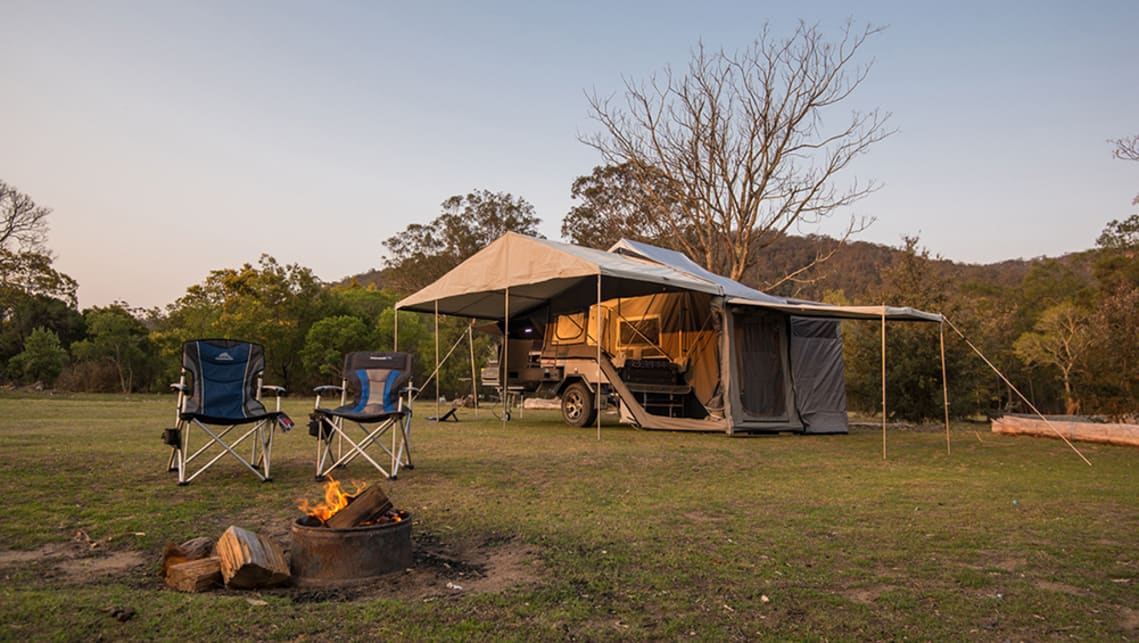 Although the lines that have customarily distinguished hard floor and soft floor campers have blurred – namely price and comfort (hard floors used to be consistently higher in both) – the variety of design in which you can get a hard-floor camper has continued to grow, and pinning down a definition for it is somewhat hazardous. 
Traditionally, a hard-floor camper was one where the lid of the trailer flipped or folded backwards, so that it became the floor of the living area, although more recently, they've been renamed rear fold campers. Hard-floor campers, nowadays are more generally any camper which has a solid floor under its living space, rather than a fabric or vinyl tent floor of a soft-floor camper. They could be rear-folding, forward-folding (or a combination of both – double-folding), side-folding or have a wind-up roof and slide-out beds such as those which Jayco has popularised. In essence, they get the living area off the ground, out of the dirt and make sure it's always flat underfoot. 

This is the traditional hard-floor camper. As you can see, the name isn't very imaginative. Image by Brendan Batty.
The concept isn't very new, either. Some of the first hard-floor campers were predecessors of the Jayco-esque campers – the Cargill Caravanette, Topagee and Bushwacker were all popular through the late '50s and early '60s. Shockingly, though, the first rear-fold, hard-floor camper in Australia was Danish, rather than Australian. Roger Fagan, owner of Cub Campers and the longest-standing builder of hard-floor campers in Australia told me: "It wasn't until the early 1980s that we developed the rear-fold camper. The original was developed in Denmark [in the 1950s] – the Combi-Camp. But two people could pick up the Combicamp; it had tiny little wheels and that sort of thing. There's no way to could take it on Australian roads." Even then, it wasn't us who copied the designs – a New Zealand company made a copy called the Camp-o-Matic, well before Cub Campers got involved. 
Hard-floor, forward-folding campers have also been around longer than most realise. The first commercial version of a forward-fold was designed by South African expat and owner of Koala Campers, Glen Hudson. He recalls: "I wanted to make a rear-opening camper and I wanted to compete with Aussie Swag, in those days. I thought; why are they making it open in the back? Make it forwards and we won't have to worry about the bed and legs, and you save space. That was way back in 1993, I think. I even patented the design."

An early forward folding camper trailer designed by Glen Hudson. They've come along way since. Image by Glen Hudson.
The design didn't really inspire, though, and although companies, such as Australian Off-Road and Mod-Con campers, all had early cracks at it (Mod Con was the first to have a really good go at it), it wasn't until Market Direct Campers started building them overseas and for a lower price that the market really took notice. 
Today, hard-floor campers of various types seemingly dominate the market (or at the very least, the marketing and media surrounding it), although interestingly, a soft-floor camper brand is generally considered to be the top of the game. Hard-floor, rear-fold campers in particular, have always been the shining light in off-road ability, innovation and comfort and so iterations of that design are what people aspire too.
Modern hard-floor designs, such as the forward- and double-fold campers, continue to grow in popularity because they combine a small, towed package that's easier to take further off-road with many of the comforts you get in a caravan – internal living areas with dinette lounges, air-conditioning and room heating and usually in an easy to set-up package. Depending on the design, they can often accommodate families of four or five, all within the main body of the camper and up off the ground. 
As well, hard-floor campers of any design are contained with the hard-sides and lids of the trailers, so they're a neater, sleeker package when packed up and are usually better at keeping dust out of the canvas and storage areas. 

The designs all lend themselves to off-road touring. Image by Brendan Batty.
Where hard-floor campers lose out in comparison to their soft-floor cousins is in the ability to create under-canvas space and storage. Because hard-floor campers contain a bed, the tent frame and all the canvas within the walls of the trailer, a lot of space is taken up that could otherwise be space to put things. Soft-floor campers, on the other hand, usually have the bed and tent on-top of the trailer body, so everything underneath it is free to keep stuff.
Price also plays a part – hard-floor campers are usually more expensive than soft-floors (although there are a few companies pushing the boundaries both ways for both – one of the most expensive campers on the market is a soft-floor and some of the cheapest are hard-floors, although only one of those is worth the money being asked). 
Hard-floor campers are also typically the domain of singles or couples travel, especially the rear-fold and forward-fold designs. They have limited internal floor space and only one bed, so generally families will have to set-up extra sections for kids' rooms and lay bunks or mats on the floor. There are exceptions, though; double-fold campers have two beds, as do the pop-up roof camper trailers. 
Nearly every camper trailer manufacturer builds a variation of the hard-floor camper trailer, so the choice can be boggling, but below are some of the best on the market, in a variety of styles. 
06. Blue Tongue Overland XRII
Cost: From $21,990
Although Blue Tongue is better known for its forward fold campers, the Overland XR II is quite well thought out. It's got a great kitchen with heaps of pantry storage and a clever tent design that suits tropical camping. Inside, there's plenty of storage space and all of the electric controls are easily accessed. It definitely suits a travelling couple who like a spot for everything. 
05. Complete Campsite Fraser XTE
Cost: $67,500
Overview: As the heritage names in off-road hard floor campers stumble or fall away, the Fraser XTE is hanging on as one of the few premium rear-folds left on the market. It has a remote controlled, automatic set up, excellent kitchen and even cabin heating. But it costs more than the average caravan… It's for you if you want every luxury and still want to go everywhere off-road. 
04.Ultimate Xterran
Cost: From $59,990
Overview: Still one of the most iconic shapes in camper trailers, Ultimate was bailed out of administration late in 2018. The concept of internal lounge and flip-over bed has been copied by every forward-fold camper trailer, though, which is something. Best for people who want caravan comfort but don't want a caravan. 
https://ultimatecampers.com.au
03. Jayco Swan (Touring or Outback)
Cost: From $26,990
Overview: With the largest interior of the Jayco camper trailer range, the Swan, in Outback (semi-off-road) or Touring (on-road) modes is a really grear family camper trailer. It has two separate lounge areas, both of which can be converted to sleeping berths, so everyone can bring a friend. It's also simple to use and inexpensive, so makes a great camper for families dipping their tows into caravan travel. 
02. Track Tvan Canning
Cost: From $67,490
Overview: Still one of the most desirable camper trailers on the market, it's space-age teardrop design, incredibly clever tent system and military-proven suspension system is the pride of many outback travellers. There are four models in the range, but the third-teir Canning seems the best value to me, with just the right amount of comfort, without going overboard. Suits the serious, long-term outback traveller. 
01. Cub Brumby
Cost: $29,490
Overview: Cub is the longest standing camper trailer builder in Australia and the Brumby one of its most iconic models. Simple, strong, small and light-weight, it's enduringly easy to set up and pack up with just enough comfort for two. It's the best value, Aussie-made rear-fold on the market.