Top 6 Compact Camper Trailers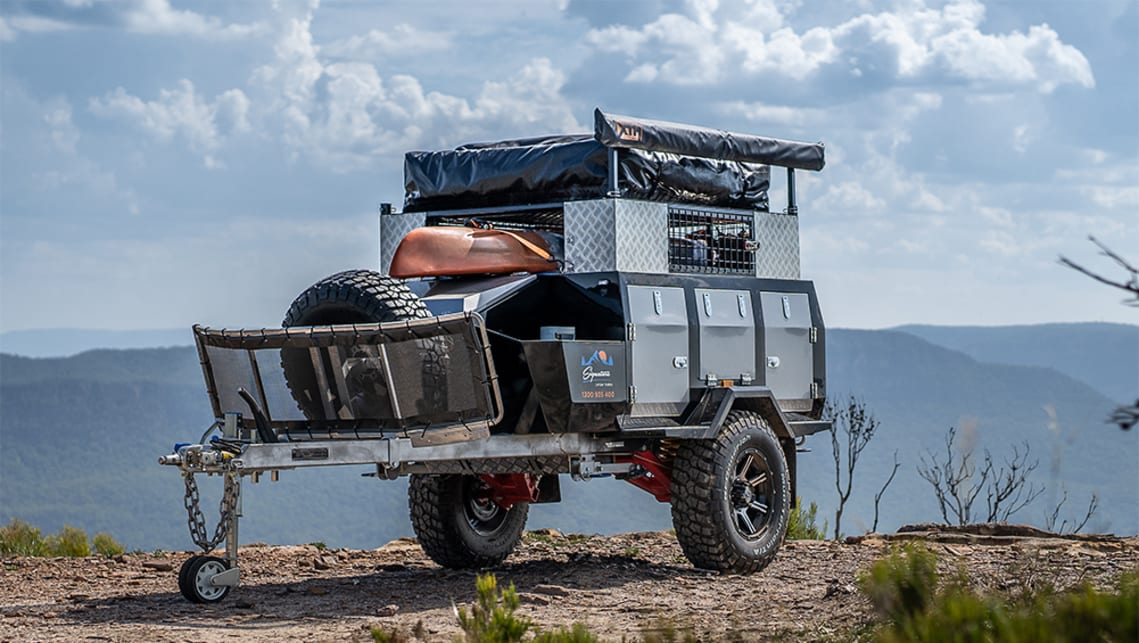 Almost everyone agrees that the lighter your load the better everything will be on a camping trip. If you have less weight, you use less fuel, you put less strain on your vehicle's mechanical components and, if you are heading off-road, you're more likely to get into the tougher places. And although technology has done wonderful things to make stuff lighter, the easiest way to do it is just to make something smaller. Less metal is less weight, right?
Camper trailers, or at least the kind with a canvas tent on a steel trailer, have traditionally been based on the rough dimensions of a 7x5- or 8x5-foot box trailer. There's a good reason for that; when the product was becoming popular, plenty of trailer builders had surplus trailers and found putting a tent on top increased their value and moved them quickly out the doors. Coincidentally, that's also the size of a queen-sized mattress (6.6x5-feet, as per Imperial measurements). So, with a reasonably sized box trailer, you can plonk a queen-sized bed on top, wrap it in canvas and sell it for four times the price of the original trailer – you can see how good business sense that makes, I'm sure.
Which means that a compact or small camper trailer is generally one that has a smaller footprint than a queen-sized bed. And a good, small camper trailer is generally one that has a smaller footprint than a queen-sized bed, but still somehow manages to fit one anyway. 

The smallest Jayco camper trailer manages to fit two beds into its main body. (image credit: Brendan Batty/campertrailerreview.com.au)
The small camper trailer market, if you could even define it, is niche, and largely for the 'I couldn't possibly sleep on anything but a queen-sized bed' reason mentioned above.
Most people have bought a camper trailer because they want extra comfort when camping, and setting up a bed, having to remake it every time because it can't just stay in place, is an inconvenience they're willing to pay extra for (either in purchase price or fuel economy). And even for the few manufacturers who have found a way around the bed-size issue, many of them just resort to crude (although time-honoured) methods – the bed folds in half. 
Almost all small camper trailers utilise some method of expansion – the expedition-type trailers are often a compartmentalised metal box with a roof-top tent on top. Premium examples, such as Patriot and Trackabout, have beds that fold off the side of the camper and clever tent features to contain them. The Pod Kwik Kampa, a polycarbonate-bodied trailer, has a telescopic bed frame, while some campers, like the Drifta Offroad Tourers, often don't even have a bed or tent as standard – they're purely just for storage of your existing camping gear. 

Trackabout, like Patriot, has a folding bed system, so the bed hangs off the side of the camper when set up.
And because the camper trailers are smaller, they naturally have to sacrifice other conveniences. If they have a kitchen, it's smaller and more basic and has less pantry storage or a smaller capacity fridge. These campers often don't have the capacity for large storage spaces for bigger items, and if you were hoping for a proper toilet or shower, you can forget about it.
Most of the smaller off-road camper trailers suit the sort of traveller who's used to travelling with everything contained in their vehicle, but find that kids or life's accumulations are taking up more space than they anticipated. They often offer a rougher camping experience (compared to the bulk of camper trailers on the market), but something far more sophisticated than what could ever be hoped for just living out of the back of a 4WD wagon. For a lot of people, it's not so much about adding comfort, but about adding the ability to take toys and recreation items on trips – if you want to go camping with a family of three, you can fit everything you need in the back of a 4WD wagon, but you have to leave all the fun stuff – surfboards, bikes, kayaks, etc. behind. A small camper trailer frees up plenty of space, adding to the pleasure of adventure. 
Of course, many small camper trailers are built to suit travellers who don't have a four-wheel drive but drive a vehicle with a smaller towing capacity. And there have been plenty of different designs over the years. Back in the 1950s and 60s, caravanettes were, but are more commonly referred to as teardops these days. Some companies also make miniature versions of their popular camper trailers – the Jayco Swift, for example, has a compressed body and smaller beds to make it light and easy for people to tow. Cub's Weekender is a small version of their rear-fold campers which does away with many of the extra storage boxes to keep its footprint light and small. 
If a little extra space is all you're after, or the confidence to tackle really remote 4WD tracks is your ambition, then small camper trailers are the way to go. Here are some of the best on the market currently. 
06. Signature Deluxe II
Cost: From $17,990
There's a few iterations of these expedition-style trailers from China, but Signature's is the most thoroughly developed. Essentially a compartmentalised storage trailer with a roof-top tent and awning, its doors fold down to make benches, it has a neat little kitchen and can carry a kayak with ease. Great for adventurous travellers who just need more storage space. 
05. Marlin Cruiser

The Cruiser is about as small and simple as you can get without having to make a bed each time.
Cost: From $3,990
One of the most affordable little campers on the market, the Cruiser combines a simple, Australian-made trailer with the smallest of Oztrail's soft-floor camper tents. It's literally the easiest soft-floor to set up, because there's barely anything to it. Weighing just 280kg, it can be towed by just about anything. 
04. Cub Weekender
Cost: From $17,250
Although the Cub Weekender shares the same body as the more rugged Brumby, this one's lighter and doesn't have the front storage boxes. Like most of the Cub products, it's elegant to put up and very well made. It's a great little camper and, at 566kg, is easy to tow behind sedans and smaller cars.
03. Jayco Swift
Cost: From $18,690
The little Swift is the cutest of all Jaycos but ideal for travel with a small and young family. The on-road version is light and perfect for towing behind regular sedans, while the semi-off-road version holds its own, especially now it has independent coil suspension. 
02. Brüder EXP-4
Cost: $59,900
There was a time when teardrop campers were cheap, light caravans to get away in, but the EXP-4 blows that out of the water. It has self-levelling suspension, crazy suspension travel, fully automated everything and even bunk options for a child. The EXP-4 is camper tech gone wild but, oh boy, do I want one. 
01. Pod Allroada RT Camper
Cost: From $16,960
Developed by a guy who used to make water tanks, the plastic bodied Pod has always had a cult following. The roof-top camper expands on its simple concept, keeping things light and easy to use. There's a thousand-and-one add-ons for the Pod, which generally attracts active travellers who carry lots of toys. 
What compact camper trailer do you take on your off-road adventures? Let us know in the comments.