Pop Top Camper Trailer: Top 6 Pop Up Campers Reviewed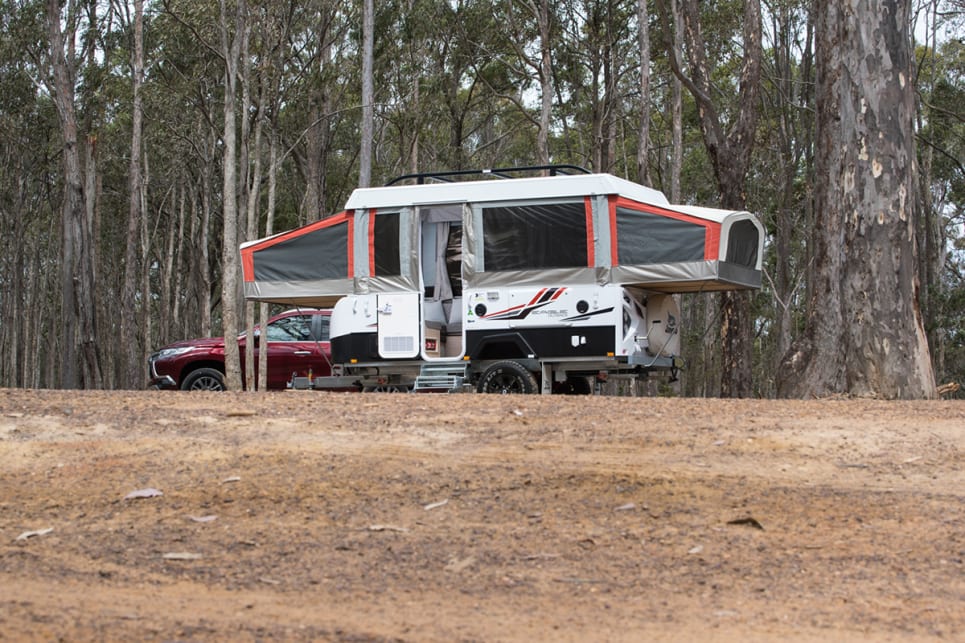 Let's not beat around the bush: the pop-top or pop-up or hybrid camper trailer (whatever it wants to be called) is a caravan – sure, it's a small one with a little more set-up than what we traditionally think of as a caravan, but it's a caravan all the same.
We see them in a variety of forms and styles, but they all share a similar characteristic – they have a hard roof, lifting roof, hard-walls (at least to waist-height), somewhere to sit inside and, often, an internal kitchen or kitchenette. They are considered a step up from a more traditional camper trailer and a step down from a full-sized caravan.
There are, typically, three designs that all fall into this category. The most popular are those popularised by Jayco, with a wind-up roof, fabric walls above bench height and two beds sliding out from each end, although Jayco was far from the first to use the concept; Jayco's founder actually worked for another manufacturer before defecting, doing a deal with Jayco US and building his own versions in Melbourne, about four decades ago. Some of the earliest manufactures include Cargil, which made the Caravannette; Camprite which made the Topagee, and Bushwacker. Cub Campers also manufactured the popular Drifter, from 1975 to somewhere around the early 2000s. They generally have an expansive living area and large full-featured kitchen area inside.

Nothing says camping comfort like a wraparound lounge. Image by Brendan Batty/campertrailerreview.com.au
Families love these camper trailers because they usually have sleeping arrangements for two or more children and are an inexpensive entry into the caravan market. As prices start at around $17,000 and don't get much more than $40,000 for a top-of-the-line off-roader, they're quite an attractive proposition. For anyone new to towing, they also don't present the daunting prospect of hauling a trailer that's bigger than the car towing it. And once the camper is set up, the internal area is really quite large – about the equivalent space of a caravan twice its size.
If people shy away from them it's often because of the perceived set-up time or because they're worried about the prospect of sleeping under canvas in cold or wet weather.
Second are the 'hybrid' camper trailers, so called, usually, because they're built by camper trailer manufacturers rather than caravan builders. Typically, they have a tall pop-top roof (so they their packed height is lower than their tow-car's roofline), a compact internal area that only just fits a bed, small dinette area and kitchenette, but with a more extensive kitchen outside under the awning area. They fit the camper trailer mould because they're compact and encourage outdoors living, but the caravan mould because they look a lot like caravans and don't 'unfold'. They are also, in almost 100 per cent of examples, built for heavy off-road use.
Although the concept of a small caravan isn't new, these hybrid, off-road campers are. Possibly the first was the Kimberley Kampers Karavan (which backs up my initial claim that these aren't camper trailers) in the early-to-mid 2000s, a sophisticated unit with a winch-operated raising roof and slide-out bed section. This was followed closely by companies like Track Trailer and Australian Off-Road, who also saw the potential in the design. They attract buyers who want as much comfort and convenience as possible, without sacrificing the ability to go into really rugged areas. They are typically light, robust and technologically advanced.
And last is a motley, niche crew of trailers that are around the same size and have most of the same functions, but incorporate unique design features – like Avan's high-peaked, A-shaped roof or Opus's inflatable frame camper trailer that sets itself up when you pump its frame up like a tyre.
Of course, all the different designs can be found in on- and off-road camper trailers, although the on-road market is dominated by the first design, while the off-road market is shared very evenly between the first two options.
The best off-road versions of the pop-top camper trailer have a coil-spring independent suspension system, a chassis specifically designed for off-road use with a draw-bar that's one piece with the main chassis, or at least runs back to the front of the suspension arms. Expect the chassis to be hot-dip galvanised or powder-coated (pre-fab rust-proofing like Duragal is not up to scratch). It should also have some sort of off-road hitch as standard – if it's an option, there's a good chance the camper's not really an off-roader – and underneath, nothing important like plumbing or wiring should be unduly exposed to potential damage. Inside, the cabinetry, drawer runners and furniture should be reinforced for the vigour of off-road travel.
As more families continue to embrace caravanning and camping, and the desire to go further off-road grows, this form of camper is only going to become more popular. As it stands, these are some of the best models on the market.
06. Brüder EXP-6

One of the most insane hybrid campers of recent times, it's also one of the most expensive. Image by Brüder X
Cost: Brüder doesn't quote an official price, but average spend is a jaw-dropping $155,000 to mostly overseas buyers.
Overview: The Brüder EXP-6 is the Kim Kardashian of camper trailers, because it broke the internet when it launched three years ago – well,  the camper-trailer sections of the internet. A highly customisable off-roader with an official snow-load rating for the roof, it's highly automated and exceptionally luxurious. Perfect for those waiting out a zombie apocalypse in comfort.
05. Lifestyle Reconn R2
Cost: From $54,950
Overview: Lifestyle was once a leading tent-trailer builder but gave it all away when it couldn't compete on price with Chinese imports, so it started building hybrid off-road campers. They've evolved into this, the Reconn R2, which has an incredible outdoor kitchen and bed right up in the roof. Great for outback chefs and caravanners who want to downsize.
04. Jayco Eagle Outback
Cost: From $28,990
Overview: The Jayco range of pop-up camper trailers is one of the most popular line-ups in the country, especially with families. The Eagle has the best floorplan, though, with a lounge next to the larger bed so adults can retire to it for quiet conversation and port while the kids slumber at the other end. Any of the Jayco camper range is a great family camper.
03.New Age Wayfinder
Cost: $28,990
Overview: New Age Caravans has recently been purchased by Walkinshaw Automotive, and already the new influence can be seen. The Wayfinder is a sleek product and, typical of the brand, the interior is modern and highly styled. Expect it to only get better. The New Age is pricier than Jayco, but perfect for  travellers who want the best backdrop when taking pictures of their dinners for social media.
02. Jayco Swan (Touring or Outback)
Cost: From $26,990
Overview: With the largest interior of the Jayco camper trailer range, the Swan, in Outback (semi-off-road) or Touring (on-road) modes is a really great family camper trailer. It has two separate lounge areas, both of which can be converted to sleeping berths, so everyone can bring a friend. It's also simple to use and inexpensive, so makes a great camper for families dipping their toes into caravan travel.
01. Goldstream Wing 2 RL
Cost: From $46,990
Overview: The smallest of the Goldstream camper trailers, it has a great lounge up the front and really generous kitchen down the back. Significantly more expensive than the Jayco equivalents, the off-road versions are also far more robust. Goldstream is one of the best Aussie caravan builders and has been for years. Perfect for the family who want quality that'll last a few desert trips or more.