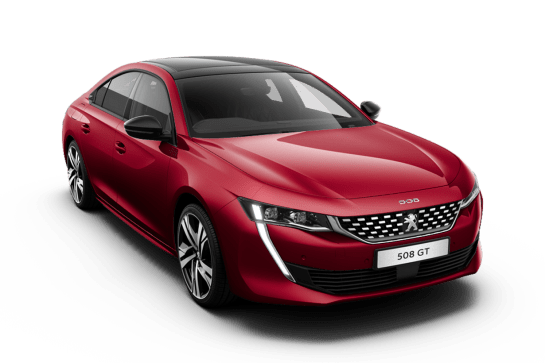 COMPARE
Peugeot 508
VS
Kia Stinger
Peugeot 508
Likes
Design oozes style
High-tech, well equipped
Refined fun behind the wheel
Dislikes
Touchscreen air-con controls
Rear seats clumsy to get into
Steering wheel can block instruments
---
Kia Stinger
Likes
A true halo car for Kia
Potent performance
Great ownership plan
Dislikes
Entry grade interior not as nice
Could be more affordable
Sports exhaust optional on GT
Summary
Peugeot 508
Peugeot has gone from strength to strength in Europe off the back of a branding and design renaissance.
The brand now fields a competitive range of SUVs as well as a new generation of tech and design-focused cars.
In Australia, you'd be forgiven for not knowing any of this, with French cars still well and truly in the niche basket. And with Aussie consumers increasingly shunning cars like the 508 in favour of SUVs, the liftback and wagon combo has the odds stacked against it.
So, if you're not already a French car die hard (they very much still exist) – should you be stepping out of your comfort zone and into Peugeot's latest and greatest offering? Read on to find out.
| | |
| --- | --- |
| Safety rating | |
| Engine Type | 1.6L turbo |
| Fuel Type | Premium Unleaded Petrol |
| Fuel Efficiency | 6.3L/100km |
| Seating | 5 seats |
---
Kia Stinger
The Kia Stinger was the most anticipated vehicle the Korean brand had ever launched - and less than a year since it first landed in Australia, the big rear-wheel drive five-door liftback is still one of those cars that, when you spot it on the road, you'll find yourself exclaiming "ooh, Stinger!".
This wasn't the sort of car people expected from a brand like Kia. And it launched at a time when we were wiping away tears spilled over the loss of the Falcon and Commodore (yes, the latter is still on sale, but no, it's not what it used to be). 
It hasn't sold in huge numbers since it launched, but that's not what this car was developed for. It was made to change perceptions of the brand, and it has done exactly that. Bulk sales are left to models like the Cerato, Sportage and Rio - but the Stinger is what draws you to the showroom, if only for a bit of a sneaky look.
So, the Stinger is still stylish enough to make you turn your head when you drive past one… and it could be enough to cause you to consider a Kia, even if you can't afford a Stinger. But should you be taking a closer look? Let's find out.
| | |
| --- | --- |
| Safety rating | |
| Engine Type | 3.3L turbo |
| Fuel Type | Regular Unleaded Petrol |
| Fuel Efficiency | 10.2L/100km |
| Seating | 5 seats |
Verdict
Peugeot 508
7.8/10
The 508 draws you in with its stunning design, but under the surface there's a well-equipped and practical car.
While it might not be destined for mass popularity in Australia, it's still a compelling semi-premium option that should have you asking yourself: "Do I really need an SUV?"
---
Kia Stinger
8.3/10
As far as halo cars go, the Kia Stinger is pretty much perfect. It's the ideal aspirational offering - the sort of car that would definitely put a smile on your face and cause your neighbours to unexpectedly drop in for a cuppa, if only to see if they can have a look at your Stinger. 
For this writer, the flagship GT is the model to go for - 92 per cent of buyers have done exactly that, and it's because that variant, while pricey, is exactly what this car should be. And while you might find people saying "ooh, Stinger" in any of the versions available, the GT is the one that deserves the admiring stares the most... even if the additional safety equipment recently added to base models now warrants further investigation at the lower price points.
Is the Kia Stinger GT your pick of the range? Tell us in the comments section below.
Design
Peugeot 508
9/10
Let's lead with this Pug's strongest suit. No matter whether you choose the liftback or the wagon, you're getting a seriously stunning car. There are a lot of elements comprising the front and rear fascias, yet somehow it's not overly busy.
The downward swoop of the bonnet  and the angular rear, with a subtle flicked up wing on the liftback, give this car a curvy but muscular aesthetic, and there are more than enough 'wow' items, like the DRLs which streak down from the front light clusters and rear fittings, which reference this car's classy 407 ancestor.
Meanwhile, the more you look at the wagon, particularly from the rear, the more elements begin to stand out. Either car has a sleek silhouette when spotted from the side.
There's no doubt it has a rich visual presence – one which is befitting of Peugeot's new push to be seen as a more premium offering in Australia. It's also easy to draw comparisons to recent design leaders like Volvo's S60 and V60 twins, and Mazda's new 3 and 6.
Inside is just as bold, with Peugeot's iCockpit interior theme providing a fresh take on a tired formula.
The theme consists of a steering wheel that 'floats' low and flat in the dash, with the instrument cluster perched atop. There's also a raised console and super-wide 10-inch touchscreen adorning the centre of an otherwise minimalist looking interior.
Annoyingly, the dual-zone climate control is operated via the touchscreen,  which is clumsy and annoying to look at when you should be keeping your eyes on the road. Give us an old-fashioned set of dials next time, it's just so much easier.
The design is comprised of mostly tasteful leather finish, gloss black panelwork and soft-touch plastics. The pictures somehow don't do it justice, although personally I think it could do with a little less chrome.
Maybe we should really be thanking SUVs for a resurgence in great-looking passenger cars for every niche.
---
Kia Stinger
8/10
I'm at about 80 per cent like, 20 per cent dislike with the Kia Stinger's exterior design. 
There are some really sweet and sleek elements to it: the silhouette of the car is long and muscled, the headlights and grille work together really well, and the integrated body kit with front spoiler, side skirts, rear spoiler and rear diffuser all combine nicely. 
There is no denying the street cred of the Stinger, and it partly comes down to the sheer size of the thing. Its dimensions are 4830mm long, 1870mm wide and 1400mm tall, with a lengthy 2905mm wheelbase.
So, it has presence - and pretty much every model in the range has that, even a base grade 200S. Unfortunately there's also some pretence. 
Things like the fake bonnet vents look like eBay add-ons, and the plastic red light line that runs from the tail-light into the rear guard, for me, ruins the cohesion of the car. These parts look cheap, where the rest of the Stinger looks expensive. 
I also struggle to deal with the projector halogen headlights on the lower grades: you get LED headlights in the top-spec, and LED daytime running lights on all of them, but yellow beams? Yuck. They could have at least gone with HID or xenon lamps.
But on the whole, there's a lot more to love than hate. 
As you may know, the wheel design and size depends on the model of Stinger you choose. So, the 2.0-litre gets an 18-inch alloy in silver, fitted to the 200S and 200Si, and the same wheel but with black highlights is fitted to the 330S. 
The 19-inch alloy wheel fitted to the 330Si and 200 GT-Line is identical. And the 330 in GT spec has a model-specific 19-inch wheel (though it looks very close to the other 19-inch wheel option). Every Stinger comes with a space-saver spare wheel.
As for the cabin, the interior dimensions are pretty accommodating - you need to remember the size of this car, because it's pretty big. Check out the interior photos to see what I mean, and we'll take a deeper dive into the inside.
Practicality
Peugeot 508
8/10
No matter which bodystyle you pick, the 508 is a practical unit, although there are a few areas where the design takes priority.
We'll start with the luggage area, where both cars are at their best. The Sportback offers 487-litres of storage, which is up there with the biggest hatchbacks and most mid-size SUVs, whereas the wagon offers almost 50 extra litres (530L), which is more space than most people will realistically need.
Up in the second-row space is decent, with an inch or two of airspace for my knees behind my own (182cm tall) driving position. There's room above my head once I'm seated - despite the slopey roofline - but getting in and out is a scramble, with the C-pillar jutting down where the door joins the body.
You'll fit three adults across, with a bit of a squeeze, and there are ISOFIX child-seat mounting points on the outer two seats.
The rear seats also get access to a set of air vents, two USB power outlets and netting on the back of the front seats. There are cupholders in the doors, but they're so tight they'll only really hold an espresso cup.
Up front, the door issue is the same – it won't hold a 500ml bottle due to the complex door cards – but there are two large cupholders in the centre.
Storage for the front occupants is far better than it is in this car's 308 hatch sibling, with the posh raised centre console also offering a long trench for phones and wallets, as well as a deep centre-console box and a storage area underneath, which also hosts the front USB outlets. There's a decently sized glovebox on the passenger side.
Room for front occupants is also good, as the seats are set low in the body, but knee room is limited due to the wide console and overly thick door cards.
The iCockpit design is perfectly suited to someone my size, but if you're particularly short you won't be able to see over the dash elements, and if you're particularly tall it will get uncomfortable quickly, with the wheel blocking elements or simply sitting too low. Seriously, just ask our resident giraffe-person, Richard Berry.
---
Kia Stinger
8/10
The interior of the Stinger is undoubtedly the most desirable of any vehicle ever sold by Kia in Australia. It looks good, no matter which spec you're going for… but clearly, the S version with its smaller 7.0-inch touchscreen can't quite match the bigger tablet in the models above, let alone the little changes in trim and finishes that you see as you step up the range ladder. 
The flagship GT and GT-Line models are sumptuously appointed, with loads of adjustability to the driver's seat and trim that looks as expensive as the price-tag suggests it should. The Si is smartly luxurious, where the S looks more like a 'price leader'. 
Now, to the real complaints. The driver's seat is perched too high for my tastes - I'd like to sit a little lower when pushing through corners - plus there's no lumbar support in lower grade cars. And anyone my height (182cm) or more will need to watch their head getting in and out of the driver's seat. I banged the top of my noggin on more than one occasion. 
The headroom situation is similar in the back seat, because the scooped roofline makes for limited space if you're on the tall side. Thankfully, though, legroom is pretty good, and so is shoulder-room if you have two in the back. Three across will be a squeeze, as the middle seat is more ornamental than anything else, with very little legroom due to the transmission tunnel and not much in the way of comfort to the seat base or the upright.
If you have children, there are dual ISOFIX attachments for the rear window seats, and three top-tether hooks as well. Plus all Stingers have rear air-vents - and so they should.
Storage is pretty thoughtful throughout, with bottle holders in all four doors, plus map pockets (mesh ones!) in the seatbacks, and there's a fold-down armrest with cupholders in the back. The front has a pair of cupholders between the front seats, plus a covered central storage bin, and a caddy for your phone in front of the gear selector. 
Clearly if you're thinking about a Stinger, then you'll want to know what sort of boot space it offers, given the size of this car. But sadly, the cargo capacity is pretty slim, at just 406 litres. I guess that explains why I've seen a lot of Stinger models with a roof rack set-up…?
Price and features
Peugeot 508
7/10
Peugeot has made the topic of price an easy one. The 508 arrives in Australia in just one trim level, the GT, which wears an MSRP of either $53,990 for the Sportback or $55,990 for the Sportwagon.
An impressive specification is completely standard, including a 10-inch multimedia toucschreen with Apple CarPlay and Android Auto connectivity, built-in navigation and DAB+ digital radio, a 12.3-inch digital dash cluster, modestly sized 18-inch alloy wheels, full LED front and rear lighting, adaptive dampers, which respond to the car's five driving modes, and a thorough active-safety suite, which includes adaptive cruise control.
The black fully leather interior trim is included, as well as heated and powered front seats.
The only two items that reside on the options list are a sunroof ($2500) and premium paints (either metallic at $590 or pearlescent at $1050).
Non-Peugeot die hards will be cross-shopping the 508 against the also-single-variant Volkswagen Arteon (206 TSI - $67,490), Skoda Octavia (RS 245 - $48,490) or perhaps the Mazda6 (Atenza - $49,990).
While all of those options, including the 508, are not budget buys, Peugeot makes no apologies for the fact that it's not going after the volume end of the market. It hopes the 508 will become the brand's "aspirational flagship."
---
Kia Stinger
8/10
So, you want to know how much a Kia Stinger will cost you? Well, it's an extensive range, with a price list that should help it appeal to a broad range of consumers. There are six models in the line-up, and here's a simple rundown of the list price (or RRP, before on-road costs) for each of them. 
With the 2.0-litre engine you can get: the 200S, priced at $45,990; the 200Si, priced at $52,990; and the GT-Line, priced at $55,990.
For Stinger models powered by the 3.3-litre engine, you have three options, too: the 330S, priced at $48,990; the 330Si, priced at $55,990; and the flagship GT, which lists at $59,990.
We asked Kia Australia to provide us with a model comparison table, showing where the GT sits in terms of popularity for sales so far in 2018. Amazingly, 92 per cent of sales are the GT, meaning vs the other five variants account for only eight per cent between them.
Now let's take a look at the standard features across the trim levels.
Every Stinger has Apple CarPlay and Android Auto, as well as built-in sat nav with 10 years of updates.
The entry-grade 200S and 330S models have artificial leather trim on the seats, dual-zone climate control, electric driver's seat adjustment (eight-way), manual front passenger seat adjustment, a digital driver info display with digital speedometer, an auto-dimming rear-view mirror, auto headlights (halogen projector beams with LED daytime running lights), heated exterior mirrors with folding, and a 7.0-inch infotainment screen with a six speaker sound system. 
There is no CD player, but you get media USB (plus an additional USB charging socket and two 12-volt outlets) and there's Bluetooth phone and audio streaming connectivity, as well as DAB+ digital radio. Keyless entry (with a button on the door handle, rather than the more advanced hand-sensing system on some rival cars) and push-button start are standard on all models, too.
While in late 2017 the Stinger didn't come with advanced safety equipment on the base model S versions, that has been rectified for 2018 model cars. Read more about what's included in each variant in the safety section below.
The 200Si and 330Si models gain real leather seats, along with a larger 8.0-inch multimedia screen and an updated sound system with nine speakers (including a subwoofer under each front seat) active cruise control, plus this version adds auto wipers. The Si grade also gains a luggage net and carbon-fibre-look trim.
The 18-inch rims fitted to the 200S and 200Si are the same, but for the 330S you get 18s (another design) and the 330Si gets bigger 19s (again with a unique style).
If you decide to step up to the GT-Line (for the 2.0-litre) or the GT (for the 3.3-litre), you gain quite a bit of extra kit.
Nappa leather lines the seats, and there's flat-bottomed steering wheel with GT badging, plus the front seats add memory settings and powered bolster adjustment and thigh support adjustment. The front passenger seat gains electric adjustment, and both front seats have heating and ventilation, but there's no heated steering wheel.
The GT-Line and GT models rock a 15-speaker harman/kardon audio system, and add an electric sunroof (not a panoramic sunroof), auto-dimming side mirrors, and extra technology including a 360-degree camera and colour head-up display, including speed limit indicators - but it doesn't have traffic sign recognition, so it's useless in roadworks-prone areas.
The interiors of these two models also sees the introduction of alloy sports pedals and Qi wireless phone charging, plus faux suede headliner and pillar trim. 
If you get the range-topping GT, there are model-specific digital gauges for oil temp, torque output, turbo boost, G-forces and a lap timer. Plus this version has electric steering wheel adjustment in this variant only.
The GT-Line and GT have LED headlights with auto high-beams and cornering function, plus the wheel size jumps up to 19-inch for the GT-Line, and the GT also gets a unique 19-inch wheel design. Plus these top two versions have adaptive dampers.
And to reinforce the sportiness of the Stinger V6, every model with that drivetrain comes with Brembo brakes, a limited slip differential and a variable-ratio steering rack.
Australian GT models can be optioned with a $2500 locally-developed bi-modal exhaust. It's worth the money, but really could be included standard. And you can't option an exhaust through Kia Australia on the turbo four-cylinder models, which is a bummer.
Floor mats are standard on all grades, and you can expect the "tinted windows upgrade" question to be asked at the point of sale, as no model comes standard with privacy glass. What about colours (or colors, if you're reading this somewhere other than Australia)? I personally think white looks great on the Stinger, but there is also silver, red, blue, black, grey and a darker blue that almost looks purple depending on the light. There is no orange option like the hue used on the GT Federation concept.
There are some widely reported problems with the hero 'Sunset Yellow' paint colour, and Kia Australia has instituted a fix for this: it will repaint the car at no cost (with a lifetime guarantee), refund the customer or replace the vehicle. For more on potential Kia Stinger problems, read the ownership section below.
Engine & trans
Peugeot 508
8/10
Peugeot has made this department easy, too. There's just one drivetrain.
It's a 1.6-litre four-cylinder turbo petrol engine, which punches above its weight on the power front with 165kW/300Nm. If you think about it, there were many V6 engines that wouldn't have produced that kind of power, even just a few years ago.
The engine drives the front wheels only via an also-new eight-speed torque converter automatic transmission. There's no all-wheel drive and no diesel as part of Peugeot's simplify-and-conquer strategy.
---
Kia Stinger
8/10
Let's talk engine specs. There are two drivetrain options for the Stinger range: the four-cylinder turbocharged 2.0-litre engine (hence the 200 prefix), and the twin-turbo 3.3-litre V6 (ditto the 330 prefix).
The 200, or 2.0-litre turbo motor, isn't the horsepower hero here, but nor is it underdone. It has 182kW of power (at 6200rpm), and 353Nm of torque (from 1400-4000rpm). The four-cylinder is only available in Australia with an eight-speed automatic transmission - no manual gearbox is available.
The 330, or 3.3-litre twin-turbocharged engine, offers more punch - and so it should, considering its engine size. It has 272kW of power (at 6000rpm) and 510Nm of torque (1300-4500rpm). Again, it only comes with an eight-speed automatic gearbox - there is no manual transmission option.
If we had to give a rating for each engine individually, it'd be a 9/10 for the 3.3L and a 7/10 for the 2.0L - and not just because of the stats.
You can forget any type of turbo diesel motor in Australia (but there is a 2.2-litre turbo-diesel in Europe - the same engine used in the Sorento SUV). We're an all petrol market, though no market has an EV, plug in hybrid or LPG version of the Stinger, and you can probably forget all about a Stinger with a supercharger, too. 
And while all models sold in Australia are rear-wheel drive (RWD), not front wheel drive like all other Kia passenger cars sold in Australia. The diesel sold in Europe is available with all-wheel drive (4WD / AWD), and so is the V6 in some colder markets. 
Being a big car with a strong engine, you might be interested in fitting a towbar (yes, you can) to haul some weight behind you. If so, the towing capacity of the Stinger is the same across both engine types: 750kg for an un-braked trailer, 1500kg for a trailer with brakes, and with a tow ball download limit of 75kg.
Fuel consumption
Peugeot 508
7/10
The 508 is rated to consume an impressive-sounding 6.3L/100km on the combined cycle, although in my recent test of the 308 GT hatchback, which shares the same drivetrain, I scored 8.5L/100km.
While our countryside blast at the 508's launch event would be an unfair representation of this car's real-world fuel consumption, I'd be surprised if most people scored below 8.0L/100km, given this car's extra kerb weight over the 308 and the nature of its entertaining drive.
We should stop for a moment and appreciate that this engine is the first one on sale in Australia featuring a petrol particulate filter (PPF).
While other manufacturers (like Land Rover and Volkswagen) have been vocal about the fact that they cannot bring PPFs to Australia due to our lax (high-sulfur) fuel quality, Peugeot's "totally passive" system allows for higher sulfur contents, so 508 owners can rest assured they're driving around with reasonably low CO2 tailpipe emissions of 142g/km.
As a result, however, the 508 requires you to fill its 62-litre tank with a minimum 95RON mid-grade unleaded petrol.
---
Kia Stinger
8/10
Fuel consumption mightn't rank highly on your list of priorities if you're looking at a Stinger, but even so, below are the fuel economy figures for both models in the range. 
The 200 models, or versions with the 2.0-litre engine, have claimed combined cycle fuel use of 8.8 litres per 100 kilometres.
The 330 models, with the 3.3-litre V6, have claimed combined cycle fuel use of 10.2L/100km.
During our time in the four-cylinder GT-Line we saw a displayed average of 8.7L/100km (with a lot of highway driving in the mix), while the V6 GT model we drove - mainly in highway driving and commuting, with some typically argumentative Sydney traffic - was using 9.7L/100km. A spirited drive down the coast returned 10.4L/100km at the bowser in the 330S.
Both are capable of running on regular unleaded fuel, but premium unleaded (95RON or 98RON) would be our recommendation. 
The fuel tank size for the Stinger is just 60 litres, which is quite small for a vehicle of this size, and could mean less mileage than you'd think - even if you engage the Eco mode. In fact, in the best-case scenario you'll see about 680km in the four-cylinder, and 590km in the V6.
Driving
Peugeot 508
8/10
The 508 matches up to its swoopy looks by being a whole lot of fun, but also surprisingly refined behind the wheel.
The 1.6 turbo isn't wildly powerful for something this size, but it's easily grunts enough, with peak torque easily lighting up the front wheels from a standstill. It's quiet, too, and the eight speed is silky-smooth in most driving modes
Speaking of which, special attention should be given to the driving modes. In many cars you'll get a 'sport' button, which, nine times out of 10, is basically useless. But not here in the 508, where each of its five distinct driving modes alters everything from engine response, transmission map and steering weight to the mode of the adaptive dampers.
Comfort is best for plodding around town or in traffic, with a smooth engine and transmission response to inputs and light steering, which makes it a cinch to move around.
The prime B-roads we were on around Canberra's countryside periphery, however, demanded the full-fat sports mode, which makes the steering heavy and instantly responsive and the engine far more aggressive. It will let you ride each gear all the way up to the red line and switching to manual gives impressively snappy responses, via the flappy paddle, wheel-mounted shifters.
I was taken aback to find that no matter which mode I chose, the suspension was excellent. It was softer in comfort but even in sport it wasn't as brutal as the 308 GT hatch, soaking up the larger bumps without shaking up the occupants in the process. This is partially due to the 508's reasonably sized 18-inch alloys.
The wheel itself feels great in your hands, with a small radius and slightly square shape making it easy to wrangle. My main complaint is directed at the the multimedia touchscreen, which is seated so deep in the dash it requires taking your eyes a bit too far off the road to adjust anything – including the climate controls.
With no all-wheel drive and modest power, the 508 is hardly a proper sportscar, but it is still a great balance of refinement and fun where it counts.
---
Kia Stinger
9/10
Let me just put it out there: if you're considering a Stinger, you should be going for the V6. Of the buyers who have already purchased a Stinger, almost all of them have done exactly that… I mentioned the GT accounts for 92 per cent of sales, and V6 versions count for 96 per cent of all Stingers sold.
It's not just because the V6 offers the most enviable performance figures - although speed is a big reason to buy a car like this: a 0-100km/h time of just 4.9 seconds is fantastic considering it can run on 91RON regular unleaded petrol. 
The real reason is that the Stinger feels like the V6 is what it should have, and the four-cylinder is only there to meet a price point. Is there any need to meet a price point, though, when almost all Stinger buyers are choosing the most expensive version? I think not.
Sure, the 2.0-litre engine is a zesty offering, but doesn't set the senses on fire as much as the V6. It builds pace well, and even sounds pretty good under hard throttle - but for me, the six is better suited to the character of a big car like the Stinger. 
The automatic transmission is focused more on efficiency when teamed to the four-cylinder, upshifting a little too soon in the normal or comfort drive modes - though choosing sport mode is the best way to rectify that, as it makes the throttle response and shift patterns more aggressive.
But the V6 is just so much better. It offers superb refinement, excellent throttle response and it's properly fast. The transmission feels up for it, more ready for sudden throttle thumps, and it rewards with potent in-gear grunt. But the fact the transmission will overrule you when you're using the paddle-shifters is truly annoying, even if it is protecting costly, breakable moving parts.
You will need to keep an eye on your rear tyres, because Kia has done a great job of allowing some tolerance from the traction control system. From a standstill, the alloy wheels at the back will often do more rotations than those at the front…
But it isn't just the punch - it's the way the Stinger handles itself. There are four suspension tunes that have been developed by the brand's local suspension gurus, and the examples I sampled - the GT-Line, GT and 330S - all did a terrific job of controlling the body of the car.
The GT-Line and GT, admittedly, have adaptive dampers to can firm things up when you engage the Sport drive mode or tailor the 'Custom' drive mode as such, and if the road surface isn't perfect the wheels can be a little slappy in their engagement with the road below. 
But just find a smooth road, and you'll be able to properly unleash the abilities of the Stinger. Plus for models on sale in the latter part of 2018, the GT will see an upgrade from Continental rubber to Michelin Pilot Sport 4 tyres, which is what Kia intriguingly fitted to track cars at the launch of the Stinger in 2017, before switching back to Contis for the road drive. 
And while most of us won't be carving up mountain passes everyday, the Stinger makes for a comfortable and composed cruiser or commuter, too. There's not much cabin noise, and Comfort mode in the cars with adaptive dampers is very good. It's not as cushy as air suspension in some cars three-times the price, and you don't have the same ground clearance advantages as you might in, say, a Mercedes-Benz CLS which can raise up for steep sections, but unless you have a hellish driveway, you'll struggle to bottom out. For those interested, the ground clearance is 130mm.
In the 330S, the chassis (MacPherson strut front suspension/multi-link rear suspension) is really well set up. Sure, you don't get the smarts of adaptive dampers, but the tune that Kia's local team has done on it is excellent: it rides over bumps well (the slightly smaller wheel/tyre package undoubtedly helps in that regard), and it handles corners with ease and steers quite nicely. A bit more nose-end grip could help things even more. 
The braking response of the Brembos on the V6 models was definitely better than the four-cylinder models - strong and straight, and with good pedal feel, too.
One minor complaint I had was with the adaptive cruise control - it isn't as good as some other systems I've used: it can be jagged in its reapplication of throttle, whether in the 2.0-litre or the 3.3. 
Safety
Peugeot 508
8/10
The 508 comes loaded as standard with an impressive suite of active safety items including auto emergency braking (AEB – works from 0 – 140km/h), lane-keep assist (LKAS) with lane-departure warning (LDW), blind-spot monitoring (BSM), traffic-sign recognition (TSR), and active cruise control, which also lets you set your exact position within the lane.
Thanks to the 508's AEB also detecting pedestrians and cyclists, it already carries a maximum five-star ANCAP safety rating.
The expected suite of features include six airbags, three top-tether and two ISOFIX child-seat mounting points as well as electronic stability and brake controls.
---
Kia Stinger
8/10
When Kia launched the Stinger, it had not one safety rating, but two: a three-star ANCAP score for the 200S and 330S base model versions, and a five-star ANCAP for all other Stingers. The reason was the S models lacked some electronic safety features. Now, however, every Kia Stinger has the five-star ANCAP rating, based on 2018 testing. 
Now, let's just put this out there: this scoring was confusing and also confounding when compared with other ratings from the safety watchdog. For other vehicles in the market, ANCAP hadn't issued two ratings if a specific variant didn't have the safety equipment needed: instead, it would issue an overall rating for the range, with a side note about specific models that may not meet the five-star score… like the Honda CR-V. Why ANCAP decided to single out the Stinger is beyond us.  
Now that's out of the way, let's talk safety equipment.
Every Stinger now has auto emergency braking (AEB) with pedestrian detection, lane-keep assist, adaptive cruise control with stop and go functionality, driver attention alert, a reversing camera, rear parking sensors, and seven airbags (dual front, front side, full length curtain and driver's knee). 
The high-spec GT and GT-Line models gain a 360-degree camera/surround view camera, blind-spot monitoring, rear cross-traffic alert, and front parking sensors - but no park assist system to help you out in carparks. These versions also get a colour head-up display (HUD).
Where is the Kia Stinger built? The answer is South Korea.
Ownership
Peugeot 508
7/10
Peugeot currently offers a competitive five-year unlimited kilometre warranty promise, which includes five years of roadside assist.
The 508 only has to be serviced once every 12 months or 20,000km, which is nice, but that's where the good news ends. Service pricing is steeper than budget-brand peers, with a fixed-price program costing between $600 and $853 per visit. Over the length of the warranty it will cost you a total of $3507 or an average of $701.40 per year.
It's almost twice the price of some competitors, but Peugeot does promise that the service visits are all inclusive of expendable items like fluids and filters etc.
---
Kia Stinger
9/10
Kia offers one of the best ownership plans in the business, with a seven-year/unlimited kilometre warranty plan backed by seven years' roadside assist if you keep your logbook stamped by Kia dealers, and a seven-year capped price service plan.
The cost varies depending on whether you choose the four-cylinder or the V6, but the intervals are the same: both four- and six-cylinder models require maintenance every 12 months or 10,000km (whichever comes first). That's shorter than most Kia models, which only need servicing annually or every 15,000km. 
 
The four-cylinder models are more affordable to own due to a lower average service cost of $451, compared with the six-cylinder version at $487. 
If you're worried about Kia Stinger problems - be it engine problems, transmission problems, suspension issues, quality complaints (like that yellow paint issue) or any other type of reliability complication - check our Kia Stinger problems page. Don't forget that old-school owners manual in the glovebox, where you'll be able to find out what sort of replacement battery you'll need, also what oil type is required.
As for resale value? That's a bit of guesswork, given the car hasn't been on sale all that long. But Glass's Guide's depreciation calculator suggests the following: for a GT model after three years/50,000km, you should expect a trade-in price of just $21,200, or a private price of $26,000. 
Thinking a base model 200S might be a good buy? Maybe wait three years, because the predicted resale value is just $15,800 as a trade-in, and only $19,500 retail (and you'll still have four year's worth of warranty!).