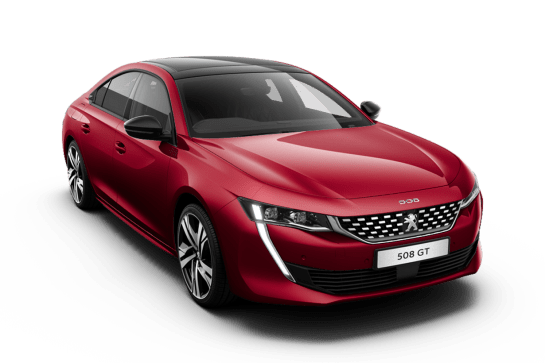 COMPARE
Peugeot 508
VS
Subaru WRX
Peugeot 508
Likes
Design oozes style
High-tech, well equipped
Refined fun behind the wheel
Dislikes
Touchscreen air-con controls
Rear seats clumsy to get into
Steering wheel can block instruments
---
Subaru WRX
Likes
Terrific engine
Surprisingly livable ride
Unusual and great hydraulic steering
Dislikes
No Apple CarPlay/Android Auto
Spec.R value questionable
Lack of AEB/rear parking sensors
Summary
Peugeot 508
Peugeot has gone from strength to strength in Europe off the back of a branding and design renaissance.
The brand now fields a competitive range of SUVs as well as a new generation of tech and design-focused cars.
In Australia, you'd be forgiven for not knowing any of this, with French cars still well and truly in the niche basket. And with Aussie consumers increasingly shunning cars like the 508 in favour of SUVs, the liftback and wagon combo has the odds stacked against it.
So, if you're not already a French car die hard (they very much still exist) – should you be stepping out of your comfort zone and into Peugeot's latest and greatest offering? Read on to find out.
| | |
| --- | --- |
| Safety rating | |
| Engine Type | 1.6L turbo |
| Fuel Type | Premium Unleaded Petrol |
| Fuel Efficiency | 6.3L/100km |
| Seating | 5 seats |
---
Subaru WRX
It's funny how some brands break through into the collective consciousness. Subaru Technica International could be absolutely anything, really, but thanks to the efforts of a few chaps flinging WRXs down muddy forest roads and the PlayStation juggernaut that is Gran Turismo, just about everyone has at least heard of STi, and knows it means something fast and furious.
As part of this year's facelifted range of six WRXs, Subaru has presented us with the WRX STi Spec.R. Before you get too excited and start looking for phrases like "power is up..." or "weight is down...", the Spec.R is an STi with Recaro seats and a big wing. That doesn't mean it's not worth reading on, however, because an STi badge is never anything less than interesting. And invigorating.
| | |
| --- | --- |
| Safety rating | |
| Engine Type | 2.0L turbo |
| Fuel Type | Premium Unleaded Petrol |
| Fuel Efficiency | 9.2L/100km |
| Seating | 5 seats |
Verdict
Peugeot 508
7.8/10
The 508 draws you in with its stunning design, but under the surface there's a well-equipped and practical car.
While it might not be destined for mass popularity in Australia, it's still a compelling semi-premium option that should have you asking yourself: "Do I really need an SUV?"
---
Subaru WRX
7.3/10
Is the Spec.R worth the extra few grand over the Premium? Not really, but it's not like you're buying an STi with your accountant's blessing. The Recaros are good but they aren't amazing and the whopping rear wing is a little embarassing if you want to keep a low profile. But if you must have the top of the range, the STi is certainly far better than the WRX on which it's based and worth the extra dollars and thirst for 98 RON fuel. It's easier to live with and more fun to drive, something I'm still questioning as I type it. I expected the latter but not the former.
You can get the "basic" STi for almost $10,000 less and still get pretty much the same effect, but you'll have to move the seat yourself, live without a few luxuries and go without Battlestar Galactica glued to the bootlid.
Is the STi on your list or does the the all-wheel drive Euro set have its fingers on your money?
Design
Peugeot 508
9/10
Let's lead with this Pug's strongest suit. No matter whether you choose the liftback or the wagon, you're getting a seriously stunning car. There are a lot of elements comprising the front and rear fascias, yet somehow it's not overly busy.
The downward swoop of the bonnet  and the angular rear, with a subtle flicked up wing on the liftback, give this car a curvy but muscular aesthetic, and there are more than enough 'wow' items, like the DRLs which streak down from the front light clusters and rear fittings, which reference this car's classy 407 ancestor.
Meanwhile, the more you look at the wagon, particularly from the rear, the more elements begin to stand out. Either car has a sleek silhouette when spotted from the side.
There's no doubt it has a rich visual presence – one which is befitting of Peugeot's new push to be seen as a more premium offering in Australia. It's also easy to draw comparisons to recent design leaders like Volvo's S60 and V60 twins, and Mazda's new 3 and 6.
Inside is just as bold, with Peugeot's iCockpit interior theme providing a fresh take on a tired formula.
The theme consists of a steering wheel that 'floats' low and flat in the dash, with the instrument cluster perched atop. There's also a raised console and super-wide 10-inch touchscreen adorning the centre of an otherwise minimalist looking interior.
Annoyingly, the dual-zone climate control is operated via the touchscreen,  which is clumsy and annoying to look at when you should be keeping your eyes on the road. Give us an old-fashioned set of dials next time, it's just so much easier.
The design is comprised of mostly tasteful leather finish, gloss black panelwork and soft-touch plastics. The pictures somehow don't do it justice, although personally I think it could do with a little less chrome.
Maybe we should really be thanking SUVs for a resurgence in great-looking passenger cars for every niche.
---
Subaru WRX
7/10
Well, yes. That rear wing really dominates the STi, hanging off the back like it's searching for aliens, so they can land their spaceships on it. It's a hefty-looking unit but is actually so big that it does little to ruin rearward vision. You certainly make an entrance in a Spec.R.
The rest of the car is fairly conventional WRX - pumped and vented front guards, big but not stupid-big wheels and blacked out front and rear splitters.
Practicality
Peugeot 508
8/10
No matter which bodystyle you pick, the 508 is a practical unit, although there are a few areas where the design takes priority.
We'll start with the luggage area, where both cars are at their best. The Sportback offers 487-litres of storage, which is up there with the biggest hatchbacks and most mid-size SUVs, whereas the wagon offers almost 50 extra litres (530L), which is more space than most people will realistically need.
Up in the second-row space is decent, with an inch or two of airspace for my knees behind my own (182cm tall) driving position. There's room above my head once I'm seated - despite the slopey roofline - but getting in and out is a scramble, with the C-pillar jutting down where the door joins the body.
You'll fit three adults across, with a bit of a squeeze, and there are ISOFIX child-seat mounting points on the outer two seats.
The rear seats also get access to a set of air vents, two USB power outlets and netting on the back of the front seats. There are cupholders in the doors, but they're so tight they'll only really hold an espresso cup.
Up front, the door issue is the same – it won't hold a 500ml bottle due to the complex door cards – but there are two large cupholders in the centre.
Storage for the front occupants is far better than it is in this car's 308 hatch sibling, with the posh raised centre console also offering a long trench for phones and wallets, as well as a deep centre-console box and a storage area underneath, which also hosts the front USB outlets. There's a decently sized glovebox on the passenger side.
Room for front occupants is also good, as the seats are set low in the body, but knee room is limited due to the wide console and overly thick door cards.
The iCockpit design is perfectly suited to someone my size, but if you're particularly short you won't be able to see over the dash elements, and if you're particularly tall it will get uncomfortable quickly, with the wheel blocking elements or simply sitting too low. Seriously, just ask our resident giraffe-person, Richard Berry.
---
Subaru WRX
7/10
It's classic Impreza in here, so it's not a bad place for you and your things. Front and rear headroom are good and, for this segment, rear accommodation isn't bad at all, even if it lacks its own set of air-con vents.
The boot will take 460 litres, with the rear seats folding in the usual 60/40 fashion. Front and rear passengers each have two cupholders and two bottle holders, bringing the totals to four apiece.
Price and features
Peugeot 508
7/10
Peugeot has made the topic of price an easy one. The 508 arrives in Australia in just one trim level, the GT, which wears an MSRP of either $53,990 for the Sportback or $55,990 for the Sportwagon.
An impressive specification is completely standard, including a 10-inch multimedia toucschreen with Apple CarPlay and Android Auto connectivity, built-in navigation and DAB+ digital radio, a 12.3-inch digital dash cluster, modestly sized 18-inch alloy wheels, full LED front and rear lighting, adaptive dampers, which respond to the car's five driving modes, and a thorough active-safety suite, which includes adaptive cruise control.
The black fully leather interior trim is included, as well as heated and powered front seats.
The only two items that reside on the options list are a sunroof ($2500) and premium paints (either metallic at $590 or pearlescent at $1050).
Non-Peugeot die hards will be cross-shopping the 508 against the also-single-variant Volkswagen Arteon (206 TSI - $67,490), Skoda Octavia (RS 245 - $48,490) or perhaps the Mazda6 (Atenza - $49,990).
While all of those options, including the 508, are not budget buys, Peugeot makes no apologies for the fact that it's not going after the volume end of the market. It hopes the 508 will become the brand's "aspirational flagship."
---
Subaru WRX
7/10
The STI range kicks off at $51,190, climing to $55,490 for the Premium and then on to $57,690 for the Spec.R. I had the all-singing and dancing Spec.R for a week.
Based on the Premium's specifcation, the R arrives with 19-inch alloys wrapped in Yokohama Advan tyres, bright yellow six-pot Brembo calipers gripping drilled discs, an eight-speaker Harmon Kardon stereo, dual-zone climate control, front, side and rear vision cameras, keyless entry and start, auto wipers, active auto LED headlights, cruise control, sat nav, partial leather trim, power everything, sunroof and a space-saver spare.
The R in Spec.R stands for Recaro, the famous bottom-holding company supplying the heated front seats in part leather, part alcantara. Irritatingly, the seats don't fix the too-high positioning of the WRX's front pews, but you can't have everything. The R could also stand for ruddy great rear wing, which comes as standard and is as impressive/obnoxious as ever (delete where appropriate). 
The eight-speaker stereo is a vast improvement on the six-speaker unit in the WRX (which is tinny) but the Starlink screen (all 5.9-inches of it) still doesn't feature Apple CarPlay or Android Auto. The sat nav is welcome, though, and means the lack of proper smartphone integration isn't as annoying.
Engine & trans
Peugeot 508
8/10
Peugeot has made this department easy, too. There's just one drivetrain.
It's a 1.6-litre four-cylinder turbo petrol engine, which punches above its weight on the power front with 165kW/300Nm. If you think about it, there were many V6 engines that wouldn't have produced that kind of power, even just a few years ago.
The engine drives the front wheels only via an also-new eight-speed torque converter automatic transmission. There's no all-wheel drive and no diesel as part of Peugeot's simplify-and-conquer strategy.
---
Subaru WRX
8/10
The STi continues with the larger 2.5-litre turbo boxer four, producing an unchanged 221kW (at 6000rpm) and 407Nm. Power hits the road via all four wheels in a fairly attacking fashion, with the centre differential switched out from the viscous coupled one in automatic to a driver-configurable version called "DCCD".
The 0 to 100km/h sprint for the 1572kg STi is dispatched in 5.2 seconds, lopping 0.8 seconds off the standard car's time, which is significant.
Fuel consumption
Peugeot 508
7/10
The 508 is rated to consume an impressive-sounding 6.3L/100km on the combined cycle, although in my recent test of the 308 GT hatchback, which shares the same drivetrain, I scored 8.5L/100km.
While our countryside blast at the 508's launch event would be an unfair representation of this car's real-world fuel consumption, I'd be surprised if most people scored below 8.0L/100km, given this car's extra kerb weight over the 308 and the nature of its entertaining drive.
We should stop for a moment and appreciate that this engine is the first one on sale in Australia featuring a petrol particulate filter (PPF).
While other manufacturers (like Land Rover and Volkswagen) have been vocal about the fact that they cannot bring PPFs to Australia due to our lax (high-sulfur) fuel quality, Peugeot's "totally passive" system allows for higher sulfur contents, so 508 owners can rest assured they're driving around with reasonably low CO2 tailpipe emissions of 142g/km.
As a result, however, the 508 requires you to fill its 62-litre tank with a minimum 95RON mid-grade unleaded petrol.
---
Subaru WRX
7/10
Subaru claims a combined figure of 11.2L/100km and I managed...well, here's the thing, 11.3L/100km. Truth in fuel consumption? Well, I never.
While the WRX drinks 95, the STi demands 98.
Driving
Peugeot 508
8/10
The 508 matches up to its swoopy looks by being a whole lot of fun, but also surprisingly refined behind the wheel.
The 1.6 turbo isn't wildly powerful for something this size, but it's easily grunts enough, with peak torque easily lighting up the front wheels from a standstill. It's quiet, too, and the eight speed is silky-smooth in most driving modes
Speaking of which, special attention should be given to the driving modes. In many cars you'll get a 'sport' button, which, nine times out of 10, is basically useless. But not here in the 508, where each of its five distinct driving modes alters everything from engine response, transmission map and steering weight to the mode of the adaptive dampers.
Comfort is best for plodding around town or in traffic, with a smooth engine and transmission response to inputs and light steering, which makes it a cinch to move around.
The prime B-roads we were on around Canberra's countryside periphery, however, demanded the full-fat sports mode, which makes the steering heavy and instantly responsive and the engine far more aggressive. It will let you ride each gear all the way up to the red line and switching to manual gives impressively snappy responses, via the flappy paddle, wheel-mounted shifters.
I was taken aback to find that no matter which mode I chose, the suspension was excellent. It was softer in comfort but even in sport it wasn't as brutal as the 308 GT hatch, soaking up the larger bumps without shaking up the occupants in the process. This is partially due to the 508's reasonably sized 18-inch alloys.
The wheel itself feels great in your hands, with a small radius and slightly square shape making it easy to wrangle. My main complaint is directed at the the multimedia touchscreen, which is seated so deep in the dash it requires taking your eyes a bit too far off the road to adjust anything – including the climate controls.
With no all-wheel drive and modest power, the 508 is hardly a proper sportscar, but it is still a great balance of refinement and fun where it counts.
---
Subaru WRX
8/10
There are a number of significant differences between the basic WRX and the STi. For a start, the steering in the STi is old-school hydraulic, and it shows. While it might follow ruts a little more assiduously than I'd like, it's much better than the electric rack in the WRX. 
The engine is half a litre bigger, with 221kW and 407Nm, the centre diff is driver controllable, the gear ratios are different and there is a shorter final drive for extra punch. The all-wheel-drive grip is further augmented with a set of delightfully sticky Yokohama tyres wrapped around 19-inch alloys.
If you want, you can also have a ludicrously large rear wing. Well, on the Spec.R, you've got it as standard. If you're a bit of a wallflower, you might want to delete that. There are also a set of bright yellow six-pot Brembo brakes, properly high-vis yellow, gripping drilled discs. 
The standard WRX was a hard-rider, with a difficult clutch and gearshift. Surely the harder, more focused STi will be a less appealing day-to-day machine?
Nope. I know, it makes no sense, but it's true.
The real revelation is the ride. The WRX's disjointed suspension setup makes for an unholy experience on poor suburban roads while (mercifully) delivering in the twisty stuff. Both the city and getting-up-to-mischief rides in the STi are excellent. It's not soft, but the concretey feel of the WRX has been replaced with a more compliant, less busy ride. And that's despite bigger wheels and lower-profile tyres and a bit more weight.
On top of that, the hydraulic steering is way better, with more feel, more communication and more precision, apart from a slight wooliness a couple of degrees either side of dead-ahead. While the WRX is better in the faster stuff than the slow, the STi is more comfortable and usable everywhere. The extra power and torque is easy to feel and use and the clutch and gearbox are much more interested in not making you look like a goose.
The torque curve does seem a bit different to the 2.0-litre machine - you can't bumble along in a high gear, you will have to keep the left arm and leg working to maintain stately forward progression. Get lazy and you'll be bumping and shunting a bit, but again, the shift and clutch are far less obstreperous. And this is a car for people who want to drive, and be involved, anyway.
In the fun stuff, the STi is a joy. It really hooks up and you don't need to fiddle with the diff setting, which seems like a silly gimmick. Just leave it in auto and enjoy the taut, responsive chassis, the way it grips and grips and grips, and with a bit of power shuffling, resists understeer like a vegan fails to resist telling you about their veganism.
Safety
Peugeot 508
8/10
The 508 comes loaded as standard with an impressive suite of active safety items including auto emergency braking (AEB – works from 0 – 140km/h), lane-keep assist (LKAS) with lane-departure warning (LDW), blind-spot monitoring (BSM), traffic-sign recognition (TSR), and active cruise control, which also lets you set your exact position within the lane.
Thanks to the 508's AEB also detecting pedestrians and cyclists, it already carries a maximum five-star ANCAP safety rating.
The expected suite of features include six airbags, three top-tether and two ISOFIX child-seat mounting points as well as electronic stability and brake controls.
---
Subaru WRX
7/10
The WRX has seven airbags, ABS, stability and traction controls, reversing camera and brake assist. The STi picks up lane departure warning, rear cross traffic alert, lane change assist and high beam assist. There's also a camera that looks forward down the side of the car to help you park  and a front-facing camera.
ANCAP awarded the WRX a five star ANCAP safety rating in March 2014.
EyeSight is not available on manual WRXs and you can't get a CVT STi, so no camera-based cleverness for you. 
The front-facing camera hangs off the left-hand door mirror and for some reason points forward. It's not especially helpful for parking.
Ownership
Peugeot 508
7/10
Peugeot currently offers a competitive five-year unlimited kilometre warranty promise, which includes five years of roadside assist.
The 508 only has to be serviced once every 12 months or 20,000km, which is nice, but that's where the good news ends. Service pricing is steeper than budget-brand peers, with a fixed-price program costing between $600 and $853 per visit. Over the length of the warranty it will cost you a total of $3507 or an average of $701.40 per year.
It's almost twice the price of some competitors, but Peugeot does promise that the service visits are all inclusive of expendable items like fluids and filters etc.
---
Subaru WRX
7/10
Subaru offers a three year/unlimited kilomtre warranty with matching roadside assist.
Servicing is capped for the first three years/75,000km on the WRX (Subaru appears to be in some kind of transition to a different style of service pricing). Intervals weigh in at six months/12,500km with prices ranging from $302 to $604 for a total service bill of $2295.72 or $765.24 per year. Oddly, the STi's service pricing is slightly cheaper than the base WRX.