21 March 2018
What happened to variable-geometry turbos?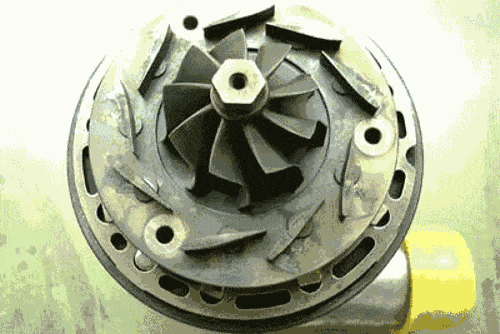 Not to say that they've disappeared entirely, but 10 years ago they seemed to be one of the hottest bits of new engine tech on the market.
Nowadays however, finding them on petrol-powered sports cars is a rarity. What happened?
First of all, some explaining...
One of the reasons that makes a variable-geometry turbocharger seem so attractive to a driver is the theoretical promise of constant boost when needed; a turbo providing the most appropriate amount of compressed air to the engine all the time. No lag, no build-up – just pure, unshackled 'stu-stu-stu-stu'. Regardless of the engine speed.

Yes! Yes! Yes! *winks* (video credit: MotorTrend.com)
By using adaptive vanes on the exhaust turbine, a variable-geometry turbo can change its angle of attack in real time.
Essentially, a variable-geometry turbocharger can be a small, responsive turbo at low revs, before transforming into a big, meaty turbo when the engine gets busy.
Sounds amazing, right? It's like having a small turbo and a large turbo in a sequential twin-turbo setup. But instead, it's this 'all-in-one' weird CVT-turbo type… thing.

The lower the revs, the smaller the turbo becomes. It's the best of both worlds.
You don't need to worry about maintaining two whole separate turbochargers, should you justify that leap, and when the local constabulary stuffs his/her head under the bonnet to check that everything is legit, he/she won't be bewildered by that fact that you've dared to add on more than one 'hoon device'.
There are other benefits too.
Because the power delivery is much more streamlined when the turbo does come on boost, the engine behaves somewhat more like a naturally aspirated unit, rather than that 'nothing, nothing, nothing, ohmygod' feeling that old Porsche 930 owners would be familiar with.

*Puts foot down in any turbocharged from the '80s*
There's also a longer, flatter distribution of torque in the mid ranges; the ability for the engine to operate at a leaner and more efficient air-fuel ratio under part-load; increased thermal efficiency due to an adaptive A/R; and the engine won't be waiting to be revved out so it can generate sufficient boost, like a big turbo situation and also won't be strangled in high-flow, high rpm situations by a small turbo.
If it's so good then, why don't we have them?
Well, we did. Once.
In 2007 Porsche unveiled the 911 Turbo (997) – another in a long line of "holy s*** that's fast" 911 Turbos – but this time, Porsche did something different.

Apart from the '88 Honda Legend and 1989 Shelby CSX, the 2007 Porsche 911 Turbo was the first petrol-powered car with VGT tech.
Rather than turn up the boost and make the legendary 'Turbo' even more fearsome, like they pretty much did with all turbocharged 911s before, Porsche pushed to make the new 997 Turbo a cleaner, more liveable car.
In order to help achieve this, Porsche installed a brace of BorgWarner variable-geometry turbos in order to streamline power delivery and mechanical efficiency. And boy, did it get its fair share of critical acclaim.
Everything to do with the new car's power delivery, throttle response, and (lack of) turbocharger lag was pretty much universally praised. Not surprising, having come from the company that has a long history of creating, refining, and perfecting the application of turbocharging on sports cars.
So, if it's one of those innovations that works well in theory – and in practice – then why haven't we seen the trickle-down effect apply variable-geometry turbochargers to more attainable sports cars?
Manager of IAM Asia - BorgWarner, Garry Shields, said this: "VTG (Variable Turbine Geometry) turbochargers are very expensive to manufacture due to the additional components and highly specialised materials used to cope with high EGTs (exhaust gas temperatures) on gasoline engines. Manufacturers generally want to achieve their performance, efficiency, drivability and emissions targets with the lowest cost product available."
Additionally, while VGTs are almost exclusively found in heavy-duty diesel applications, Mr Shields said it's more likely due to the fact that VGTs made for diesel engines do not require the same highly specialised materials due to the lower EGT.
"All of our OEM customers have the option to take VTG (Variable Turbine Geometry) technology, however, they will always take the lowest cost option while keeping in mind their overall requirements for performance, efficiency, drivability, and emissions. I believe that only Porsche are currently using our gasoline VTG technology for single stage forced induction."
In fact, there are only a handful of petrol-powered sports cars that use variable-geometry turbochargers. Porsche's 718 models (Boxster S/Cayman S) and the current 911 Turbo are two. And Suzuki's new $25,490 Swift Sport is another. Weird.
Yet, for some reason, all of the standard 911 Carrera engines use mono-scroll turbos.
Mono-scroll, twin-scroll, VTG turbo... What's the deal, and which one is better?

If only things were so easy...
Keeping it brief: mono-scroll turbos are the most basic. They're the simple, garden-variety design that, while laggy, can have its lag 'fixed' by adding another unit alongside it.
As awesome as adding more turbos is, it's an impractical solution.
You don't become 'not broke' by throwing away even more money. You have to adapt. Which is where twin-scroll turbos come in.
Much like a variable-geometry turbo, twin-scroll turbochargers provide many technical benefits over their simpler mono-scroll brethren.
They increase low-end torque, improve boost response, raise power throughout the powerband, maximize turbine efficiency, reduce engine pumping losses, improve fuel economy, and decrease intake charge dilution during valve overlap, and lower exhaust gas temperatures.
You can even replace a twin-turbo, mono-scroll setup with a single, twin-scroll unit. Which is pretty much what BMW did for their M2 sports coupe when it replaced the older twin-turbo 1-Series M Coupe.
Compared to VTG turbos, twin-scroll units seem like a strong alternative - which they are.
When looking at the sports car market, it seems like Porsche are the only ones who have stuck with VTG turbos.
Volkswagen's Golf GTI has a twin-scroll setup, as does Hyundai's i30 N, Mercedes-Benz's A45 AMG, the good old Rexy STI and Evo X, and plenty more. They're everywhere.
And while the advantages of a twin-scroll are comparable to a VTG, they have some differentiating features.

To keep it simple, twin-scroll turbos have no vanes. Much like mono-scroll turbochargers, they're simple. Except that twin-scroll turbochargers require a divided-inlet turbine housing and a properly-designed exhaust manifold that pairs half of the cylinders into one scroll, and the other half in another.
On a four-cylinder application, cylinders one and three will blow exhaust gases into one scroll, and cylinders two and four will blow into the second scroll.
It's hard to say which design is 'better', particularly when such an argument will generate a response similar to the ever annoying "it all depends on the circumstance".
But while twin-scroll turbochargers have similar advantages to VTG turbos, their collective benefits are not as strong overall. However, they should be more reliable; having less moving components and are free from leaning on secondary and tertiary actuators to function properly.
And while VTG turbochargers are impressive – probably the pinnacle of turbocharging design – they are quite expensive. Awfully so.
Additionally, they can also be quite difficult to install and calibrate on an engine that wasn't intended for them in the first place. Something has to tell those vanes when to move, and by how much.
But then again, if variable-geometry turbochargers are so good, then why would almost all of the market adapt twin-scroll turbocharging tech?
Which design of turbocharger would you prefer to have on your car? Tell us in the comments.