3 July 2018
Three reasons why the Eunos Cosmo is better than the RX-7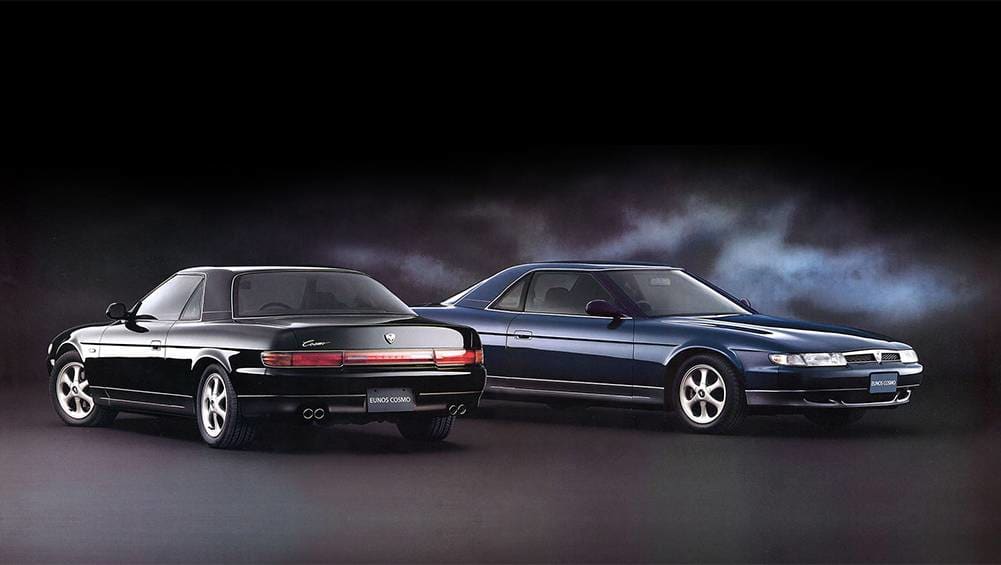 When it comes to rotary-powered sports cars, everyone will agree that Mazda's third and final generation RX-7 is the best; due to its handling, high revving engine and unforgettable styling.
However, Mazda's other rotary car from the '90s, the Eunos Cosmo is often overlooked, but in some areas it's better than brand's halo car.
Don't get me wrong, the RX-7 is fantastic, but here are three reasons why I think the Cosmo is Mazda's better rotary-powered rocket.
1. Extra grunt

Who said a rotary engine couldn't make enough torque? Is 403Nm enough?
While the Eunos Cosmo was available with the same twin-turbo 13B engine found in the FD RX-7, the Cosmo also came with a more powerful 20B unit.
Still the only triple rotor to be fitted to a production car, the twin-turbocharged engine develops 220kW/403Nm, which still makes it the most powerful road-going rotary ever.
Despite being connected to a four-speed auto and having a kerb weight of 1640kg, the Eunos could race from 0-100km/h in six seconds.
2. Luxury 

So much luxury for the '90s.
It's no secret the Cosmo wasn't a hardcore sports car like the RX-7, instead it was a luxurious GT aimed to take on the Europeans.
Inside, there's leather everywhere (I mean EVERYWHERE), a digital dash, car phone (optional) and even a colour touchscreen (dubbed "Car Control System") controlling the climate control and one of the world's first GPS navigation systems. Very advanced for the time.
3. Uniqueness

Simple styling that sums up the design during the '90s.
The RX-7 is a rare bird, but when was the last time you saw a Eunos Cosmo? I've only seen one and I couldn't contain my excitement when I did.
Sure, it isn't the most beautifully designed car on the planet, but the rounded shape is simple and screams the '90s.
Also, as the Eunos was never sold here, this helps the rarity and naturally makes it sought after.
Which of Mazda's rotary sports car is best? Let us know in the comments.