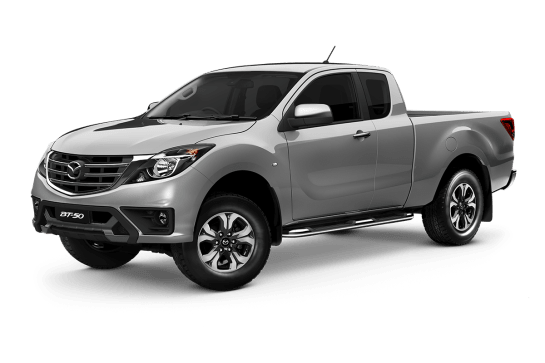 COMPARE
Mazda BT-50
VS
Isuzu D-Max
Mazda BT-50
Likes
Sharp drive-away pricing
Robust, eager drivetrain
Family friendly on-road comfort and space
Dislikes
'Metallic-shearing' sound from diesel at low speed
Non-reach-adjustable steering wheel
Drab charcoal-coloured dash
---
Isuzu D-Max
Likes
Reversing camera as standard
Suspension upgrade
Off-road capability
Dislikes
No AEB
No Apple CarPlay or Android Auto
Still noisy when driven hard
Summary
Mazda BT-50
Mazda Australia might be reluctant to admit it, but it has always been a bit touchy about the BT-50's looks. So much so, it went to no end of trouble trying to hide the ute's bulbous conk with a bull bar when it first broke cover back in 2011.
But does a ute need to be handsome? Isn't getting hung up about the styling of a ute like looking for elegance in a shovel? Apparently not, because the launch of the new 2018 Mazda BT-50 marks the third edit of that curvy front clip, and we're still taking about it. Only this time, it's all good news.
But, if you're in the market for a gutsy, family friendly ute, the bigger story here is the pricing. Mazda's BT-50, right across the range, is starting to look like one heck of a bargain.
However, before becoming blinded by the beauty of the new nose or the savings you might find on your local dealer's forecourt, let's not forget that it was Mazda who put in the hard design and engineering yards into the strong and capable bones – the chassis, 4x4 drivetrain, and suspension dynamics – that sit under both this and the Ford Ranger.
And truth be told, this correspondent has always had a soft spot for the big, hard-grafting Maz'. We've hammered the BT-50 off-road and on it, spent countless hours chasing outback horizons behind that gutsy 3.2-litre turbo-diesel, strapped kids into booster seats in the back, tip-toed around shopping centre car-parks, dragged it in and out of rutted ravines and through deep river crossings (mostly with a pooch licking the left ear, or slobbering at a window), and never had reason to doubt that this is a very well-engineered, very strong and very capable multi-purpose holiday/work-truck/family/pooch conveyance. 
And now, with this styling update, and while enjoying a hefty price advantage over the equivalent Ranger, the new BT-50 comes with a whole lot of enhancements inside and out; Apple CarPlay and Android Auto across all model grades, reverse camera across all models, and service intervals that have now been stretched from 10,000km or 12 months to 15,000km or 12 months. 
To introduce us to the charms of this latest BT-50, Mazda Australia took us to the Gawler Ranges in South Australia where we put it through its paces on sand, rock-strewn gravel and bitumen.
 
But more of its driving character later; let's talk about the styling – and its new-found elegance.
| | |
| --- | --- |
| Safety rating | |
| Engine Type | 3.2L turbo |
| Fuel Type | Diesel |
| Fuel Efficiency | 8.9L/100km |
| Seating | 3 seats |
---
Isuzu D-Max
Last year heralded a raft of significant changes in Isuzu Ute Australia's (IUA) D-Max and MU-X line-up.
In its first-quarter 2017 launch on Queensland's Sunshine Coast, Isuzu officially revealed the range's new 3.0-litre engine, new six-speed automatic transmission, and upgraded Aussie-specific suspension – all engineered for Australian drivers and our unique driving conditions – as well as a few nifty styling improvements, including a new front-end.
Well, this year Isuzu chose the Mt Cotton driver training centre, just outside of Brisbane, as the venue to let Australian motoring journalists loose in some new D-Maxs and MU-Xs. The changes this time around aren't anywhere near as big as they were last year but Isuzu is hoping that extra safety features as standard, styling tweaks and value-added service intervals will help to build on growing buyer interest in its ute and SUV range.
| | |
| --- | --- |
| Safety rating | |
| Engine Type | 3.0L turbo |
| Fuel Type | Diesel |
| Fuel Efficiency | 7.8L/100km |
| Seating | 2 seats |
Verdict
Mazda BT-50
7.5/10
Our score is based on a summation of the quality of the car, the robustness of the engineering, where it sits feature-for-feature, and the value in the drive-away pricing. You probably have your own views on the new nose on the updated BT-50; we quite like it. 
At these new prices, the BT-50 demands your attention. The fact that you can comfortably take it to the Cape and back, tackle any four-wheel-drive adventure you'd sensibly dream up, and, at the same time, live happily with it as a big, capable, versatile family car, surely adds to the appeal. 
Mazda, the little company "that can", has been carving out its place in this market off the back of well-engineered cars right across its product range. There is more than one reason why it's number two in one of the toughest markets on the planet. 
What do you think of the 2018 BT-50? Like the new front end? Tell us in the comments below.
---
Isuzu D-Max
7.3/10
The D-Max was already a solid choice for those interested in a functional family-friendly ute and it seems Isuzu might be justified in banking on the new LS-T's premium appeal, as well as the range's safety upgrades, extended service intervals and styling tweaks for even more sales.
What do you think of the new D-Max? Tell us in the comments below.
Design
Mazda BT-50
7/10
The answer here is 'yes'. What is interesting about the new BT-50, and its new nose, is that this car is unique to Australia. 
In fact, it was Mazda Australia who designed the new-look front clip. The project began as something of a skunk-works operation between Mazda Australia and Queensland company EGR, who manufacture and supply the factory-approved canopies across the BT-50 range.
With Australia the BT-50's biggest market, it is perhaps no surprise that the design work done here – done, it has to be said, because Aussie buyers were not crazy about the BT-50's schnoz – won the approval of Mazda in Japan.
While unique to Australia, the new front has all of the attributes – in terms of engineering, pedestrian protection, and aerodynamic efficiencies – of the nose it replaces. Airflow for cooling, in fact, is slightly improved, and drag, the coefficient of resistance, remains unchanged.
And from front-on, thanks to the new chromed grill and stronger horizontal lower lip, the BT-50 could easily be mistaken for an approaching SUV. Visually, there is certainly more conventional appeal in the new look. 
---
Isuzu D-Max
7/10
Nothing has changed on the D-Max's outside – it looks chunky, solid and purpose-built for adventure – but the LS-T's interior now has that perforated leather on body-contact areas and soft-touch leatherette elsewhere. Inside the cabin remains functional but it now has a more premium feel.
Practicality
Mazda BT-50
7/10
We only drove the dual-cab GT at launch. And, while the Freestyle cab with its rearward-hinged portal doors and compact cabin is perhaps the more sporting, the dual-cab wins hands-down for practicality. 
There is lots of room in the rear even for adult passengers. And, for children, enough width to go three-abreast. Getting booster seats or capsules in and out is also well served by the square-opening rear doors. And the height is just right for wrangling belts and buckles around junior passengers.
The deep tub out back, while not as cavernous as the Freestyle's, still offers a very useful 1560mm width and 1549mm length. Not even the largest SUVs offer that kind of carrying capacity.
Externally, you'll pick the dual-cab GT by the standard chromed bars and heavy-duty tub liner in the tray.
---
Isuzu D-Max
7/10
We didn't have the opportunity to spend very much time in the D-Max this time around but it appears to have retained the previous generation's easy-to-live-with attributes. Everything is clear to see (the 8.0-inch touchscreen is a good unit), easy to use (big buttons, dials and knobs abound) and the cabin is roomy, comfortable, and hard wearing. Build quality and fit and finish remains solid and touring-ready.
The D-Max's tray is 1552mm long (at floor level), 465mm deep and 1530mm wide across the top, 1105mm wide, between wheel arches. It has four tie-down points in the tray, one at each corner.
This D-Max has a 1024kg payload, 3050kg GVM, a maximum braked towing capacity of 3500kg and 750kg unbraked.
Price and features
Mazda BT-50
9/10
Mazda has always been prepared to take the sharp pencil to the pricing of the BT-50 range. And in terms of the quality feel of the product and the space it occupies in the segment, this car is very good buying. 
Look at the one we're driving, the top-of-the-range BT-50 3.2-litre dual-cab GT 4X4 with a six-speed auto. Its drive-away price is just $51,990. Line it up, feature by feature, with the equivalent Ranger, and you'll recognise a saving here of the better part of $10k. It is cheaper, even, than the second-tier Ranger XLS. That kind of saving is not to be sneezed at.
Line it up against the equivalent Isuzu D-Max, and, on that drive-away price, you'll see a saving of thousands of dollars. It is also cheaper than Mitsubishi's Triton Exceed, which has long been one of the price leaders in the segment.
The BT-50 range begins at $28,990 drive-away for the 2.2-litre 4x2 cab chassis; the 4x4 range starting at $37,990 drive-away.
 
Some in this segment just can't hide their 'workboots' feel. But there are no ratty plastics in this cabin, and few indicators of the BT-50's built-for-work origins. The sloping soft-touch dash gives an SUV-like feel to the interior, as does the large (7.0-inch or 8.0-inch) screen occupying the centre stack, as well as the solid feel to the doors and passenger-car ambience when on the road.
Start adding in features across the range - like standard reverse camera, power windows and mirrors, air-conditioning, cruise control, Apple CarPlay and Android Auto, quality Alpine sound systems, steering wheel-mounted audio controls, rear-view mirror auto dimming, and sat-nav with live traffic updates and off-road maps – and you'll possibly agree that there is more than a bit of substance packed behind those drive-away prices.
For XTR and GT models, to the list above you can add side steps (tubular, polished), tailgate lock, rain-sensing wipers, and dual-zone climate control. The GT also gets leather trim, an eight-way power front driver's seat, chrome rear bars and heavy-duty tub-liner. 
---
Isuzu D-Max
7/10
There are 23 variants in the D-Max line-up, ranging from the 4x2 single cab chassis SX manual ($28,600) through to the new LS-T (formerly known as the LS-Terrain), costing $54,700 (recommended retail price).
There are four variants in the crew cab (dual-cab) range – SX, LS-M, LS-U and the new LS-T (formerly known as the LS-Terrain), which we'll focus on in this yarn. There are 4x4 and 4x2 variants for everything in the 2018 D-Max range; and manual or auto transmissions for a lot of the line-up everything.
The LS-T is auto only and costs $54,700 (recommended retail price). Available in 4x4 or 4x2 guise, the LS-T gets, above and beyond what came before, perforated leather on body-contact areas, soft-touch leatherette in other spots (also in LS-m and LS-U), 18-inch wheels, sat nav, roof-rails, and two USB charge points.
Safety upgrades include trailer sway control for all new D-Maxs – except the 4x2 low-ride SX single cab chassis manual – and rear bumper and reversing camera as standard on everything, except cab chassis models, but it is an option on those.
There are also three new exterior colours available for the D-Max: 'Magnetic Red Mica', 'Cobalt Blue Mica' and 'Graphite Grey Metallic'. The new MU-X also has the Magnetic Red Mica option.
Engine & trans
Mazda BT-50
9/10
Lift the bonnet and what you are looking at there is grandpa's axe. The redoubtable five-cylinder, 3.2-litre turbo-diesel, which shares duties under the bonnet of the BT-50 and Ford Ranger (with a 2.2-litre turbo-diesel also available in lower-specced models across both brands), has been around since Adam was a pup. It produces 147kW at 3000rpm and 470Nm at 1750rpm.
It's essentially the same engine that began life as the Td5 diesel under the bonnets of the Land Rover Defender and Discovery 20-or-so-years back. But it's now vastly more refined, robust, and quiet. And teamed with either a six-speed manual or six-speed auto, it's as strong as a train.
---
Isuzu D-Max
7/10
The Euro 5 compliant 3.0-litre four-cylinder common rail diesel engine, producing 130kW at 3600rpm and 430Nm from 2000-2200rpm, stays, and is matched to a six-speed Aisin-sourced automatic transmission.
Fuel consumption
Mazda BT-50
7/10
This 3.2-litre diesel is not the most abstemious among the new generation of turbo-diesel, twin-cab 4x4s, and is bettered by the latest 3.0-litre Isuzu D-Max (8.1L/100km claimed) and the 2.8-litre Toyota HiLux (8.5L/100km claimed). 
In our hands, on this trip, we recorded 11.2L/100km on the highway and gravel roads approaching the Gawler Ranges (mostly fair secondary roads with patches of damp red bulldust to watch out for). This rose to 13.2L/100km after some heavy going on a long stretch of sandy inclines.
Mazda claims 10L/100km on the combined cycle for the auto, and 9.7L/100km for the manual. But this is a tarmac-based figure, not the kind of driving we were doing, or that you would do on a family beach or bush adventure.
That said, given the willing output of the diesel – if needing a surge of power, it can summon all 470Nm in very quick time – and the weight of the rig (2161kg for the GT auto), plus its effortless towing capability, the figures we recorded on new engines are not bad, and will give a good indication of what you might achieve in similar driving.  
In sand, that muscular torque sitting across a wide band – from 1750 to 2500rpm – is particularly useful. If you're carrying some weight behind, it won't run out of shove and leave you stranded when the going gets heavy. 
The BT-50 has an 80-litre fuel tank.
---
Isuzu D-Max
7/10
We only got the chance to spend very little time in any new models and we'd have to drive it for a week or more to get a good handle on real-world fuel consumption but Isuzu claims the D-Max gets through 7.9L/100km (combined cycle). It has a 76-litre fuel tank.
Driving
Mazda BT-50
7/10
No dual-cab ute will ever be as easy to live with, day to day, as a modern SUV or sedan. There are always compromises with a vehicle of this type in daily driving, especially for city-based families.
That said, it won't take you long to get used to the more utilitarian feel of the BT-50, nor to the length of the beast (these utes can sometimes feel like aircraft carriers in city carparks). Helping here is the reversing camera (standard across the entire range), the well-weighted power-assisted steering, and the general comfort of the cabin and relatively quiet operation (some diesel noise at lower speeds notwithstanding) of the engine.
Fact is, live with it a while, and you'll forget about the compromises of its workhorse engineering and learn to love the imperiously high driving position, the ready power, and the convenience of that big tub on the back.
Access in and out is also good, and at a perfect height for strapping the junior members of the tribe into the back seat. And with the icing being a long feature list and a half-decent sound system, it offers the conveniences of any modern sedan or hatchback. You'll be surprised by its easy driveability, too. 
For all its strengths, however, the weight inherent to a strong ladder chassis, a heavy-duty 4x4 drivetrain, and the other compromises built of necessity into a dual-purpose vehicle, will take a week or so to get used to.
Wheels are 17-inch alloys on 265/65 R17 AT tyres. Brakes are 302mm ventilated discs at the front and drums at the rear. The BT-50's tray is also handy for both real work and house-and-yard duties, measuring 1549mm long, 1560mm wide and 513mm deep.
Where once these twin-cab dual-purpose 4x4s were a tad raw, with juddery suspension, vague steering, indifferent handling and little in the way of creature comforts, many of the new wave of models, such as this BT-50, have comfort levels close to those of the big 4x4 wagons - and even some SUVs.
I'd happily circumnavigate the continent in the BT-50. The seats are good, it's quiet on-road (with less tyre noise than some passenger wagons), the feel through the steering is good and well-weighted (if a little vague at the dead-ahead), and there is effortless power underfoot.
Like any other modern car, it swallows highway kilometres with just the gruff muted growl of the turbo-diesel for accompaniment. On gravel – such as you'll find on any long run through the outback – it can be driven surprisingly quickly and comfortably thanks to the long wheelbase, large wheels (with All-Terrain tyres), and that reasonably compliant suspension; independent double wishbone, coil-over dampers at the front, and live-axle leaf-spring at the rear.
The ride in the BT-50, like the Ranger and VW Amarok, is certainly among the better performers in the segment. Corrugations can have the rear moving around a bit, especially when unladen, but it needs one hell of a whack for bumps, ruts or hollows (like an unexpected washout) to unsettle things in the cabin.
For difficult off-road work, this Mazda's figures – 237mm ground clearance (unladen), and approach, departure and ramp-over angles of 28.2, 26.4 and 25 degrees – all check out.
If trailer towing is your thing, the BT-50 has a maximum towing capacity of 3500kg (braked), 750kg (unbraked) and a towball download of 350kg.
---
Isuzu D-Max
7/10
We only did brief drive loops on the launch, including a decent off-road course and towing a 1750kg boat with a D-Max on a twisting bitumen road, designed to replicate real-world driving conditions.
Running 20 psi (pounds per square inch) in our Bridgestone Dueler or Toyo Open Country tyres, the Isuzus handled everything on the 4WD loop with ease, including runs up and down steep greasy-muddy hills peppered with rocks and tree-root hazards, tight turns in between trees, plowing through mud puddles and more. 
No surprise at its efficacy on rough terrain because it works off the proven 4X4 'Terrain Command' system, operated via a dial near the auto shifter, and which can be switched on the fly from 2High to 4High at speeds of up to 100km/h. To engage 4L you need to be stationary.
The LS-T is 5295mm long, 1860mm wide (excluding wing mirrors), 1855mm high (excluding roof rails) and has a 3095mm wheelbase and 1570mm track. It has a 12.6m turning circle. Kerb weight is listed as 2026kg.
It has 235mm ground clearance, 30 degrees approach angle, 22.7 degrees departure angle, and 22.3 degrees ramp-over angle. The LS-T's wading depth is 600mm.
The Isuzu ute retains the previous generation's hill start assist (designed to hold gear during climbs) and hill descent control (which maintains engine-braking speed on downhills and is able to be regulated with acceleration or braking).
The D-Max's underbody protection includes under-front steel plate skid/splash shield and steel plate guards on the sump, transfer case and fuel tank leading edge; and sheet steel under the fuel tank.
It has double wishbones and coil springs up front and leaf springs at the rear, reduced from a five-span spring set-up to three, which has resulted in a softer and more comfortable D-Max ride than before. 
We had the opportunity to drive a 2017 and a 2018 model back-to-back through lumpy sections at different speeds and the newer model exhibited a clear advantage in the ride and handling stakes over its older version.
Safety
Mazda BT-50
8/10
The BT-50, of course, has a five-star ANCAP safety rating, with all of the expected safety features that sit behind that rating. Importantly, for family duties, the airbag protection extends from the front to the rear cab, with driver and passenger airbags, both front and side, and curtain airbags front and rear. 
Other features include anti-lock braking (ABS), dynamic stability control (DSC), and emergency stop signal. Assisting off-road is hill descent control (4x4 only), hill launch assist, a locking rear differential (4x4 only), traction control and trailer sway control – the latter a Godsend when towing at highway speeds or when on loose surfaces (there are few things caravaners fear more than finding the caravan dictating terms at speed).
---
Isuzu D-Max
8/10
The D-Max has a maximum five-star ANCAP rating from November 2016. As mentioned, noteworthy safety upgrades include trailer sway control for all new D-Maxs – except the 4x2 low-ride SX single cab chassis manual – and rear bumper and reversing camera as standard on everything, except cab chassis models, but it is an option on those. 
Other standard safety gear includes six airbags (dual front, side and full-length curtain), ABS with electronic brake-force distribution, ESC, traction control and EBA (emergency brake assist), 'Hill Start Assist' and 'Hill Descent Control', plus three top-tether ISOFIX child-seat points in the rear seat.
Ownership
Mazda BT-50
6/10
Mazda's standard two-year warranty has been sweetened, with servicing intervals now extended from 10,000km/12 months to 15,000km/12 months.
On Mazda's calculations (as supplied), based on a 15,000km/12 month interval, this will save owners more than $850 after five years of servicing. And, for owners clocking up real-world distances of 25,000km per annum, the potential saving is $1920 over the five years.
---
Isuzu D-Max
8/10
It has a five-year/130,000km warranty, with five years of roadside assist and five-year/75,000km capped price service costs. Servicing is recommended at 12-month/15,000km intervals. Prices are: $350 (at 12 months/15,000km), $450 (at 24 months/30,000km), $500 (at 36 months/45,000km) $450 (at 48 months/60,000km) and $340 at 60 months/75,000km – for a total cost of $2090.