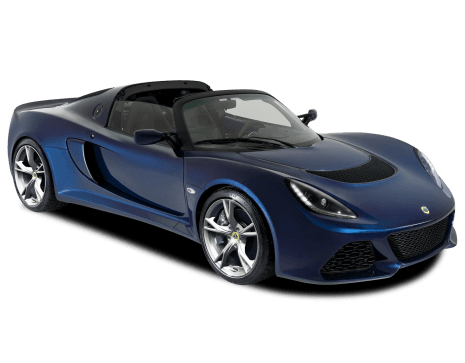 COMPARE
Lotus Exige
VS
Lexus LC500
Lotus Exige
Likes
Unassisted, unadulterated steering (at speed)
Beautiful balance and stiff chassis
Gearbox
Dislikes
Sheer impracticality
Heavy steering (at low speeds)
Getting in and out of it
---
Lexus LC500
Likes
Punchy engine
Throaty exhaust
Climate-controlled cabin
Dislikes
Disconnect from the drive experience
Lexus trackpad tech persists
Thirsty
Summary
Lotus Exige
Driving naked is ill-advised, and possibly illegal, but taking a spin in the Lotus Exige 350 Sport is as close as you'd ever want to get. It's not so much that you feel you've left your clothes at home, but that the car has shed its accoutrements, and indeed its very flesh, leaving you with a kind of skeletal vehicle; just bare bones and muscle.
What this punishingly hard and fiercely focused machine does to your bones and flesh is best described as extreme chiropractry - in particular the stress of ingress and egress - but fortunately it makes up for the moans, bangs and bruises by fizzing your adrenal glands in a big way.
The question is whether the fun is worth the suffering, and the  $138,782.85 price tag.
| | |
| --- | --- |
| Safety rating | — |
| Engine Type | 3.5L |
| Fuel Type | Premium Unleaded Petrol |
| Fuel Efficiency | 10.1L/100km |
| Seating | 2 seats |
---
Lexus LC500
Being a true Jack of all trades in the car world is rare. 
Generally speaking, a vehicle is either capable or comfortable. Attractive or aerodynamic. Practical or performance orientated. And problems arise when cars try to do all those things well, all at the same time.
Which make the Lexus LC 500 Convertible such an interesting proposition. Because it is, without doubt, stylish, and lavishly equipped. It's also rather large and rather heavy. All of which is perfect for cruising the Bondi foreshore.
But it's also equipped with a thumping V8 engine and a throaty exhaust that sounds like bricks in a blender on the overrun. It's stiffer than the LFA supercar, and plenty powerful, which should deliver one of Lexus' sportiest-ever drives. 
So can the LC 500 really do it all? Let's find out. 
| | |
| --- | --- |
| Safety rating | — |
| Engine Type | — |
| Fuel Type | — |
| Fuel Efficiency | —L/100km |
| Seating | — |
Verdict
Lotus Exige
6.5/10
To say the Lotus Exige 350 Sport exists at the very pointy end of motoring is a sharp understatement. It is, in essence, a track car that you're somehow allowed to drive on the road, which means it's hugely compromised in various ways as a vehicle for day-to-day use, yet it's not really fair to criticise it for those failings, because commuting was never its intended purpose.
While it would obviously shine in its natural environment of a race circuit, the fact is you could also enjoy it enormously between track days if you pointed it at a suitably smooth and winding bit of country blacktop.
The performance, handling, steering and stopping are all fantastic, in the right conditions, and you can see how someone might justify it to themselves as a far cheaper version of a ($327,100) Porsche 911 GT3. The difference being that a Porsche doesn't make you fold yourself up like a pocket knife every time you get in.
The Lotus, then, is a car for the extreme enthusiast, only. And possibly for nudists, too.
Would you put up with the Lotus's hard edges for the thrill rides? Tell us what you think in the comments below.
---
Lexus LC500
8/10
Stunning to behold, and even more so to listen to, the LC 500 Convertible with no doubt turn as many heads as its owners surely want it to. It's not the final word in performance, but it's a lavishly equipped transporter none the less.
Design
Lotus Exige
8/10
The Lotus philosophy is summed by this slightly absurd mission statement: "Simplify, then add lightness". In the words of the great Barnaby Joyce "you don't have to be Sigmund Freud" to work out that lightness is not something you can 'add', but you get the idea.
Everything about a Lotus is focused on the power-to-weight ratio, and this 350 Sport version takes the Exige to the ultimate degree, weighing in a full 51kg lighter than the S version, at just 1125kg, and with its hefty 3.5-litre supercharged V6 it is capable of lapping the company's Hethel, UK test circuit a full 2.5 seconds faster.
Lap times, rather than road manners, are what this car is all about, and as such there are no creature comforts of any kind.
The Exige is an eye-catching beast, though, looking a bit like Darth Vader's helmet strapped to a skateboard. Everything about it is a statement of intent, and while the interior is as bare as Barnaby's brain, the gear lever, with its exposed workings and shiny silver knob, is a thing of strange beauty.
---
Lexus LC500
9/10
It's eye-catching, the LC 500, if big, bolshy convertibles are your thing, and especially viewed front-on, where the aggressive nose design ends in a sharp crease in the mesh grille. I love the headlight design, too, which bleeds back into the body work, but also merges with the vertical light cluster that bookends the grille. 
The side view is all shining alloys and sharp body creases, too, leading to an oversized boot that stores the fabric, aluminium and magnesium roof structure, which drops or raises in 15 seconds at speeds of up to 50km/h. The design fits into what Lexus calls an "impossibly small space behind the seats".
Inside, it's a snug but luxurious space, wrapped largely in leather and equipped with a wealth of technology. It's a point we've made before, but why Lexus perseveres with its trackpad infotainment control technology is beyond us, but there's no denying the cabin of the LC 500 is a wondrous place to spend time. 
We particularly like the integration of the centre screen, which is recessed beneath the leather-wrapped edge of the dash. While some look like an afterthought, this appears to have been included in the broader design philosophy.
Practicality
Lotus Exige
3/10
Both the words 'practical' and 'space' have no place in a road test of this Lotus, so shall we just move on?
Oh, all right. There is no shoulder room to speak of and to change gears you have to fondle your passenger's leg. You're also in danger of breathing into each other's mouths accidentally, you're sitting that close.
Speaking of impractical, the door apertures are so small, and the whole car so low, that getting in or out is about as much fun as attempting to hide in a child's suitcase.
Cupholders? Forget it, nor is there anywhere to put your phone. There are two tiny oddment storage holes just near each well-hidden door handle, and a kind of slidey, slick shelf where a glove box might be, on which it's not safe to leave anything.
Put things on the floor and they will slide under the super low seats and never be seen again.
The Lotus people pointed out a parcel shelf behind the seats, but I think they imagined it, and there is a tiny boot at the rear, behind the engine, which is smaller than some actual boots.
---
Lexus LC500
7/10
It's not, really. But then, what were you expecting?
As mentioned above, the interior feels snug for upfront riders, but not in a bad way. More that elements of the interior feel like they're reaching out to greet you, leaving you with the impression of being tucked into the cabin.
Backseat riders are out of luck, though, with the seats really only reserved for emergencies. Legroom is tight, and while Lexus promises the roofline is about on-par with the Coupe, it's not going to be a comfortable journey.
The LC 500 Convertible stretches 4770mm in length, 1920mm in width and 1350mm in height, and it rides on a 2870mm wheelbase. It will sit four at a pinch, and provide 149 litres of luggage space.
There are two ISOFIX attachment points in each of the rear seats, as well as top-tether points.
Price and features
Lotus Exige
6/10
The question of 'value' is a tricky one when you're looking at a $138,782.85 car that's about as useful in day-to-day life as a matchbox-sized handbag. But you have to consider what people buy a Lotus for, and the answer has absolutely nothing to do with practicality.
A car like this Exige 350 Sport is purely purchased as a toy, a track-day special that you can, in theory, drive to the circuit via public roads. Franky, if I was rich enough to have one I'd still transport it there on the back of a truck.
Relatively speaking, you could have a far more practical and infinitely more comfortable Porsche Cayman for $30K less, but the Lotus is $30K cheaper than the similarly track-focused and brutal ($169,990) KTM X-Bow.
In terms of features, you get four wheels, an engine, a steering wheel, some seats, and that's about it. You can buy a circa 1993 removable-face two-speaker stereo, which you can't really hear over the engine and road noise, for $1199. Oh, and they do throw in air conditioning, which is also noisy.
Our slick-looking metallic black paint was also $1999, the 'full carpets' another $1099 (expensive floor mats, basically), the Alcantara trim pack $4499, cruise control (really?) $299 and the hilarious optional 'Sound Insulation' $1499 (I think they actually forgot to fit it). All up, our press car's price climbed to $157,846, which, I have to say, is no one's idea of good value.
On the plus side, the local Lotus people - Simply Sports Cars - do offer features a buyer would love, like regular Lotus Only Track Days, a chance to take part in the Phillip Island 6 Hour and the Targa High Country event, and various other racy experiences.
---
Lexus LC500
8/10
It costs $214,000 - and that's rather a lot of money - but unlike some premium and luxury cars, with Lexus, once you've handed over the cash, that's it. There's no tempting option list to lure you into parting with even more of your hard earned. 
And I mean that literally - Lexus proudly proclaims that "there is no option list" for the LC 500 Convertible, so suffice it to say it arrives with plenty of gear. 
Take a deep breath…
You get 21-inch two tone alloys, triple-stack LED headlights, keyless entry, retractable door handles and rain-sensing wipers outside, while inside, you'll find dual-zone climate, leather-accented seats which are heated and ventilated, neck-level heating for when the roof is down, a heated steering wheel and sports pedals. 
The tech stuff is handled by a 10.3-inch centre screen with Apple CarPlay, Android Auto and on-board navigation, both of which are controlled via Lexus' impossible-to-kill touchpad. There's a second, 8.0-inch screen for the driver, and the lot pairs with an impressive 13-speaker Mark Levinson stereo.
There's also a heap of safety stuff, but we'll come back to that in a moment.
If that's not enough for you, you can spring for the Limited Edition, which is $234,000 for each of its 10 available examples. It arrives in a unique Structural Blue hue, with a white leather interior with blue highlights. It is designed to be the most blue of blues, too, with Lexus saying the paint colour was the result of a 15-year research project. Which sounds like a thrilling way to spend a decade and a half.
Engine & trans
Lotus Exige
8/10
In the past, Lotus engineers were satisfied with the power they got from tiny four-cylinder Toyota engines, but this Exige 350 Sport is a Very Serious Car and thus has a relatively whopping 3.5-litre, supercharged V6 shoehorned into its backside, which makes 258kW and 400Nm, and that's enough to fire this tiny machine from 0-100km/h in just 3.9 seconds, although it feels, and sounds, a lot faster.
The six-speed gearbox feels like it's been stolen from an old racing car and is an absolute joy to snick shift at speed.
---
Lexus LC500
9/10
It's a lusty power plant, this one, and not something you immediately expect to find in a luxurious Lexus convertible.
The 5.0-litre V8 produces 351kW and 540Nm - 260kW of which arrives from 2000rpm - and it sounds like a God of Thunder as it's doing it. 
It pairs with a 10-speed automatic and sends all that grunt to the rear tyres, with Lexus' Active Cornering Assist and a mechanical limited-slip differential helping you to not make a mess of things when tackling corners. 
Fuel consumption
Lotus Exige
7/10
Lotus claims a combined fuel economy figure of 10.1L/100km. We don't believe that would be easy to achieve, because the temptation to rev the hell out of it and hear it roar would be too great, and too constant.
---
Lexus LC500
7/10
Remember when I said it was lusty V8? When has that ever been good news for fuel use?
Lexus reckons you'll get 12.7L/100km on the combined cycle, but the temptation of all that grunt will pretty much ensure that never happens. Emissions are pegged at 290g/km of C02.
The LC 500 Convertible's 82-litre fuel tank only accepts 98RON fuel.
Driving
Lotus Exige
8/10
It's rare to find a car that is such an improbable mix of furious fun and infuriating annoyance. The Lotus is rattly, noisy, hugely firm to the point of punishing, with seats that offer encouragement but not support.
It is the opposite of comfortable and so hard to see out of that driving it around town, in any sort of traffic, feels borderline dangerous. There's also the distinct sensation that you're so low and so little that all those people in their SUVs won't see you.
Throw in the fact that it's so painfully, stupidly difficult to get in and out of and it's definitely not the sort of car you take if you're heading to the shops. I got so sick of its hard-edged annoyances at one stage that I became too grumpy to even take people for joy rides in it. I just couldn't be bothered with the hassle, but then an inner-city suburb with high kerbs and even higher speed humps is not the Exige's natural environment.
Making it even more of a challenge around town, at low speeds or in parking situations is the steering, which isn't so much heavy as wilfully obtuse. Doing a three-point turn is the equivalent of 20 minutes of bench pressing your own body weight. At least.
Out on a winding bit of country road, however, the steering becomes one of the best things about the car, because its pure, unassisted weighting feels so alive in your hands. There's a sense of actually wrestling, or finessing it around corners that makes you feel a bit Ayrton Senna.
Indeed, the whole car comes alive, and starts to make some kind of sense, once you're on a smooth, perfect piece of tarmac. It is fast, noisy, thrilling, utterly and overtly involving, stiff of chassis and firm of ride, with brakes capable of pulling you up with indecent haste. It's also, thanks to its low centre of gravity and mid-engined layout, beautifully balanced.
The gearbox is a thrill a minute, as is the engine, particularly once you explore the upper rev ranges, at which point the scenery really does become a scary blur out the ridiculously small windscreen.
Sure, you can't see anything behind you other than the engine, but what a lovely sight that is, and nothing is going to catch you anyway.
It does feel edgy, of course, and sharp, and it's not as easy or refined to drive as some cheaper sports cars; an MX-5 makes for a far more pleasant companion. But this is an extreme Exige, a machine built by and for genuine enthusiasts.
And, above all, for the sort of people who will take it to a race track, which is where it both looks and feels completely at home.
Unfortunately, on public roads, it would be annoying more often than it would be thrilling, but the truly hardcore Lotus aficionados would never admit such a thing.
---
Lexus LC500
7/10
It's a tough nut to immediately crack, the LC 500 Convertible.
It feels like it really wants to be a super-accomplished performance car, and on longer, more sweeping bends it is, with that thick flow of power ensuring you simply surf through corners before rocketing out the other side, the air filled with that growling exhaust note as your right foot finds its way to the carpet.
But on the tighter stuff, there are some factors that play against it. The suspension feels sorted and that engine is always willing to deliver, but for mine, the steering and brakes felt a little disconnected from the experience, not inspiring much in the way of late-braking confidence. And then there's the sheer two-tonne-plus weight of the thing, which can't be totally hidden, even by Lexus' best wizardry.
Don't get me wrong, it's very capable, even on surprisingly tight stuff. It's just that there's something of a disconnect between car and driver. 
That's not a bad thing, really. Are you really buying a premium convertible to attack a mountain pass? Probably not. And keep it flowing through corners and the LC 500 Convertible will keep a smile painted on your face, owing mostly to wave of torque you can ride to your destination. 
Hovering your foot over the accelerator must surely be what the President feels like whenever he stands near the nuclear football, with that big V8 always ready to turn on the fireworks. 
Away from the red mist, you'll find the LC 500 Convertible positively flows from destination to destination, the 10-speed gearbox - which can feel flustered at pace - seamlessly flicking through its options, and the ride in its most comfortable settings disposing of most road imperfections before they enter the cabin. 
The cabin is also very cleverly insulated, not just when the four-part roof is up, but also when it's down, with the climate and ambience of the interior largely unaffected by what's going on in the outside world.
Safety
Lotus Exige
5/10
Unsurprisingly, considering it will sell fewer than 100 cars in Australia, Lotus has not had the Exige ADR crash tested, so there's no star rating. You do get two airbags, passenger and driver, as well as ABS, 'Hydraulic Brake Assist', 'Lotus Dynamic Performance Management', driver-selectable ESP with three modes, cornering brake control and EBD.
---
Lexus LC500
9/10
The Lexus LC 500 Convertible arrives with six airbags, a reversing camera with guide lines, parking sensors, and the usual suite of traction and braking aids, but there's much more to the safety story, too. 
The more high-tech stuff includes parking sensors, pre-collision assist with AEB, lane keep assist, blind-spot monitoring, rear cross-traffic alert and active cruise, as well as bespoke convertible safety gear, like active roll bars that deploy when the car is in danger of rolling over, protecting the occupants beneath that soft roof.
Ownership
Lotus Exige
7/10
Your Lotus comes with a three-year unlimited kilometre warranty and three years of roadside assist. A service costs $295, plus parts.
---
Lexus LC500
8/10
Lexus vehicles are covered by a four-year, 100,000 kilometre warranty, and the LC 500 Convertible requires servicing every 15,000kms. 
Lexus's Encore ownership program includes pick-up and drop-off servicing, but the new Encore Platinum level for owners of its more exclusive models unlocks even more stuff.
One is a new On Demand service, which allows owners to book a different style of car when heading off on a holiday or business trip. The loans are available in your state or somewhere else in Australia if you're travelling, with your car waiting for you at Qantas Valet for you when you arrive.
The On Demand service is available on four occasions over your first three years of ownership (which is also the length of the Encore Platinum membership).