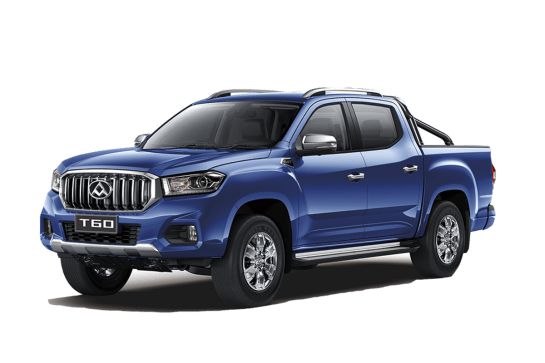 COMPARE
LDV T60
VS
Toyota HiLux
LDV T60
Likes
Improved suspension
Packed with features
Sharp pricing
Dislikes
Flat seats
Can be noisy
Underpowered
---
Toyota HiLux
Likes
Solid safety spec offer
Decent ownership prospects
Good range of variants
Dislikes
Harsh ride unladen
Cab chassis models have no reversing camera
Lacking some polish against newer rivals
Summary
LDV T60
The LDV T60 was rather a pleasant surprise at its Australian launch in 2017. It was a Chinese-built dual-cab ute that actually looked pretty good, seemed well-built, drove nicely, was adequately capable off-road and it was sharply priced and well-equipped.
Now, a few years down the track, the big news is that all new LDV T60s on-sale now should come equipped with Australian-tuned suspension, which was only available previously in the limited edition Trailrider version of the LDV T60. Better still, the suspension tune-up was devised by Walkinshaw Automotive Group, the company responsible for long-time HSV production.
Has this change – aimed at improving the ute's ride and handling and thus bolster its appeal to a ute-loving public – actually been successful?
We drove an LDV T60 Luxe, the top-spec of the two-variant T60 range, to find out.
| | |
| --- | --- |
| Safety rating | |
| Engine Type | 2.8L turbo |
| Fuel Type | Diesel |
| Fuel Efficiency | 9.6L/100km |
| Seating | 5 seats |
---
Toyota HiLux
There's plenty to be said for the new-generation Toyota HiLux, and while a lot of customers will be shopping for the top-of-the-range variants, there's plenty of value to be found in the work-focused Workmate models.
And that's what we're looking at here - a Workmate dual cab, which, while it may look like a 4WD, is actually a high-riding rear-wheel drive dual cab. Or, to be precise, the Workmate 4x2 Double Cab pick-up Hi-Rider.
We spent a bit of time with this updated version of the HiLux ute, and even chucked a bit of load in the back thanks to our mates in the mountains. More on that - and everything else you need to know about the Workmate range - below.
| | |
| --- | --- |
| Safety rating | |
| Engine Type | 2.4L turbo |
| Fuel Type | Diesel |
| Fuel Efficiency | 8L/100km |
| Seating | 5 seats |
Verdict
LDV T60
7.4/10
For what it is – a Chinese-built ute – the LDV T60 has been a sharply priced, well-equipped and rather decent work-and-play vehicle since its 2017 launch.
Now, a few years later, it's still quietly impressive and with Walkinshaw-tuned suspension, I'm happy to say, it's even a little bit better than it was. 
It still lags behind the class-leading light commercial utes in some areas, but it's a sign of the times that a Chinese product is so well built and feature-packed. The new suspension has only served to boost the package.
The LDV T60 makes a very strong case as a feature-packed budget buy.
---
Toyota HiLux
7/10
It isn't as polished as some of its rivals, and doesn't have as much tech or flair to its offering either. But as a workhorse offering with a solid ownership promise and unquestionable resale value, the Toyota HiLux Workmate - no matter the derivative you choose - remains a compelling option for those who use their ute for work more than play.
Thanks to our mates at Lower Mountains Landscape Supplies for the sandbag load in the Workmate 4x2 Hi-Rider pick-up.
Thanks to our mates at IWP Training for putting 1000kg in the tray of the Workmate 4x2 cab-chassis low-rider.
Design
LDV T60
Not really, but not every vehicle has to be a stylistic champion – sometimes it's nice for a ute just to be a ute with few pretensions. 
The T60 manages to strike a reasonable balance between being a bit retro, a little bit stylish and being mostly like a work-truck.
---
Toyota HiLux
The most interesting thing about some versions of the Workmate in terms of design is that they haven't been changed at all.
For the exterior, the Workmate single-cab variants and the low-riding 4x2 dual-cab pick-up don't see the visual changes of the 4x2 Hi-Rider and 4x4 extra- and dual-cab variants, which score a slightly more aggressive front fascia.
Toyota Australia says it was more important to address the higher grade models with the new look, and that keeping the same front end on the "narrow body" models would help keep costs lower.
That's all well and good, but it does seem a little weird to do a "major overhaul" of the ute and keep it looking the same. I guess owners of early examples will be happy, as their utes won't look as outdated?
But the important thing is that HiLux Workmate buyers have so many body styles available to them, and that's arguably going to matter more than what the ute looks like for a Workmate customer. 
We'll run through some of the important elements here, like dimensions and payloads. First up, let's size up the versions of the HiLux Workmate (note - your dimensions may vary, depending on the tray body fitted).
 

Single cab

Extra cab

Dual cab

Length

5325mm

5325mm

5325-5330mm

Wheelbase

3085mm

Width

1800mm

1855mm

1800mm-1855mm

Height

1690-1795mm

1810mm

1700-1815mm
If you're buying a pick-up over a cab-chassis, you'll know that comes with limitations. The flat bed of a tray back cab-chassis model is always going to offer more practicality - and if you buy a 4x2 or 4x4 single cab, or the 4x4 extra cab, you're getting a tray back. But we've covered off the load space dimensions for the dual cab ute/pick-up below - the figures are the same for the 4x2 and 4x4 models.
| | |
| --- | --- |
|   | Dual cab ute |
| Cargo floor length | 1569mm |
| Width | 1645mm |
| Width between wheel arches | 1109mm |
| Depth | 470mm |
As mentioned, the tub models will always suffer compromises that table-top models won't, and that includes the inability to fit an Aussie pallet (1165mm x 1165mm) between the wheel arches.
Space is one thing, but payload capacity for the different body styles is another matter altogether. Don't forget, payload will be affected by the tray body fitted if you're choosing a cab-chassis. 
 

Single cab-chassis

Extra cab-chassis

Dual cab-chassis

Dual cab ute

Payload capacity

1210-1260kg (2WD)

1275kg (4WD)

1150kg (4WD)

1125kg (4WD)

1025-1160kg (2WD)

980kg-995kg (4WD)

Gross vehicle mass (GVM)

2700-3100kg, depending on model, engine, drivetrain

Gross combination mass (GCM)

4x2 low rider: 5200-5250kg

4x2 Hi-Rider: 5650kg

4x4: 5850kg

Towing capacity

All models: 750kg unbraked

4x2 petrol: 2500kg braked
4x2 diesel: 2800kg braked

4x4 diesel: 3500kg braked
Not everyone goes off-road. Both our test vehicles in Workmate spec were 4x2 rear-wheel drive (RWD) models, but that doesn't mean you won't consider things like ground clearance - especially if you're weighing up between a low-riding version and Hi-Rider 2WD.
Here are the dimensions and figures for 4x2 and 4x4 models.
Ground clearance mm

4x2 petrol: 174mm

All other variants: 216mm

Approach angle

4x2 petrol: 23 degrees

All other variants: 29 degrees

Break over/ramp over angle

Not listed by Toyota

Departure angle

4x2 dual cab petrol: 20 degrees

4x4 single cab diesel: 25 degrees

4x4 dual cab diesel, extra cab-chassis, dual cab-chassis: 26 degrees

4x2 Hi-Rider, Workmate 4x4 manual dual cab ute: 27 degrees

Wading depth

700mm
Practicality
LDV T60
The T60, one of the biggest dual-cab utes, is 5365mm long, 2145mm wide and 1887mm high. And it feels roomy inside to match those exterior dimensions. It also feels kind of classy inside, at least it does until you notice expanses of plastic and hard-wearing trim and it all strikes you as a bit cheap-looking.
The interior is all sweeping lines and big surfaces, made for real-world life. And you know what? You get what you paid for and the T60's price-tag is pretty reasonable, remember?
The massive dash-top and the ute's 10.0-inch touchscreen entertainment unit dominate the cabin.
The touchscreen is clear and bright but it's fiddly to operate, proven to glare and the camera views represented on it are often dark and muddy-looking.
The cabin itself is tidy with storage space for driver and front-seat passenger; a flip-top centre-console bin, big door pockets, a dash-height cupholder for driver and front passenger and a bits-and-pieces tray, replete with two USB ports and a 12V socket.
Rear-seat passengers get ISOFIX and top-tether points, door pockets, a centre armrest with two cupholders and a 12V socket.
The front seats are comfortable enough but lack support, especially at the sides; the rear seats are flat and workmanlike. There's plenty of room though, which is a big plus.
Interior fit and finish is good for the price and these build-quality positives, as before, may build on the ute's appeal.
---
Toyota HiLux
The practicality you get depends on the body style you choose. That's an obvious statement, sure, but you might be wondering how many seats are in the HiLux Workmate? Single cab models have two seats, extra cab models have four seats, and dual cab variants have five seats.
And the practicality of the respective body styles is unchanged up front, whether you choose the two-, four- or five-seater. Everything forward of the B-pillar is the same. 
That means that all HiLux Workmate models get the same dash treatment, including a newly redesigned cluster for the driver with a new digital display that incorporates a digital speedometer, which is a huge helper if your licence has seen better days.
Then there's the new 8.0-inch touchscreen media system, with buttons and volume/tuning knobs that have been designed to work with heavy gloves, according to Toyota. The old screen - with touch-sensitive controls and no knobs - was lambasted by tradies, so it's great to see Toyota has listened.
Plus the new screen includes Apple CarPlay and Android Auto, so you can plug your USB cable in and mirror your phone onto the media screen. It really is a big step forward, and because no Workmate model comes with sat nav GPS, even as an option, this is the way to go if you're frequently 'lost on the way to the job.' But there is only one USB port - many rivals offer two.
The materials and design are otherwise unchanged, meaning hard-wearing vinyl floors and hard plastic finishes everywhere, but excellent practicality - two cup holders between the seats, two pop-out ones in the sides of the dashboard, bottle holders in the doors (single and dual cab), and a dual glove box with other loose item storage caddies, too.
If you get an extra cab you could consider it a two seater with additional secure storage, and many of the newer utes coming out have actually deleted the seats due to apparent safety concerns. But the Toyota still has two extra seats in the back. 
The dual cab Workmate models don't get the 60/40 split-fold rear seat base, but you can still fold up the entire seat base to allow additional storage - you don't want to wreck the fabric on the rear seats with dirty tools, or grimy hardware. 
If you do happen to have people in the back, the space isn't as good as some other double cab models out there. Knee room is tight, headroom could be better, and there are those fixed grab handles that eat into the space. You might need to keep your hardhat on, too, as they're certainly heatbuttable.
The dual cab's back seat has twin map pockets and bottle holders in the doors, but no fold down armrest, no cup holders and no air vents. 
Price and features
LDV T60
The LDV T60 Luxe automatic costs $37,331 (driveaway). Our test vehicle had metallic paint (premium paint an option, $500) and a tow bar/harness kit (list price $769.45 excluding GST, fitting and labour varies per dealer.) The base-spec is the Pro, which also comes in manual or automatic.
All T60s now have the new suspension tune fitted as standard.
The top-spec Luxe gets a whole bunch of stuff for such a sharp price including 10.0-inch colour touchscreen with Android Auto and Apple CarPlay, leather seats and a leather-bound steering wheel, electrically six-way adjustable and heated front seats, automatic climate control, 'Smart Key' system with Start/Stop button, 4WD with high and low range, 17-inch alloys with a full-sized spare, side steps, and roof rails, 360° view camera, adaptive headlights, as well as an automatic locking rear differential as standard.
---
Toyota HiLux
You will find the Workmate badge on the most bodystyles of any HiLux in the line-up. You can get it in single cab-chassis, extra cab-chassis, extra cab ute, and dual cab-chassis and dual cab ute body styles.
And then there's the choice of petrol or diesel, manual or automatic, and whether you want it in low-riding or high-riding (Hi-Rider, as Toyota calls it) 2WD/4x2/rear-wheel drive versions, or in a more hardcore 4WD (or 4x4). 
The model mix for Workmate versions is as complex as it sounds, so here's a neat table to make it a bit simpler! Just note, the price list you see below represents the cost of the ute before on-roads costs - that's known as the MSRP or the RRP, and it's not a drive-away price.
Drivetrain
Body type
Engine and Transmission
 List pricing (Before on-road costs)
4x2
Single cab-chassis- low rider
2.7L petrol, five-speed manual
$23,590
2.7L petrol, six-speed auto
$25,590
Single cab shassis Hi-Rider
2.4L turbo diesel, six-speed manual
$28,830
Dual cab ute low-rider
2.7L petrol, five-speed manual
$33,070
2.7L petrol, six-speed auto
$35,070
Dual cab ute Hi-Rider
2.4L turbo diesel six-speed manual
$40,160
2.4L turbo diesel six-speed auto
$42,160
4x4
Single cab-chassis
2.4L turbo diesel six-speed auto
$39,520
Extra cab-chassis
2.4L turbo diesel six-speed auto
$45,220
Dual cab-chassis 
2.4L turbo diesel six-speed auto
$47,290
Dual cab ute
2.4L turbo diesel six-speed manual
$46,790
2.4L turbo diesel six-speed auto
$48,790
You get the same general level of specification on all the Workmate models, with standard equipment incorporating standard steel wheels - black 16-inch diameter for 4x2 models, while 4x4 single cab versions get silver 17-inch rims, and there are black 17-inch wheels with all-terrain tyres on 4x4 extra cab and dual cab variants. 
All Workmate models have standard auto halogen headlights, vinyl flooring and all-weather floor mats, cloth seat trim, a 4.2-inch digital display with digital speedo readout, and a new 8.0-inch touchscreen display with Apple CarPlay and Android Auto smartphone mirroring. 
And while you get the choice of petrol or diesel, the latter models - across all trim lines - score a new variable-flow control power-steering pump. More on that in the driving section.
There are other accessories available from the Toyota parts catalogue as you'd expect, including: bull bar, tow bar, nudge bar, ladder rack, side steps, bonnet protector, tub liner, canopy, and more. 
You might be curious about safety technology - and it's great to see Toyota doesn't pick and choose between the variants as to which model gets what. There's a decent array of safety technology fitted for the most part, and we'll cover that off in the safety section below.
What about colours? Workmate models can be had in white (no cost), while the premium paint choices are silver, grey, black or blue (all $600).
Engine & trans
---
Toyota HiLux
While there has been a lot of noise around the HiLux finally getting a big power bump - that up-spec 2.8-litre engine isn't available in the Workmate models.
Instead, Workmate variants get a choice of a petrol motor or a smaller capacity diesel unit.
The engine in the range-opening Workmate 4x2 models is the 2.7-litre petrol four-cylinder, known as the 2TR-FE. It has outputs of 122kW of power (at 5200rpm) and 245Nm of torque (at 4000rpm), and is available with a five-speed manual gearbox or six-speed automatic transmission.
The diesel option in the Workmate 4x2 and 4x4 models is a 2.4-litre turbo-diesel four-cylinder engine known as 2GD-FTV. Power is rated at 110kW (at 3400rpm) and torque is 400Nm (from 1600-2000rpm).
There is the choice of six-speed manual or six-speed automatic gearbox in 4x2 and 4x4 applications in the Workmate range.
So, no 2.8L, no hybrid, no electric… no nonsense, I guess?
Fuel consumption
LDV T60
LDV T60s have a 75-litre fuel tank. The LDV T60 Luxe auto has a claimed fuel consumption of 9.6L/100km for the auto; an average of 9.5L/100km was registering on the dash display.
We recorded an actual fuel consumption on test of 9.9L/100km after more than 400km of driving and that included about 30km of off-roading, with about 5km of that in low-range.
---
Toyota HiLux
Fuel consumption varies depending on the powertrain you choose. 
The fuel economy king isn't the petrol, which has claimed fuel consumption of: 11.1L/100km (4x2 cab-chassis manual); 10.9L/100km (4x2 cab-chassis auto); 10.7L/100km (4x2 dual cab manual); and 10.4L/100km (4x2 dual cab auto).
On test in the 4x2 manual single cab-chassis, with a load, and without, we averaged 11.4L/100km. And it was only a short loaded drive test.
The diesel versions of the Workmate offer better promise of lower fuel consumption, with fuel use in the 4x2 diesel Workmate models pegged at 7.8L/100km for the single cab-chassis manual, while the 4x2 dual cab pick-up claims 6.9L/100km and 7.5L/100km for the manual and auto respectively.  
The 4x4 Workmate models claim: 7.4L/100km (single cab-chassis manual); 8.0L/100km (extra cab-chassis and dual cab-chassis auto); 7.1L/100km (dual cab pick-up manual) and 7.8L/100km (dual cab pick-up auto). 
When we tested the diesel auto 4x2 Hi-Rider dual cab, we saw a return of 8.4L/100km across loaded (600kg of sand bags) and unloaded testing.
Driving
LDV T60
The 2060kg T60 gets around pretty well, though there are a few things you have to get used to. We did more than 400km in it, most of that on bitumen with about 50km of off-roading, and about 10km of that in low-range.
It's never been the most lively of dual-cab utes to drive and often feels underpowered, but it still ticks along evenly enough, relaxed and under-stressed.
The engine is slow to respond and it can be noisy when pushed particularly hard, but generally the T60 is on the right side of quiet – inside the cabin, anyway.
The six-speed auto is mostly a smooth-working unit and produces no abrupt shifts up or down.
The suspension set-up is still double wishbone at the front and leaf springs at the rear, but Walkinshaw has worked its magic to improve ride and comfort. The Pro suspension was previously very firm (to cope with heavy loads), and the Luxe's tended to wallow, due to its Comfort setting.
I can't speak of the Pro's* changes as a result of the tune because I haven't been in one yet but the Luxe certainly feels more controlled, more comfortable than it did before, although it still feels like it errs slightly on the firmer side of the suspension equation. Damping control has been tweaked to improve general unladen ride quality – the result is not quite coil-sprung-like but it's getting close. (Pro variants have heavy-duty rear springs for work duties.)
Steering is generally on-point, although there is pronounced understeer on tighter corners, but otherwise the ute holds well through tight corners and longer, sweeping bends.
The T60's all-terrain tyres – Dunlop Grandtrek AT20 (245/65R17) – are on the mild side of aggressive and do a solid job.
The T60 has disc brakes all-round, which yielded plenty of bite during our "Watch out for that roo!" emergency-braking tests, one on bitumen, one on dirt.
Nit-picking: it's annoying to adjust the rear-view mirror, as there's a ceiling bulge that gets in the way; as mentioned, the parking camera and 360-degree view offer up quite a muddy on-screen view of the world outside; and, most worrying, there was a massive thump in the transmission while I was driving about 30km/h down a slight decline at the time, as if there'd been a violent shift between 2WD and 4WD. That happened on different days on different roads.
---
Toyota HiLux
I first sampled the 4x2 Workmate Hi-Rider 2.4-litre diesel auto, and it came across as a really solid proposition for those who don't need the bells and whistles or a 4x4 system.
In fact, I bet that this sort of ute would be as well suited to the majority of buyers who spend up big on an SR5 dual cab 4x4 but never actually go off-road.
Indeed, that's the great thing about the HiLux Workmate range - if you know you don't need 4x4, there are plenty of 4x2 options available.
And the Hi-Rider diesel model has the advantage that it is rated to tow the maximum 3500kg capacity, but the disadvantage for hard-working tradies - especially those shorter in stature - is that it's a step up into the cab (no side steps), and a running jump into the tub - unless you option the new rear Tub Step accessory, which is mounted to the rear corner of the chassis and allows easier tub access.
And while this isn't strictly a driving impression, the strangest thing about the HiLux is that you're getting some really advanced features for a work ready ute.
It's becoming the norm, but it does seem weird when you sit inside and see your digital speedometer, with the knowledge that there's autonomous emergency braking (AEB) and a lane departure system - yet you're gripping a polyurethane steering wheel, sitting on cloth seats and your feet are placed on rubber floors - there's not even height adjustment for the driver's seat, and the sound system only has four speakers.
Anyway, the diesel dual cab is pretty impressive. There's nothing wrong with the 2.4-litre's engine tune, and in some instances it actually feels almost as peppy as the 2.8L I sampled in the SR5+.
But it does have some noticeable engine noise, and just like the other powertrain there is some noticeable shuffling between gears - the six-speed auto seems to aim to keep things in the best torque band, which is no bad thing, but you can hear it doing so. It gets along pretty well, and I had no trouble keeping pace with traffic.
The transmission doesn't seem to exhibit the same grade logic downhill downshifting as the SR5 does. And there's some turbo lag noticeable with 600kg of weight on board (from our mates at Lower Mountains Landscape Supplies). 
With that weight on board the brakes have a slightly soft feel to them, but they are progressive and easy to predict whether loaded or not. 
The steering is light but still has a bit of feel to it at lower pace, while at speeds above 80km/h there is a level of vagueness, which is  exacerbated when there's weight over the rear axle. 
The suspension is reasonable without a load on board. Not as good as Ranger or Amarok, but better than the last HiLux. And while you can still feel small inconsistencies and it gets the jitters at low speeds, the ride becomes spongier with weight on board. In fact it's very comfortable at higher speed with that much mass in the back.
Next up we drove the petrol cab-chassis, and it offered up a few surprises.
First, let's consider the loaded up driving impressions - thanks to a load of 1000kg in the tray courtesy of our mates at IWP Training. 
The engine pulls harder than expected, and while it has a torque deficit compared to the diesels, there's a decent drivability and rev-happiness that the petrol offers.
The smooth and short gearshift is a nice surprise, too (we also had a D-Max SX on site, and it had a longer, notchier throw). The gearing is pretty well suited to this type of hard work driving. 
It's surprising how urgent the engine response is. It's super easy to drive with that much weight on board, but I did keep going for a sixth gear that doesn't exist in the manual Workmate petrol. 
It sounds like it's working harder than it is - the engine is quite audible, and at times it can sound more asthmatic than its actual response.
In fact, if you were gonna be running around with this much weight in the back of your work ute you could be doing a lot worse than a 4x2 petrol Workmate cab chassis. It offers enough poke, and also has good quality  – both in terms of ride and comfort and control and general drivability. It is well and truly made for this job.
The lower centre of gravity assists in making the HiLux feel more planted and deal with the weight better than a high riding two-wheel drive, with less pitching fore and aft and nice feel on the road. 
The steering - which hasn't seen the addition of that new variable control system, as it's only fitted to diesel models - is quite good, and even the breaking performance is commendable with that much mass in the tray. 
But without weight in the back it's still punishingly firm in terms of the suspension. The rear-end bucks and jumps over bumps, never feeling as though it's as surefooted as it could be.
The D-Max we had with us showed up the HiLux hugely in that respect. If you don't hit any bumpy sections, it's smooth to drive in. But as soon as you hit a sharp edge or any sort of inconsistency in the surface below it can be quite violent in its response.

Safety
LDV T60
The LDV T60 range has a five-star ANCAP rating, as a result of testing in 2017.
As standard, the Luxe has six airbags, two ISOFIX and top-tether points in the back seat, blind-spot monitor, EBA, 360°-view camera, rear parking sensors, hill-hold, a tyre-pressure monitoring system and more.
---
Toyota HiLux
Toyota was at the front of the pack for safety tech in utes - for a couple of months. But it's still impressive that the entire HiLux line-up has the maximum five-star ANCAP safety rating as per 2019 criteria. And there's a good reason for that.
All HiLux models come with standard fit auto emergency braking (AEB) that works at speeds from 50km/h-180km/h, as well as pedestrian and cyclist detection operational from 10km/h-80km/h. 
The HiLux gets a lane departure warning system with lane keeping assist that works by braking the wheels it needs to, in order to pull you into line - but it still runs hydraulic steering, so it can't do full-scale lane keeping assistance.
Also standard is speed sign recognition and warning, and adaptive cruise control on manual and auto models. You can even just hit 'set' on the cruise control to raise or lower your speed to whatever the speed sign says.
While the spec is pretty good, there's no blind spot monitoring or rear cross traffic alert, and - in a very disappointing continuation of the theme - Toyota still doesn't offer a reversing camera on cab-chassis models. You get a rear-view camera standard on all pick-up models, though.
There are dual front, front side, driver's knee and full-length curtain, for a total of seven airbags no matter the body style.
The dual cab versions have two ISOFIX outboard attachments and two loop-style top-tethers for baby seats.
Ownership
---
Toyota HiLux
Toyota has one of the strongest reputations in the Australian new car market when it comes to ownership and reliability. 
However, with the HiLux, there have been a few issues over its head, specifically around the diesel particulate filter (DPF). You can read more about it at our Toyota HiLux problems page, as well as any other Toyota HiLux complaints, concerns, reliability issues or recalls.
Suffice it to say, the brand says it has your back no matter what. And it has a strong ownership promise on paper, too.
All models have a five-year/unlimited kilometre warranty, which can carry on to seven years/unlimited km if you maintain logbook servicing - it doesn't even need to have been at a Toyota dealer, either. So long as you maintain it on schedule, the brand will back it for that extended period. 
The bad news is that you need to service the HiLux more regularly than most of its competitors. The brand says it has no plans to increase service intervals to meet the current standard of 12 months/15,000km.
Instead, HiLux owners have to take their ute in to get serviced twice a year, with maintenance intervals set every six months or 10,000km, whichever happens soonest. 
Diesel services are $250 a pop. That means you've got an annual $500 bill for maintenance for diesel models, which is higher than many rivals (Triton: $299/year). Petrol versions cost $220 per visit, so $440 a year.
Further, Toyota doesn't include no-cost roadside assistance, either. You'll have to sign up for it, at about $100 a year.
Strong on warranty cover, yes, but you may have to pay over the odds in order to sustain it.