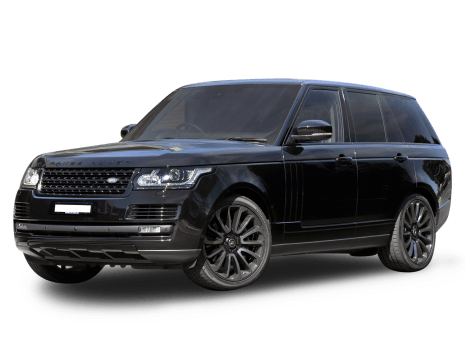 COMPARE
Range Rover
VS
Maserati Levante
---
Maserati Levante
Likes
More affordable entry into Levante range
Great engine note
Almost identical standard features to the Levante S
Dislikes
GranLusso and GranSport packs are expensive
Limited room in the rear seats
Steering is overly sharp and quick
Summary
Range Rover
As part of the Jaguar Land Rover family, Range Rover will be part of the group's push into an electrified future from 2020 - and it's already had some practice, albeit not very successfully.
The brand new PHEV 400e, though, already looks better than its previous efforts. With up to 51km of pure electric range claimed, is this the Rangie for a new age?
| | |
| --- | --- |
| Safety rating | |
| Engine Type | 4.4L turbo |
| Fuel Type | Diesel |
| Fuel Efficiency | 8.4L/100km |
| Seating | 5 seats |
---
Maserati Levante
Maserati. What do you reckon that name means to most people? Fast? Loud? Italian? Expensive? SUVs?
Well, maybe not the last one, but it likely will soon. See, with the Levante SUV accounting for half of all Maseratis now sold in Australia, shortly it'll feel like SUVs are all Maserati makes. 
And that may happen even faster with the arrival of the most affordable Levante ever - the new entry-grade, simply called Levante.
So, if this new cheaper Levante isn't expensive (in Maserati terms) does that mean it's not fast, loud or even Italian, now? 
We drove this new, most affordable, Levante at its Australian launch to find out.
| | |
| --- | --- |
| Safety rating | — |
| Engine Type | 3.0L turbo |
| Fuel Type | Diesel |
| Fuel Efficiency | 11.8L/100km |
| Seating | 5 seats |
Verdict
Range Rover
7.3/10
Our testing was far too brief to give a considered opinion of the PHEV's capabilities, particularly when it comes to the claimed 51km range of the car under battery power alone. We'll need to drive it locally, and with a juiced battery, to rate its abilities properly.
In terms of it having the chops to be a proper, luxurious Range Rover, it's possible to say that yes, that box has been ticked. Even with a smaller engine, the Range Rover (as tested) passed muster for ride, quiet running and comfort.
Is a petrol-electric hybrid your kind of Range Rover? Tell us in the comments section below.
---
Maserati Levante
7.3/10
The entry-grade Levante is the best choice in the current line-up (Levante, Levante Turbo Diesel and Levante S) because it's almost identical in performance and features to the pricier S. 
I'd give the GranLusso and GranSport packs a miss on this base Levante, but would consider them on the S where they are possibly worth the extra $10,000 rather than the $35K asking price on the entry car.
The Levante does a lot right – the sound, the safety and the exterior styling. But the quality of the interior, with its FCA shared parts, lowers what should be a prestige feel.
And back seat comfort could be better, Maseratis are grand tourers and an SUV from this brand should be able to accommodate at least four adults in superb comfort – something this one can't do.

Given the choice and about $130K would you choose a Porsche Cayenne or a Maserati Levante? Tells us what you think in the comments below.
Design
Range Rover
The Range Rover Sport is the smaller sibling of the Rangie, but both share the same DNA if not the same body panels.
Both shapes remain pretty faithful to the original Range Rover that first surfaced in the 1980s, with its distinctive floating roof, angular rear aspect and bluff nose, though features like the vertical door handles – and indeed the two-door design – of the original are long gone. Both present bluff, vaguely masculine visages, with large glasshouses accentuating their relative sizes.
Inside, both cars are spacious and airy, thanks to that big glasshouse, while the luxury quotient of both is high, thanks to highly refined surface areas and touch points.
About the only let down is the new dual multimedia screen's propensity to show both finger marks and glare, though adjusting the angle of the lower screen does reduce the latter.
---
Maserati Levante
7/10
The Levante looks exactly how a Maserati SUV should, with the long bonnet flanked by curvaceous wheel arches with their vents, leading towards a grille that looks ready to eat up slower cars. The heavily raked windscreen and cab-back profile is also very Maserati, as are haunches that muscle over the rear wheels.
If only its bottom was less Maserati. It's a personal thing, but I find Maserati rear ends lack the drama of their faces and the Levante's tailgate is no different in that it borders on plain.
Inside, the Levante looks to be a premium, well-crafted place, although closer inspection reveals there are certain items which appear to be shared with other brands which, like Maserati, are owned by Fiat Chrysler Automobiles (FCA). 
The window and headlight switches, the ignition button, the air-conditioning controls, even the display screen all can be found in Jeeps and other FCA cars.
There are no functionality issues here, but from a design and style perspective they look a little basic and lack the refinement a buyer may expect from a Maserati.
There's a lack of technological pizazz inside as well. For example, there's no head-up display or large virtual instrument cluster as you'll find in the Levante's competitors.
Despite the Jeep-looking bits the Levante is truly Italian. The chief designer Giovanni Ribotta is Italian and the Levante is made at FCA's Mirafiori plant in Turin.
What are the Levante's dimensions? The Levante is 5.0m long, 2.0m wide and 1.7m tall. So that means space inside is enormous right? Um… let's talk about that in the next section, shall we? 
Practicality
Range Rover
Both PHEVs are five-seat propositions only, with additional features set aside for rear seaters including climate controls and vents, loads of connectivity points, touch LED courtesy lights and a comprehensive middle armrest that offers storage and two cupholders.
ISOFIX points are mounted to the outside seats, bottles can be slotted in the doors, and both heating and massage functions can be optioned, along with headrest mounted control tablets.
Front seaters are equally cossetted, with heating, venting and massage seats available via the options list, along with a new, deeper centre console bin, a pair of cupholders and small bottle holders in each of the doors.
One of the big omissions on the hybrid car is any form of spare wheel, thanks to the battery array under the boot floor. A sealant kit and compressor is included, but if the hole is big enough, it won't help.
How do we know? A double flat down the right side of a test car rendered it a lame duck, thanks to large tears in the sidewall of one tyre.
The rear storage area loses 98 litres of space to the regular cars, too, with 802 litres available behind the rear seats, thanks to the load space floor height increasing by 46mm.
---
Maserati Levante
7/10
You know the Tardis from Dr Who? The time machine police phone box that is much bigger on the inside than it appears from the outside? The Levante's cabin is a reverse Tardis (a Sidrat?) in that even at five metres long and two metres wide, legroom in the second row is tight and at 191cm tall I can only just sit behind my driving position.
Headroom is also getting tight back there because of the swooping roofline. These aren't major issues, but If you were thinking of using the Levante as a SUV limousine of sorts then the limited room back there just won't be enough to let your taller passengers stretch out comfortably.
Also ruling it out as a chauffeur car in my view is the ride experience in the second row. I'll cover this in the driving section below.
The Levante's cargo capacity is 580 litres (with second row seats up) which is on the small side, and less than the Porsche Cayenne's 770 litre boot space.
Cabin storage is pretty good, with a giant centre console bin up front with two cupholders inside. There are another two cupholders near the shifter and two more in the fold-down armrest in the rear. Door pockets are on the smaller side, however.
Price and features
Range Rover
To start off, Range Rover Australia will only offer the PHEV drivetrain in two variants; the Range Rover Vogue PHEV 400e will cost around $210,000, while the smaller Range Rover Sport HSE PHEV 400e will start at around $146,000.
Both models will share the same drivetrain, which uses a turbocharged 2.0-litre petrol engine and an 85kW electric motor to output 297kW/640Nm in total. Both cars are all-wheel drive, and have eight-speed autos as the only transmission option.
The Range Rover is the second most expensive variant in the four-engine line-up, only $1000 cheaper than the top-spec V8. The Sport, meanwhile, is about $3800 under the top spec HSE, and $12,000 dearer than the base six-cylinder powered version.
The pair makes up part of Range Rover's MY18 updated line-up, and both will score a new front bumper and grille, as well as new matrix LED headlights that can dim individual diodes to prevent blinding oncoming traffic. The rear bar has been lightly tweaked, too.
Inside, the pair come with the same dual multimedia screen system that launched with the Range Rover Velar, along with other small tweaks to interior finishes.\
As you'd expect, the Rangies are pretty well equipped, given their price point, with automated lights and wipers, leather interior, up to 17 (!) USB and 12v ports, heated and vented seats, sat nav, DAB+ digital radio, a Wi-Fi hot spot, a heated steering wheel, digital TV and Bluetooth streaming.
They both come with AEB as standard, but other driver aids like blind spot monitoring and adaptive cruise control are buried within the extensive options lists.
---
Maserati Levante
7/10
Guessing you want to know just how much more affordable this Levante is compared to the other grades in the range? Okay, the entry-level Levante lists for $125,000, before on-road costs.
That may sound expensive but look at it like this: the entry Levante has the same Maserati-designed and Ferrari-made 3.0-litre twin-turbo petrol V6 as the $179,990 Levante S and an almost identical standard features list. 
So how on this planet is it possible there could be a $55K price difference and yet the cars be almost the same? What's missing?
Horsepower is missing – the base grade Levante may have the same V6 as the Levante S but it doesn't have as much grunt. But we'll get to that in the engine section.
As for the other differences – there aren't many, almost none. The Levante S comes with a sunroof as standard and front seats that adjust to more positions than the Levante, but both grades come with an 8.4-inch touchscreen with Apple CarPlay and Android Auto, sat nav, leather upholstery (the S does get more premium leather), a proximity key and 19-inch alloy wheels.
Those standard features are also identical to those in the Turbo-Diesel which sits above the Levante at $159,990.
Apart from less horsepower, no standard sunroof (as on the S) and upholstery which isn't quite as nice as the S's another downside to the base grade Levante is that optioning the GranLusso and GranSport packs is expensive… really expensive.
The GranLusso adds luxurious touches to the exterior in the form of metallic trim to the roof rails, the window frames and protection plates to the front bumper, while in the cabin thee front seats come in a choice of Ermenegildo Zegna silk upholstery, Pieno Fiore (full-grain) leather or premium Italian hide.
The GranSport toughens up the exterior with a more aggressive body kit with black elements and adds 12-way power adjustable sports seats, brushed-chrome shifting paddles and aluminium-face sports pedals.
The features those packages offer are nice – those silk and leather seats are sumptuous for example, but each pack costs $35,000. That's almost 30 per cent of the list price of the entire vehicle, extra. The same packages on the Levante S costs just $10,000.
While the Levante is the most affordable Levante, and also the cheapest Maserati you can buy, it's more expensive than its Porsche Cayenne (entry V6 petrol) rival which lists for $116,000, while the Range Rover Sport 3.0 SC HSE is $130,000 and the Mercedes-Benz GLE 43 is $135,529.
Is the new entry-grade Levante good value, then? Yes, for a Maserati, if you don't option the packages, and yes compared to most of its rivals.
Engine & trans
Range Rover
Parent company Jaguar has supplied its top spec Ingenium 221kW 2.0-litre four-cylinder turbocharged engine, eight-speed auto and proper 4x4 drivetrain for the PHEV, matching it with an 85kW electric motor, 13.1kW/h battery array, transformer and inverter, as well as a charging plug under the front grille.
Combined outputs equal 297kW/640Nm.
---
Maserati Levante
8/10
If you've just read the section above on price and features, you're now probably wondering how much less powerful the Levante is compared to the Levante S.
The Levante has a 3.0-litre twin-turbo petrol V6 and it sounds magnificent. Yup, the entry-grade Levante lets loose that Maserati high-pitched scream when you open the throttle, just like the S. It may sound the same as the S but the Levante's V6 has less horsepower. At 257kW/500Nm, the Levante makes 59kW less in power and 80Nm less in torque.
Is there a noticeable difference? Not much. Acceleration isn't as rapid in the Levante with 0-100km/h coming in six seconds compared to 5.2 seconds in the Levante S.
Shifting gears is an eight-speed ZF-sorced automatic transmission which is super smooth, but a little slow.
Fuel consumption
Range Rover
Range Rover claims an impressive combined fuel economy total of 2.8 litres per 100km... with the caveat that the battery array must be charged to full capacity.
A 13.1kWh battery that promises an EV range of 51km from a full charge complements its 105-litre petrol tank. Given, however, that our road test loop was less than 20km and the battery wasn't fully charged, we'll wait until we drive the PHEV on home soil to confirm the figures.
---
Maserati Levante
7/10
Even if you were to drive your Levante conservatively Maserati says you can expect it to use at best 11.6L/100km over a combination of urban and open roads, the Levante S is a bit thirstier at an official 11.8L/100km. 
In reality you can expect the twin-turbo petrol V6 to want more – just open road driving was seeing the trip computer report 12.3L/100km, You can bet that'll go up in the city and climb higher if you like to keep raising the Levante's beautiful voice.
Driving
Range Rover
Our time aboard the PHEV involved a little on-road work and a proportion of muddy, slick, off-roading that went a long way towards showing off the Rangie's dual personality.
With its array of digital off-road modes that includes snow, grass, gravel, rut and sand, the Rangie tackled some truly testing unsealed scenarios, including a river ford at 600mm (the Sport has an 850mm wading depth, the Rangie itself a 900mm rating), along with some of the slickest mud sections this tester had ever encountered.
And it handled them with aplomb, too. Whether you plan to take your $200k SUV off-road or not is irrelevant – the point is that it's built to do it, all day every day if need be.
On road, the 221kW 2.0-litre turbocharged engine is strong enough to haul the 2500-odd kilogram Rangie up to the national limit without too much fuss, thanks to the 85kW electric motor chiming in as required to boost the bottom line.
Unfortunately, we're not able to verify Range Rover's claims of 51km of electric range, because our tester was presented to us with less than 25km range – and that was quickly burned away on a two km EV-only off-road section.
We managed to restore five per cent of charge through regenerative braking and, erm, excessive revs over our short test run back to base, but we'll have to wait until it's on home soil to get a definitive read on the range of the PHEV.
Other road manners are typically Range Rover-like, with an imperious ride over road bumps, almost eerie silence from road and wind noise and excellent road manners in all modes – including the new-to-Range Rover 'Dynamic' mode.
---
Maserati Levante
8/10
When I reviewed the Levante S at its launch in 2017 I enjoyed its good handling and comfortable ride. But impressed as I was with performance from the engine I felt the car could be quicker.
So how then would a less powerful version of the same car feel? Not much different, actually. The base grade Levante is only 0.8s slower to 100km/h than the S at six seconds. The air suspension is the same as the S's and returns a comfortable and compliant ride, and handling with the dampers in the firm setting is impressive for a two tonne, five-metre long vehicle.
Front brakes in the Levante base grade car are smaller (345 x 32mm) than in the S (380 x 34mm) and the tyres aren't staggered either with 265/50 R19 all around.
The variable-ratio, electrically-assisted power steering is well weighted, but too quick. I found the car turned in too far, too quickly, with regular mid-corner corrections a tiresome necessity.
To me there's no point going for the S based on the assumption that it's going to be a much higher performing car. The Levante and Levante S and are both mild in their power delivery and have better dynamics than an average large SUV.
If you are after a true high-performance Maserati SUV then you might be best off waiting for the Levante GTS coming in 2020 with a 404kW V8.
The base grade Levante V6 sounds just as beautiful as the S's, but there's one place where it isn't very pleasant. The back seat.
At the launch of the Levante S in 2017 I didn't have the chance to ride in the rear seats. This time around I let my co-driver steer for half-an-hour while I sat in the left rear position. 
For starters it's louder back there – the exhaust note is almost too loud to be pleasant. Plus, the seats aren't supportive or comfortable. 
There's also a slightly claustrophobic, cave-like feeling in the second row, largely due to the roof's accentuated slope towards the rear. This, to me, rules it out almost completely as something to ferry guests around in comfort.
Ownership
Range Rover
Range Rover recommends servicing every 12 months or 26,000km, or more regularly if you use it in the bush on a regular basis. It offers a three-year, 100,000km warranty as standard, with free roadside assistance for the duration of the warranty.
No fixed price service plan is currently offered.
---
Maserati Levante
6/10
The Levante is covered by Maserati's three year/unlimited kilometre warranty. Servicing is recommended at two year or 20,000km intervals. More brands are moving to longer warranties and it would be good to see Maserati offer its buyers longer coverage.