Nissan Leaf 2012 review: snapshot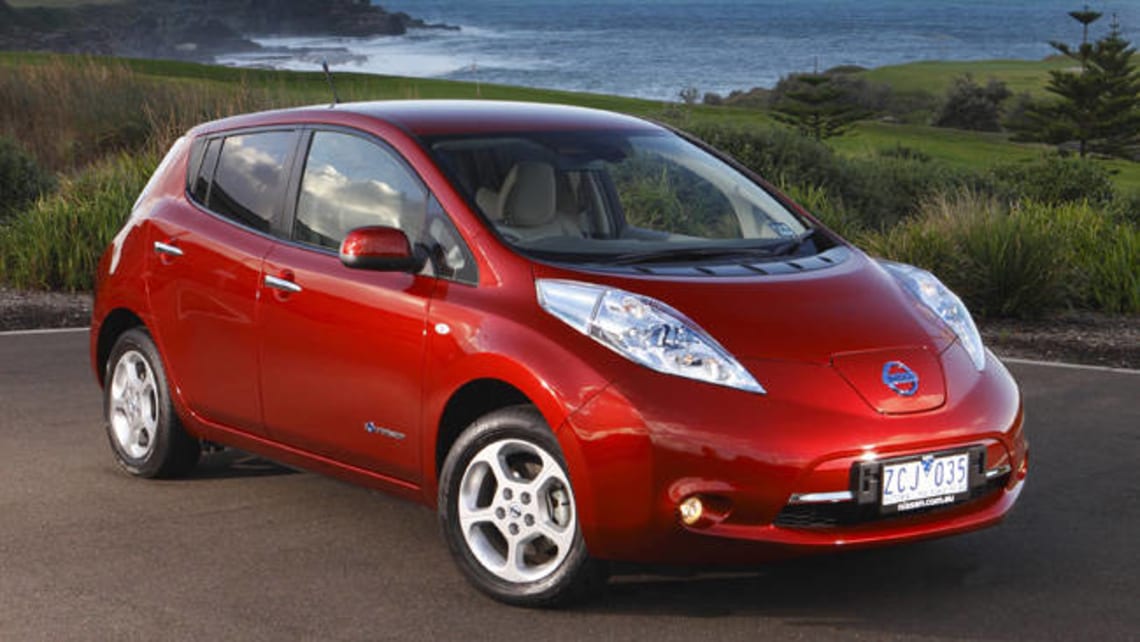 Of all the electric cars I have driven, the Nissan Leaf is the most complete.
It looks like a regular compact hatch, its performance is quite spritely, and it rides and handles with none of the compromises of other electric cars. It is virtually silent, which takes some adjustment, but it keeps up with suburban traffic and promises a workable range between charges.
It has the best chance of sparking a breakthrough in Australia, although the size of the jolt depends on the pricing - which needs to be around $45,000 - and the number of Leafs available for sale.
In contrast, the Mitsubishi iMiEV feels more like an overgrown golf cart than a real car. It might be a ground breaker as the first plug-in battery car sold here by a major maker, but it costs too much, is limited in range and performance, and is really just an electric conversion of a Japanese minicar.
The same is true of the Subaru Stella, which only made a fleeting demonstration run in Australia. The Mini E is a good car, with great performance, but it's still only a science experiment and the back seat is totally sacrificed to the battery pack.
I've just had a run in the Smart ForTwo in Germany and it's good, but the electric model needs more punch and battery life. It's coming, and the Smart EV is confirmed for Australia, but the baby-box looks means it won't work for everyone and there is always the question of price.
I've also tried fully-electric cars from Honda, Renault, Toyota and Volvo, as well as the impressive range-extended GM Volt hybrid - which uses a petrol engine to charge onboard batteries - that will be a winner here as a Holden, provided the price is right.
But, for now, you cannot go past the Leaf if you want to plug, charge and go. The landmark Nissan is the best drive of any electric car I know, it's practical and very well built, and Nissan is planning a full-scale push including all the charging advice and hardware needed for a new-age drive.
The downside
Life with an electric car is not easy. For a start, you must have a plug-in point at home. And not just a regulation drill-saw-vacuum connection in the garage, but something that can deliver real punch.
At the other end of your commute there needs to be a similar charger, but those are taking time.
Carsguide plans to get a Nissan Leaf on the fleet soon and, through Nissan and ChargePoint, there will soon be a plug-in point wired into a three-phase circuit to my garage. But I'm not sure about sucking up power on the road, because - unlikely petrol stations - the electric automotive grid is still in its infancy.
There is talk that some of the roadside assistance organisations, led by the RACV, will have fast-charge emergency trailers for electric owners who get too ambitious and flatten their batteries. But nothing is confirmed.
In Europe this week I'm hearing from Toyota about a wired house that is totally adapted to electric cars, including feeding power back to the grid and intelligent charging that can be monitored through an iPhone App. And even solar charging stations, both for home use and like the ones I saw in Detroit last year to provide power to a fleet of GM Volts.
But the promises are more like election campaigning than right-now reality, so let's see how we go - and where we go - once the Leaf is online.
Price Guide
$16,490 - $17,000
Based on 5 car listings in the last 6 months
Price Guide
$16,490 - $17,000
Based on 5 car listings in the last 6 months
Disclaimer: The pricing information shown in the editorial content (Review Prices) is to be used as a guide only and is based on information provided to Carsguide Autotrader Media Solutions Pty Ltd (Carsguide) both by third party sources and the car manufacturer at the time of publication. The Review Prices were correct at the time of publication.  Carsguide does not warrant or represent that the information is accurate, reliable, complete, current or suitable for any particular purpose. You should not use or rely upon this information without conducting an independent assessment and valuation of the vehicle.