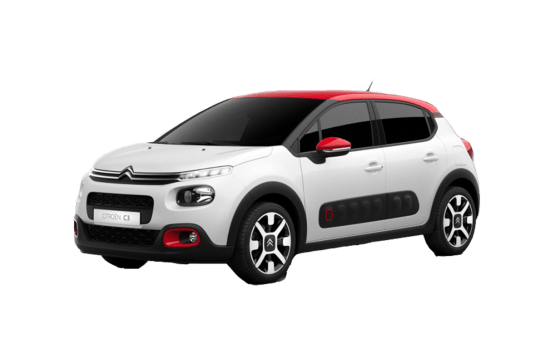 COMPARE
Citroen C3
VS
Honda Jazz
Citroen C3
Likes
Unique styling
Giant door pockets
Sofa-like seats
Dislikes
Slow and seemingly indecisive auto transmission
Low on advanced safety tech
No front parking sensors
---
Honda Jazz
Likes
Capped-price servicing
Build quality
Huge interior space for its size
Dislikes
No Apple CarPlay/Android Auto
VTi-S very pricey
Lack of advanced safety features
Summary
Citroen C3
The Citroen C3 is a little hatchback like the Kia Rio, Mazda 2 or the Suzuki Swift but it's different to them, which is why you're here, I think.
The C3 is different, not in a technological or engineering sense, but in the style stakes. It's a premium and quirky French take on the tiny-car-thing in a similar way to the Audi A1, Peugeot 208 and Mini Hatch.
Yep, it's cool, tiny, and little bit fancy. Sounds perfect for the 21st century Australian urban dweller, right?
Well, one came to stay at our urban home in Sydney for a week and here's what I thought.
| | |
| --- | --- |
| Safety rating | |
| Engine Type | 1.2L turbo |
| Fuel Type | Regular Unleaded Petrol |
| Fuel Efficiency | 4.9L/100km |
| Seating | 5 seats |
---
Honda Jazz
Honda's Jazz is like the little engine that could.
It occupies a shrinking part of the market but has seen off a bevy of once-were competitors (most notably the Hyundai i20) and continues to battle gamely with the Mazda2.
Honda gave the range a little tweak in late 2017 to hand us the MY18 Honda Jazz. Some features were lost, and a few gained in an effort to keep up with Mazda's finest.
| | |
| --- | --- |
| Safety rating | |
| Engine Type | 1.5L |
| Fuel Type | Regular Unleaded Petrol |
| Fuel Efficiency | 5.8L/100km |
| Seating | 5 seats |
Verdict
Citroen C3
6/10
The C3 is not a bad choice of car for the urban dweller with its tiny size making it easy to park, big windows for good visibility, the air bump armour protecting its doors, and tech like Apple CarPlay and Android Auto for keeping your hands off the phone. The little Citroen is unique in its looks among many 'samey' hatches out there. If only the C3 drove as well as it looked. The driving experience could be smoother, but if you can get used to this side of its character there's plenty to like – like those seats. So, for the daily driver score the C3 Shine gets 6/10 but a 7/10 for its urban score.
---
Honda Jazz
7.1/10
The Honda Jazz is an extremely capable small car, with an ace card of virtually unbeatable interior space. While it's hardly an excitement machine, or the best looking or equipped in its class (it is missing out on some useful safety gear), the Jazz deserves its status as a well-loved hatchback.
The best in the range is probably the VTi. There isn't anything compelling further up the variants unless you're keen on bigger wheels or leather trim. Its entry-level offering is a good-value, sturdy car that is packed with its best qualities, no matter which one you buy.
Does the Honda Jazz stack up for you? Or do offerings from Hyundai, Mazda and Kia get your bargain-hunting senses tingling?
Design
Citroen C3
When it comes to the Citroen C3 I think 98 per cent of the appeal is the styling, and the remining two per cent is that you can also drive it places. Okay, that's probably a bit much, but a big part of the C3's charm is the way it looks.
There's nothing wrong with that because the C3's design is pleasing. If you were having trouble putting your finger on what it is about the C3's the styling that's so interesting and cute, then let me point out the rounded-off shapes.
Yep, they're everywhere – the headlights, the tail-lights, and those 'air bumps' down the doors which stop them from getting dings in carparks. Even the C3 badge on the back of the car is stylised to make a rounded-off rectangle shape.
I've heard the word 'squircle' used in relation to them and they're everywhere, even on your phone, just look at the shape of the apps. Never noticed it did you? And they were literally right under your nose.
Anyway, the same rounded rectangles are seen in the air vent design, the door handles, the shape is even pressed into the door trim. I'm not sure if I'm going bonkers, but does the steering wheel have a square with round edges look, too?
While we're inside check out the suitcase strap style door handles and those seats. Oh man, if the car business doesn't work out for this French brand the manufacturer could always go into making furniture because Citroen's seats are supremely comfortable, supportive and stylish. In my opinion when it comes to comfort no other carmaker can beat Citroen's seats.
Enough about the seats. This isn't seatsguide.com.au, so let me give you the dimensions. The C3 is 3996mm long, 2007mm wide (with the mirrors out) and 1474mm tall.
There are six colours to choose from including 'Almond Green' and 'Cobalt Blue', which are both optional and so is the 'Aluminium Grey' our car wore with the 'Polar White' roof.
I nickname it Pigeon Grey because as you can see in the images the colour camouflages the C3 into the road and if it wasn't for the white roof the car would be almost invisible in an urban landscape.
Maybe you want that but if it was me, I'd go for the standard Polar White and red roof which is also standard. The red and white combination suits this little car perfectly and it'll stand out like it should.
Now, don't get the C3 confused with the C3 Aircross which is the SUV version of the little hatch, while the C5 Aircross is even bigger. I've reviewed them all so you can read about those later. Let's move on to the price.
---
Honda Jazz
6/10
The Jazz's exterior design is instantly recognisable. The shape has been roughly the same since the car's 2002 debut, with the mildest evolution over the years. The 2018 Jazz leads with the chin a bit, with a pronounced underbite and when fitted with a chrome grille, it looks a bit like the giant Jaws from James Bond after whacking his head.
Apart from that, the slimmed headlights and one-box body shape are almost entirely inoffensive, save for the chunky, stacked rear lights.
When you head inside it's a simple, basic interior. Well put together, it's easy to find your way around and, because there isn't much happening in here, it's unlikely you'll need the owner's manual, unless you want to identify and use every single deployment of the excellent Magic Seats in the back.
As you climb the range, you'll start to see body-kit additions like a rear spoiler and side skirts, but nothing particularly racy.
Practicality
Citroen C3
Let me rephrase that. How are you going to be using your car? Are you going to try and get away with it as a family car? If so, I'd say it's going to be too small because the boot has a cargo capacity of only 300 litres and it won't fit a large pram.
Will there be people sitting in the back seats regularly? If so, again I think the C3 could be too small to frequently seat five, as legroom in the rear seats is tight, and at 191cm (6'3") tall I can't sit behind my driving position.
But if most of the time only one or two adults are going to be in the C3 then it will suit them well, with enough boot space for a suitcase (see the images) or shopping. Plus, if you do need to carry more people you can, and it's unlikely, they'll be as tall as I am.
Cabin storage would be disastrous if it wasn't for the enormous door pockets in the front and rear door. Apart from that, there's no centre console armrest bin, two tiny cupholders near the gear shifter, a small glove box and a little shelf in the dashboard for a wallet or purse, but too small for my phone.
As for charging and connection for devices, the C3 could be better. There's just one USB port (the old Type-A) and one 12V (who uses these?).
One of my practicality gripes about the C3 is that to adjust the climate control it needs to be done through the touchscreen, when a dial would be perfectly fine and quicker. Thankfully, there's an actual volume control knob.
---
Honda Jazz
9/10
The interior is full of cleverness packed into a small space. The centre console has two cup holders, a space for your phone and a compartmentalised open tray reachable by both front and rear-seat passengers. A third cupholder folds out of the dash on the driver's side. The back seat doesn't have any cupholders, unfortunately, and nor is there a centre armrest.
Rear legroom is impressive for such a small car - it's no wonder the HR-V compact SUV was spun off the Jazz platform. Added to that are the excellent 'Magic Seats', which fold in a variety of ways to increase the boot space dimensions from 354 litres to 1314 litres.
Luggage capacity is not bad for such a small car and with the flexible interior, the boot size goes up by four times in volume. This is one area in which it really does outdo the  Mazda2. The removable cargo cover means you can get a decent chest of drawers in, however there's a bit of a drop once you get things over the loading lip.
You can also fold the seat bases up and out of the way to provide space for shrubbery, or a dog, or an awkward flat pack. 
The basic VTi misses out on a bit of storage, namely the centre console storage box and driver's side seatback pocket, but the rest of the range has them both.
Price and features
Citroen C3
There's one grade in the C3 line-up, it's called the Shine and the list price is $28,990.
Coming standard is, proximity unlocking with push button start (so convenient if you're getting in and out a lot on short trips), parking sensors (but only at the back not the front which is a bummer in the city), a touchscreen with Apple CarPlay and Android Auto, a reversing camera and sat nav, digital radio, Bluetooth connectivity, climate control, cruise control, 16-inch alloys wheels and LED running lights, but halogen headlights.
I'd expect more features for this price and there are rivals packing more into small cars than this for the same money. The Volkswagen Polo is $3K less and gets impressive features and if the VeeDub isn't kooky enough then there's Skoda's Fabia for $22K.
I get it, those cars aren't as cool, so I'd seriously check out the $26,990 Peugeot 208 GT-Line which (because they're part of the same company) shares the same engine and transmission and many other mechanical and tech bits.
As for the Audi A1, the most affordable lists for $32,350, but it is a premium and cool little car worth taking a look at.
The Mini Hatch is more expensive again, but undoubtedly cool and different.
None of the rivals have the C3's 'air bumps' treatment. It's a Citroen creation which first made an appearance on the Cactus SUV about five years ago. They're little plastic bubbles that are basically armour for your car to protect it against runaway shopping trolleys and people opening their doors into yours. They're not just a gimmick, they work.
You won't find seats like the C3's in any of the competitor's cabins, either. The ones you can see in the images come standard and they're so good I'm thinking seriously about asking Citroen to make me a couch.
---
Honda Jazz
7/10
The Jazz range is made up of three models. As with any car, how much you get is dependent on how far up the price list you go. Honda occasionaly offers drive-away deals, but we're using RRP as a guide. We've done an exhaustive model comparison as well as snapshots to help you decide between the three trim levels - VTi, VTi-S and VTi-L.
Our American cousins score a Sport edition, but sadly we miss out on that one.
The VTi opens the price range at $14,990 for the five-speed manual, rising to $16,990 for the CVT auto. Standard features include a four-speaker stereo, air-conditioning, reverse camera, remote central locking, projector style halogen headlights, 15-inch steel wheels, cruise control power windows and mirrors, black cloth trim, trip computer and hill-start assist. 
The inclusion of the reversing camera is good but the lack of rear parking sensors is mystifying, a problem shared with the VTi-S, although they are optional on both specifications.
While the spare tyre is a space-saver, it's better than a tyre-repair kit, should trouble strike. A small tool kit is also supplied for just such an occasion.
Even with the 2018 update, there is no Apple CarPlay or Android Auto, although you can plug in your iPhone or Android device via the USB port. Irritatingly, the USB port is under a cover next to the 7.0-inch touchscreen itself, so you have a cable poking out of the dashboard. You might prefer Bluetooth in that case. 
Step up to the CVT-only VTi-S ($19,990) and you pick up foglights, 16-inch alloy wheels, LED headlights, 'premium' cloth trim, leather-wrapped steering wheel, a centre console with storage box and GPS sat nav. 
There is no improvement to the multimedia system.
The VTi-L ($22,990) adds LED daytime running lights, climate control, navigation system (hooray!), smart key keyless entry, push-button start, leather seats, paddle shift for the CVT gearbox, an alarm, bi-LED headlights, LED daytime running lights, heated front seats and two extra speakers, 
Missing from the accessories list are a CD changer, DVD player, DAB or MP3, panoramic sunroof, sport pack, black pack, city pack, subwoofer, improved sound system, HID headlights, tonneau cover, roof rack, different rims and even  floor mats. 
You're stuck with the same infotainment head unit right across the range - its not even a radio/CD player arrangement, just radio and your phone. At least the VTi-L has more speakers for its sound system.
Dealers will no doubt sell you darker tinted windows and an extended warranty.
The Jazz is available in seven colours, with Rally Red the only freebie. For $495 you can have one of six shades of mettallic paint - Crystal Black, Brilliant Sporty Blue, Modern steel (gunmetal grey), Phoenix Orange, Lunar Silver and White Orchid. If you're after pink or yellow, you're out of luck. Not very Jazzy.
Engine & trans
Citroen C3
The C3 has a 1.2-litre, three-cylinder, turbo-petrol engine making 81kW/205Nm, while a six-speed automatic transmission shift gears.
If a three-cylinder engine sounds tiny to you, then you're right, it is, but these small powerhouses are really common for little cars these days. Plus, the power and torque outputs are more than enough for a car that weights only 1090kg.
The transmission was the let down here, the shifts slow and uncertain at times
---
Honda Jazz
7/10
All Jazzes are powered by Honda's 1.5-litre single-cam four-cylinder. The engine specs don't make for inspiring reading, with just 88kW and 145Nm. That's not a lot of horsepower, but when you consider the weight of the car, the figures don't look so weedy.
Power goes to the front wheels, so the Jazz is definitely not an off-road proposition.
Only the base model VTi has a choice of manual vs automatic, with a five-speed manual transmission and a CVT auto to choose from.
As to the question of timing belt or chain, the Jazz has the latter, so you don't have to worry about a belt change. The oil type is 5W-30
There is no diesel option, so there'll be no diesel vs petrol argument. Nor is there an EV or plug-in hybrid - with a battery, it's unlikely you'd have much boot space left. There isn't an LPG, 4x4, or AWD version either.
If you can be bothered fitting a towbar, the manual's towing capacity is 1000kg braked while the CVT's load capacity drops to 850kg. Both transmissions will haul 450kg unbraked.
Fuel consumption
Citroen C3
Citroen says that after a combination of open and city roads the C3 should use 4.9L/100km, while its urban mileage is 6.8L/100km.
My fuel test covered 174.1km of mainly urban roads and I needed 11.76L to fill the 45 litre tank to full again. That comes to bang on the serving suggestion of 6.8L/100km.
Not bad, but not fantastic fuel economy for a small car.
The C3 comes with fuel saving idle stop tech, too, which cuts the engine as the vehicle slows to a stop.
---
Honda Jazz
7/10
Fuel figures are slightly different, depending on the gearbox you've chosen. Honda claims you'll get 6.5L/100km on the combined cycle in a manual while the CVT uses a bit less, coming in at 5.9L/100km. So fuel consumption km/L works out at about 15km/L for the five speed and 17.km/L in the CVT.
Real-world consumption is a little different, however. Our most recent test with the manual yielded 8.0L/100km while the CVT chugged down 8.2L/100km. Having said that, you'll see better fuel economy figures in the manual if, as I admitted in my VTi review, you don't drive it enthusiastically. The CVT was a bit disappointing because I was a lot more sedate in that one and it didn't deliver better mileage than the manual.
Fuel-tank capacity is 40 litres.
Driving
Citroen C3
The C3's length is its biggest urban strength, and in the time I had it there was almost never a spot I couldn't squeeze into.
Visibility is also good in all directions, through those giant windows, although I did feel low down with even small SUVs seeming to tower over me.
I've reviewed the SUV version of the C3, the C3 Aircross, and the slightly taller ride height made for even better visibility.
A comfortable ride and a fun sporty feel to the handling makes buzzing around town enjoyable, but if I could change anything it'd be the engine and transmission.
This may be a highly acclaimed three-cylinder engine and the transmission is a six-speed auto (torque converter, not a dual clutch), but their interaction with each other doesn't provide the smoothest driving.
The shifts sometimes arrive too early, or at peculiar times, sometimes hesitating mid-shift, and moving to higher gears results in slumps of turbo lag.
I also found the fuel saving idle stop tech way too intrusive, to the point where the engine was cutting out midway through intersections as I was waiting to turn. Thankfully, you can turn this off.
---
Honda Jazz
7/10
The Jazz has always been a comfortable, easygoing car with performance figures to match. Its 0-100km/h acceleration is best described as leisurely, so if it's speed your after, this car isn't for you.
That said, the manual VTi is terrific fun to drive. Switch to the CVT, however, and the Jazz's reputation is restored. A good ride for front-seat passengers comes from McPherson struts up front while the rear suspension is by torsion beams, meaning rear-seat occupants can get a few shocks over bumps.
Road noise is a little higher than you might expect, but that's probably a combination of tyres and a commitment to lightness.
Obviously, being such a small car, manouverability is a key advantage. The turning radius is 5.2m, which is good but not super tight and the light, electric power steering makes dodging about easy. It certainly doesn't feel like it's on rails, but that's hardly what a car with a such a small engine size is about.
Ground clearance is 137mm, which is reasonable but jumping gutters is not advised.
In the base manual, you have a five-speed with a light clutch and an easy shift. For a motor missing out on a second cam, let alone a turbo, progress is swift rather than exciting, the engine droning away with a relaxed air. The CVT has an eco mode, which further blunts performance, but a ring of light around speedo glows green if you're behaving yourself.
Safety
Citroen C3
ANCAP scored the Citroen C3 four stars out of a maximum of five in 2017, but that was before AEB was added in 2018. Also, standard is lane departure warning, and blind spot detection. As mentioned above there's also rear parking sensors and a reversing camera.
The AEB system works at slower city speeds which is a plus for urban driving, but it doesn't have pedestrian and cyclist detection, which is a minus.
And there's no rear cross traffic alert either, which in other cars has saved my skin more than once while reversing into busy little streets.
For child seats you'll find three top tether anchor points and two ISOFIX mounts across the second row.
---
Honda Jazz
7/10
The safety specifications include six airbags, ABS, stability and traction controls, brake assist and brake-force distribution. The Jazz was awarded a five-star ANCAP safety rating in January 2015.
Baby car seat security is offered with either three top-tether anchors but there are no ISOFIX points.
Missing is the more comprehensive safety equipment of its key rival, the Mazda2, which has forward AEB as standard, and its mid-range adds reverse AEB and at the top of the range scores reverse cross traffic alert and blind -spot monitoring. The airbag count is competitive, however.
Ownership
---
Honda Jazz
7/10
Honda's standard five year/unlimited kilometre warranty also comes with capped-price servicing for the first five years or 10 services, whichever comes first. Service intervals are every 10,000km or six months. 
Up to 30,000km you won't have any extras but once you hit 40,000km you'll have to do the brake fluid, which is a reaonable $144 extra. Your service cost structure is otherwise simple - $259 for odd numbers and $297 for even.
Many people ask where the Honda Jazz is built, and the answer to that is "not Japan", or in Honda's Thailand plant.
Second-hand values appear strong, with around 60 percent of value retained after three years. Resale value is something of a Honda strength, which is probably to do with a lack of high-profile reliability issues.
A dip into the usual internet forums yields little in the way of common faults, problems, complaints or issues for the Jazz. Some look for automatic transmission problems, others for manual gearbox problems, but the current Jazz seems quite clear of defects in Australian-delivered cars.