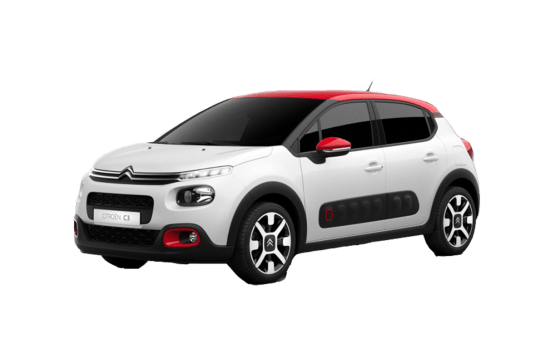 COMPARE
Citroen C3
VS
Ford Fiesta
Citroen C3
Likes
Unique styling
Giant door pockets
Sofa-like seats
Dislikes
Slow and seemingly indecisive auto transmission
Low on advanced safety tech
No front parking sensors
---
Ford Fiesta
Likes
A true hot hatch
Forgiving but engaging to drive
Highly specified
Dislikes
Tight back seat
Firm ride might not be for all
Manual-only will limit appeal
Summary
Citroen C3
The Citroen C3 is a little hatchback like the Kia Rio, Mazda 2 or the Suzuki Swift but it's different to them, which is why you're here, I think.
The C3 is different, not in a technological or engineering sense, but in the style stakes. It's a premium and quirky French take on the tiny-car-thing in a similar way to the Audi A1, Peugeot 208 and Mini Hatch.
Yep, it's cool, tiny, and little bit fancy. Sounds perfect for the 21st century Australian urban dweller, right?
Well, one came to stay at our urban home in Sydney for a week and here's what I thought.
| | |
| --- | --- |
| Safety rating | |
| Engine Type | 1.2L turbo |
| Fuel Type | Regular Unleaded Petrol |
| Fuel Efficiency | 4.9L/100km |
| Seating | 5 seats |
---
Ford Fiesta
Hot hatches are for a relatively small club of enthusiasts, and new small cars are gradually being eliminated from the greater Australian market.
Surely, it makes little to no business sense to bring an Australian audience a small, manual-only hot hatch all the way from Europe, to sell to a pitifully small audience of diehard enthusiasts.
But then, perhaps this is part of Ford's enduring genius in Australia. You see, while long-time Australian arch-rival Holden stumbled over its ill-fated Commodore sequels and flip-flopped on its SUV catalog, chasing sales numbers in a post-local manufacturing world, Ford let the cars speak for themselves by offering Aussies brightly coloured pony cars and over-the-top pickup trucks which instantly etch themselves on your consciousness as they rumble past.
Because it's not just sales numbers which make a brand in the long run. There's an art to offering fun, aspirational models, too. Look at Suzuki's Jimny 4x4 and Swift Sport as other examples.
So, here we are. Ford made the surprise announcement to bring in its Fiesta ST hot hatch a few years ago, and despite a few delays we can now get our hands on it.
The question remains – is it any good? And, what is it like to live with in an Australian capital city? We took one for a week-long urban test to find out.
| | |
| --- | --- |
| Safety rating | — |
| Engine Type | 1.5L turbo |
| Fuel Type | Premium Unleaded Petrol |
| Fuel Efficiency | 6.3L/100km |
| Seating | 5 seats |
Verdict
Citroen C3
6/10
The C3 is not a bad choice of car for the urban dweller with its tiny size making it easy to park, big windows for good visibility, the air bump armour protecting its doors, and tech like Apple CarPlay and Android Auto for keeping your hands off the phone. The little Citroen is unique in its looks among many 'samey' hatches out there. If only the C3 drove as well as it looked. The driving experience could be smoother, but if you can get used to this side of its character there's plenty to like – like those seats. So, for the daily driver score the C3 Shine gets 6/10 but a 7/10 for its urban score.
---
Ford Fiesta
7.8/10
If you want a brand-new city-sized hot hatch which is also entirely track-ready, it is clear you only really have one option to go with in 2020.
Good thing then the Fiesta ST is not only a blast to drive, but it has all of today's modern connectivity and tech items in an attractive and tasteful package at a not-outrageous price.
It's just too bad the manual-only aspect will limit its appeal to true enthusiasts.
Design
Citroen C3
When it comes to the Citroen C3 I think 98 per cent of the appeal is the styling, and the remining two per cent is that you can also drive it places. Okay, that's probably a bit much, but a big part of the C3's charm is the way it looks.
There's nothing wrong with that because the C3's design is pleasing. If you were having trouble putting your finger on what it is about the C3's the styling that's so interesting and cute, then let me point out the rounded-off shapes.
Yep, they're everywhere – the headlights, the tail-lights, and those 'air bumps' down the doors which stop them from getting dings in carparks. Even the C3 badge on the back of the car is stylised to make a rounded-off rectangle shape.
I've heard the word 'squircle' used in relation to them and they're everywhere, even on your phone, just look at the shape of the apps. Never noticed it did you? And they were literally right under your nose.
Anyway, the same rounded rectangles are seen in the air vent design, the door handles, the shape is even pressed into the door trim. I'm not sure if I'm going bonkers, but does the steering wheel have a square with round edges look, too?
While we're inside check out the suitcase strap style door handles and those seats. Oh man, if the car business doesn't work out for this French brand the manufacturer could always go into making furniture because Citroen's seats are supremely comfortable, supportive and stylish. In my opinion when it comes to comfort no other carmaker can beat Citroen's seats.
Enough about the seats. This isn't seatsguide.com.au, so let me give you the dimensions. The C3 is 3996mm long, 2007mm wide (with the mirrors out) and 1474mm tall.
There are six colours to choose from including 'Almond Green' and 'Cobalt Blue', which are both optional and so is the 'Aluminium Grey' our car wore with the 'Polar White' roof.
I nickname it Pigeon Grey because as you can see in the images the colour camouflages the C3 into the road and if it wasn't for the white roof the car would be almost invisible in an urban landscape.
Maybe you want that but if it was me, I'd go for the standard Polar White and red roof which is also standard. The red and white combination suits this little car perfectly and it'll stand out like it should.
Now, don't get the C3 confused with the C3 Aircross which is the SUV version of the little hatch, while the C5 Aircross is even bigger. I've reviewed them all so you can read about those later. Let's move on to the price.
---
Ford Fiesta
The Fiesta wears Ford Europe's new design language, which has swung back towards curves and bumps from the angular look of a few years ago, being tied to the brand's broader global range through the use of the Mustang-look rhomboid grille. After the Focus it's the first car to bring this design language to our market, and heralds a better-looking range of Ford SUVs in the form of the Puma and Escape (a segment in which Ford is struggling to make ground).
Regardless, our Fiesta only comes in one four-door body-style and one trim, this full-fat ST with all the spoilers and contrast detailing.
I love it. It scratches that European hot-hatch itch many have with its compact dimensions balanced out well with more subtle design touches. The 18-inch wheels and contrast grey highlights work well in the 'Race Red' colour scheme on our car, which also seems to nicely integrate the rear light fittings.
It's aggressive but not over the top; there's an element of subtlety about it, which should be applauded.
Inside, things are interesting. The chunky leatherbound wheel is nice, as are the almost-too-well-bolstered Recaro seats. But the dash is very upright, and the seating position immediately feels just a smidge too high, even in its lowest configuration.
The 8.0-inch touchscreen juts out of the dash into the passenger compartment, making you really feel those tight dimensions. At least everything is easily within reach…
The cabin design is a little dated, with plenty of hard plastics, a more-analog-than-not dashboard and some fittings which could easily be in a last-generation Ford product. Those searching for that hot-hatch experience probably won't care, but it's just not the most modern space to be in.
Practicality
Citroen C3
Let me rephrase that. How are you going to be using your car? Are you going to try and get away with it as a family car? If so, I'd say it's going to be too small because the boot has a cargo capacity of only 300 litres and it won't fit a large pram.
Will there be people sitting in the back seats regularly? If so, again I think the C3 could be too small to frequently seat five, as legroom in the rear seats is tight, and at 191cm (6'3") tall I can't sit behind my driving position.
But if most of the time only one or two adults are going to be in the C3 then it will suit them well, with enough boot space for a suitcase (see the images) or shopping. Plus, if you do need to carry more people you can, and it's unlikely, they'll be as tall as I am.
Cabin storage would be disastrous if it wasn't for the enormous door pockets in the front and rear door. Apart from that, there's no centre console armrest bin, two tiny cupholders near the gear shifter, a small glove box and a little shelf in the dashboard for a wallet or purse, but too small for my phone.
As for charging and connection for devices, the C3 could be better. There's just one USB port (the old Type-A) and one 12V (who uses these?).
One of my practicality gripes about the C3 is that to adjust the climate control it needs to be done through the touchscreen, when a dial would be perfectly fine and quicker. Thankfully, there's an actual volume control knob.
---
Ford Fiesta
This isn't a big car, nor is it particularly magical in the way it's packaged. It's focused on the front two passengers, so is best meant for a single or couple. This is most obviously reflected in the awesome Recaro seats, which you have to drop yourself into due to the high and firm bolstering.
Still, even for front passengers it's tight, with little arm-flailing room, and minimal cabin storage.
There's two centre cupholders, which can barely hold a large cappuccino, tiny bottle-holders in the doors, a small centre console box, but a decently sized binnacle under the climate controls where my wallet, keys and phone spent most of the week. The glovebox is also so small that the collection of manuals which live in there had to be bent out of shape to fit.
Amenity-wise you get one USB port and one 12V power outlet next to the gearknob, and one USB port in the centre console.
The Fiesta is tall, so at least no occupant is left wanting for headroom. That having been said, the rear seats are tight. Behind my own seating position, my 182cm tall frame had knees up against the seat in front, and entry/egress to the rear is a little tight. I'd hardly recommend placing an adult in the centre seat. Unsurprisingly, rear-seat passengers get next to no amenities. There are no power outlets or adjustable vents, leaving them with only a pair of pitifully small cupholders in the doors and rear-seat pockets. Still, the fact it has rear doors at all is something, and gives it at least the ability to carry four adults without too much trouble getting them in or out for quick urban journeys.
Boot space has been expanded 21 litres over the previous Fiesta to now offer 311 litres (VDA) of space. This is actually pretty impressive and held our largest 124L CarsGuide travel case with ease.
Under the floor there is a space-saver spare wheel.
Price and features
Citroen C3
There's one grade in the C3 line-up, it's called the Shine and the list price is $28,990.
Coming standard is, proximity unlocking with push button start (so convenient if you're getting in and out a lot on short trips), parking sensors (but only at the back not the front which is a bummer in the city), a touchscreen with Apple CarPlay and Android Auto, a reversing camera and sat nav, digital radio, Bluetooth connectivity, climate control, cruise control, 16-inch alloys wheels and LED running lights, but halogen headlights.
I'd expect more features for this price and there are rivals packing more into small cars than this for the same money. The Volkswagen Polo is $3K less and gets impressive features and if the VeeDub isn't kooky enough then there's Skoda's Fabia for $22K.
I get it, those cars aren't as cool, so I'd seriously check out the $26,990 Peugeot 208 GT-Line which (because they're part of the same company) shares the same engine and transmission and many other mechanical and tech bits.
As for the Audi A1, the most affordable lists for $32,350, but it is a premium and cool little car worth taking a look at.
The Mini Hatch is more expensive again, but undoubtedly cool and different.
None of the rivals have the C3's 'air bumps' treatment. It's a Citroen creation which first made an appearance on the Cactus SUV about five years ago. They're little plastic bubbles that are basically armour for your car to protect it against runaway shopping trolleys and people opening their doors into yours. They're not just a gimmick, they work.
You won't find seats like the C3's in any of the competitor's cabins, either. The ones you can see in the images come standard and they're so good I'm thinking seriously about asking Citroen to make me a couch.
---
Ford Fiesta
I wouldn't call the Fiesta's $31,990 price-tag 'cheap' considering how much car, physically, you actually get for that money.
But then, for a pretty much track-ready hot hatch, it's not bad either, especially since it is packed with a rather long and surprisingly luxurious list of inclusions.
These include 18-inch alloys, an 8.0-inch multimedia touchscreen with Apple CarPlay, Android Auto, sat-nav and digital radio, a 10-speaker Bang and Olufsen audio system, 4.2-inch colour information screen between the dial clusters, single-zone climate control, leather steering wheel and semi-leather/suede Recaro sport seats, heated front seats, a reversing camera, and full LED front lighting.
Performance-wise, out of the box the ST gets Michelin Pilot Super Sport tyres, launch control with three drive modes, and is the first Fiesta to get a mechanical limited-slip differential (built by Quaife).
Rivals? The Fiesta comes at an opportune time, after Peugeot's ageing but excellent 208 GTi was pulled from our market last year, and the Clio RS Cup ending production internationally, so you'll be stuck looking for MY18s of those in dealers.
Other than those two, there is the Suzuki Swift Sport, which is fun and more affordable ($25,490), but not as much of a serious performer.
The Fiesta's option list is limited to a panoramic opening sunroof ($2500) and premium paints ($650). Both are arguably worth it if you want them.
Engine & trans
Citroen C3
The C3 has a 1.2-litre, three-cylinder, turbo-petrol engine making 81kW/205Nm, while a six-speed automatic transmission shift gears.
If a three-cylinder engine sounds tiny to you, then you're right, it is, but these small powerhouses are really common for little cars these days. Plus, the power and torque outputs are more than enough for a car that weights only 1090kg.
The transmission was the let down here, the shifts slow and uncertain at times
---
Ford Fiesta
You're buying this car for its 1.5-litre three-cylinder turbo engine from the larger Focus. It is a punchy and characterful little unit, pushing out a whopping 147kW/290Nm. A lot for such a small package.
The Fiesta ST is only offered with a six-speed manual transmission which proved quick but forgiving, even in dense traffic. There's no magnetic clutch or anything too brutal here which is going to make the ST unpleasant for urban drives punctuated by stopping and starting.
On the performance front the ST comes to Australia with a Quaife LSD as standard, which you can really feel in the corners. (More on that in the driving segment.)
Fuel consumption
Citroen C3
Citroen says that after a combination of open and city roads the C3 should use 4.9L/100km, while its urban mileage is 6.8L/100km.
My fuel test covered 174.1km of mainly urban roads and I needed 11.76L to fill the 45 litre tank to full again. That comes to bang on the serving suggestion of 6.8L/100km.
Not bad, but not fantastic fuel economy for a small car.
The C3 comes with fuel saving idle stop tech, too, which cuts the engine as the vehicle slows to a stop.
---
Ford Fiesta
The initial claim of 6.4L/100km on the combined cycle seems pretty bold, and we couldn't get close to it. I'm sure you could get much closer if you tried, but I was having far too much fun.
After a week of blasting the Fiesta down alleyways and skitting it around corners, the engine computer returned a usage of 8.4L/100km. Not on the claim, sure, but also not bad considering how much fun you can have for that amount of fuel.
The Fiesta has a 45-litre fuel tank and will accept mid-grade 95RON unleaded.
Driving
Citroen C3
The C3's length is its biggest urban strength, and in the time I had it there was almost never a spot I couldn't squeeze into.
Visibility is also good in all directions, through those giant windows, although I did feel low down with even small SUVs seeming to tower over me.
I've reviewed the SUV version of the C3, the C3 Aircross, and the slightly taller ride height made for even better visibility.
A comfortable ride and a fun sporty feel to the handling makes buzzing around town enjoyable, but if I could change anything it'd be the engine and transmission.
This may be a highly acclaimed three-cylinder engine and the transmission is a six-speed auto (torque converter, not a dual clutch), but their interaction with each other doesn't provide the smoothest driving.
The shifts sometimes arrive too early, or at peculiar times, sometimes hesitating mid-shift, and moving to higher gears results in slumps of turbo lag.
I also found the fuel saving idle stop tech way too intrusive, to the point where the engine was cutting out midway through intersections as I was waiting to turn. Thankfully, you can turn this off.
---
Ford Fiesta
Like any good hot hatch, the Fiesta is huge fun, even when in the tight quarters of a city, or on a daily commute which would otherwise be boring.
The torquey engine makes short sharp bursts down suburban streets smile-inducing, and, due to the pure physics of having so much power in such a small package, there's serious entertainment to be had without wrangling with the law. That's because this car comes alive in the little moments: bursting off the mark at the lights, or swinging it into a corner and feeling the LSD work its magic to keep the ST's body in line. You don't need to be speeding or breaking traction to enjoy it.
There is nothing remarkable about the transmission in a good way. It's slick, slots into gear nicely and the clutch is smooth – even forgiving. That ties into something else the Fiesta does well. Nothing is over the top about it. It is sensible, understated, tasteful.
You can bring it to life in the confines of an apartment block without waking up your neighbors, go for a short drive to the shops without cringing at potholes, take your family somewhere without blending them in the corners.
The suspension has enough give to be firm, a pleasure in the corners and a little skittish perhaps, but not as brutal as, say, the Peugeot 208 GTi was.
And while it might be the only performer left in the segment for now, I reckon it is a better urban friend than the Peugeot on Sydney's roads, and a more engaging one than the Clio in the curvy stuff. It's a hot hatch with few compromises… as long as you can drive a manual…
Safety
Citroen C3
ANCAP scored the Citroen C3 four stars out of a maximum of five in 2017, but that was before AEB was added in 2018. Also, standard is lane departure warning, and blind spot detection. As mentioned above there's also rear parking sensors and a reversing camera.
The AEB system works at slower city speeds which is a plus for urban driving, but it doesn't have pedestrian and cyclist detection, which is a minus.
And there's no rear cross traffic alert either, which in other cars has saved my skin more than once while reversing into busy little streets.
For child seats you'll find three top tether anchor points and two ISOFIX mounts across the second row.
---
Ford Fiesta
Just because the Fiesta is a performance car, doesn't mean it's missed out on crucial active safety gear.
The ST comes standard with auto emergency braking with pedestrian detection, lane keep assist, blind spot monitoring, rear cross traffic alert, traffic sign recognition, and auto high-beam control.
Missing is driver attention alert and active cruise, although in a manual it's not likely you'll miss it.
Ford's Sync software also has a feature which can automatically call emergency services if the airbag is deployed.
Other safety features include torque vectoring, electronic stability, brake, and traction controls, six airbags (with full-length curtain), and dual ISOFIX child-seat mounting points on the outer rear seats.
The Fiesta ST does not yet carry an ANCAP safety rating, although it does have a maximum five-star EuroNCAP rating.
Ownership
---
Ford Fiesta
All Fords are now covered by a five-year/unlimited kilometre warranty, which is on-par with major rivals, and a nice bit of security to have on a performance car. Check the fine print before taking it to the track though…
Ford also offers a few kickers through its Service Benefits program, like a free loan car when you service, auto club membership, and sat-nav updates.
The services which need to occur every 15,000kmn or 12 months are also cheap, with Ford covering the first four years at a fixed price of $299 each time.