Volkswagen Jetta sedan 2011 review
The new bigger Volkswagen Jetta shares less with the Golf hatch than its predecessor, but there's no shortage of expectations for it.  Not that the Golf links has done it any harm, but the sixth-generation Jetta carries a big load.
With a global sales tally of more than 9.6 million worldwide, it is a key part of the brand's plans to more than triple its worldwide volume by 2018 - including boosting its US market share to double digits and volumes to 800,000.
Pricing and sales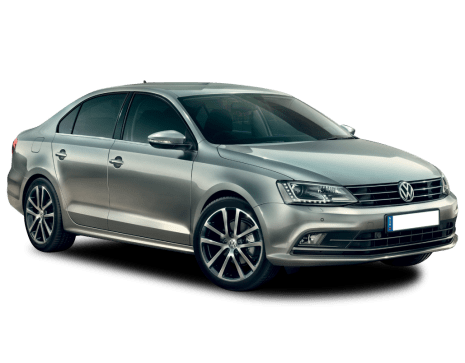 Explore the 2011 Volkswagen Jetta range
Australia has less stratospheric numbers in mind for its tally when it arrives in mid-2011, although they're not making them public.  Its recent sales in Australia dwell in the realm of 4000 units annually back in 2007, but the brand is hoping the new model will revive those numbers.
Given it's not due in Australian showrooms until the middle of 2011, pricing and features lists are at best rubbery.  The inclusion of the new entry-level 1.4-litre turbo-only model, the pricetag might sneak in under $30,000 for one model, but the rest will dwell in the $30,000- $40,000 bracket, which puts it up against the Mazda6 and the Honda Accord Euro amongst others.
Engines and gearboxes
The engine line-up for Australia has not been locked in but is likey to reflect the current Jetta range - two diesels and three petrol engines, teamed with manual and double-clutch automatics.  The new 1.2-litre TSI petrol is not being considered for an Australian release, so the range will kick off with a 1.4.
The 1.4-litre forced-induction four-cylinder petrol engines both remain available with the seven-speed DSG or a six-speed manual.  The turbocharged variant produces 90kW and 200Nm of torque, while claiming 6.2 litres per 100km; the supercharged and turbocharged 'Twincharged' 1.4 ups the thirst to 6.3 and the outputs remain at (down by less than half a litre on the current model) 118kW and 240Nm.
The top-spec petrol model will again be propelled by a two-litre direct-injection petrol engine (from the GTI engine family, with a six-speed manual or DSG gearbox) claiming a 6.9-litre per 100km thirst despite offering 147kW and 280Nm.
The frugal direct-injection diesels start with the 77kW/250Nm 1.6-litre common-rail turbocharged engine, with a claimed thirst of 4.5 litres per 100km and the option of a seven-speed DSG gearbox.  The 1.6 TDI with BlueMotion technology on board drops the fuel number to 4.2 l/100 km, with a corresponding drop in CO2 emissions.
The two-litre turbodiesel ups the power to 103kW and torque peaks at 320Nm, with fuel use rising to 4.8 litres per 100km.
Body and fit-out
The new model has grown by 90mm in overall length, with 73mm of that coming from an extension to the wheelbase which has improved rear legroom by around 67mm. Width and height remain largely unchanged and bootspace is down 7 litres to 510 litres.  The car is around 30kg lighter thanks to the use of high-strength steel, which has also improved torsional rigidity.
The styling is anything but adventurous, but it's also not going to offend - that said, we're driving a top-seller for the brand in the US that didn't seem turn too many heads in San Francisco.  The cars bound for Australia will get soft-feel dash plastics and vents for the rear passengers, who have ample leg room and more than adequate headroom.  Two rear-seat occupants of 190cm plus can sit behind a similarly-sized driver and have good knee room; three children would travel in the rear without issue as well.
The features list for Australia is yet to be firmed up, but the new Jetta retains its anti-lock brakes and stability control, as well as six airbags - front, side and full-length curtains - as standard, with the option (in Europe and the US at least) of rear side airbags.
Specification of the new Jetta - which goes on sale in Australia mid-2011 - is yet to be finalised, but the European-spec entry-level Trendline has anti-lock brakes, stability control with trailer stabilisation, 16in wheels, heated power mirrors, tinted windows with insulating glass, filtered air conditioning and remote central locking. There's also interchangeable interior accents, an auxiliary input and a multifunction display.
The Comfortline adds 16in alloy wheels (likely to be standard entry-level fare in Australia), with added storage pockets, centre armrests with storage box and a leather-wrapped steering wheel, gearshifter grip and hand brake while the Highline model ups the wheelsize to 17in alloy wheels and adds headlight washers, front fog lights with cornering lights. The top-spec model also gets the sport seats with leather/fabric trim and climate control.
Driving
The driving impression has to be tempered with something of a disclaimer - the torsion beam rear end under the US car's bum won't be in Australia, and we can be thankful for that.  The car itself feels solid and reasonably quiet, except for the road noise on coarse US highway surfaces, but the exterior rear vision mirrors seemed a little on the small side.
The steering is light and inoffensive, but the Australian spec cars will get a different power-assisted system that uses electric rather than hydraulic.  The two-litre turbodiesel and TSI petrol engines driven with DSG transmissions in the US were as close to Australian-spec as could be found and both are appealing drivetrains, although the diesel is probably the favourite - quiet, smooth and reasonably linear, it has ample torque and delivers it without feeling strained.
Pricing Guides
$9,909
Based on 28 cars listed for sale in the last 6 months
Range and Specs
| Vehicle | Specs | Price* | |
| --- | --- | --- | --- |
| 103 TDI | 2.0L, Diesel, 6 SP AUTO | $7,590 – 10,670 | 2011 Volkswagen Jetta 2011 103 TDI Pricing and Specs |
| 103 TDI Comfortline | 2.0L, Diesel, 6 SP AUTO | $7,950 – 9,999 | 2011 Volkswagen Jetta 2011 103 TDI Comfortline Pricing and Specs |
| 118 TSI | 1.4L, PULP, 7 SP AUTO | $8,995 – 10,980 | 2011 Volkswagen Jetta 2011 118 TSI Pricing and Specs |
| 118 TSI Comfortline | 1.4L, PULP, 7 SP AUTO | $9,699 – 9,998 | 2011 Volkswagen Jetta 2011 118 TSI Comfortline Pricing and Specs |