When I went to pick up the Mercedes-AMG A 45 S 4Matic+ I walked right past it and then like that lost and confused John Travolta in Pulp Fiction internet memes, wandered around before asking where the car was.
That's because I was looking for something with a gigantic spoiler on the roof and probably hi-vis green with stripes. But the car assigned to me was the A 45 S in its standard form, and the styling is subtle enough for it disappear into a crowded car park like James Bond into a lavish dinner party.
But like Bond, chances are the A 45 S is the most hardcore person in the room, it just doesn't walk in announcing it to everybody.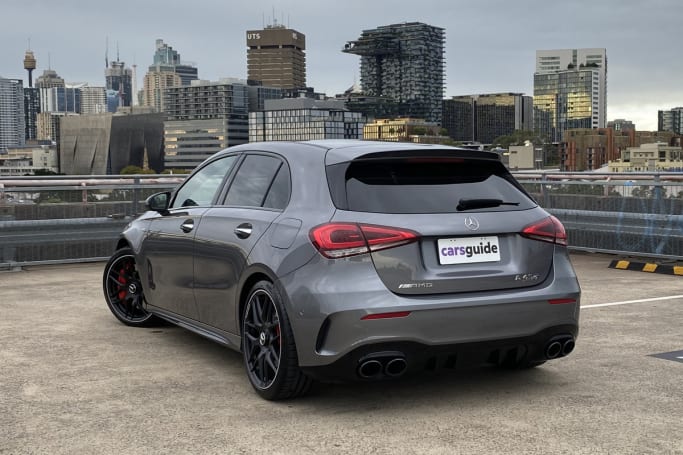 You can option the 'AMG Aero Package', which will add a giant rear wing to the roof.
Look closely and you'll see that the A 45 S is not just another small prestige car. There's the 90mm quad exhaust poking out of the chunky diffuser, the giant 'Panamericana' grille, and the angry looking front apron.
Then, there are the 19-inch matt black alloy wheels wrapped in low-profile Michelin rubber and enormous brake discs with their red calipers, all barely contained by the pumped up front wheel guards which are much bigger than those on a regular A-Class.
The cost option my test car wore was the 'Mountain Grey Metallic' paint, but if anything it made the A 45 look even more covert.
The cabin is small but luxurious and sporty with two-tone leather upholstery (the red and black 'Lugano' leather in my test car is a no-cost option), there's the microfibre-clad AMG steering wheel, brushed aluminium trim, metal-trimmed pedals and the large display panel (it's actually two screens joined) is also standard.

Inside you'll find a microfibre-clad AMG steering wheel, brushed aluminium trim, and metal-trimmed pedals.
The A 45 S is a hatchback measuring 4445mm in length, 1850mm wide and 1412mm tall. Not keen on a hatch but want something with similar dimensions? The CLA 45 S is the A 45 S's four-door twin-under-the-skin and is just as much of a weapon.
And if you want your A 45 S to look more aggressive, you can option the 'AMG Aero Package' which will see a giant rear wing fitted to the roof.
Or you can buy the Edition 1 version of the A 45 S which includes the big spoiler and shouty design bits to makes sure everybody knows you're the assassin in the room.