Land Rover Defender 2007 review: snapshot

After all, in today's field of cosseting off-roaders and outright marshmallow soft-roaders, the rugged Defender still steps up to the plate with pretty the same slab sides, hard edges and very basic design the badge started with about 60 years ago.
It's so far removed from the rest of the Land Rover range it may as well be a separate marque, and as such, it's a dinosaur squaring off against a modern world of complex technology.
And that's its unique charm. There are absolutely no pretensions about the Defender. What you get is a truck as tough as a stegosaurus, and just as capable of ploughing through the primordial landscape.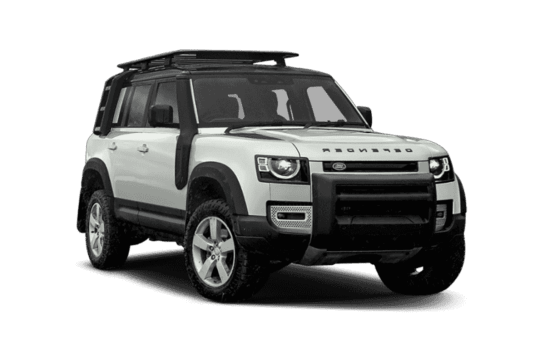 Explore the 2007 Land Rover Defender range
Unfortunately the stegosaurus has a few problems with tight turning circles and cornering at full gallop on bitumen — but the kind of person who wants to go riding a steggie isn't going to consider saddling up a Siamese cat simply because it's a bit more acrobatic.
The newly arrived Defender has made a few changes but you'll have to be a fanatic to spot most of them. The most noticeable is that there's bump on the bonnet to accommodate the new higher-positioned engine, a 2.4-litre four-cylinder common rail diesel engine sourced from the Ford Transit and given a lubrication and sealing system upgrade to help it deal with the extreme conditions the offroader gets into.
The engine develops 90kW of power and 360Nm of torque (20 per cent more than the five-cylinder turbo diesel it replaces). It meets EU4 emissions standards, but there's also a specially tuned version for countries with especially poor diesel fuel.
The new engine gets and anti-stall system and a sixth slot on the manual gearbox that controls the full-time 4WD transfer cases, but there's still no plan for an auto — although Land Rover Australia general manager Roger Jory says there has been discussion.
"An automatic gets talked about a fair bit, but nothing is planned," Jory says.
The springs and dampers have been revised and the Defender name has been replaced on the bonnet by Land Rover badging, but otherwise it's very much the same tall and narrow box that the company proudly admits has been 'fighting the wind tunnel for 60 years'.
However the interior has been given more comfort and style - at least by Defender standards. There are a redesigned fascia and instruments, more comfortable seats, tweeters join the two speakers for the audio system - and extra noise damping gives it (and you) a better chance at being heard.
True believers will miss the dashboard vents that used to open straight to the outside, and probably won't be consoled by the fact that the airconditioning/heating is now much faster and stronger.
There are non-skid mats on just about every horizontal surface in the hose-out cabin, and traction control and anti-skid brakes will help you get through the kind of spots that will require you using the hose when you get home.
But don't expect to see airbags, cruise control, buttons to adjust the mirrors, any adjustment at all on the steering column or anything as luxurious as a vanity mirror.
The new Defender is offered in the 130 Crew Cab Chassis version for $50,990 and the 110 Station Wagon for $48,990, with the only options being metallic paint for $900 or two comfortable forward-facing extra seats for the cargo area of the 110 for $2000. The company isn't giving any sales predictions, but is confident of improving the slide that has seen this year's figures so far down by almost half at 65.
On the road
It's a lot less noisy in the new Defender cabin. Land Rover says it's 30 per cent quieter than the previous model, and while it's not whisper-hushed at least you no longer have to yell a conversation between the seats.
The diesel engine sounds agricultural - music to some ears - and while it seems on paper to be short on the numbers it doesn't have any trouble doing the job. You get that extra torque across a wide rev range, and hit both torque and power peaks around a reasonably low 2000rpm.
You have to reach for the gear change, and the shift action is extremely long throw, but the new top gear is tall and allows you to calm things down a bit for highway cruising, while first gear has been given a lower ratio for even more impressive crawl ability.
The suspension improvements give it slightly more composure on the road, but it still bounces around like a Jack Russell on amphetamines. There's also a lack of steering response, noticeable body roll in cornering and the narrow body means that the interior is cramped.
But most Defenders only want to see bitumen in between getting from one gnarly spot to another, and it's in the dirt that you really see what the stegosaurus can do – clawing its way up and down hillsides, though washouts and (with a 314mm ground clearance and 500mm wading depth) water that would stop most of its rivals.
Offroading is helped with short overhangs and the ability to easily judge where your corners are, coupled with some impressive geometry. Maximum gradient is 45°, approach angle is 49° and traverse is 35°, while the 110 has breakover and departure angles of 30.3° and 34.6°, and the 130's 27.5° and 35.2°.
The second hand will sweep a quarter dial before you get to 100km/h, and then some time after that you'll get to the top speed of 132km/h – with a bit of patience. But this is not a vehicle you buy because you want a drag car, it's the one you buy because you have a job to do and the Defender can do it.
But there's a price to be paid in comfort, with the ground clearance making it a chore to climb into, and the narrowness that gives it access to virtual goat tracks also meaning it's cramped for shoulder room, while leg room for the driver is challengingly tight.
Jory describes the Defender as "an involving drive". What it involves is as much physical effort as a solid hour in the gym, coupled with having to keep your brain engaged at all times. This is not an idiot-proof offroader that will do all the work and thinking for you. If you don't know what you're doing out there, you could get into real trouble. If you do know what you're doing, there's probably nowhere on earth you couldn't tackle in the Defender.
Close to 1.9 million of them have been sold, and Land Rover says about 1.2 million of those are still on the road _ and some very rough road at that _ all over the world, many in various defence and emergency services or aid missions that have to deal with remote regions.
The factory at Solihull in Britain builds only 25,000 each year, and since a lot of the vehicle is hand-built, it's unlikely Landy will try to increase production.
But the question is whether they'll keep producing them beyond the current model's sunset in 2010, when the EU changes emissions regulations for the commercial vehicle classification that has allowed Defender to ignore the passenger vehicle levels other offroaders must meet.
That makes this tough and honest dinosaur an endangered species, but we hope Land Rover manages to save it — because its extinction would be a huge loss.
---
Is there really anything tougher than a Landie? Have you owned one? What beats it? Tell us your story in the feedback area below...
---
Pricing guides
$17,075
Based on third party pricing data
Disclaimer: The pricing information shown in the editorial content (Review Prices) is to be used as a guide only and is based on information provided to Carsguide Autotrader Media Solutions Pty Ltd (Carsguide) both by third party sources and the car manufacturer at the time of publication. The Review Prices were correct at the time of publication.  Carsguide does not warrant or represent that the information is accurate, reliable, complete, current or suitable for any particular purpose. You should not use or rely upon this information without conducting an independent assessment and valuation of the vehicle.