Kia Cerato Sport sedan 2018 review
The all-new Kia Cerato sedan range has hit Aussie showrooms, and James Lisle spent a weekend in the mid-spec Sport model to see what it was like to live with.
What we like
Interior space
Multimedia system
Stinger design influences
What we don't
Engine showing age
Temporary spare wheel
Not really that sporty
What we like
Interior space
Multimedia system
Stinger design influences
What we don't
Engine showing age
Temporary spare wheel
Not really that sporty
Kia's last-gen Cerato was a hit with buyers, and it's no surprise why.
By offering a solid, no-nonsense car with a dependable warranty and promising ownership plan, Kia's baby sedan and hatch thrived in the highly competitive small-car class.
Will the new Kia Cerato sedan keep up the good work? And is a decent warranty and ownership plan enough to attract potential buyers?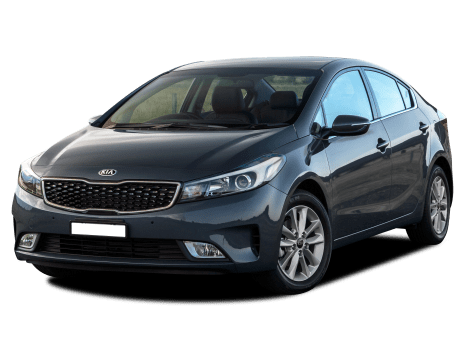 Explore the 2018 Kia Cerato range
I took the new Cerato Sport up to NSW's Olney State Forest for a weekend camping trip with my mates to see if it had any unexpected tricks up its sleeve.
Saturday:
As I was planning on driving 120km north from Sydney to the Basin Campground, I needed to take a lot of gear.
Not only was I bringing my own camping equipment – a camp chair, pillow, sleeping bag, a couple of heavy-duty blankets, queen-size doona, and a single-person swag - but also some food and drink for the crew. They'd already demolished their existing supply from the night before, and I owed them a favour from a couple of months ago. You don't bail on your mates.

Step up to Sport and you'll get 17-inch alloys.
Despite needing to haul a mountain of gear, the Cerato's boot swallowed it all easily. Kia quotes a capacity of 502 litres (VDA) for the new Cerato sedan. Not only is that 50L larger than the Hyundai Elantra or Holden Astra sedan, it's also 20L more than the Lexus LS500h. And that's a full-size executive limousine!
Controversially - for a Kia, at least - the spare wheel is a temporary space-saver unit, so it's not all perfect.
But even though the lack of full-size spare is going to irritate some of the Kia faithful I know, the looks of the Cerato should make up for it. If there ever was a Kia - other than the Stinger GT - worth falling head-over-heels for, it'd be this one: the Cerato Sport sedan.
Not only did we find the Sport variant was the pick-of-the-bunch at the international launch this year, it's also (arguably) one of the more attractive Kias going around. Not too conservative, not too adventurous - it's juuust right.
The base model - which starts at a relatively aggressive sub-$20k starting price - comes with basic cloth seats and 16-inch steel wheels. But step up to the $23,690 (RRP) Sport sedan and you'll get better materials on the dash, a leather-wrapped steering wheel and gear lever, cloth-trimmed seats with a 'sports pattern', sat nav with live traffic updates, and 17-inch alloys - the latter of which complement the Cerato's visual drama nicely.
There's a lot of on offer in terms of the Cerato's exterior design, which is matched by a surprising level of practicality inside.
There are bottle holders in each of the four doors – which was pretty useful for holding my big Gatorade bottles on the road - and a slew of charging sockets up front: one 12-volt auxiliary port, two USB points in the dash and one in the centre console storage bin.
The dash, while laid out in a relatively conservative (yet ergonomic) manner, features cool, circular air vents at each end and an 8.0-inch multimedia touchscreen in the centre. Unlike some cars in this class and price bracket, the multimedia system features a reversing camera, DAB, Bluetooth, sat-nav with live traffic updates, Apple CarPlay and Android Auto compatibility. Many run a smaller screen, or don't have nav or digital radio, or lack the smartphone mirroring tech - the Cerato has the full gamut. 
Not only does the screen dominate the entire cabin, but it's smooth, responsive, has great resolution, and is very easy to use. It's leagues ahead of the old car and should continue to feel crisp in the next few years of its model life.
Not only that, but it's connected to one of the better stereo systems this side of $25k.
Disappointingly, there's a glaring omission of air-vents for rear passengers, which is bound to incite some A/C-related parent–offspring conflicts on a hot Aussie day. While I didn't don a black suit and cap to chauffeur around any rugrats, passengers in the back will be treated to a centre fold-down armrest and limousine-like levels of knee and legroom. It truly is vast.
After scything up the Pacific Highway and out west into Ourimbah's backroads, the Kia and I arrived at the mouth of the Basin Campgrounds; essentially, a deep, frozen pit at the bottom of the Olney Valley that kept the chill in and the mobile reception out. Promising…
Despite arriving at 4:00pm, the Cerato Sport's instrument cluster was already telling me the temperature had fallen to just five degrees. This didn't inspire particularly inspire confidence about the night ahead, but at least my mates had already started a fire…
Sunday:
After a horrible night of my jaw uncontrollably chattering itself to pieces, I was keen on getting home in the morning. All I could think about was a shower and a nap.
The Kia's big boot was a welcome sight, and I chucked everything in. No need for folding, wrapping, and re-packing!
Not only did the damp weather prematurely snuff-out our fire, it also transformed the steep mountain access trail from a dusty road to a muddy track. Harder sections had now turned into slippery clay, with traction control cutting in more than a dozen times.
The electronic intervention on the 17-inch alloy wheels (clad in 225/45 tyres) was very smooth, in most circumstances. I had the Cerato Sport's drive mode in 'Eco' to dull the throttle sensitivity and help eliminate some unnecessary adjustments, but thanks to some patience and planning, the Cerato pulled itself up with little fuss. And you think you need an SUV...
However, there's not a huge amount of power in the Cerato Sport; pulling out of intersections, overtaking on hills, and merging into busy highways quickly highlight the Cerato's lack of mid-range pep. The optional $1500 torque-converter six-speed automatic adapts well to varying circumstances and helps compensate for the lack of grunt, but it can only do so much.

Kia's 112kW/192Nm four-cylinder has been around for a while now, and is starting to show its age.
A smaller, turbocharged unit – like the 1.6-litre direct-injected engine in the Hyundai Elantra – would be better suited to the task, but the existing 112kW/192Nm multi-point injected, 2.0-litre four-cylinder petrol engine (carried over from the previous-gen Cerato) is a venerable, if a little vocal, unit that has a pretty strong track-record in terms of running costs and reliability.
The Kia Cerato not only comes with a seven-year/unlimited kilometre warranty, but also a full-length capped-price servicing scheme in unison.
As expected with older, more 'proven' tech, fuel efficiency takes a bit of a dive.

All Kia Ceratos get a temporary full-sized spare.
Despite spending the majority of my time in the 'Eco' drive mode (as opposed to the optional Smart, Comfort, and Sport modes), I recorded a hefty average of 9.1L/100km at the pump, compared to the official combined figure of 7.4L/100km advertised by Kia. All Ceratos will take regular-unleaded fuel, so at least that helps with the cost.
Once out on the highway, the Cerato settled down pretty well. Unlike mountainous country roads that made the Kia wander through the gears, the Cerato's drivetrain was better suited to flatter sections of road; setting down and using less fuel with little fuss. The reasonably tall gearing caps the engine's revs, so it's not too noisy either. 
The seats are pretty supportive, and while they don't feature adjustable lumbar control, they didn't hint at any oncoming backache when coming into Sydney at about the two-hour mark.
Verdict
While the brand-new Cerato dials up the attitude, offers plenty of space for passengers and improves on the previous model's flaws, the ageing engine is a disappointment in a package that's otherwise free from issues.
While the Sport sedan doesn't have enough grunt to compliment its stylish looks, it makes up for it with a safe and promising ownership experience that should satisfy first-time buyers - or repeat customers - for years to come. 
Would a Kia Cerato Sport sedan look the part on your driveway? Tell us what you think in the comments below.
Pricing guides
$16,900
Based on 522 cars listed for sale in the last 6 months
Range and Specs
| Vehicle | Specs | Price* | |
| --- | --- | --- | --- |
| Koup Turbo | 1.6L, ULP, 6 SP MAN | No recent listings | 2018 Kia Cerato 2018 Koup Turbo Pricing and Specs |
| GT (turbo) | 1.6L, ULP, 7 SP AUTO | $29,990 – 30,450 | 2018 Kia Cerato 2018 GT (turbo) Pricing and Specs |
| S | 2.0L, ULP, 6 SP MAN | $16,850 – 17,990 | 2018 Kia Cerato 2018 S Pricing and Specs |
| S (AV) | 2.0L, ULP, 6 SP AUTO | $11,990 – 19,999 | 2018 Kia Cerato 2018 S (AV) Pricing and Specs |
Pricing Guide
$14,990
Lowest price, based on 36 car listings in the last 6 months
View cars for sale
Similar Cars
Hyundai i30

Kia Rio

Mazda 3

Hyundai Elantra