Ford Falcon E-Gas 2006 Review

When you buy petrol, the dollar metre is far and away the greatest, when you buy LPG, it's the other way around.
Twenty dollars gets you roughly 40 litres.
It throws you at first.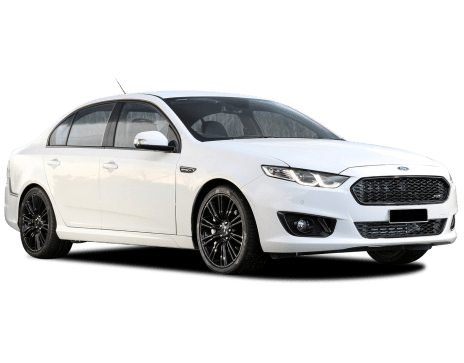 Explore the 2006 Ford Falcon range
But at under 50 cents a litre, LPG is looking better and better as an alternative to petrol even factoring in the price of LPG conversion.
However, if you commit to LPG up front when buying a new car and opt for a "dedicated" LPG model, conversion cost is not really an issue.
Ford's E-Gas Falcon XT sedan (automatic) retails for about $37,000 and offers plenty of reasons to go gas.
E-Gas is also available on Futura, Fairmont, ute, cab chassis and wagon. A sporty SR Limited Edition sedan is also available.
Falcon is the only locally built car with a dedicated LPG engine.
Ford modifies the engine and fully integrates the gas appliance as well as recalibrating the car's electronics and making some with internal modifications. It's all factory fitted and tuned to run on LPG.
The engine is based on a petrol DOHC, 4.0-litre Falcon six and as such, starts from a high base in terms of power and torque.
The E-Gas engine shares the same 10.3:1 compression ratio of the petrol engines.
However, the E-Gas engine maintains stronger con-rods and harder valves and seats to meet the higher demands placed on the engine by using LPG fuel.
A revised venturi providesd better air/fuel mixing, while the smooth curve of the new inlet pipe provided better flow so the gas could be withdrawn in a more controlled manner.
Some power is lost when running on gas but it takes the E-Gas car down to a still handy 156kW/374Nm output.
The tank holds from between 90 litres and 116 litres depending on the model.
Fuel consumption is heavier than a petrol version averaging around 16-litres/100km but gas is way in front when costed out against petrol.
Ford literature says the E-Gas Falcon will save up to 33 per cent of the fuel cost compared with petrol over the same distance.
That seems about right.
A tank of LPG last week cost about $40.00 while a tank of petrol cost more than $100.
There are some negatives with LPG and one is loss of power.
The E-Gas Falcon needs to be driven harder for any given application compared with the petrol car _ with predictable fuel use results.
The E-Gas cars also lose some luggage space because the spare moves on top of the load deck instead of sunken into the fuel tank. That space is taken up by gas cannister.
It could be an issue for families or commercial users who need all the load space they can get.
LPG availability is no longer an issue as most service stations carry it.
A side benefit of E-Gas is lower emissions because the engine meets the stringent Euro III regulations.
E-Gas is a $1200 (RRP) option, but this cost can be recouped within approximately a year of motoring, or even sooner if petrol prices trend upwards.
E-Gas has no effect on Falcon's 3 year/ 100,000km warranty.
Driving the car is pretty much the same as a petrol powered Falcon except you need to push the throttle harder to acelerate. Once you achieve the desired aspeed, there is no difference. Infact, the LPG car could be a tad quieter and smoother than the petrol.
Roll on acceleration is good as is torque output that gives good throttle response. It's no slug out of the blocks but still sounds like a vacuum cleaner.
Does owning a E-Gas Falcon mean you own a taxi?
Not really even if all cabs are on gas and most are Falcons.
The test vehicle was comfortable and looked to be well made. It is identical to the petrol Falcon to look at inside and out.
A six speed auto would be better than the standard four speed unit and would save fuel as well as boost performance.
E-Gas Upgrades
Dual independent VCT
Revised camshaft profile
Dual knock sensors with individual spark control
Revised venturi, throttle body, and inlet pipe
Euro III emissions
Transient rpm limit
Improved NVH
Power output on the E-Gas engine remains at 156 kW, while torque has increased slightly from 372 Nm @ 3000 rpm to 374 Nm at a lower 2750 rpm.
Pricing guides
$6,990
Based on 171 cars listed for sale in the last 6 months
Range and Specs
| Vehicle | Specs | Price* | |
| --- | --- | --- | --- |
| Futura | 4.0L, ULP, 4 SP AUTO | $3,800 – 6,160 | 2006 Ford Falcon 2006 Futura Pricing and Specs |
| Futura (LPG) | 4.0L, LPG, 4 SP AUTO | $3,900 – 6,380 | 2006 Ford Falcon 2006 Futura (LPG) Pricing and Specs |
| Futura Eurosport | 4.0L, ULP, 6 SP AUTO | $5,000 – 7,810 | 2006 Ford Falcon 2006 Futura Eurosport Pricing and Specs |
| SR | 4.0L, ULP, 4 SP AUTO | $3,700 – 6,050 | 2006 Ford Falcon 2006 SR Pricing and Specs |
Pricing Guide
$2,650
Lowest price, based on 152 car listings in the last 6 months
View cars for sale