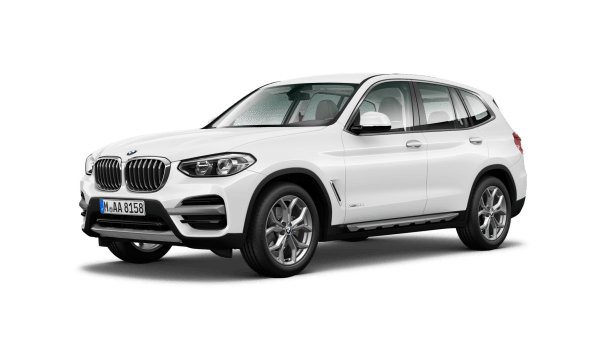 BMW X3
Likes
Scorchingly fast
Gives its rivals a run
Terrific chassis
Dislikes
Apple CarPlay price is extortion
Some (not me) find the ride too hard
Needs more visual aggro
---
BMW X4
Likes
Slick exterior
Punchy engine
Excellent steering
Dislikes
Cabin size
Restricted visibility
Boot design
Summary
BMW X3
Big fast SUVs have long been a guilty pleasure of mine. My brain has been telling me for years, since the first time I drove one - the first-gen Audi SQ5 - that they're silly and wasteful and 'not my kind of car'.
The Europeans - and latterly, the Americans - seem to be playing to an audience of me, convincing my prejudiced head that my try-anything heart is right: over-engined, jacked-up, stiffly-sprung family wagons are as much fun as anything else.
The X3 M is BMW's first full-fat M version of the X3, a car that has never really fired the imagination until this third generation. First we got the very good X3 M40i, now we have a 375kW, twin-turbo straight-six screamer, the M Competition.
| | |
| --- | --- |
| Safety rating | — |
| Engine Type | 3.0L turbo |
| Fuel Type | Premium Unleaded Petrol |
| Fuel Efficiency | —L/100km |
| Seating | 5 seats |
---
BMW X4
Look, personally I found it amusingly weird when German car companies started sloping the roofs on sedans and calling them "coupes", despite the fact that they had four doors. Their ability to imagine segments, and find buyers in them, that have no reason to exist is almost something to admire.
But turning SUVs, like the already very capable X3, into coupes? Frankly, it's like turning an ass into an elbow. Lower the roof to reduce headroom and shrink the boot? Why? Because it will look so sexy people won't be able to resist it. That's BMW's approach with the X4 and, somehow, it seems to work.
And, to be fair, sporty SUVs are not a BMW thing: the Range Rover Evoque, Audi Q5 Sportback, and Mercedes-AMG's range of GLC Coupé models have all taken off, each contributing toward an unlikely trend that doesn't seem to be going away any time soon. 
Read more on BMW
We're having a steer of the 3.0 version to see what it's like to have the somewhat bulky body of a mid-size SUV while shortchanging yourself on cabin space thanks to the lowered roof.
| | |
| --- | --- |
| Safety rating | |
| Engine Type | 2.0L turbo |
| Fuel Type | Premium Unleaded Petrol |
| Fuel Efficiency | 7.9L/100km |
| Seating | 5 seats |
Verdict
BMW X3
7.8/10
As much as I love the mental GLC63 - complete with V8 bellow - the X3 M is the one for drivers. While that's a silly thing to say on the surface - what 'driver' is going to buy an SUV? - this is the new reality. We love these things and they're not going away.
While it may not be quite as comfortable as any of its competition or have the V8 cachet of the Jag and the Merc, it still takes the fight to them in what is easily the roomiest and most practical in this niche part of the segment. And it's an enormous amount of fun.
You have plenty of choices in the mid-size fast SUV market - X3 M, GLC63, Alfa Stelvio Quadrifoglio - what's your choice?
---
BMW X4
7.5/10
Okay, so the BMW X4 xDrive30i is neither an ass nor an elbow, to be fair, it's more of a bulky shoulder muscle, or two.
I can't say I'll ever love the X4, the idea of it is a bit too weird for me, but I can't help admiring the way it looks and the way it drives.
It's a bit like a sedan on steroids - or an SUV on a diet, depending on your perspective - but that doesn't take away from the fact that it's fun to drive, comfortable and retains just enough coolness, and just enough practicality, to make it worthwhile.
Design
BMW X3
7/10
The third-generation X3 is by far the best-looking and isn't as badly blighted by BMW's current oversized, hatchback-straining grilles. It's not small, no, but in the flesh, it looks fine.
The usual M accoutrements are present, with new front and rear bumpers, skirts and a whopping set of 21-inch alloys. It looks different and marginally more aggro than the M40i and just enough so a vaguely interested observer will notice.
A quick look at the rest of the similarly-sized hard-and-fast SUVs reveals a similar approach.
The cabin is largely unspectacular, as is the BMW way. The X3's interior pre-dates the current X5, X7 and 3 Series which are rather more attractive and packed with newer tech.
The seats add some serious excitement, they're a proper set of M seats, complete with the slightly naff light-up X3 M logos in the backrest. But it's predictably well-made, is very comfortable and is full of nice materials.
---
BMW X4
9/10
So here's the thing. Obviously I have a personal beef with the existence of vehicles like this, but my eyes cannot deny the facts - the X4 looks fantastic. It's muscular, imposing and smooth all at once. Unlike the X6, a bigger and less visually successful attempt to play the same styling tricks with an X5, it doesn't have a ridiculous rear view that looks like it shoulders and buttocks have been fused (although it's hard to miss just how small the rear window is).
Even more impressively, there's no denying it looks better than the X3 that gave birth to it, so I can easily see why someone in a BMW showroom could be drawn to it. At least until they sit inside.
If the exterior style and eye-catching Sophisto Grey metallic paint don't make an immediate impression then your eyes will surely widen at the interior, resplendent with bold Tacora Red seats, Aluminium Rhombicle trim finisher and the kind of sleek, classy styling that BMW excels in. 
Both the adjustable ambient lighting on the doors (we were partial to lilac) and door projectors that shot out what looked like robot wings onto the ground every time we hopped out of the X4 at night walked a fine line between futuristic cool and "parked out the front of a nightclub entrance" chintz, but over time the scales tipped more to the former. 
The big differentiator between the X4 and X3, of course, is the sloped coupé roof, a design feature that may make the X4 look a little cooler, but at the expense of cabin space, but more of that in a moment.
Practicality
BMW X3
8/10
This X3, if you need reminding, is bigger than BMW's first SAV (ugh), the X5. That means plenty of room up front, heaps of legroom for most in the back and enough room for five aboard.
Front seat passengers score a pair of cupholders with a cover and the centre rear armrest has two more for a total of four. Add to that bottle holders in each door and your beverage holding capabilities are pretty standard.
The boot starts at an impressive 550 litres, almost tripling to 1600 litres when you drop the 40/20/40 split fold seat. You get a good flat load space when you do that, too.
---
BMW X4
7/10
For a car that is very much a mid-sized SUV on the outside, the interior can feel a bit too snug, like you're driving a compact car that's tried on a suit a few sizes too big (for reference, I'm 175cm tall - above-average height drivers may find the snugness soon turns to claustrophobia). 
While comfortable - it is BMW we're talking about, after all - there's not an overly abundant amount of headroom available, a feeling that becomes more pronounced should you shut the big moon roof.
My two children felt slightly too close to "you're annoying me" distance from one another, which is to say this isn't really the kind of car you should be getting if you plan on regularly ferrying about passengers in the rear who are bigger than a child. But I really don't think many people with kids would choose the X4 over the X3.
Boot space also takes a hit when compared to the X3 (550 litres versus 525-litres in the X4 - I was surprised the difference wasn't larger - although that expands to 1430-litres with the rear seats folded down. 
The boot opening is also mouth-shaped, which makes packing in wide-load items more of an issue.
Cupholders are plentiful - two in the front, two in the rear, and bottle holders in each door - and there's a decent-sized storage cubby in between the front two seats. 
The sloped roof, and big fat A pillars, also result in the X4 being a bit more pinched at the rear, which is not especially great for visibility, with the vehicle's blind spots taking some getting used to.
Price and features
BMW X3
7/10
For $157,900, before on-road costs, you may think this car should be absolutely loaded with stuff. And it is. Whether that's enough is up to you, but the price is about right for its segment.
It's worth remembering we only get the up-spec Competition version, BMW saw no point in offering the 'normal' version nobody was going to buy.
For your cash you get 21-inch alloys, multi-zone climate control, ambient interior lighting, keyless entry and start, active cruise control, electronic damper control, digital instrument cluster (not the new 'Live Cockpit'), sat nav, auto high beam, auto LED headlights, launch control, leather seats and steering wheel, electric front seats, head-up display, auto parking, power everything, auto wipers, huge panorama sunroof and a tyre repair kit.
The big central screen features BMW's iDrive, controlled by either the rotary dial or via touchscreen. It's a belter of a system and I reckon it's still the best, although you have to pay for Apple CarPlay - this remains controversial and I wonder how long the company will persist.
---
BMW X4
7/10
Cost-wise, the X4 is roughly in the same ballpark as the other cars in this strange sub-segment, but when you add in optional extras - metallic paint, panorama glass sunroof and BMW Laserlight headlights among them - the base price of $95,900 plus on-road costs sneaks up to $101,800, which is is no small figure. 
It's also a considerable $8000 more than the SUV-shaped X3, meaning you're essentially getting the same car, but with less cabin and boot space, for more money. To be fair, this is just part of a long tradition of the style-conscious buyer being willing to pay more for less, one that the invention of the coupe pretty much invented.
That kind of money also makes exclusions like adaptive cruise control, heated seats and wireless charging a bit of a head-scratcher.
Still, there's plenty to love, including an M Sport kit that comes standard with the X4 (a suspension/brake package and various styling embellishments), butter-soft Tacora Red Vernasca leather seats (Sport adjustable for the driver and front passenger), 20-inch M light alloy double-spoked wheels, a head-up display, adaptive LED headlights, and an automatic tailgate. 
There's also a generous high-resolution 12.3-inch control display and digital 12.3-inch instrument display, the former operated by touch or via the rotary iDrive Touch Controller. 
Cable-free Apple CarPlay and Android Auto are also available, but BMW allows you the option to use its iDrive system instead, just in case you're some kind of mad Munich fanboy - or you hate Apple. 
Engine & trans
BMW X3
9/10
The X3 M arrives from the US with a shiny new version of BMW's modular six-cylinder performance engine. While the M Performance M40i has a single turbo (B58) straight six, one tiny change to the name - from B58 to S58 - means a heck of a lot.
The S58 takes the same fundamental formula, bolts in two new single-scroll turbos, throws in forged conrods and a few other changes to boost the power to 375kW (500 horsepower) and 600Nm.
That torque figure is available across a nice wide 3350 revs, between 2600rpm and 5950rpm.
Getting all that to the wheels is the M version of BMW's all-wheel drive system xDrive and an active rear differential. The near-ubiquitous eight-speed ZF brokers the connection between that system and the flywheel and it's all impossibly smooth and feels bulletproof.
---
BMW X4
8/10
Now, prepare to be confused. In the past, the 3.0 in the xDrive3.0i nomenclature might have led you to believe you'd bought a BMW with a 3.0-litre straight six engine. But in this case, you have not, the 3.0 just means you have a more exciting version of the 2.0; a TwinPower turbo 2.0-litre inline four-cylinder engine, making 179kW and 353Nm that the xDrive system delivers to all four wheels. 
The claimed zero to 100km/h time of 4.9 seconds feels completely realistic as this engine has plenty of poke. Put it in the Sport setting and you'll get some serious shove. Indeed, the switch between Comfort and Sport is very noticeable and changes the character of the car entirely.
The transmission is an eight-speed conventional torque converter automatic gearbox that's both smooth and responsive. 
Fuel consumption
BMW X3
7/10
The official fuel sticker quotes a mightily impressive 10.6L/100km. No, not great for a mid-sized SUV but pretty good for one with five hundred horses under your right foot.
The reality, of course, is different but not unexpectedly so - a week in my hands in the suburbs and a cobweb-clearing early morning run delivered a 14.1L/100km average. Again, not bad given the kind grunt that's on tap.
---
BMW X4
7/10
The X4's 65-litre tank needs to be 95-octane at a minimum, and BMW's claimed combined fuel consumption is 7.9 litres per 100km. The temptation to use its rorty little engine is going to push you higher, though - you chose the one with the 3.0 badge on it after all - and we averaged 10.9 litres per 100km in our week together, which was mainly city driving, to be fair. 
Driving
BMW X3
9/10
One of the things I love about BMW is the company's ability to produce a car that on one hand is so normal and competent for the every day but also produce a version that is completely doolally.
The fine folk at M obviously involve themselves from day one so that when they get a finished car they can get cracking on making it properly fast. Obviously, quite a bit has to change for that to happen.
The X3 M is very stiff. Pop the bonnet and you'll see a piece of whatever the metal equivalent of four-by-two keeping the two sides of the car apart.
This is something M does whenever it gets a vanilla BMW, as it has with the M2 and outgoing M3 and M4 pair. To name three. The difference from the driver's seat, when compared to, say, the M40i, is immediate.
The steering is super-responsive, the front of the car reacting incredibly quickly given the X3 M's two-tonne weight.
Even in Comfort mode, the X3 M's ride is pretty firm. That doesn't bother me especially, nor my wife, who has a keen sense of ride quality. It never really falls over the line of being uncomfortable but it's worth knowing if you're considering this and you have to carry passengers.
If you drive around town in either M1 or M2 (in the factory settings at least), you're mad - the suspension becomes very hard and the steering too heavy. In fact, the steering in its Super Sport setting is just too heavy and uncooperative.
Once you've set it up to your liking though, the X3 M is brilliant. The S58 - soon to be installed in the new 3 and 4 Series M cars - is fantastic.
Cheerfully belting the 7200rpm redline at every upshift, barking between gears and delivering torque the way a hungry Labrador delivers a headbutt if you get in between it and food, the straight-six is glorious.
The 4.1-second sprint from 0-100km/h is only part of the story. Not many cars can cover ground so quickly and fewer still SUVs of this size and weight can do it with such precision.
When you turn the wheel on the X3 M, the front goes where you want it, instantly. All that under-bonnet bracing prevents the front flexing and shimmying, which is the enemy of going fast. So that sorts out getting into the corner. The best thing is you can push through corners and slingshot out the other side, riding that huge torque slab, the rear wheels doing most of the work with the occasional wriggle to keep you smiling.
A good chunk of the applause goes to the way the xDrive all-wheel drive system and its 'M Active' diff at the rear work together in Sport+ mode.
As colleague Steve Corby discovered at this car's clay-pan launch, the front wheels aren't doing much of the driving when you've turned it all up to 11 in '4WD Sport'.
When the road goes from straight to twisty, the excellent brakes come in to play, hauling the car down from big speeds without complaint. Even better is that in normal driving, they're not grabby and the pedal always lets you know what shape you're in.
---
BMW X4
8/10
The impressive trick that BMW continually pulls off with its SUVs is giving them the same sensual, muscular steering as its sedans, and an impressively similar ride and handling balance.
The steering is the highlight here, but it's also noticeable how planted to the road it feels.
The X4 speaks to its looks, in fact, by feeling sportier and more alive to drive than you'd expect an X3 to be.  
This is less an SUV for soccer mums and dads, and more a bastard love-child that's into loud leather and bright neon - a CEO who dressed punk rock-lite on weekends, if you will. 
If those weekends are bereft of child taxiing and loading up the boot with several tons of kid stuff, then you'll have a blast in the X4. 
Safety
---
BMW X4
8/10
A 2018 test gave the X4 a five-star ANCAP safety rating, and an easily located button on the dash brings up the vehicle's safety suite if you're the kind of driver who likes to make a few adjustments. 
A 360-degree camera offers multiple viewpoints and is a godsend when parking the X4, since the cabin makes the car feel smaller than it actually is on the outside, and the range of safety features on offer are more than adequate. 
Those include autonomous emergency braking, dynamic braking lights, dynamic stability and traction control, rear-cross traffic alert, speed limit information and hill descent control. 
Ownership
BMW X3
7/10
BMW offers a segment standard, but increasingly mean-looking, three years/unlimited kilometre warranty. It's not just BMW, though, it's all of the premium Germans. You do get three years roadside assist into the bargain and you can pay to extend the warranty, too.
You can pre-pay your servicing, with a five-year/80,000km Basic package for $3685. If you think you're going to give your X3 M a proper walloping you can opt for the the 'Plus Package'. For a not-inconsiderable $8173.
BMW will cover your brake pads and rotors for the same period as the Basic package.
Service intervals are variable because, as ever, BMWs tell you when they need a trip to the dealer.
---
BMW X4
6/10
Despite all the brouhaha about other car manufacturers offering more generous warranty periods - seven years for Kia, for example - BMW has not shifted its stance, still offering its standard three-year unlimited-kilometre warranty. Frankly, it's just not good enough.
BMW also offer a Service Inclusive package for $2010 that covers owners for five years, or 80,000km.