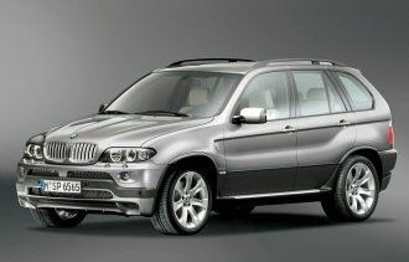 BMW X5 2007
The 2007 BMW X5 range of configurations is currently priced from $11,500.
Our most recent review of the 2007 BMW X5 resulted in a score of 8 out of 10 for that particular example.
You can read the full review here.
This is what Ewan Kennedy liked most about this particular version of the BMW X5: Very good on-road handling, Adequate off-road ability, Gen-3 very efficient
The 2007 BMW X5 carries a braked towing capacity of up to 2700 Kg, but check to ensure this applies to the configuration you're considering.
What's on this page
BMW X Models 2007 Price and Specs
The BMW X Models 2007 is currently available from $11,500 for the X Models X5 4.8I up to $21,888 for the X Models X5 4.8I.
Pricing guides
$14,999
Based on 70 cars listed for sale in the last 6 months
BMW X Models
Body Type
Specs
Price from
Price to
X3 2.0D
SUV
2.0L Diesel 6 SP AUTO
$6,600
$10,230
X3 2.5SI
SUV
2.5L PULP 6 SP AUTO
$7,200
$11,110
X3 2.5SI
SUV
2.5L PULP 6 SP MAN
$6,900
$10,670
X3 3.0D
SUV
3.0L Diesel 6 SP AUTO
$8,000
$12,430
See All BMW X Models 2007 Pricing and Specs
BMW X5 2007 Q&As
Check out real-world situations relating to the BMW X5 2007 here, particularly what our experts have to say about them.
BMW X5 diesel problems

Despite the price and BMW's reputation, this series of X5 was not without its problems. Specific to the diesel-engined versions was a raft of things to watch out for when shopping for a second-hand X5. Those start with a poorly designed intake system which used small flaps in each inlet trat designed to create better air and fuel mixing and, therefore, more complete burning of the fuel. The problem was that these little flaps were secured by two screws each, and these could become loose and fall into the engine with catastrophic results. In some cases, the screws could even migrate into the turbocharger unit, destroying it.

Like many other brands of modern turbo-diesel, the X5 could also be afflicted by problems caused by a blocked Diesel Particulate Filter (DPF). If the vehicle was used for urban work rather than highway running, the DPF could become clogged and unable to regenerate itself. Any X5 diesel with a `Service Engine Soon' light illuminated on the dashboard is a potential problem child.

The car's exhaust gas recirculation valve could also leak, causing faults within the emissions-control system, while the electronics associated with the fuel injectors could also be damaged by water entering the engine compartment.

Beyond the diesel engine, the rest of the X5 package was not without problems, either. Those can include electronic issues, poor water sealing around the body, noisy suspension and problems with petrol-engined variants as well. Fundamentally, this was not BMW's finest hour quality-wise. It's also worth noting that even though the BMW brand is a German one, this generation of X5s was manufactured in South Carolina in the USA.

Second-hand luxury SUV?

The X5 would be my pick because it's a classy car that was the class benchmark until the current Mercedes-Benz ML arrived. But make sure you do your homework, as any complicated prestige car can get expensive if something big goes wrong.

Wheel Big Problem

YOURS is the first we have had here at carsGuide. When we asked BMW about your concerns we were told they have had a handful of complaints about the X5, not necessarily the 20-inch rims, and in virtually all cases they have found that the tyres were under-inflated, and believe this is the reason for the problem. BMW recommends all owners check tyre pressure on a regular basis, which they believe would alleviate any problems with the wheels cracking.
See All BMW X5 2007 Q&As
BMW X5 2007 Wheel size
Wheel size for the 2007 BMW X5 will vary depending on model chosen, although keep in mind that many manufacturers offer alternate wheel sizes as options on many models.The wheel size available will alter the range of tyres available to be fitted. Standard wheel sizes on the BMW X5 vary from 17x7.5 inches to 20x9.5 inches.
BMW X5 Model
Body Type
Front Tyre Size
Front Rim
Rear Tyre Size
Rear Rim
X5 3.0I
SUV
235x65 R17
17x7.5 inches
235x65 R17
17x7.5 inches
X5 3.0D
SUV
235x65 R17
17x7.5 inches
235x65 R17
17x7.5 inches
X5 3.0SI
SUV
255x55 R18
18x8.5 inches
255x55 R18
18x8.5 inches
X5 3.0D
SUV
255x55 R18
18x8.5 inches
255x55 R18
18x8.5 inches
See All BMW X Models 2007 Wheel Sizes
BMW X5 2007 Dimensions
Dimensions for the 2007 BMW X5 are dependent on which body type is chosen. The maximum width and height is 1933mm x 1766mm and can vary on the basis of model.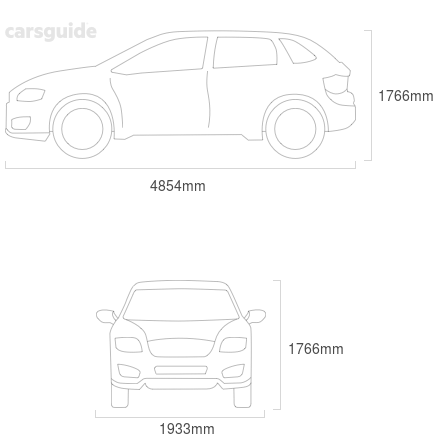 BMW X5 Model
Body Type
Height x Width x Length
Ground Clearance
X5 3.0I
SUV
1715x1872x4667 mm
187 mm
X5 3.0D
SUV
1715x1872x4667 mm
187 mm
X5 3.0SI
SUV
1761x1933x4854 mm
170 mm
X5 3.0D
SUV
1766x1933x4854 mm
170 mm
See All BMW X Models 2007 Dimensions
BMW X5 2007 Towing capacity
The BMW X5 has maximum towing capacity of 2700kg. Some models also offer heavy-duty or towing option packs which can increase towing capacity, as well as options which can hamper towing capacity. Towing capacities can vary wildly on a large number of factors. These include engine, transmission, model, and options chosen. Always check with the manufacturer or in your vehicles handbook before attempting to tow anything.
BMW X5 Model
Body Type
Specs
Braked Capacity
X5 3.0I
SUV
3.0L,PULP,6 SP MAN
2700kg
X5 3.0D
SUV
3.0L,Diesel,6 SP MAN
2700kg
X5 3.0I
SUV
3.0L,PULP,5 SP AUTO
2700kg
X5 3.0SI
SUV
3.0L,PULP,6 SP AUTO
2700kg
See All BMW X Models 2007 Towing Capacity
BMW X5 2007 Fuel consumption
Fuel consumption for the 2007 BMW X5 is dependent on the type of engine, transmission, or model chosen. The BMW X5 currently offers fuel consumption from 7.9 to 14.6L/100km. The BMW X5 is available with the following fuel types: Diesel and PULP.
BMW X5 Model
Body Type
Specs
Fuel Consumption
X5 3.0D
SUV
3.0L,Diesel,6 SP AUTO
8.6L/100km
X5 3.0D
SUV
3.0L,Diesel,6 SP AUTO
8.7L/100km
X5 3.0I
SUV
3.0L,PULP,5 SP AUTO
11.1L/100km
X5 3.0I
SUV
3.0L,PULP,6 SP MAN
11.4L/100km
See All BMW X Models 2007 Pricing and Specs