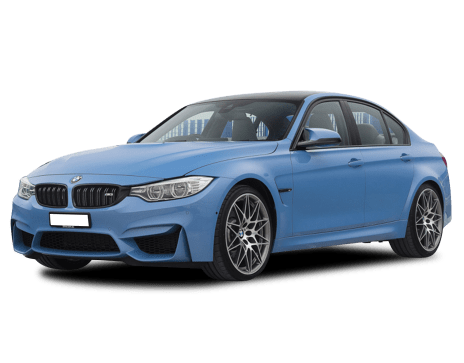 COMPARE
BMW M3
VS
BMW Alpina B7
BMW M3
Likes
Super-sweet engine
Steering and suspension fantastic
Looks mean in the metal
Dislikes
Key safety stuff missing
Expensive, and worse when you start ticking options
Desert-levels sparse in the backseat
---
BMW Alpina B7
Likes
Supremely comfortable ride
Luxurious cabin
Supercar-scaring 330km/h top speed
Dislikes
Exhaust note could be tougher sounding
Extra care needed to pilot through car parks and alley ways
Australia's speed limits
Summary
BMW M3
If you've got a thirst for power that would make Vladimir Putin seem benign, you'll likely find the BMW M3 a little underwhelming, what with its measly 331kW/550Nm and a propensity to spin the rear tyres into rubber-flinging oblivion with each traction control-free prod of the accelerator.
Happily, there's now a solution. Enter the M3 CS (Competition Sport); a track-ready special edition that ups the performance ante right across the board, with more power, stiffer suspension, better aero and the kind of angry exhaust note that sets tectonic plates a-rumbling. 
So, is more M3 never enough? Or is the new CS too angry for its own good?
| | |
| --- | --- |
| Safety rating | — |
| Engine Type | 3.0L turbo |
| Fuel Type | Premium Unleaded Petrol |
| Fuel Efficiency | 8.8L/100km |
| Seating | 5 seats |
---
BMW Alpina B7
You know when you're walking along the footpath and you come to a soft spongey bit that the council have put in around a tree and your mind goes: "Whoah, the ground is bouncy but it looks just like bitumen?!"
Well that's the kind of response you'll get from people when they think they're looking at a regular BMW 7 Series, only to have their world go a bit bouncy when they see the Alpina B7 badge on the back of this car as you're overtaking them at Warp Factor 9000.
And you will be overtaking them like a blur because, thanks to the elves at German tuning house Alpina, the B7 is hugely fast for a five-seat, 5.3m-long, 2.2 tonne limo. But then the B7 is fast for any type of car of any dimensions, because with its 330km/h top speed this beast will outrun a McLaren 570GT. Yes, seriously.
Based on the BMW 750Li long wheelbase, the B7 begins life rolling down the same production line as a regular 7 Series. Alpina then goes on to make so many changes to the engine and chassis that the German government requires the BMW VIN to be replaced with a new one.
Ready to find out more? Well there's so much to see here that things may go a bit weird and bouncy again. Be prepared.
| | |
| --- | --- |
| Safety rating | — |
| Engine Type | 4.4L turbo |
| Fuel Type | Premium Unleaded Petrol |
| Fuel Efficiency | 9.6L/100km |
| Seating | 5 seats |
Verdict
BMW M3
7.6/10
The biggest, baddest M3 is also the very best of the current breed. It's a specialist tool, sure, but if you're in the market for a track-attack sedan that will paint a smile on your face, even while striking fear into your heart, then look no further.
Jump into a BMW M3 CS or wait until next month for the new Merc-AMG C 63 S? Tell us what you think in the comments section below.
---
BMW Alpina B7
7.9/10
The BMW Alpina B7 is a special car destined (like all Alpinas) to be a collector's item, due to its rarity and exclusivity. I asked Alpina just how many current model B7s there are in Australia and the answer was "less than five", which is just as mysterious as most people find the car in general.
The B7 is fast – too fast to enjoy legally on Australian roads – but it is also supremely comfortable and well appointed. For Alpina fans lucky enough to be driven in on,e this would make for a truly rare and niche way to be chauffeured.
Is the BMW Alpina B7 the ultimate fast limousine? Tells us what you think in the comments section below.
Design
BMW M3
9/10
Interesting, you say? Well, just look at it. The massively domed bonnet, the flared wheel guards, the blacked-out roof, the quad exhaust tips - this thing looks wild from every angle. BMW tells us you can actually swap the lightweight roof for a traditional version with a sunroof, but why on earth would you?
The dome bonnet is fitted with a massive rear-facing vent that sucks hot air off the engine, while the carbon front splitter emerges from the bottom of the grille as if the CS is forever jutting out its jaw. At the rear, the carbon wing is peaked at each end, again aiding aero efficiency, while four fat and centred exhaust tips complete a pretty angry-looking package.
Inside, it's the usual M treatment: shoulder hugging seats, Alcantara to shave grams off the kerb weight, plus a clean and functional interior design.
The design across the board is not what you'd call understated, and it likely won't appeal to everyone, but I think it looks the absolute business.
---
BMW Alpina B7
7/10
This is a good place to start because the B7 looks just like the 750Li it's based on, until you see the first tell-tale signs that it's not one.
There's the front wing with Alpina lettering and the boot-top spoiler, the graphics, which run the length of the car, and the 20-spoke wheels with Alpina badging.
This is late '70s, early '80s styling at its best (and possibly worst), but these special cars can pull off the irony-free look because this is how Alpina BMWs have rolled since 1975, when the E21 320-based Alpina A1/3 was launched.
BMW badges have been left on the bonnet and boot, but there's Alpina B7 BiTurbo lettering in place of the 7 Series identifier.
Most people walked by it in the street thinking it was just a big BMW, others scratched their heads wondering what I'd done to my big German limo and a handful almost dropped to their knees in praise and wonderment at spotting a rare beast like this in the wild.
These people all had their own Alpina stories – one was the third generation of an Alpina-owning family. You become a member a small and passionate club when you buy into this rarefied brand.
The standard B7's cabin is close to identical to the luxurious interior of the 750Li, save for Alpina-embossed stitching in the headrests of the soft, leather seats, the virtual instrument cluster and the Alpina plaque on the centre console denoting the build number.
The B7 is long, low and wide at just under 5.3m end to end, 1.5m tall and 1.9m across. A 3.2m wheelbase means cabin room is more than just spacious.
The B7 rolls off the Dingolfing production line in Germany and is then handed over to Alpina's facility in Buckle, where significant changes take place. Read on to find out how the B7 is different from a regular 750Li.
Practicality
BMW M3
7/10
Every bit as practical as any other M3, really, which is impressive given the outrageous performance.
There are some sacrifices made in pursuit of weight loss, of course. There's no centre-console storage (replaced by a strip of Alcantara and a single, lonely USB charge point), and backseat riders lose air vents, power and just about everything else. The good news, then, is that there's space a-plenty back there, with enough head and legroom behind my own 176cm driving position.
But up front, the M3 CS is a comfortable and spacious place to spend time. There are twin cupholders, too, as well as room in each of the doors for bottles. The navigation and multimedia systems are straight-forward and easy to use, as are the performance-focused functions.
Boot space is still a claimed 480 litres with the rear seats in place, matching the storage room in the regular M3.
---
BMW Alpina B7
8/10
The B7 is a five-seater limousine although with the fold-down rear centre armrest which houses the media control panel the back is really set up to carry two.
That 3.2m wheelbase means cabin space is enormous. At 191cm tall I can sit behind my driving position with about 30cm between my knees and the seatback. Those rear doors open wide and the entrance is huge, making entry and exit almost as easy as just walking through a doorway. The air suspension also rises and lowers the B7's ride height for better access.
Storage is excellent, with two cupholders and door pockets for rear passengers, along with the area inside the centre armrest.
Up front, the driver and co-pilot have a deep centre console storage bin with split-opening lid, two cupholders and door pockets.
Luggage space is good, with a 515-litre boot.
Price and features
BMW M3
7/10
At $179,900, the CS sets a new top-price for the M3 family, well above the $146,529 of the Competition version and miles clear of the entry-level Pure ($129,529). And so you might think you get much more for your money, but you would be wrong. In fact, you get much less.
This is a car designed with the relentless pursuit of performance in mind, so expect few extra luxuries - all of which would add weight. Instead, you get more power (of course), as well as a quad-tipped exhaust tuned to sound like the world is ending around you.
Semi-slick Michelin Cup tyres, lighter alloys, a race-focused bonnet (which, along with the roof, is made from a carbon-fibre/plastic composite, helping shave 10kg off the curb weight), some clever aero tech at the rear and lighter cabin materials also join the the standard features list.
Outside, expect staggered alloys (19-inch front, 20-inch rear), adaptive LED headlights and keyless entry. Inside, you'll find air-conditioning, navigation and a 12-speaker harman/kardon stereo controlled through an 8.8-inch screen.
---
BMW Alpina B7
7/10
The B7 lists for $389,955, while a 750li is about $319,000. At this level, $70K seems like a downright reasonable premium to pay for a faster, more powerful, better handling and comfier version of the 750Li.
In this case you're paying more but getting more, although standard features are close to identical. There's adaptive LED headlights, head-up display, night vision with pedestrian detection, a 10.25-inch touch screen up front and two screens in the second row for TV and other media functions.
There's a reversing camera, sat nav, harman/kardon surround stereo and Apple CarPlay. There's leather upholstery, seat massagers in the front and rear, four-zone climate control, heated and ventilated front and rear seats, front and rear parking sensors, auto tailgate, sunblinds for the rear and rear-side windows and proximity key.
The safety features are listed in the section below, and that list is also impressive.
Rivals to the B7 include the Mercedes-AMG S63, which lists for $375,000, the $331,700 Audi S8 and even the Bentley Flying Spur, which almost matches its price at $389,500.
Engine & trans
---
BMW Alpina B7
9/10
Alpina takes the 4.4-litre twin turbo V8 from the BMW 750Li and rebuilds the engine by hand. Alpina fits its own turbochargers, air-intake set -up, high-capacity cooling system and Akrapovic quad exhaust. Output is 447kW and 800Nm – an increase of a whopping 117kW and 150Nm over the 750Li's grunt.
It's interesting to note that the V12-powered 760Li has a smidge more power, at 448kW, and the same torque output as the B7.
How fast is the B7? Supercar fast – the B7 has a top speed of 330km/h, which will see it outrun a McLaren 570 and almost keep up with a Ferrari F12. That's quite incredible for a 2.3-tonne limousine with three TVs on board. A 0-100km/h time of 4.2 seconds is also hugely impressive.
In comparison, a 750Li has a 0-100km/h time of a not-too-shabby 4.7 seconds, but the car is electronically limited to 250km/h.
An eight-speed automatic transmission shifts gears smoothly, although a little slowly in Normal mode, while Sport and Sport+ add urgency and harder shifts.
Finally, the B7 is all-wheel drive, and those rear wheels are designed to steer slightly for better cornering performance.
Fuel consumption
BMW M3
7/10
BMW reckons you'll return 8.5L/100km on the combined cycle, with CO2 emissions pegged at 198g/km. But we politely disagree. We drove the CS in the fashion we imagine everyone will - or at least should, and our numbers were a little higher than that. Like three times higher.
---
BMW Alpina B7
7/10
The B7 is probably not the car to own if you're concerned about either fuel prices or emissions, but then the twin-turbo V8 may not be as thirsty as you'd think, with Alpina stating that, after a combination of urban and open-road driving, you should only use 9.6L/100km.
My time in the B7 saw me double that usage but this could have had something to do with me turning off the stop-start system and driving in Sport mode constantly.
Driving
BMW M3
9/10
The best performance cars straddle a razor-thin line between exhilarating and terrifying, and the M3 CS definitely parks an axle on either side of the divide.
It's not for the faint-hearted, the CS; it can be an angry, twitchy, rear-grip-relinquishing handful. And not just when you're overly aggressive on the exit of a corner (though also definitely then), but even when you plant your foot on a dead-straight, perfectly smooth and bone-dry patch of tarmac.
As a result, your heart is almost always beating just a little bit faster being the wheel, almost from the moment you slip into the driver's seat and prod the start button, the exhaust barking into life like a whip cracking in your eardrum.
So intimidating at times, sure. But also huge handfuls of fun. The M3 (and the M3 Competition) experience has been fine tuned to near-enough perfection in the CS formula, from the super direct steering to the thunderous flow of power to the booming exhaust.
This is not a car built for suburban exploring, but BMW deserves credit for making its CS feel pretty liveable when it's not being driven in anger. The suspension tuning especially, while you'd never accuse it of being overly comfortable, does a surprisingly good job of soaking up corrugations and bumps while still feeling ever-connected to the road below.
---
BMW Alpina B7
9/10
Who on Earth thinks a BMW 750Li isn't fast enough or comfortable enough, even with all its horsepower, luxurious cabin and technology? Alpina, that's who.
Redevelopment of the 4.4-litre V8 with new turbochargers, a high-capacity cooling system, different air suspension set-up and an exhaust system made by Akrapovic have made this already exceptional car better. Better to drive and better to be driven in.
The ride, even on those 21-inch wheels and low-profile Michelin Pilot Super Sport tyres (255/35 ZR21 on the front and 295/30 ZR 21 on the rear) is incredibly comfortable. I drove it and also had a chance to recline in the back and be chauffeured (by our photographer) and the ride was so composed and refined it was hard to believe I was travelling along some truly awful urban roads with their cracked and pot-holed surfaces.
And it's quiet, too. Which will suit those in the back being transported swiftly from the airport to their next meeting, but if you're after a loud and angry exhaust note then you won't find it in the B7. Sure, from the outside at full throttle the B7 has a menacing growl, but this isn't a BMW M car that will bark and snarl. 
See, while BMW's M division makes brutal, loud, high-performance versions of their regular cars, Alpina makes comfortable, stealthy, high-performance ones.
All-wheel drive provides fantastic traction and ensures that grunt doesn't just tear the tyres off those rims when you sneeze on the throttle.
And while the air-suspension is soft and comfortable, adaptive dampers adjust for when the road goes twisty, providing impressive handling for a heavy and long car.
Really, though, the B7 is built for long, endless stretches of roads, and the acceleration beyond 100km/h is almost as startling as that from 0-100km/h, as it wants to push straight past 200km/h towards that 330km/h top speed.
Which, unless you know a good lawyer or happen to be one, will send you straight to jail. Yes, the B7 is probably too much car for Australian roads. Only on a German autobahn would a B7 be fully at home.
I felt like I was given a Melbourne Cup-winning racehorse for a week but could only ride it in my suburban backyard.
Safety
BMW M3
6/10
Another victim of the performance goals here, I'm afraid, with everything that can be removed, removed - hell, even the reversing camera has been punted.
Instead, the safety package consists of front, and front-side airbags and a performance-focused traction and braking package. Parking sensors front and rear, active cruise and speed-limit recognition round out a fairly basic package.
The rest of the BMW range received the maximum five-star ANCAP safety rating when crash tested in 2012.
---
BMW Alpina B7
9/10
The Alpina B7 comes with all of the BMW 750Li's safety equipment – this includes AEB, lane-keeping assistance and lane-departure warning, blind-spot warning, active cruise control, night vision with object recognition, auto parking and surround view camera.
Along with the suite of airbags, there's traction and stability control and ABS, as you'd expect.
The 750Li and B7 have not been given an ANCAP score.
Ownership
---
BMW Alpina B7
7/10
The B7 is covered by BMW's three-year, unlimited-kilometre warranty. Servicing is recommended every 12 months or 15,000km. The B7 is covered by BMW special vehicles servicing plan, which means services are cost-free for the first three years of the car's life.