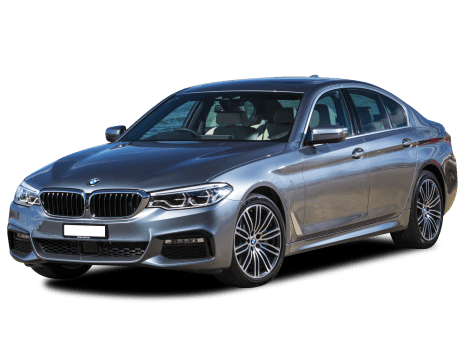 COMPARE
BMW 540i
VS
Mercedes-Benz E 400
BMW 540i
Likes
Classy and understated design
Price and spec bang-on petrol equivalent
Seamless transition from EV to petrol
Dislikes
Softer than petrol-powered sibling
Boot smaller due to batteries
Hard to match fuel claims in real world
---
Mercedes-Benz E 400
Likes
Super strong safety offering
Cabin blends old-world charm with cool tech
Thumping V6 engine
Dislikes
Can feel a little bland
Doors are super heavy
Far from cheap
Summary
BMW 540i
Eco-friendly vehicles are the leather pants of the new-car world; it takes a lot of money to make them look good (but people who own them think they look fantastic regardless). If you don't have a gazillion dollars to drop on a Tesla,  then it's a one-way ticket to Prius town. And really, who wants that? 
But what if it didn't have to be that way? Behold the BMW 530e iPerformance.
Seemingly tired of waiting for the Australian Government to introduce any sort of meaningful subsidy for green cars, BMW has made the choice simple: you can have a petrol-powered 530i for $108,900, or opt for the plug-in hybrid 530e for... $108,900. This is truly revelatory thinking.
There's no specification penalty, either, and the hybrid will power to 100km/h in an identical 6.2 seconds, so you're not even any slower. But you are sipping less fuel, emitting less C02 and basking in the general smugness, and sweet silence, that comes with feeling like you're saving the world.
So what's the catch?
| | |
| --- | --- |
| Safety rating | |
| Engine Type | 2.0L turbo |
| Fuel Type | Diesel |
| Fuel Efficiency | 4.7L/100km |
| Seating | 5 seats |
---
Mercedes-Benz E 400
It is hard to immediately think of a country more suited to the convertible life than Australia. Even our coldest states (you know who you are…) are blessed with more warming sun than almost anywhere else on the civilised parts of the planet, so you'd think we'd be swanning about in dropped-top bliss almost year round.
But it's actually in the UK (despite being cold, grey and almost always underwater) that convertibles really fly out of dealerships, with sun-starved Brits buying more than anyone else in the world. Weird, right?
Still, here they remain something of an oddity, sold in small numbers to drop-top diehards. At least partly because the convertibles of old were almost always slightly worse than their hardtop equivalents. 
But Mercedes - which makes more convertibles than most - claims to have mastered the soft-top formula with the E400 4Matic, a car it says offers all the perks of open-air motoring without any of the dynamic or practical downsides. 
| | |
| --- | --- |
| Safety rating | |
| Engine Type | 2.0L turbo |
| Fuel Type | Premium Unleaded Petrol |
| Fuel Efficiency | 7.4L/100km |
| Seating | 4 seats |
Verdict
BMW 540i
7.8/10
Not all superheroes wear capes, and we're proud to report the 530e does its bit for green motoring without feeling the need to shout about it. And with no price or specification penalty, it's easier being green than ever before, and the pricing of this BMW really puts the cat amongst the canaries.
If it's no slower, but much greener, and more economical, why wouldn't you have the e version of the 530 for the same price?
---
Mercedes-Benz E 400
7.6/10
A convertible that doesn't feel like one when the roof is in place is no easy task to build, but it's one Merc's engineers have pulled off with the E400 4Matic Cabriolet. Effortless power, a tonne of technology and a comfy, leather-wrapped cabin all make Merc's drop-top E-Class a strong proposition.
Would you have a convertible in Australia, or is it just too hot most of the time? Let us know in the comments section.
Design
BMW 540i
8/10
Crucially, there's nothing weird about the way the 530e looks. While some green cars look like they've been designed by one of the kids from 3rd Rock from the Sun, the 530e looks much the same as the rest of the range, save a few tiny but telltale giveaways - like the e-drive badging outside, and what looks like a bonus fuel flap tucked in behind a front wheel that houses the whole plug-in bit.
And we really, really like it. It's elegant and statesman-like from every angle, and looked especially important in the deep-blue colour of our test vehicle. It's not over-designed, with body creases used sparingly, and the occasional glint of polished silver that rings the windows and the grille adds a final sense of shininess to an understated design. 
Inside, there's more going on than you might normally find in a BMW. The hugely complicated digital display screen now includes everything from battery charge, power usage to the usual assortment of speedometers and petrol readouts. 
The dash is busy, too, with a wide screen emerging from a centre stack that also houses a CD player and a digital aircon setup, which in turn sits above a complex centre console from which you can alter driving settings, control the multimedia or cycle through electric modes. It doesn't feel overdone or crazily festooned, but there's more at play here than in your usual BMW.
Elsewhere inside, the seats are beautifully designed, with a quilted leather highlight through the middle, while the gloss-black strip that lines the dash hides a dual strip of ambient interior lights that also runs across all four doors.
---
Mercedes-Benz E 400
8/10
Elegance. That's the word that springs to mind when you first clamp eyes on the E400 Cabriolet. While the Coupe version has a crouched-over sportiness about its exterior design, the convertible is all about big and boat-like proportions, especially with the fabric roof opened.
Like nearly all drop-tops, the E400 looks best with the cabin open to the elements, and the side profile especially paints a picture of well-heeled wafting, with only the AMG alloys and body styling hinting at the performance on offer under the bonnet.
Inside, expect perfectly executed modern luxury, with soft leather seats, touchpoints that melt under the fingers and a sprinkling of woodgrain trim. All of which feel like old-world luxury, nicely juxtaposed by the huge twin-screen display that dominates the dash.
Practicality
BMW 540i
7/10
As the world's motoring tastes shrink faster than a lap-banded Clive Palmer, it's easy to forget the joys of the full-size sedan, but the space for passengers and luggage in the 5 Series will have you questioning your downsizing ways.
Upfront, there's plenty of room between front-seat riders, who will also share two smallish cup holders, along with room in each front door for bottles. There's also a dedicated wireless charge pad (which, because of its tight design, is crazy difficult to actually remove your phone from), but you'll also get two USB points and a power outlet that's hidden in the sizeable centre storage bin as standard fit.
Backseat riders get heaps of space, both in width and in leg room behind the front seats. And there's twin air-con temp controls and twin power outlets, too. But middle-seat passengers will be forced to sit with their legs on either side of the raised tunnel, which will definitely impact on comfort.
Best to ditch the fifth passenger, then, and deploy the pull-down seat divider, which also houses two cup holders. Finally, there are three ISOFIX attachment points, one for each seat in the back.
The boot's still sizeable, despite shrinking slightly to house the battery/fuel tank setup (the tank has been moved further back to accomodate the batteries), and can be adjusted to be a flat load area if you'd like, offering up to 410 litres with the rear seats in place.
---
Mercedes-Benz E 400
6/10
It's a two-door, four-seat convertible, so practicality isn't at the very top of its list of strengths.
That said, life is peachy for upfront riders, both of whom will travel in spacious luxury. There are two cupholders hidden beneath a woodgrain cover underneath the climate controls - also home to a power outlet - as well as a clever double-hinged central storage bin that can be opened by either the passenger or driver, and which opens to reveal two USB points.
There's room in the doors for bottles, too, and the entertainment system can be controlled via a touchpad controller mounted above the traditional click wheel - although, to be honest, using it is harder and more time consuming than simply pretending it doesn't exist.
Climbing into the back (and we mean climb - there are no rear doors) is made easier by the fact you can fold and slide the front seats automatically by pulling a lever mounted near the headrest. Once there, though, you'll find space is a little tighter, and you feel weirdly cocooned, owing to the huge raised tunnel that runs through the middle of the cabin, and the low roof line.
There are two cupholders that live in the space where the middle seat would normally go, and there's a little bottle-holder cubby to the left of both backseat riders. There are air vents back there, too, but no temperature controls.
The boot space is predictably a little limited, with 385 litres on offer. There's also a little flip-down separator, which shows you how much room the roof will need to come down, reducing boot space to 310 litres. Speaking of which, the soft-top can be lowered in just 20 seconds, and at speeds up to 50km/h.
One practicality quirk, though. The front (and only) doors are huge and really very heavy, requiring considerable heft to open them, especially if you're parked on a slight angle. Honestly, I was reduced to kind of pushing them open with my foot at times.
Price and features
BMW 540i
8/10
The 530e commands a 530i-equalling $108,900 price tag, which is genuinely impressive when you consider all the extra bits and pieces that go into make a plug-in hybrid. That money buys you a well-equipped car, and only those allergic to money need reach for the options list.
As standard, you'll find leather-wrapped - and heated in the front - sports seats, 19-inch alloy wheels and a 10.25-inch touchscreen that pairs with a really very good 16-speaker Haman Kardon stereo. Wireless Apple CarPlay is available, but it'll cost you an extra $500. To be honest, though, we didn't miss it.
You'll also find adaptive LED headlights, a huge head-up display (so big, in fact, that it impedes vision when climbing steep hills), dynamic dampers, an auto opening/closing boot and a self-parking system, along with BMW's suite of self-driving tech - but we'll come back to that under the Safety sub-heading.
---
Mercedes-Benz E 400
8/10
At $157,400, the Cabriolet is the most expensive model in the E400 family, and is roughly $20k more than the sedan and $10k more than the coupe variants.
That money buys you a comprehensively kitted-out ride - as it really should - with the E400 Cabriolet arriving with 20-inch AMG alloys, LED headlights (made up of 84 LEDs) with high-beam assist, proximity unlocking with push-button start, air suspension and Merc's AIRCAP - a lip above the windscreen that's designed to push air up and over the cabin when the roof is down.
Inside, you'll find leather seats, dual-zone climate control and the clever 'AirScarf' system, which pumps hot air onto your neck when the roof is down (and it's cold out). You'll also nab heated front seats, power windows front and back and an automatic belt feeder, which saves you reaching over your shoulder to get to your seatbelt. So exhausting.
On the tech front, expect a killer 590W, 13-speaker Burmester stereo, controlled by the seriously impressive widescreen cockpit; two 12.3-inch screens that spill from about the centre of the dash all the way to the driver's binnacle, and control everything from navigation to Apple CarPlay and Android Auto.
There's a whole bunch of safety stuff, including semi-autonomous technology, but we'll drill down on that under the Safety sub-heading.
Engine & trans
BMW 540i
8/10
Drift around in pure EV mode and you'll be relying on the 530e's 83kW and 250Nm electric motor, which will provide what BMW refers to as "between 28 and 32 real-world kilometres".
Run out of range, or simply use too much throttle, and the 2.0-litre petrol engine comes into play, adding 135kW and 320Nm to the mix. All up, that's 185kW and 420Nm - respectable numbers by any measure, and enough to match the petrol-powered 530i's zero to 100km/h sprint of 6.2 seconds.
That power is fed through an eight-speed automatic transmission before being sent exclusively to the rear wheels, where it belongs.
---
Fuel consumption
BMW 540i
8/10
Like a Facebook relationship status, it's complicated. The 530e will sip a claimed combined 2.3 litres per hundred kilometres on the claimed/combined cycle, which is amazing for a car this size. Better still, it seems genuinely achievable - at the vehicle's launch, our own Richard Berry recorded a stunning 2.0 litres per hundred kilometres on a short test route.
But that's with a full load of battery charge on board. For our week with the 530e we were unable to actually plug it in (living in Sydney, I can't afford a garage), so once the initial battery charge had been used we were back to mostly petrol power. Unlike some other plug-in hybrids we've driven, we found it very difficult to recharge the battery to any meaningful level using regenerative braking, so once we were flat we stayed flat. If we had plugged it in, it would have been a two-hour recharge using a specialised wall unit, or about four hours using a normal plug.
As a result, though, our fuel use was closer to 7.0 litres per hundred kilometres after some considerable real-world testing.
---
Mercedes-Benz E 400
7/10
Mercedes claims 7.4L/100km on the combined cycle (but you can expect to be pushing nine litres in real-world conditions), with emissions pegged at 170g per kilometre of CO2.
The 66-litre tank will only accepts 95RON fuel.
Driving
BMW 540i
7/10
There's so much to like about the way the 530e sets about saving the world, and that's mostly because it doesn't shout about it, either to the driver or the outside world.
It's very much an underpants inside its pants superhero, which makes us like it even more. Set off in EV mode, and the 530e will drift silently away from the curb, burning battery power over fuel for as many as 30(ish) kilometres. But equally important, the shift from green to gas is largely imperceptible, with the petrol engine joining in willingly when you ask it to - usual via a prod of your right foot.
It is so effortlessly smooth that you need to really pay attention to notice the eight-speed 'box changing gears at city speeds, and it's commendably quiet, whichever drive mode you're in.
Downsides? Well, it doesn't feel quite as sharp as it's conventional-engined siblings. The batteries add around 230kg in weight, which never helps, and it all feels a little softer and a little less dynamic, even with Sport mode engaged. BMW assures us the adaptive suspension setup and tune is identical, but the 530e feels noticeably softer when you tackle a twisting back road. And that encourages you to use your right foot a little more, which in turn negates the whole electric thing in the first place.
One of the great joys of BMWs has always been their ability to transform from cosseting comfort to rear-drive rocket when you want them to, and you can't help but notice the 530e isn't quite up to that challenge. But if your intentions are mostly city- and freeway-based, then this plug-in BMW is almost indiscernible from its petrol-powered sibling.
---
Mercedes-Benz E 400
8/10
Sure, the E400 Cabriolet can drive itself, but we're equally pleased to note that it's still a lot more fun handling the steering duties yourself.
And that is mostly due to that fabulous engine; quiet and effortless at city speeds, rorty and enthusiastic at pace, and genuinely angry with the drive setting switched to their most hardcore Sport+ mode.
We've already spent time in the sedan version, and while this Cabriolet is heavier (1935kg vs 1820kg) and slightly slower to 100km/h (5.5sec vs 5.2sec) it doesn't immediately feel it behind the wheel, with a similar and satisfying lurch into the future when you plant your foot.
But hard charging is not what this car is about, and the E 400 is at its peachy best when rolling about the city or the 'burbs with the top down, and the warm summer air washing through the cabin.
In its normal drive settings, the steering is light but engaged, and the ride on offer from the standard air suspension is outstanding, cosseting the cabin from all but the very worst road imperfections, while the torque from the V6 serves up effortless, unobtrusive acceleration.
With the roof up, Merc's designers have done a stellar job of hiding the fact this thing is a convertible at all. It's a solid-feeling cabin with the fabric roof fastened, and the cabin is quiet and free from wind noise.
Safety
BMW 540i
9/10
You'll want for little here, with front, front-side and full curtain airbags joining parking sensors, a surround-view camera and a self-parking system.
You can also expect active cruise control, lane control assist with lane keep assist (so it will stay between the lane markings for you), AEB and cross-traffic warning. And all of that means that, technically, the 530e can drive for you. That is, of course, if you don't mind driving like a dick - in full-autonomous mode it will swerve from lane marking to lane marking like it's playing bumper bowling.
---
Mercedes-Benz E 400
9/10
There are few cars on the road as overloaded with safety technology as the E400 Cabriolet.
The standard stuff is all there, of course. There's a 360-degree parking camera, as well as nine airbags (dual front, dual pelvic/thorax for front-seat passengers, dual sidebags for rear passengers, dual head bags in the doors and a knee airbag for the driver), rollover protection and tyre-pressure monitoring, as well as braking and traction aids.
But the E400 adds some really clever technology, including Merc's Driving Assistance Package Plus, which adds active lane keeping, blind-spot assist, cross-traffic alert and evasive steering assist.
It's this suite of systems that allows the E400 to navigate freeways autonomously, including changing lanes on demand. At the moment, the system will warn you to keep your hands on the wheel every so often, but you can sense a time when that will no longer be required. And that time is soon.
The E-Class range scored the maximum five-star ANCAP safety rating when crash tested in 2016.