Renault Trafic 2021
Carsguide Contributing Journalist Mark Oastler had this to say at the time: It's an unenviable task trying to determine a podium order here, because the accumulated scores from the 10 judging categories resulted in a final tally which had only a four-point gap between first and third.
You can read the full review here.
Renault Trafic 2021 Q&As
Check out real-world situations relating to the Renault Trafic here, particularly what our experts have to say about them.
Can the clutch wear out on a Renualt Trafic if the hydraulic robot control unit is faulty?

Clutches are deemed wear and tear items, which is why they wouldn't cover the replacement cost. While 80,000 km is not a lot of kilometres for a clutch replacement it is getting near the kilometres that you would anticipate it. The two things shouldn't be related, I would guess that they saw the clutch was nearly worn-out and it was deemed best to replace it now.

Disco dilemma

SOUNDS like you need a van. The European vans are way ahead of the Japanese rivals in every aspect except price. They can be tricked up with all sorts of accessories that can look very cool. The Vito is worth considering, as are the VW Transporter and the Renault Trafic. If you can get away with a smaller van, look at the VW Caddy. The Japanese vans don't rate highly in crash testing, but the European vans have all the safety systems you'd expect in a passenger car.

A wheelchair conversion

IT'S really too early to speculate on the reliability of the present-model vans. I would be surprised if you needed a van as big as the Sprinter or Ducato to transport your 13-year-old daughter. I would take a look at the Vito, Transporter and Trafic before the Transit. The latter has a pretty ordinary reputation for reliability. Have a talk to the people at Capital Special Vehicles, who specialise in doing the conversions.
See All Renault Trafic Q&As
Renault Trafic 2021 Accessories
The Renault Trafic Crew Lifestyle features a 7.0-inch multimedia touchscreen, with Apple CarPlay and Android Auto, as well as LED headlights/DRLs, 17-inch alloys, individual and adjustable LED ceiling lights, retractable sun-blinds, flexible storage pouches on the front seat backrests, two centre armrests and more.
Renault Trafic 2021 Price and Specs
Pricing guides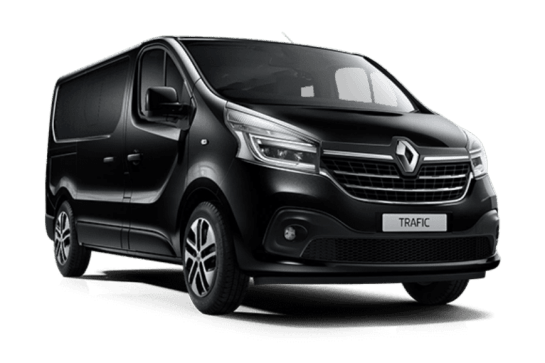 $45,240
Based on Manufacturer's Suggested Retail Price (MSRP)
Renault Trafic Model
Body Type
Specs
Price
Formula Edition SWB
Commercial
1.6L Diesel 6 SP MAN
$41,990
L1 SWB Premium (103KW)
Commercial
1.6L Diesel 6 SP MAN
$40,490
L1 SWB Premium (125KW)
Commercial
2.0L Diesel 6 SP AUTO
$44,490
L1 SWB PRO (85KW)
Commercial
1.6L Diesel 6 SP MAN
$36,990
See All Renault Trafic 2021 Pricing and Specs
Renault Trafic 2021 Seats
The Renault Trafic Crew Lifestyle has a good driving position with ample seat adjustability. It can accommodate two passengers up front, making it a six-seater. There's rear seating for up to three passengers, each with three head restraints, three full lap-sash belts and ISOFIX on the two outer positions.
Renault Trafic 2021 Interior
The Renault Trafic Crew Lifestyle features opening side-door glass, and a robust moulded polycarbonate bulkhead which insulates its crew zone from cargo bay noise and doubles as a sturdy cargo barrier. There are numerous bottle/cup holders and storage bins for driver and front passengers, but the absence of these conveniences in the sliding rear side-doors is a significant oversight of rear passenger comfort that should be addressed.
Renault Trafic 2021 Speed
The Renault Trafic Crew Lifestyle weighs more than two tonnes, and despite a relatively modest engine displacement has ample torque which provides excellent throttle response and relatively brisk acceleration. Expect 0-100km/h acceleration in the 10- to 12-second zone.